NAWRB Opens Washington, D.C. Office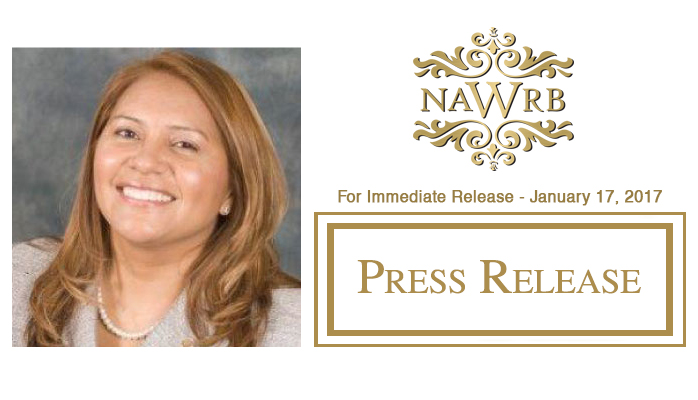 Washington, D.C. – January 17, 2017 –The National Association of Women in Real Estate Businesses (NAWRB) announced today the opening of their Washington, D.C. Office headed by Silvia N. Rathell, Washington D.C. Satellite Office Government Relations Chairwoman assisting the organization's growth in government advocacy on behalf of women's gender equality and women-owned businesses in the housing ecosystem.
A Washington, D.C. veteran and co-owner of Rathell Properties LLC, Rathell was most recently the National Chief Development Officer at the National Association of Hispanic Real Estate Professionals (NAHREP). Prior to this she served as National Senior Director for Federal and Corporate Relations at the League of United Latin American Citizens (LULAC) for seven years, a role in which she secured key partnerships with Fortune 1000 companies and over 40 Federal Agencies.
The MAFO Board of Directors selected Rathell for the 2016 President's Award, and in 2015, she was the recipient of the Alverno College Service to the Community Award, in recognition of demonstrated effective leadership through her community contributions.
As a native of Mexico, Rathell knows firsthand the obstacles minorities and women must surpass in the imbalanced workplace. She came to the U.S. when she was 14 years, earning her Bachelor's from Alverno College in 1998 and Master's from Cardinal Stritch University in 2005.
Planning to pursue her doctorate degree in the near future, Rathell sits on several national boards and advisory councils—the White House Policy Briefings for Latino Leaders, The National Farmworker Alliance and the Social Security Administration's Latino Advisory Board, to name a few—always mindful of the fact that there remains much work to be done for women and minorities.
"We are excited and honored to have Silvia on our team as Chairwoman of Government Relations," stated Desirée Patno, NAWRB CEO and President. "Her dedication to her work and experience in the government space are valuable assets that will bolster NAWRB's mission of driving change for women in the housing ecosystem."
About NAWRB
The National Association of Women in Real Estate Businesses (NAWRB) is a leading voice for women in the housing ecosystem. With the assistance of our Women's Diversity and Inclusion Leadership Council (NDILC), NAWRB is advocating for women's gender equality, raising the utilization of women-owned businesses and providing women the tools and opportunities for economic expansion and growth. By increasing women's homeownership, we can leverage the entrepreneurial strength of women and help bring the awareness of women's poverty.