Women's History Month: Women in Sports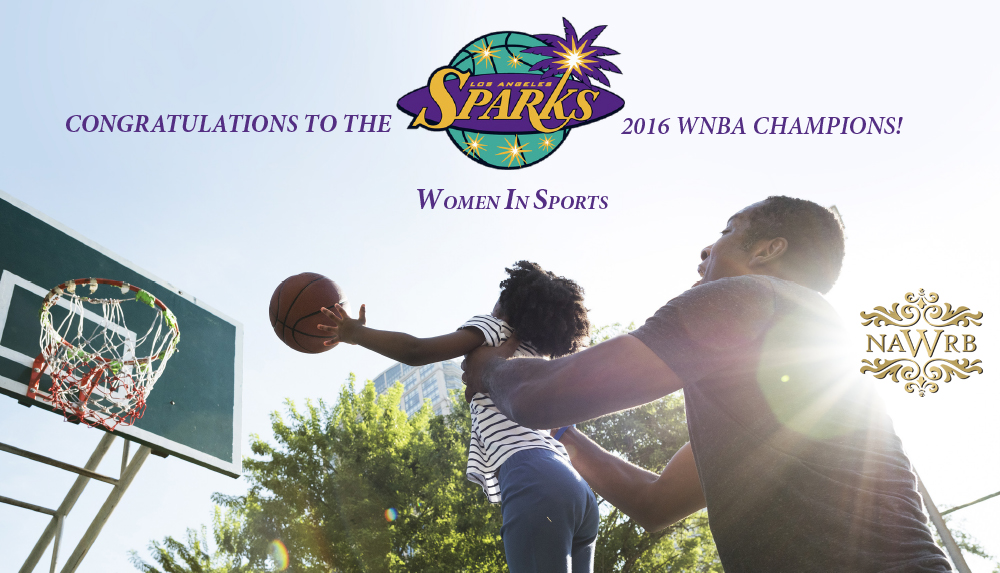 On Thursday, October 20, 2016, the LA Sparks ignited a roaring crowd inside Minnesota's Target Center as they scored the winning bucket in Game 5 of the WNBA Finals. The buzzer signaled a 77-76 victory for the LA Sparks over the Minnesota Lynx in a nail-biting ending. The triumphant LA Sparks players made Los Angeles proud by winning the first WNBA title since 2002.
In an exclusive interview with NAWRB, LA Sparks President & COO Christine Simmons was noticeably proud of the team and humbled to witness their achievement during her tenure. "It's surreal," Simmons stated. "It was really beautiful to watch our women get that, and they worked so hard. They did feel like underdogs in all different aspects."
Simmons revealed that this was hard-won redemption for the LA Sparks, "We knew what we had, the players knew what they wanted, and were focused on achieving it. From ownership down to every player, we were all focused. Bringing that championship back, after 14 years, brought back that level of playing excellence to LA."
This was also the first championship win for Finals MVP player Candace Parker. Parker is a renowned athlete whose accolades, including two-time Olympic gold medalist, Naismith College Player of the Year, and two-time NCAA National Championship winner, to name a few, are now accompanied by a WNBA title. This win was more than just a professional accomplishment for Parker; it was also a personal achievement that was well-deserved during a trying year marked by loss. Parker remained strong after the devastating loss of her mentor and friend, the renowned Pat Summit; a snub for a place in the United States roster for the Rio Olympics; and being left off both the first and second all-WNBA teams for the first time since 2011.
Parker's teammates, a steadfast support system, were determined to achieve this win for her. The WNBA reports that MVP player Nneka Ogwumike, another key figure in the LA Sparks' championship win, embraced Parker after the game and cried, "This is for you! This is for you!" This stunning display of camaraderie, combined with the team's skill and training, was an important factor in the LA Sparks' claim for victory.
Player Alana Beard, speaking to the WNBA, shared the significance of Parker's trust in her team, and her vulnerability required to develop that trust. "I've been with Candace for five years now," said Beard. "And this was the first year she trusted her teammates. She became vulnerable, and when you become vulnerable you grow. On the court, off the court, she trusted the process, she trusted Brian [LA Sparks coach], and in the end it paid off."
Simmons states that the team's chemistry and mutual support were key factors in their win, "All the players brought great energy and leadership to the table. It started from the spirit of the team. You could see all the positive energy and just the love and respect that each of them had for one another. It was a really great thing to see." This example of players supporting players, and, on another level, women supporting women, is as important on the court as it is off the court in the battle for women's equality in sports.
Gender Inequality Off the Court
Although some progress is being made, there is still work to be done in the movement for gender equality regarding resources, exposure, pay and representation in leadership. The disparity in pay for men and women basketball players is astounding. According to CNN, "The average salary for a WNBA player is $72,000, which doesn't include bonuses and benefits, while the average salary for an NBA player is around $5 million, or about 70 times what the average female basketball player makes." To put this in perspective, an NBA player could easily purchase a beautiful home overlooking the Newport Beach coast, while a WNBA player would have difficulty finding an affordable home in Los Angeles. These different paychecks are not just mere numbers; these are differences in livelihoods available to professional athletes based on gender.
Finish reading about the WNBA Sparks and women in sports at www.NAWRB.com/magazine.