NAWRB Foundation is a 501(c)(3) non-profit organization advocating for our women's global resource center, women-owned and small businesses, the increase of women's homeownership, and the decrease of women's poverty levels.
NAWRB maintains a free global resource center for all women in the housing ecosystem, bringing together a women's depository to strengthen the gathering of women within each industry for all management levels and business classifications, to provide access and opportunities for diverse spend and develop the utilization of women-owned businesses.
NAWRB's advocacy is fueled by our passion. We are here for the success of our members and we work with government entities and housing ecosystem companies focused on the same goal.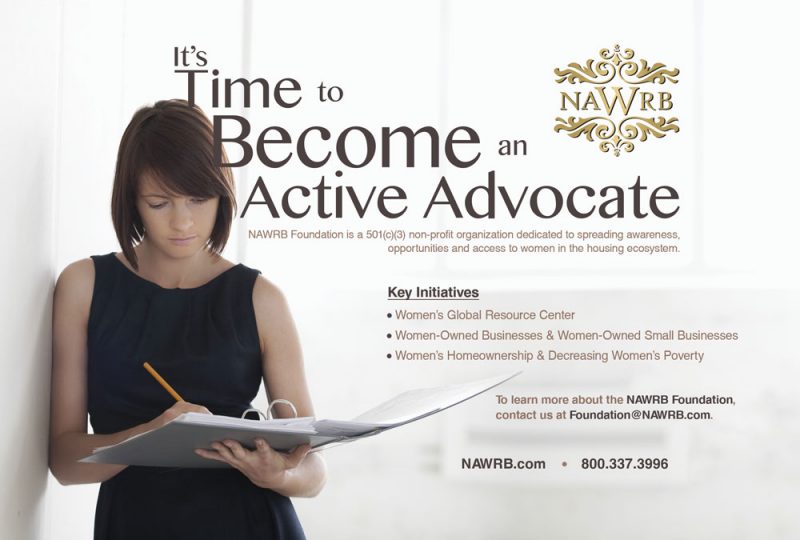 Donate
Donate today to pledge your support for the women's movement in housing. Together we can help level the playing field for professional women.
Collaborating with several local and federal government entities like the National Women's Business Council (NWBC), Women Impacting Public Policy (WIPP), the Small Business Administration (SBA) and the Office(s) of Minority and Women Inclusion (OMWI), NAWRB brings women to the table and their issues to the forefront.
No Donation is too small.
Donate
$10-500

Any support is appreciated.
No donation is too small.

Call 949.559.9800 to donate
To contribute to the cause please call the NAWRB office to submit your donation: 949.559.9800
Where does my money go?
Your tax-deductible donation can help make a difference to women-owned businesses and women in housing nationwide. Your donation will help the NAWRB Foundation host our nationwide conference and women's homeownership events, publish our international magazine and continue our advocacy at government and industry functions throughout the country. We work tirelessly to accelerate the recognition, access to opportunities and representation of women in business. Pledge your support today.
For more information, please email info@NAWRB.com.