The National Women's Business Council (NWBC) independently advises the President, Congress and the U.S. Small Business Administration regarding economic matters that relate to women business owners. The Council seeks to improve conditions for women business owners and is the only independent voice for women entrepreneurs.
The NWBC has released its Annual Report for 2014. NAWRB has compiled valuable excerpts that expand on the council's milestones and outlook for the future. NWBC Chair Carla A. Harris provides her personal message highlighting 2014.
Message from the Chair
At the end of 2013, the National Women's Business Council committed to conduct earnest research to discern the challenges and obstacles that impede the growth and origination of women-owned and women-led businesses. The Council sought to deploy that research in a way that would expand the national conversation on women's entrepreneurship and further an agenda to expand opportunities, resources, and access for women entrepreneurs.
Building on the Council's four pillar platform — access to capital, access to markets, job creation and growth, and data collection— we worked to identify the challenges and intervention points and to develop implementable solutions and strategic opportunities that will ultimately improve the outcomes for women business owners as they seek to successfully grow and scale their businesses. Leveraging platform, experience, and convening power, the Council strategized to engage both the private and public sectors in providing tools, visibility and access to opportunities and resources.
In 2014, we delivered on this commitment with research, engagement and communications efforts that continue to inform policy, influence culture and strengthen the institutions that are necessary to support and sustain women's entrepreneurship. We convened and engaged key stakeholders to address the challenges that women entrepreneurs face and worked together to change the outcomes, including exploring new and innovative sources of capital. We presented at conferences, published articles, engaged online audiences and used our profiles as Council Members to elevate the conversation around women and entrepreneurship. We strengthened our role as advisors to the U.S. Small Business Administration, Congress, and the White House and kept these customers informed and engaged with research and updates on developments in the field. We continue to stand in support of the passage of the Women's Small Business Ownership Act of 2014, introduced by the Chair of the Senate Committee on Small Business and Entrepreneurship, Senator Maria Cantwell, and its specific components to improve access to lending, business training and federal contracting for women-owned businesses. We celebrated the growing economic and social power of women business owners and learned from their stories of resilience and success. We distributed the lessons learned to prospective entrepreneurs via innovative social media campaigns and other public awareness efforts.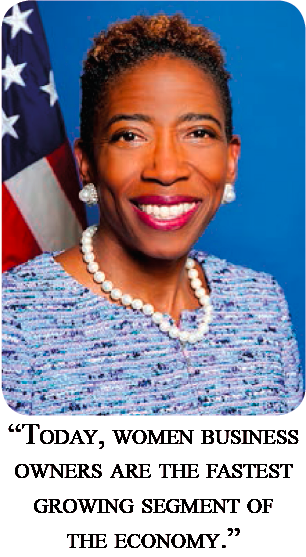 In 2015, we are committed to building on this important work and acting on the lessons learned with impactful
research. The research agenda will highlight effective and new strategies that increase women's access to capital and markets, including analysis of social networks, undercapitalization, participation in accelerators and incubators, as well as corporate supplier diversity programs. We will build regional networks and inform women entrepreneurs of the best opportunities and resources. We will engage women business owners and the public to broaden the Fconversation on women's entrepreneurship and support the creation of a culture that encourages women's business ownership and growth.
Women entrepreneurs have significantly increased their economic impact in the past few decades. Today, women business owners are the fastest growing segment of the economy. The Council remains committed to using research as a springboard for continued action and change as the landscape for women and entrepreneurship shifts. Our hope is to build bridges between influencers, institutions, and entrepreneurs, leveraging the power of research and collaboration, so that we can impact the business climate for women. The numbers confirm that the full economic participation of women and their success in business is critical to the continued economic recovery and job growth in this country— and we are honored to be part of the movement to impact and better the business climate for women.
We are excited to share our 2014 annual report, Building Bridges: Leveraging Research and Relationships to Impact the Business Climate for Women. Here you will find an in-depth look at our activities, research, key learnings, analysis and planned agenda for FY 2015.
– Carla A. Harris, Chair
Building on the words of Carla A. Harris, the NWBC is committed to its research regarding the state of women's businesses and discovering better opportunities for women business owners. This includes the Council analyzing SBA loan data. The Council staff worked with the SBA Office of Women's Business Ownership on a project to analyze SBA loan data. The purpose was to better understand women's participation in SBA lending programs so that the outreach efforts to increase women's participation could be better targeted by geography and program. Council staff is continuing the partnership with the SBA Office of Women's Business Ownership to complete analysis based on more comprehensive data. This research will be released in 2015; the Council will then shift its focus to supporting the implementation of best practices based on the research conclusions.
The NWBC uses its research to discover what works and what doesn't in terms of women-owned businesses.
As a follow-up to previous NWBC research that found that undercapitalization is associated with business failure, and that women-owned and women-led firms display certain characteristics (such as lack of capital from external sources) that are associated with business failure, the Council commissioned research on undercapitalization as a contributing factor to business failure. The goal of this research is to gain a better understanding of the role that access to capital and undercapitalization have on business outcomes for women-owned firms in particular.
Women-owned small businesses (WOSB) are still not meeting the goal in securing five percent contracts across all federal agencies. Eligible parties to receive North American Industry Classification System (NAICS) contracts include businesses being at least 51 percent directly owned and unconditionally controlled by one or more women who are citizens (born or naturalized) in the United States. The business must be small, meaning in congruency with the SBA's size standards for that industry.
Here are the NWBC's findings for contracting opportunities as well as awards to WOSBs:
In 2012, WOSBs were awarded 182,791 contracts worth $11.5 billion.
Since 2000, WOSBs have received an increasing share of contracts and awards, not only within the 83 designated industries but in other industries as well. But although WOSBs are generally meeting the contract threshold within the 83 underrepresented industries, they remain underrepresented in terms of awards share.
Award dollars are concentrated among a small number of WOSB vendors. For example, in 2012, 20.0% of awards (amounting to $2.3 billion) went to 44 WOSB vendors. The other 80.0% of awards ($9.2 billion) went to 17,648 vendors.
The contract action most frequently awarded to WOSBs from FY2007 to FY2012 was purchase orders; next most frequently awarded was delivery orders. An average delivery order is worth about eight times as much as the average purchase order. In other words, there is a great disparity between WOSBs and non WOSBs with regard to award amount, likely due to contract type awarded.
The SBA's FY2013 Small Business Procurement Scorecard is used to analyze if federal agencies are meeting their objectives for their small business and socio-economic prime contracting and subcontracting goals. It is also used as a means to gather contracting data and report agency-specific progress. Some agencies were able to meet their agreed upon goals for 2013, while others were not.
Upon the release of the SBA's FY2013 Small Business Procurement Scorecard, the Council congratulated the 20 federal agencies meeting the 5.0% WOSB procurement goal. The Council also called attention to the four agencies that did not meet the goal: Department of Defense, Department of Energy, Department of Veterans Affairs, and the National Aeronautics and Space Administration. A closer look at the data shows only a 0.32% increase in contract dollars awarded to women-owned small businesses, up from 4.00% in FY2012 to 4.32% in FY2013, but again falling short of the goal.
In order to bolster the statistics, the Council provided additional access to more resources pertaining to government contracting.
The Council promoted SBA online courses on government contracting, including: "The WOSB Advantage," "Government Contracting 101," and "Women-Owned Small Business Program: A Primer for Contracting Officers.
Business-to-business (B2B) sales refer to the business between two different companies, as opposed to business conducted between a business and a consumer. Normally, a supply chain works with multiple B2B transactions. However, there is a trend of B2B sales accumulating more revenue than business-to-consumer (B2C) sales.
The Council released an infographic on women-owned businesses in the supply chain showing that women-owned businesses with business-to-business (B2B) sales earned higher receipts regardless of industry, and tend to have better access to capital. Anecdotal evidence suggests that having other businesses as customers is a key strategy to scaling a company. The infographic features the success story of Stacy Madison, the founder and former owner of Stacy's Pita Chips, and details her use of B2B sales to scale her chip empire.
From online courses to studies on B2B sales, the NWBC needs data to understand what resources to provide and what is trending. The Council continues to foster the creation of hard statistics to help better assist women business owners. Federal agencies can be especially helpful in collecting meaningful data.
The Consumer Financial Protection Bureau (CFPB) is a federal agency that overlooks financial products and services.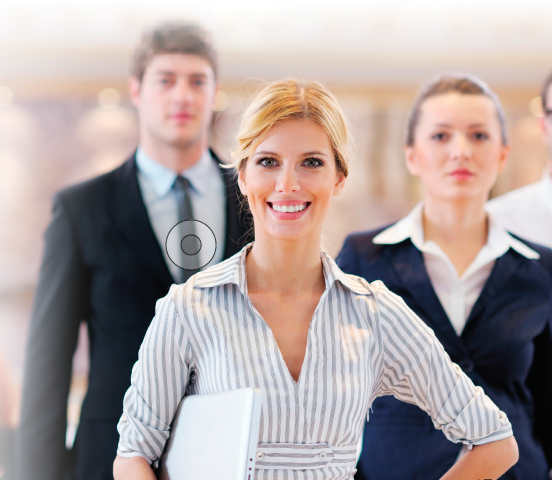 The Council urged the implementation of an annual Survey of Business Owners and called on the Consumer Financial Protection Bureau to begin collection of data on demand for small business credit.
Council staff met with staff from the Consumer Financial Protection Bureau's Office of Community Affairs and the Office of Regulations to elevate the need for collection of demographic information on demand for credit, specifically requesting an updated timeline on compliance with the Dodd-Frank Act. Council staff learned that implementation of Section 1071 of the Dodd-Frank Act, which amends the Equal Credit Opportunity Act to require that financial institutions collect and report information concerning credit applications made by women-owned and minority-owned businesses, continues to be on hold until the Bureau's release of implementation regulations, which they have signaled will happen upon completion of the Home Mortgage Disclosure Act implementation.
Other agencies and influential runners that the Council appealed to for data collection include the U.S. Census Bureau and Secretary of Commerce Penny Pritzker.
The U.S. Census Bureau and the Kauffman Foundation confirmed a partnership on an annual survey of business owners — as a complement, not a replacement, to the U.S. Census Bureau's Survey of Business Owners that currently takes place every five years. This annual survey will collect 2014 data, be completed in 2015, and be released in 2016.
The Chair met with Secretary of Commerce Penny Pritzker to recommend the collection of the following data points for the quinquennial Survey of Business Owners:
Future plans for business at present (regardless of original intentions)
Intentions behind starting firm (for example, necessity vs. lifestyle vs. growth)
Amount of capital by source
More detailed industry information available in the public use microdata set
Information about patents and intellectual property
Longitudinal data
Title/role of owners (for example, CEO) to determine if "women-led"
Information on STEM education
Legal form of organization (for example, C-corporation, S-corporation, LLC, partnership or sole proprietorship)
Participation in exporting
In addition to the NWBC's recommendations for new data collection, there is one important subject that could benefit from further research: the women's entrepreneurship ecosystem.
Many membership organizations, government agencies, financial institutions, academics and others are nurturing the women's entrepreneurship ecosystem, which provides support to the 7.8 million women business owners in the country. However, there is little understanding of the system as a whole and how its component parts work together. Because of the Council's convening power and relationship with many of the stakeholders in the women's entrepreneurship ecosystem, the Council is uniquely positioned to make recommendations to strengthen the support organizations that help women grow their businesses.
The NWBC proposed a series of hypotheses and questions:
How do demographic, social, economic and other factors impact the ability of women business owners to gain entry into and successfully participate in corporate supplier diversity programs?
How aware are women business owners of supplier diversity programs and the opportunities for growth they might offer?
How have women business owners overcome the challenges and barriers that hinder their participation in corporate supplier diversity programs?
What "best practices" and characteristics are most common to corporations with successful supplier diversity programs?
What are the benefits of supplier diversity programs — to both women business owners who participate in and corporations that offer such programs?
For what reasons do some women entrepreneurs choose to seek to participate in corporate supplier diversity programs while others do not?
In what industries do women-owned businesses have a growing presence in corporate supplier diversity programs and what is contributing to the growth?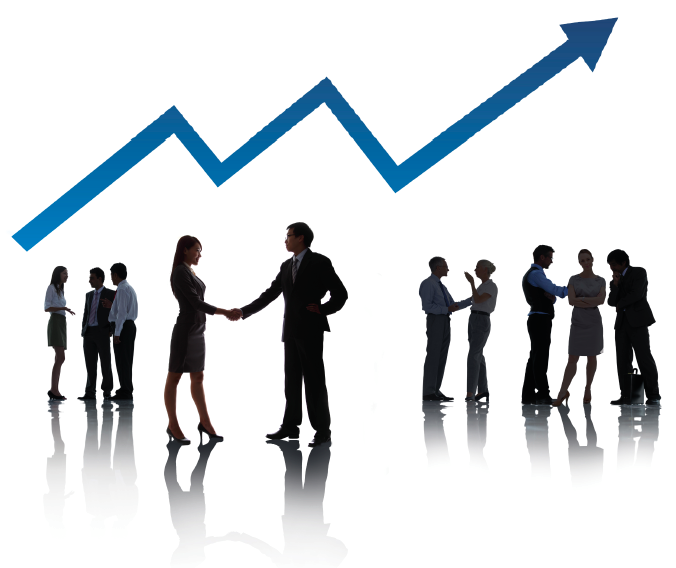 The data and methodology will be established in January 2015.
Moving forward with 2015, the NWBC has proposed multiple strategies to better connect women-owned businesses with the proper opportunities to expand their businesses. One strategy includes the following:
The Council will propose an expansion of the NAICS codes in which WOSBs are eligible for set-asides — currently 83 NAICS codes — to better represent the demographics of today's women business owners and increase participation within the WOSB program.
The Council will celebrate and learn best practices from the government agencies that met their 5.0% goals, and share with those that did not meet the goal.
Research will identify existing opportunities and potential barriers for women entrepreneurs in corporate supplier diversity programs and share best practices of corporate supplier diversity programs.
The Council, in partnership with the six participating membership organizations and other interested parties, will conduct matchmaking events for women and government contracting opportunities — by region, industry, and readiness — by leveraging the SBA's Business Opportunity database.
Research that better serves women-owned businesses and provides greater awareness is most effective when shared with extended outreach. The Council has adopted strategies to bring the necessary awareness. One of its strategies is to "share research and findings through consistent and strategic outreach and updates to policymakers, influencers, partners, and other stakeholders.
The Council will begin a new project, in partnership with the SBA Office of Women's Business Ownership and Carnegie Mellon University, to map out the entrepreneurship landscape — including membership organizations, Women's Business Centers, government agencies, financial institutions, academic institutions, and other entities — and its impact.
The Council will work with participating membership organizations on a journey mapping of women's entrepreneurship, offering guidance for the potential challenges and highlighting available opportunities and resources.
NAWRB appreciates everything the NWBC does to expand opportunities and champion for women in business. For the full 2014 NWBC Annual Report, visit www.nwbc.gov.