#NAWRB2017
4th Annual Conference
Women's Collaboration for the Future
"The upcoming Annual Conference of the National Association of Women In Real Estate in Orange County, California promises to bring the top leaders in the real estate ecosystem together to network, share ideas and provide federal, state and county opportunities to obtain contracts.

I walked away from my first Annual Conference making friends for life. A must attend if you want to be the first to experience the next level of performance accessible to your business."
Terry Rasner-Yacenda
Reno/Tahoe Realty Group, LLC
NAWRB Certified Delegate Spokeswoman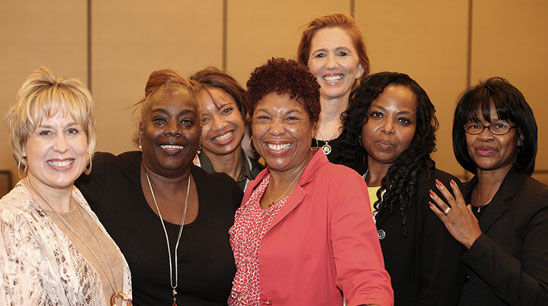 NAWRB 2017 
ANNUAL CONFERENCE
The NAWRB Women's Collaboration for the Future Conference is committed to highlighting the value of women in housing, demonstrating the opportunity cost of not implementing diversity and inclusion and identifying strategies for sustainable bottom line growth.
As a female entrepreneur, capitalizing on your unique opportunities and resources is pivotal to leveling the playing field.
A lack of diversity and inclusion can mean the difference between exponential growth and a permanent closed sign; companies not leveraging the power of women are leaving stacks of money on the table for the taking.
The housing ecosystem is changing. The only way to succeed tomorrow is by preparing today.
Register for the NAWRB Conference to become a diversity and inclusion leader and rise above the competition.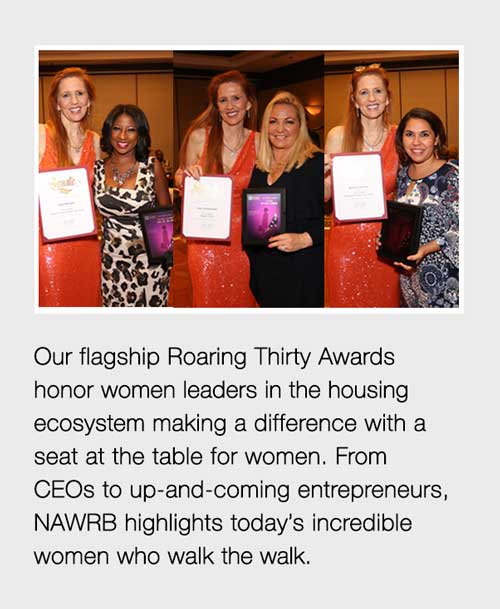 LOCATION DETAILS
Hotel & Venue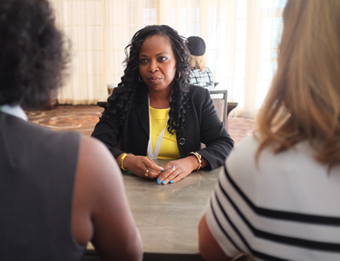 The NAWRB Annual Conference directly connects you to housing ecosystem experts helping shape the future of the industry. Coupled with decisive networking opportunities among leading professionals and executives, the NAWRB Conference is always one step above the competition.
BENEFITS OF ATTENDANCE 
Bring Women to the Forefront
NAWRB advocates on behalf of women and women-owned businesses in the housing industry and connects you to other high-level companies and government institutions who believe in promoting, empowering, and encouraging women entrepreneurs. Our strong government relationships provide our members with a unique resource, enabling women professionals to have their questions heard and addressed by those who are in a position to initiate change.
NAWRB works with government organizations, federal officials and members of Congress to advocate for the increased utilization of women-owned businesses across all platforms. The NAWRB Government Relations Committee and Regulatory & Policy Committee are passionate about our government and the political landscape. They make it their mission to remain up-to-date on new and/or proposed regulatory and policy developments in regards to the housing economy.
Tickets On-Sale
Limited Quantities Available.
Leverage Access to Capital,
Teaming and Diversity of Sourcing Business Avenues
Sustainability of Small Businesses
Of all firms, small businesses and women-owned small businesses are particularly prone to financial struggle, which often times leads to the demise of these ventures. With this reality and the inescapable competition from large firms, small companies have to be smart and resourceful if they are to succeed.
With this groundbreaking session we will discuss access to capital opportunities, the power of teaming your small business with others, and ways to secure diverse business avenues for your company. Just because your company is small doesn't mean you can't win big.
Women-Owned Business Certification
Access to Capital
Hear from our resource partners deliver an update on the benefits and power in women-owned business certification. From leveraging your firm's appeal in the government contracting field to increasing your company's value and bottom-line profits, attendees will learn to capitalize on critical business opportunities.
Why get certified? Do I qualify? Where do I start? What's the return?  Several entities are actively looking for women-owned businesses
FALSE: There is no value in women-owned business certification.
TRUE: Diverse spend opportunities are being lost because the government and other entities cannot locate enough women-owned businesses. 
Small Business Sustainability –
Time Management – Independent Contractors
Women-Owned Contracting Opportunities
A variety of agencies with enormous responsibilities and projects in motion, from the Department of Housing and Urban Development (HUD) to the Small Business Administration (SBA), beckon the assistance of diverse independent contractors from several industries.
These entities possess contracts and set-asides for women-owned small business and small businesses within several designations. With the ever-growing diversity and inclusion (D&I) movement, a rising number of agencies are dedicating themselves to increasing the utilization of small businesses in the contracting arena.
As the Small Business Administration (SBA) reveals in the Scorecard Summary for fiscal year 2015, HUD awarded over $360 million in contracts to women-owned small businesses (WOSB). This is just one agency dedicated to working with WOSB in the contracting arena.
These contracts, potentially worth millions of dollars, could be pivotal for your business. If you prepare yourself, you could be the next recipient of a million-dollar contract.
To learn more about contracting opportunities including:
Contracting requirements
How you can best prepare your business for possible contracts
Contracting forecasts for fiscal year 2016
Microsoft Office 365
IT Training
Custom Microsoft 365 Technology Training to maximize productivity for professionals in the housing ecosystem.
Demonstrate the vast effect software has on your time and performance

Teach you to boost your business by reducing time spent on tasks

Help you be more present in everyday interactions
Choosing the right programs for you makes all the difference!
Women's Homeownership Initiative
Homeownership and its Sustainability
Increasing Women's Homeownership and its Sustainability – What Sets Women's Homeownership Apart?
Women buy differently based on their family, relationships and economic development 

Through homeownership, women can cement their economic foundation and build a family legacy

By leveraging women-owned businesses, we can increase women's homeownership, make it a priority and commitment 
MatchMaking: One-On-One Sessions 
Business Opportunities for Women-Owned and Small Businesses
Vendor and Procurement Contracting are serious business for Corporate Social Responsibility entities. Who is serious in utilizing women-owned businesses?  (Property Managers, Facility Maintenance, Brokerage, Contractors, Title, Escrow, IT, and other related industries in the housing ecosystem)

First Come First Serve Registration at the Conference. 10 minute segments with clients who have supplier diversity. Maximize your segment by being prepared with capability statement and questions. If they don't have your exact business needs today, it is a small world within the supplier diversity community. 

Minority Women-Owned Small Business Wins HUD Contract Worth 300 Properties a Month!

Teaming for Contracts Wins Big!  SBA has incredible mentorship programs and most of them are FREE!
Women's Snapshot in the
Housing Ecosystem
Photo shooting gallery with four full displays and live candid shooting throughout the conference to capture the actual women working in the housing ecosystem. Come and enjoy the fun and who knows you could be on our next cover! Remember, If You Can See Her, You Can Be Her!
List of contracts
From Local Entities
Hear from actual entities looking for women-owned businesses as part of their core business and those increasing their corporate social responsibility diverse spend. We bring this value and awareness to our attendees, enabling them to take action for increased revenues.
Executives:
Mentorship and Confidence
The value and influence of a mentor is tremendous, especially within highly competitive settings such as C-suites and executive offices throughout America. The housing ecosystem's leading professionals will share their experiences with advisors and the meaning of mentorship and sponsorship in their lives.
KEYNOTE SPEAKER
Toni Moss
Global Financial Markets: How does it affect your business? What impact will it have on your personal wealth/investments?
Moss takes us on a journey that provides a compelling overview of globalization, its direct impact on the U.S. housing ecosystem, and previews what will happen next. The journey begins fourteen years ago with the launch of the Euro bank note in 2002, and her creation of a conference that same year in Madrid, Spain, which brought together the leading European economic, banking, and housing players for the first time to ultimately warn the industry about the need to change its products, processes and practices in line with the trajectory of globalization or face global economic disaster. 
Her engaging retrospective of each year's conference explains what was going to happen, what did actually happen leading up to the crisis of 2007/2008, why it happened, and why it is about to happen again. In the course of this presentation, Toni provides an explanation of globalization and the ideology and forces that drive it; how those forces have created the unprecedented circumstances and dilemmas of the global economy and our vulnerability to them; how those forces have clashed with democratic ideals leading to Brexit and political volatility in the U.S., and where housing plays an underlying role in all of it.
Confirmed Company
Attendees:
Allure Realty
Alpine Companies
Altisource
Americatalyst, LLC.
Arista National Title
Atlas Field Services, Inc.
Boardwalk Properties
Chrimata, Inc.
Citibank
Desiree Patno Enterprises, Inc.
Diamond Realty Brokers
East West Bank
Enterprising Women
EuroCatalyst BV
EXIT Realty
Fannie Mae
Federal Deposit Insurance Corporation (FDIC)
Federal Housing Finance Agency (FHFA)
Field Property Management
Freddie Mac
Genesis Capital
Herbert H. Landy Insurance Agency
Keller Williams
Let's Talk Success
Microsoft Corporation
Million Women Mentors
New American Funding
New Penn Financial
Powerhouse Realty, Inc.
Realty 411
Realty First
Red Top Realty
RISMedia
Service Corps of Retired Executives (SCORE)
ServiceLink
Sharon Bartlett Consulting
Sigma Associates, LLC.
Small Business Development Center (SBDC)
Summit Realty
Tahoe Realty Group
The REO Group-Central Texas
Top Level, Inc.
Union Bank
U.S. Bank Home Mortgage
U.S. Small Business Administration (SBA)
Veterans Preference, Inc.
VRM Mortgage Services
Wells Fargo Home Mortgage
Women Impacting Public Policy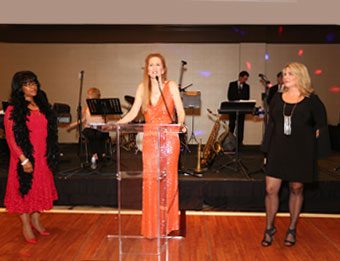 The Award Gala celebrates the woman, her professional and personal achievements, as well as her ability to inspire and advocate for other women.
The runner-up from each category will be profiled as a Leading Lady.
DAY 2 // 6:30 PM 
NAWRB GALA
Our Roaring Thirty Awards Gala on July 17, 2017 will honor the women leaders in the housing ecosystem making a difference with a seat at the table for women. These are trailblazers succeeding through unprecedented obstacles and demonstrating women's power as influencers in business.
The women at the top have had to work harder to arrive and stay there, and it is important to recognize their achievements and inspire future generations.
Our awards are designed to recognize a diverse group of professionals from the housing ecosystem. From CEOs to advocates, 30-year veterans and up-and-coming entrepreneurs, NAWRB highlights today's incredible women who walk the walk.
These winners create success even under continually imbalanced and disadvantageous conditions, display the unlimited potential of women in business and set the stage for tomorrow's female entrepreneurs. We couldn't be more proud of their accomplishments and are honored to have them in our presence.
Tickets On-Sale
Limited Quantities Available.
Attend our 2017 NAWRB Roaring Thirty Awards Gala, ticket includes dinner.
Conference pass. Early Bird special ends May 31st.