Executive Organization
NAWRB Membership
Women in Housing Business Professionals – Welcome
Desiree, I want you to know I sincerely appreciate your words of encouragement. These times have been quite humbling for me, and that is a good experience. Thank you for being a friend, as well as an incredible leader.
Dianne Langston
Quality Real Estate Services
Love this magazine. Thank you. We have an office of wonderful women all with amazing stories.
Joseph Brazen
Brazen Sotheby's International Realty
Love this magazine and I love how generously marketing and column space is shared with us. Desirée is correct. No other organization publicizes their members in such a large way. I love NAWRB!!
Dianne Langston
Quality Real Estate Services, Inc.
It was an honor to work with you, share information and be featured in your article in N Magazine. I'm proud that Staging is now part of the REO community. You and your organization are doing great and needed work. Thank you for all that you are doing! I look forward to working with you in the future!
Barb Schwarz
Creator of Home Staging
Any exposure is so valuable to any business and especially when it is done in such a professional manor. That's what I love about NAWRB. Alex walked me through the certification process and really made it easy, and for that I am so thankful.
Shelly West-Chenoweth
President, Atlas Field Services, Inc.
Our decision to join NAWRB stems from our desire to be actively engaged and a contributing member in our real estate community. NAWRB allows us the opportunity to collaborate with other like-minded women-owned business professionals and make a difference in real estate and related industries.
Sandra H. Cope
Vice President/Escrow Officer, Inwest Title Services
I joined NAWRB because it is one of the only associations focusing on women in the REO business. I believe this is an excellent opportunity to be part of an organization that supports and encourages women to be successful in real estate.
Amanda Arhuire
Sunrise Property Preservation, LLC
NAWRB gives me a voice, a voice that has been long awaited for and I hope to inspire all women business owners in any industry...
Stephanie Hughes
All Bay Realty, Inc.
NAWRB is a phenomenal organization that assists women-owned buisness owners in not only their ongoing education and development in real estate, but also in the networking of other women-owned business owners on how to grow their business and support one another with the added benefit of being certified as a women-owned business.
Teresa Ryan
Owner, Ryan Hill Realty
NAWRB is an amazing organization that I highly recommend for women in real estate looking to network, expand their education and further their careers!
Lisa Ristow
The Ristow Group
THANK YOU! THANK YOU! Looking forward to seeing you guys SOON! I am so excited about N Magazine! NAWRB are real estate game changers!!! GOOOOO 2013 and BEYOND!!!
Stephanie Hughes
All Bay Realty
Thank you so much! I LOVE IT! Where can I get a copy of the magazine at? Thank you for asking me to be a part of N Crowd in N Magazine.
Joan Patterson
Keller Williams Realty
NAWRB does a fantastic job of heightening awareness of intelligent business people who happen to be women.
Lisa Ristow
The Ristow Group
We cannot begin to say how proud we are to receive NAWRB certification. It is the result of lifelong work and commitment to not allow dreams to just be dreams. Thank you to NAWRB and thank you to every wonderful person we've crossed paths with along the way! Dream on & God bless!
Terry Rasner
Reno Tahoe Realty Group, LLC.
Desiree is such a great speaker. I had so much positive feedback. People are asking me to bring her back to a larger venue! I am excited about my membership and I hope to be an active member to increase our numbers. She is such a hard working lady, and I have true admiration for her. So much of what she said was on point with my experiences, and it was great to hear from another professional. I need that kind of dialogue on a regular basis. Let's get my membership up and running and I am interested in certification as a woman owned business.
Dianne Langston
Quality Real Estate Services
I love how NAWRB offers marketing opportunities at a reasonable rate, while also making it a focus for the Real Estate Industry as a whole to receive education about all types of transactions in order to make it a more efficient and easier place to do business.
Nicole Romero
Thank you so much for thinking about us. I was able to get a room at the Five Star Conference at a great rate. Can't wait to see you there!
Raye Mayhorn
Realty Executives
Leading Ladies was a very professional event, interactive, and it was filled with new ideas about thinking out of the box to utilize my WOB certification to expand business. I took away tons of good information. There are so many REO groups seeking new members that it's hard to figure out where I should invest my resources. After attending the conference I was happy that I had joined NAWRB.
Colleen Calnan
Calnan Real Estate
I do not impress easily and was completely blown away by Desiree's knowledge and professionalism. After three years of attending C.A.R. meetings she wins the best knowledge-packed presentation in my book.
Christine Padilla
I have nothing but fantastic things to say about NAWRB! I believe in this organization. Keep up the great work! It really shows!!
Ivery Summers
The REODIVA
I know a lot of companies ask if you are a member of NAWRB.
Melissa Justice
It was a pleasure meeting you at the Five Star. I really enjoyed the event/dinner you planned for members of NAWRB. Thanks for all you do to promote women in business. Marlene Cerreta, Cerreta Realty Group Marlene@Cerreta.net
Of course I will be continuing my membership. You guys are the BEST!!!!
Willie Stewart
Divine Realty
Hi there…thank you so much! It was a true pleasure…didn't see so many items you mentioned…I always pitch that I speak English and Spanish…can't believe I missed that! Again, thank you so much! This made my day!!!!
Liza Mendez
Pedro Realty International
Thank you so much. Everything seems to have gone well and simple other than a large deluge of old paperwork to find.... Since attending REO Expo and putting in some applications online I am getting emails from companies who say they can certify us. I will be sure to recommend you if anyone ever asks.
Carol A. Kemp
Kemp Real Estate, Inc.
It was great meeting you and your staff at the REO Expo as well. Just so you know Katherine has been extremely helpful and patient with me through this [certification] process and I'm grateful for your assistance.
Stephanie Davis
DC Properties of Arizona, Inc.
Why Support NAWRB
WOMEN IN THE HOUSING ECOSYSTEM
NAWRB is one of the leading voices for women in the housing continuum. From advocating for women at industry events throughout the country to providing your company with the contracting opportunities and individual attention to drive business growth, NAWRB is here for your success.
NAWRB is a leading voice for women in the housing ecosystem. With the assistance of our Women's Diversity and Inclusion Leadership Council (NDILC), NAWRB is advocating for women's gender equality, raising the utilization of women-owned businesses and providing women the tools and opportunities for economic expansion and growth. By increasing women's homeownership, we can leverage the entrepreneurial strength of women and help bring the awareness of women's poverty.
Leadership Opportunities
Participate in national initiatives and impact policy and advocacy.
NAWRB has made great strides toward providing awareness, opportunities, and access to both women and women-owned businesses in the housing ecosystem. To continue spreading awareness of opportunities and take NAWRB to new levels, engaging and passionate members are needed to fulfill the roles of NAWRB's Committees.
NAWRB works with government organizations, federal officials and members of Congress to advocate for the increased utilization of women-owned businesses across all platforms.
COMMITTEES:
Government Relations
Business Certification
Women's Homeownership
Membership
Events
Media Outreach
NAWRB Foundation
Business Development
NAWRB Magazine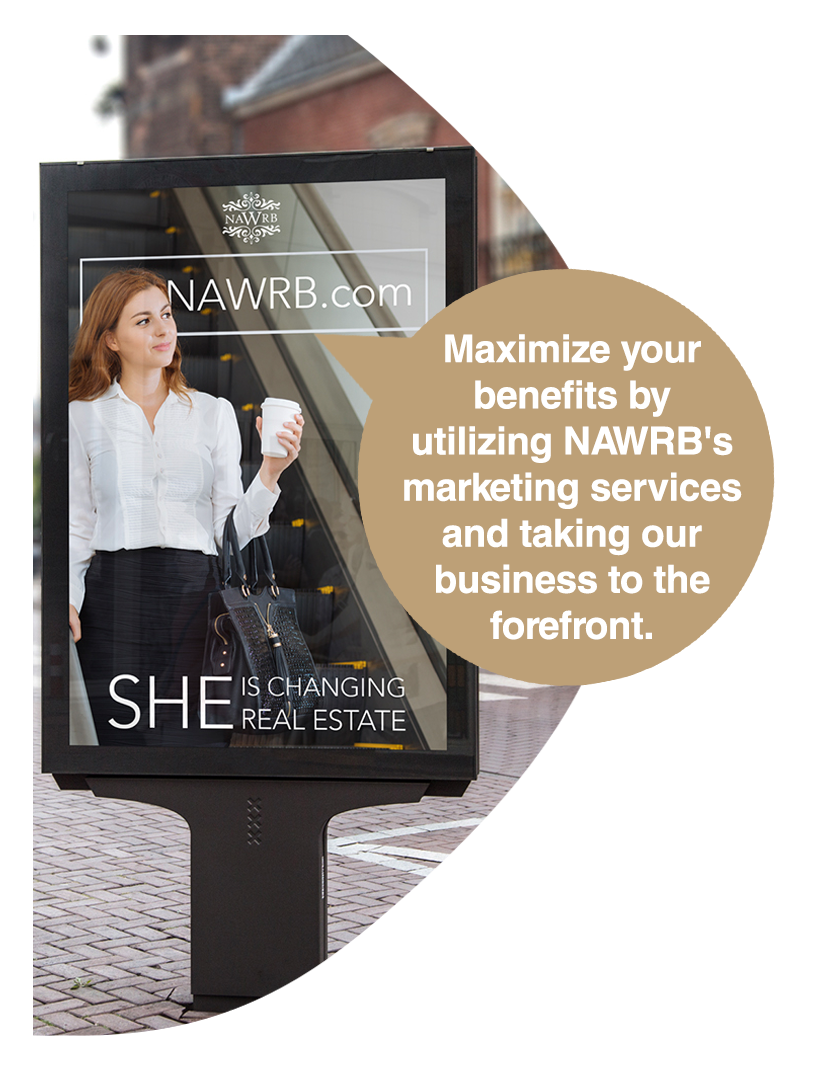 Marketing & Exposure
Much more than a community, leverage your membership.
Showcase your NAWRB membership by adding the NAWRB brand to your website, signature line and marketing materials. Gain publicity online and opportunities to submit content to our magazine. Take advantage of NAWRB's advertising platforms and reach a wider audience.
NAWRB's Members are given immediate access to our referral program with Strategic Partners. NAWRB's Referral Program is exclusive to NAWRB members only and focuses on connecting members with listing opportunities within the industry.  These referrals are free but are dependent on the needs, inventory and listing goals of the asset management firms working with NAWRB. NAWRB connects with these firms to increase the utilization and visualization of women-owned businesses in these vendor networks.  When a direct referral is given, a member will receive a phone call or email stating NAWRB has provided their contact information to an asset management firm, or other forms of initial introductions will take place. A member may be requested to complete an asset management firm's broker registration in order to obtain the referral.
Core Benefits
MUCH MORE THAN A MEMBERSHIP, LEVERAGE YOUR ASSOCIATION WITH NAWRB.
Projecting your voice on a national level is difficult for any business. NAWRB provides our members with the support, access and connections to grow their businesses on a national scale. We advocate on behalf of women and women-owned businesses in housing and connect our members to other companies and government institutions. Our strong government relationships provide members with a unique resource, enabling women professionals to have their questions heard and addressed by leading figures.
NAWRB aims for an exceptional relationship with each member and we understand what our members need.
We connect. NAWRB hosts events and mixers throughout the year as well as major industry conferences. These events give women exclusive networking opportunities to form pivotal connections with foremost industry professionals.
We advocate. NAWRB's advocacy for women in housing spans from major industry functions all the way to the White House. We raise awareness about important issues facing women and women business owners. We strive to level the playing field for women entrepreneurs and expand their contracting opportunities across several platforms.
We converse. NAWRB is here for the success of our members. From training events to annual conferences, we are just a phone call away.You'll also receive our marketing emails, blogs, press releases, and weekly newsletters cover breaking news, association updates, business leads, discounts and other important information.
Membership Options
NAWRB offers the opportunity to build the membership experience to fit your needs in a diverse profession with two different levels to choose from.
As a member of NAWRB, you will be a part of the most visible women's advocate trade organization in the housing ecosystem. We welcome all industries within housing.
Take the lead in changing tomorrow for today's women. Sign up to be on our board of directors today!
Why choose NAWRB?
DIFFERENT FROM OTHER ASSOCIATIONS?
NAWRB is the only housing ecosystem trade association exclusively representing women business professionals and women-owned businesses. Other groups focus on specific minorities, individual women or allow general memberships. NAWRB maintains a focus for its membership base for all women in the real estate industry. Diverse employee demographics of a given business are a positive indicator a business's commitment to women and minorities and is in itself a noble goal that NAWRB supports. However, to qualify for set-asides or be certified, a company must be women-owned, operated and managed. Therefore, NAWRB's certified businesses must meet this criteria.
NAWRB has strong relationships with REO outsourcers, servicers, financial institutions and government entities. NAWRB regularly uses federal and state initiatives to monitor current usage and advocates for increased utilization of women-owned businesses across several platforms. Many institutions respond with requests for access to our network of member businesses, providing a consistent flow of referrals to our members.
WHAT WORK DOES NAWRB DO REGARDING GOVERNMENT CONTRACTS?
NAWRB is a leading resource for women in housing business owners in the housing ecosystem accessing the government marketplace.
NAWRB pursues advocacy to increase women set-asides for government contracts and access to capital. We actively work with companies to increase the diverse spend and distribute assets through our network. NAWRB offers consulting opportunities to help advise, connect and assist on local, state and federal government opportunities.
DO YOU GIVE MEMBERS BUSINESS?
Yes! NAWRB is a referral resource. As we work directly with several aspects within the housing ecosystem: financial services; business banking; private, public and government entities; relocation; and advocacy, we receive many requests on sourcing diverse spend and opportunities for our members. As we can't guarantee every member will get business, the more you are at the table from serving on a committee, being involved with event planning, an approved delegate, you have the distinguished honor of being at the forefront with executive personnel. Contracting opportunities in the millions to quarter million dollar contracts to individuals have been received.
It is very important to keep your membership profile up-to-date for sourcing especially if not involved in a committee as timing and performance is imperative.