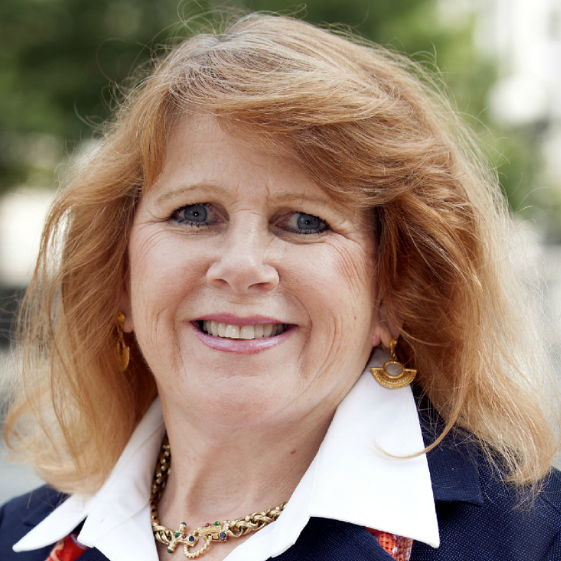 Servicing and Secondary Markets Program Manager
Office of Research, Markets & Regulations
Consumer Financial Protection Bureau
Laurie A. Maggiano
From being a theater major in college to becoming the Program Manager for Servicing and Secondary Markets at the CFPB, she details her illustrious professional journey and expounds on her personal life and the ideologies that have helped her rise to where she is today.
NAWRB: In 2011, the Five Star Institute recognized you with a Lifetime Achievement Award for your contributions to the mortgage industry, and in 2012 and 2013, HousingWire Magazine featured you as a Woman of Influence. Throughout your prolific career, is there a specific moment or project that is particularly special to you, that you are the most proud of?

Laurie A. Maggiano: I've been fortunate enough to have had some really interesting and diverse opportunities. As the only woman and the youngest person in an office of commercial asset managers at Great American Bank in San Diego, I was assigned all the crazy assets that the more experienced men thought were not worth their time. I had to learn the economics of all kinds of businesses like hospitals, hotels, bowling alleys, biker bars and egg farms in order to come up with viable work out strategies. Every day at work was a new adventure and I learned much more than I would have working on Class A office buildings and apartments.
At Freddie Mac, I led a team that developed the agency's first net present value model for REO properties to determine if the best execution was to rehab or sell as is. I worked in Russia in the late 90s to help develop infrastructure for its nascent mortgage servicing industry. Through NeighborWorks, I mentored Housing Finance Agencies and authored a Housing Counseling Handbook. My work at HUD gave me the opportunity to build a comprehensive loss mitigation program from the ground up. The first year of implementation was really rough and we were criticized by just about everyone—Servicers, Consumer Advocates even Congress—but FHA loss mitigation eventually became an industry model.
I have to say, though, that working on HAMP during the height of the mortgage crisis was the most challenging and most rewarding work I have done. I know we didn't get it all right, but to stand up a national foreclosure prevention program in only a few months that ultimately saved millions of families from foreclosure is an accomplishment I am proud of.
NAWRB: Prior to beginning your government career, you dedicated 20 years to the private sector as the Director of REO at Freddie Mac, Senior Vice President for two major West Coast banks, and as a real estate agent and broker. With your extensive experience in the housing industry, both in the private and public sectors, what has been the most crucial characteristic for the success of women-owned businesses that you have been able to identify? Additionally, what advice would you give to our readers who aspire creating their own successful enterprises?
Laurie A. Maggiano: Successful people generally love what they do, so first and foremost find work that you are passionate about. Too many women and men spend entire careers pursuing someone else's dream. We work too many hours per day for our jobs to be only the means to an end.
There are many factors that influence business success but the most important is customer satisfaction. Real estate especially is a service business. Customers need to feel that you value their time, that you are listening, that you recognize how important a home buying decision is and that you put their interests and needs before your own. Early in my career, I was a real estate broker in Arizona and I was very successful for about five years. Then after my first son was born, a client called one afternoon to say that there was a problem with their closing and I had to come immediately. I went to the closing but I wasn't happy about it. I wanted to stay home with my baby. The next day I turned in my resignation. If the most important investment my client was likely to make was not important to me, it was time to find something else to do.
After staying home for a year, I was offered a job helping a local savings and loan sell its growing inventory of foreclosed real estate. The S&L was offering an above average sales commission but could not understand why real estate agents were unwilling to do business with it. After observing the operation of the office for about a week and listening to the way the bank staff spoke to and about agents who called with questions or offers, it was clear to me what the problem was. I called an all hands meeting and asked the entire staff how many homes we had sold that month. Someone said 20. "Wrong," I said. "We didn't sell any. A licensed agent sold each one. They found the buyers, they showed them multiple homes, they helped them understand what they could afford, they wrote the contract, opened an escrow, helped the buyer start the financing process and managed the closing. If we want agents to work with us, we need to convince them that we recognize and value their hard work."
We then began an agent appreciation program, developed and offered free accredited training programs, made presentations at every MLS meeting in the area and gradually won back the trust and business of brokers and agents. Two years later, Southwest Savings was named Realtor Affiliate of the Year by the Scottsdale Board of Realtors.
This was a case of recognizing that the asset management office's first line customers were the agents, not the homebuyers and that our job was to make sure that they felt valued and listened to. Often in business we have more than one customer and it is important to value them all.
NAWRB: With its relentless foreclosures and turbulent market, the U.S. housing crisis devastated present and potential homeowners throughout the country. What do you think is the most valuable lesson the average American consumer must take away from that period in history?
Laurie A. Maggiano: I hope the lesson that we all learn is the importance of our financial decisions, and the impact that consumer financial products can have on families and the broader economy. Lenders should not be able to saddle consumers with debts they can't afford to repay, and consumers should make sure they understand what they're signing up for. The CFPB is committed to providing consumers with the information and tools we all need to understand our financial options and make responsible financial choices, and to making sure that companies play by the rules. We have an impressive array of online tools and we are working to improve financial literacy among students and adults.
NAWRB: As the Program Manager for Servicing and Secondary Markets at the CFPB, and the former Director of Homeownership Policy at the U.S. Department of the Treasury where you championed the Making Home Affordable program, you have sought to help and protect the consumer. With that being said, what would you say is the most important benefit the TILA-RESPA Integrated Disclosure (TRID) rule is bringing to the potential homeowner?
Laurie A. Maggiano:
Two words: clarity and accountability.
The new TILA-RESPA integrated disclosure forms, clearly identify the loan terms being offered and allow consumers to make "apples to apples" comparisons of multiple loan offers.  Because lenders can't charge a fee for providing a Loan Estimate, homebuyers can obtain and compare multiple estimates to see who offers the best deal.
Then at closing, not only must consumers get the Closing Disclosure three days in advance, but the first page of the disclosure mirrors the first page of the Loan Estimate so a borrower can clearly see if any of the estimated costs have changed. Consumers will have time to question the changes before everyone is sitting at the closing table with the furniture in the moving van and the motor running. Lenders will now be accountable for ensuring that the costs charged at closing are consistent with the estimate they originally provided to the borrower.
The new rules taking effect in October will change the home buying experience. The CFPB recognizes that real estate professionals are trusted resources for people choosing to buy a home so we have designed a guide specifically directed to industry professionals to help them explain the new disclosures to their clients and guide homebuyers through the loan application and closing process. By the time this article is published the guide will be available on the CFPB website and we hope that it will become a valued resource.
Also, the old 75-page Settlement Cost Booklet has been replaced by a shorter, more consumer-friendly document called, "Your home loan toolkit." It has great information for homebuyers, especially when used in concert with the cool interactive tools on the CFPB website. In October, creditors will be required to provide the toolkit to homebuyers within three days of loan application, but the information it contains would be useful long before applying for a loan. The Bureau is encouraging real estate agents to provide the toolkit to their clients at first contact. Also, we have made it easy for agents to add their own logo and contact information to the toolkit, another example of making all customers feel valued.
NAWRB: With the establishment of the Office of Minority and Women Inclusion (OMWI) for regulated agencies by Section 342 of the Dodd-Frank Wall Street Reform and Consumer Protection Act in 2010, this is an exciting and groundbreaking time for diversity and inclusion in the workplace. As a leading figure in your industry, did you face any challenges as a woman? If so, how did you thrive past them, and what advice would you give to women who may be facing some of those same obstacles today?
Laurie A. Maggiano: Most women of my generation faced employment challenges as well as disparate treatment with access to credit and financial services. I recall a time when I was shopping in a Sears store in the 1970s and they were giving away Winnie the Pooh bears if customers opened a charge account with the store. I applied but was denied credit, not because my income or credit was insufficient, but because my husband—who at the time was an unemployed student—was not there to cosign on the application. I remember being furious at the time, but in retrospect I should have been angry at myself. It was very foolish to incur more credit just to get a free toy.
My advice to your readers is to continue to increase their knowledge of personal finance and the federal and state laws that offer protections against financial and workplace discrimination. Knowledge is power.
NAWRB: You have had a storied and successful career in the mortgage industry, both in the private sector and as a member of the government. What has motivated you throughout your life to stay dedicated and driven in your career, and from what kind of work do you obtain the most satisfaction? Was it always a goal of yours to work in government, or is there something in particular that made this the right decision for your career?
Laurie A. Maggiano: I spent my early adult years on the West Coast, where the policy makers in Washington, DC often seem far away, so I never even considered a career in the federal government. My first job after college graduation was teaching junior high school language arts, and saints preserve me from ever having to do that again! Quickly, abandoning my planned teaching career, I decided to get a real estate license. This wasn't completely out of the blue as both my parents were successful real estate brokers and I had spent many school holidays and summers working in their office as a receptionist and Girl Friday.  I found that I loved the combination of finance and customer engagement that real estate offers and I did well. As I mentioned earlier, I continued to sell homes until my first son was born after which I spent about 12 years in mortgage banking in Arizona and California. Eventually, I was recruited by Freddie Mac and moved to the DC area to run their REO program.
In 1999, HUD introduced a program to bring private sector expertise into the department on two-year rotations, in an effort to invigorate and motivate the career staff. On a whim I applied and was hired to help create a brand new loss mitigation program for FHA insured loans. It was really hard making the adjustment from private enterprise to government bureaucracy, but I eventually came to realize that if I wanted to influence housing policy at a national level, this was the place to be.  When my two-year term was up, HUD offered me a full-time job, and I've been working in government ever since.
NAWRB: When entering the professional field or starting a business, guidance from family members or mentors can prove essential to the success of our endeavors. Is there a person in your life that you credit with playing a significant role in helping you get where you are today?
Laurie A. Maggiano: My earliest and most constant mentor was my mother. Audrey Windsor Bergner was a strong, self-educated woman who was always challenging herself and me to do something more, something new, something interesting and to then share it with others. Despite not having a college degree, my mother never stopped learning. She was a teacher and author of half a dozen history books in addition to her highly successful real estate career. She had a work ethic that would exhaust most mortals.
Professionally, I was lucky to have two male bosses that saw something worth cultivating and helped steer me though the male-dominated mortgage industry. I can't tell you how many times in the 80s and early 90s I was the only woman in the boardroom, or how many times I was asked to take the notes or go find coffee. These two mentors taught me to take a place at the table and they gave me opportunities to make the presentation and earn credibility. Even though we have all moved on professionally, I am happy that we still stay in touch; you've got to love Facebook.
That is also how I try to mentor the junior staff that I have the privilege to work with. I can't actually teach them anything; most of the 20-somethings are so much smarter than I am, but I can invite them to the right meetings and make sure that they have a chance to contribute.
NAWRB: Speaking of writing books, we understand you recently wrote a book. Can you tell us about it?
Laurie A. Maggiano: Compiled would be a more accurate term but yes, in 2013 I published a book of my father's letters from World War II titled, Just Call Me Soldier Boy. My dad was drafted, or as he preferred to call it, "selected," just a week after he graduated from high school in 1944. He was rushed through boot camp with thousands of other young boys to replace soldiers lost on the beaches of Normandy and at the Battle of the Bulge. His service overseas was short but brutal as these green troops joined Patton's third army for the final push through Germany, across the Rhine to Chemnitz to pinch off Hitler's army for good.
During his service, my dad wrote 270 letters home providing a first person account of this moment in history and introducing me to the boy who later became my father. My husband Ron was a historian and together we collaborated with my dad to edit and annotate these letters as a legacy to our immediate family and for the families of the thousands of other boys and girls that left the scout troops and ball fields and paper routes of middle-class America for the killing fields of war. This is their story too. The book is still available on Amazon and sale proceeds benefit wounded veterans.
NAWRB: Do you have any goals, either in your personal or professional life, which you haven't been able to address but would really like to accomplish in the future?
Laurie A. Maggiano: Professionally, I would like to find opportunities to export the great knowledge that the U.S. has developed around housing finance to developing countries. I mentioned that I did some of this work in Russia in the 1990s under the auspices of the World Bank. I also spent some volunteer time in Africa on micro lending projects where I saw firsthand the need for better housing and housing market infrastructure. Despite the crisis, and perhaps because of it, there is no country in the world that has developed infrastructure around building, selling, title registration, housing counseling, credit reporting and mortgage lending that rivals the U.S. I have found in my travels that the desire for homeownership is universal and I think it would be really rewarding to help developing countries build this capacity.
NAWRB: If you had never entered the mortgage industry, to what do you think you would have dedicated your life? What would be the career you would most want to have?
Laurie A. Maggiano: I was a theater major in college; education was the practical degree that my parents insisted on. I had every intention of being a great Shakespearean actress. I even went to London to audition for the Royal Academy of Dramatic Arts but was not accepted, my first crushing professional blow. I still love the theater and am grateful that we have so many great theater options in DC. A few times a year I train up to Manhattan to absorb the energy at Times Square and see as many shows as time and budget allow in a single weekend.
Closer to home, I am on the board of our community theater and frequently produce, direct or act in local productions. Last April I acted in the world premiere of a very cool play called Tattoos about a teen gangbanger who has to do community service at a nursing home where he meets a 90-year-old invalid who just wants to die. They fiercely resent being thrust together but over the course of the play an unlikely friendship develops as they find out how much they really have in common, including tattoos. I played an uneducated and ill-tempered nurse's aide; I think it was typecasting.
Generally, however, I direct the big summer musicals with a cast of 30 or more children and adults ages five to 85. I have directed or producedOliver, Fiddler on the Roof, Annie, The King and I, Oklahoma and a bunch I can't remember. What I love about working with a mixed cast of children and adults is that all the actors are treated the same. Okay, the little ones may get more snacks to keep them from imploding, but all the actors must learn their lines, music and cues, and all of them are encouraged to make suggestions about characterization and blocking changes. It is one of the few times in the life of a child where they get to interact with adults on an equal footing and it is amazing to watch them grow into this responsibility. Plus, they are adorably cute on stage and they sell tickets!
Finally, just in case there are any theatrical agents reading this interview, secretly I would still love to perform on Broadway!
NAWRB: When you don't have to work or think about your professional responsibilities, how do you like to spend your day?
Laurie A. Maggiano: This one is easy. I would be at the beach with my 3-year-old granddaughter Isabella.
To view this article and many others in its original form: Click Here