Has the Role of Women in Business Made Progress?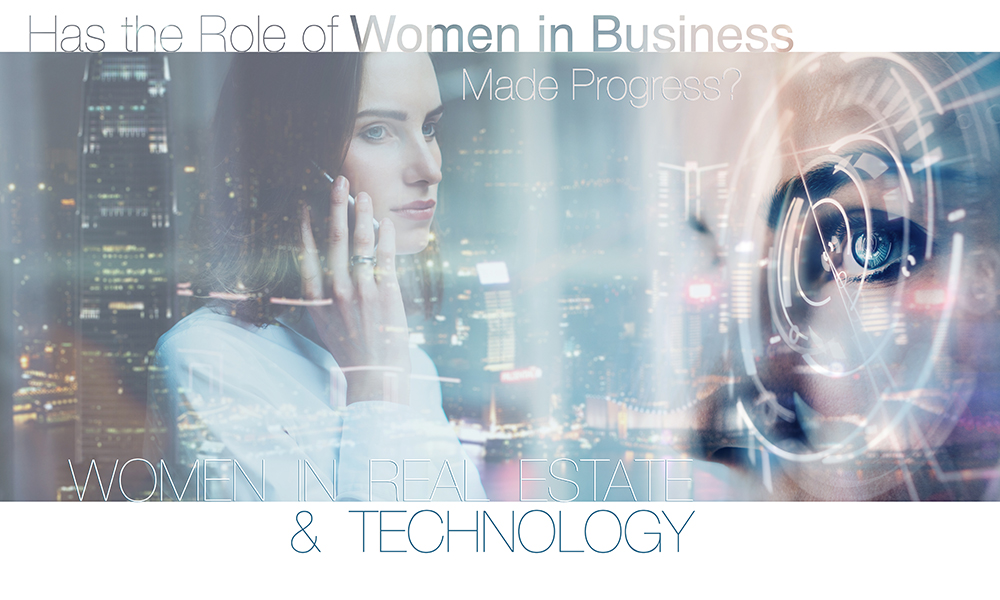 During 2017, there was a noticeable increase of women's leadership conferences held across the country and the world. At these conferences, women participated in dialogues regarding business strategies and discussed mutual professional challenges. Thus, while 2017 was a year in which women made strides, what was the path leading up to this movement toward professional growth? Specifically, are women in the industries of real estate and technology ready for change?
History
Women first became involved in the real estate industry as brokers and agents in the late 1800s and became well accepted as real estate professionals due to, if nothing else, the sheer number of women involved in the industry. Today women hold the majority of residential real estate positions, but men still maintain most executive positions. In the commercial real estate market, men dominate the profession.
A 2016 Current Population Survey conducted by the U.S. Bureau of Labor Statistics found that women working in the real estate industry earn only 64 percent of a man's annual average salary. While women have advanced in the residential real estate industry, they can still make strides by bridging the pay gap, gaining equal leadership positions and increasing sales in commercial real estate.
Compare this to women in technology. In the past thirty years, relatively few women have developed careers in technology fields, let alone high tech fields. In fact, according to the National Center for Women and Information Technology's (NCWIT) 2016 Women in Tech Report, the peak of women's involvement in technology occupations, such as computing industry careers, was in 1991 when women held 36 percent of computing jobs. Women's involvement has never since reached this percentage, but as the world becomes increasingly reliant on technology, more women will likely enter the field.
Even if doors open to women in both real estate and technology, women must still overcome challenges related to pay inequality, discrimination, and career advancement. In 2017, it became clear women's networking is one way to work toward this growth. Educational opportunities and breaking into emerging businesses will also help women in these fields.
Education
Women are increasingly choosing to major in real estate and technology-related fields.  Many universities now offer real estate as a major, and universities are progressively focusing on growing their real estate schools.  At these universities, there are options for the students to have hands-on interaction with the real estate industry.
At Carnegie Mellon University, women comprise almost 50 percent of first years majoring in computer science. Students at women's colleges are also demonstrating increased pursuit of this major. According to graduation statistics released by Mount Holyoke College from 2008 to 2017, in 2008, only two of 555 graduating students declared computer science majors. However, in 2017, 26 of the 538 graduating students declared computer science majors, making it the 9th most popular of the college's 54 offered majors.
Girls also need to be introduced to science, technology, engineering, and mathematics (STEM) subjects early on and have the opportunity to pursue their technical education. Commencing at an early age, educational programs like "Girls Who Code" introduce girls to coding and other technology starting in sixth grade. Such education must continue through career advancement. Several technology organizations offer occupational training programs, including the Anita Borg Institute and NCWIT.
Companies offer opportunities to provide education, training, internships, and community programs for women in their career advancement. JP Morgan Chase offers "ReEntry" – a program that trains mothers to re-enter the workforce after taking several years off for childcare. Similarly, Goldman Sachs offers "Returnship" – a program for women re-entering the workforce. Technology industry companies, including Intel, IBM, and General Motors, also offer re-entry training programs.
Networking
While women's networking opportunities are increasing, the concept is not new. Commercial Real Estate Women (CREW) dates back to 1989, and the local chapters across the country host monthly luncheons, leadership summits and women's mentoring programs. Furthermore, beginning in 2009, NAWRB began offering women's mentoring programs and formed partnership programs with the Offices of Minority and Women Inclusion (OMWI), Government Sponsored Enterprises (GSEs), Small Business Administration (SBA) and National Women's Business Council (NWBC).
There are also programs for women working in specific real estate sectors. In the mortgage industry, the Mortgage Bankers Association (MBA) established MPower, a program that provides women the opportunity to collaborate with one another through programs, conferences and networking functions. Mortgage industry companies, such as Ellie Mae, PenFed Credit Union and Arch MI have formed women's networking groups and host events. Furthermore, more tailored conferences for women, such as NEXT™ – for women in mortgage and technology – have emerged to encourage women's networking. Most mortgage industry periodicals now have one month dedicated to women leaders, and some periodicals cater exclusively to women readers.
In the technology industry, there are also women's networking opportunities. One of the most prevalent areas of such networking is in emerging technology, especially blockchain and cryptocurrency. "Women in Blockchain" and "Blockchain Ladies" have recently formed and women's blockchain conferences are in the works. Women entrepreneurs in the cryptocurrency field have also created several networks. From the Mary Keller Network and Femtech Global to Moms Avenue, these groups are educating women about electronic currency and its vast business and financial opportunities.
Overall, programs provided by both industry-wide organizations and individual employers will be instrumental in propelling women forward in their professional careers. The availability of these programs coupled with the ongoing support of other professional women will ultimately assist women in further pursuing their real estate and high technology careers.
Entrepreneurs
Women's growth in both the real estate and technology industries may also benefit from the entrepreneurial nature of today's world. Women thrive in such environments. According to Global Entrepreneurship Monitor's Women Entrepreneurship 2016-2017 Report, from 2015 to 2016, women's entrepreneurship rates increased by five percent, and, over the past decade, women entrepreneurship rates increased by 20 percent. According to Women Who Tech, while startup businesses founded by women begin with less than one-eighth the funding of startups founded by men, startups founded by women have 12 percent higher revenues.
Women in real estate can take advantage of this entrepreneurial upsurge. Women are more likely to be leaders and hold executive positions at smaller entrepreneurial real estate firms than in larger real estate firms. The Urban Land Institute's Women in the Real Estate and Land Use Survey points out that 68 percent of those surveyed reported that they hoped to hold executive positions or start their own real estate firm.
Although startup companies are at an all-time high, employment of women in technology has decreased, or remained stagnant, in recent years. According to the 2016 Women in Tech Report released by the National Center for Women and Information Technology, the number of women in the computing industry has been steadily decreasing ever since the peak of women's involvement in the industry in 1991 when women held 36 percent of computing jobs. Women also currently maintain only about 11 percent of executive positions in Silicon Valley companies.
The Future
Women working in both the real estate and technology fields are forging a new pathway for professional growth. If women utilize available educational programs and networking opportunities, and embrace entrepreneurial prospects, they can help push one another to become professional leaders. The key is to take the education and networking discussions out of the classroom and bring it into the boardroom.