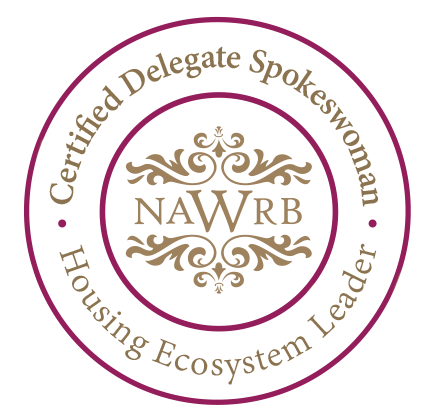 The National Association of Women in Real Estate Businesses (NAWRB)
DELEGATE PROGRAM
NAWRB's Delegate Program is a great way for Elite Members to leverage their business and champion NAWRB's mission of advocating on behalf of women's gender equality and women-owned businesses in the housing ecosystem. Become part of a national network of Elite Women Speakers building your local community and national presence with your expertise through NAWRB's platform. Confident, strong and exceptional women speakers are needed across the nation speaking on a variety of topics.
Below are the requirements to become NAWRB Delegate Spokeswoman.
Delegate Spokeswoman Requirements:
• Be a NAWRB Elite Member in good standing
• Apply with NAWRB's National Delegate Committee and pass Delegate Test with a perfect score
• Attend monthly calls for organizational growth and submit written best practices and community updates for other delegates.
• Host a minimum of 2 events per year and attend the NAWRB Annual Conference
• Get 10 new members join NAWRB per year
• Certified NAWRB Delegate Spokeswomen logo on marketing material
• Speak at 6 events per year.
• Submit pictures and blog once a month to highlight their community growth of women's gender equality and women-owned businesses.
• #PositiveNAWRB posts or sharing of posts – acts of kindness, achievements, health, beauty and family are highly encouraged.

Event requirements:
• Delegates can decide the type of event they host—mixers, luncheons, educational meetings
• Delegates can partner and co-host with other NAWRB Delegates
• A minimum of 25 attendees must be present
• Submit photos and a write-up of the event to NAWRB Magazine/blog for publication
• Raising of sponsorship funds to support the cost of the event and 25% overage for corporate coverage.
• Corporate will provide art work to circulate throughout NAWRB's network and platform.
Benefits of being a delegate:
• Mentoring other women by giving back
• Promote your business on a national platform
• Become a vetted industry speaker for a variety of venues
• Have your name and company listed on NAWRB website
• Receive recognition and exposure in NAWRB magazine when hosting events
• Opportunity to attend conferences and events with media coverage
• Networking and partnership opportunities with other delegates, the government and a diverse network
• A preferred referral vendor within NAWRB's network
Providing local businesses with a national platform and a national market with local entrepreneurs.