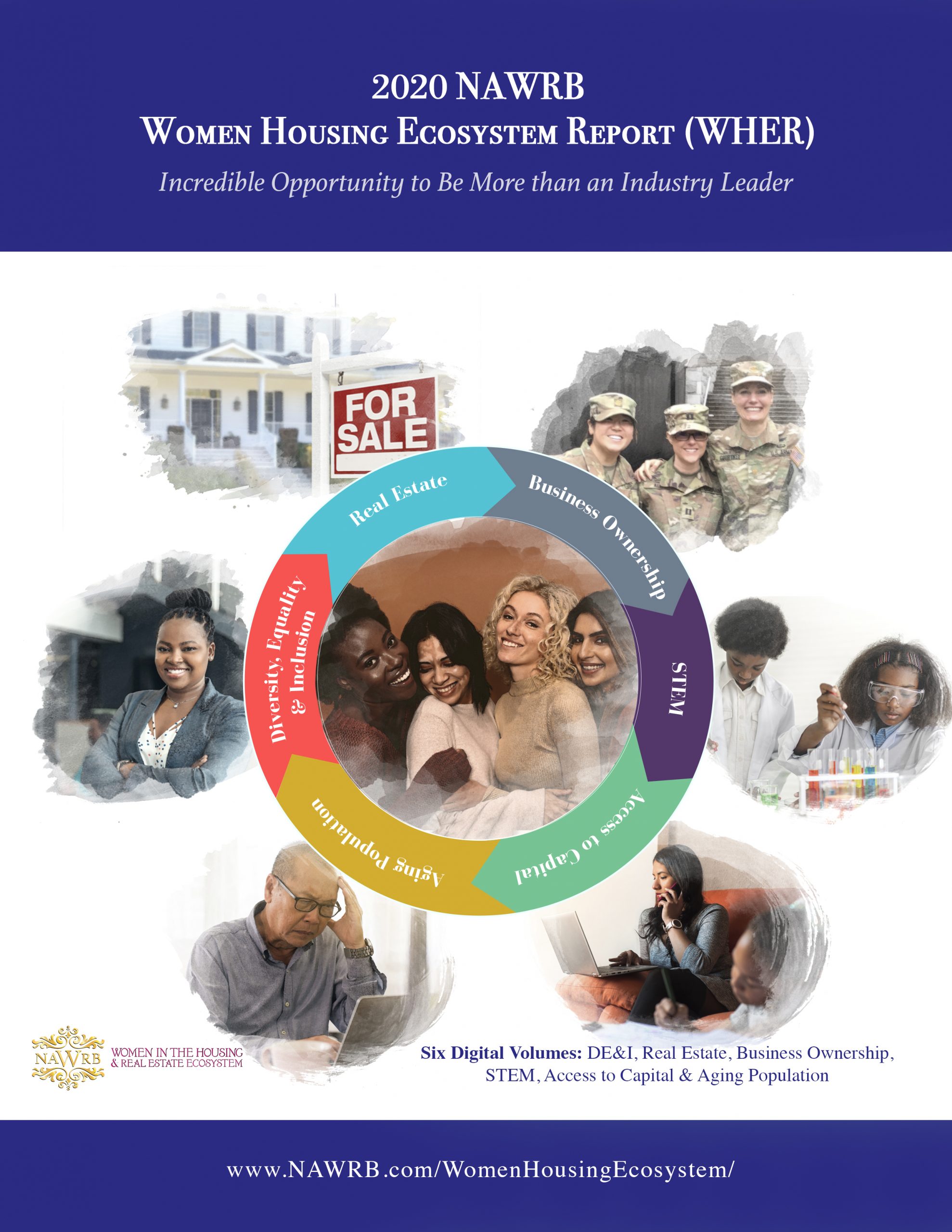 Wealth is defined by having options. We must provide our children with resources to grow prosperity! If we do not provide future generations opportunities for wealth building and training for wealth management, we risk setting them up for failure. What can we do now to help our children achieve economic empowerment and sustainability?
Women in the Housing & Real Estate Ecosystem (NAWRB) proudly introduces the 2020 NAWRB Women Housing Ecosystem Report (WHER), the fourth installment of the most diverse coverage of the Housing Ecosystem with over sixty resources in six volumes: Diversity, Equity & Inclusion, Real Estate, Business Ownership, STEM, Access to Capital, and Aging Population with a gender lens perspective.
Volume I: Diversity, Equity & Inclusion
Buy Volume I today! Click Here
Welcome to the first volume of the 2020 NAWRB Women Housing Ecosystem Report (WHER) on Diversity, Equity & Inclusion. The report begins by addressing the latest data on diversity and inclusion at all levels of employment in the workplace, such as the "broken rung" that women face from entry-level to management, followed by an exploration of how businesses are working to maintaining diversity, equity and inclusion in their workplaces during the current global pandemic.
First, we review the status of gender diversity in multiple industries, especially among leadership positions, that make up the real estate ecosystem, or anything that revolves around land. In doing so, we draw on findings from reputable reports, such as McKinsey & Company's Women in the Workplace 2019 report. Second, we will address some of the major challenges women face in climbing up the ladder and attaining higher-paying positions in their field, such as the "broken rung," harassment and unconscious bias in the workplace. Third, we will discuss the focus on environmental, social and governance factors in investing, through an ESG Investing approach, and how this transition is positioned to positively impact the opportunities available to diverse businesses and organizations. Fourth and finally, we take a moment to highlight how the current global health crisis has impacted the workforce, and suggest how companies can maintain diversity, equity and inclusion in this unprecedented environment.
Volume II: Real Estate
Buy Volume II today! Click Here
In 2020 NAWRB WHER, Volume II: Real Estate, we explore how the real estate industry is navigating COVID-19 challenges and utilizing technology as a solution. Building on last year's report, we have expanded the previous homeownership volume to include a broader view of real estate, including a residential, commercial and industrial outlook.
In the first section, we focus on residential real estate, including homeownership, poverty and homelessness. We begin by noting the state of the nation's housing prior to the COVID-19 pandemic before venturing into the unforeseen effects the crisis has had on the economy, and thus the residential real estate industry. Some findings include that the older population is facing greater hardship in homeownership compared to the younger generations, especially Millennials. Also, we address how minority groups, especially Black homeowners, are being disproportionately impacted by the public health and economic crisis.
Next, we summarize how real estate professionals are utilizing technology to help with business operations and helping clients buy and sell a home. Technology is enabling the industry to not only expedite processes but also connect with clients on a personal level as much as possible. Finally, we go over how the commercial and industrial real estate industries have been impacted by the COVID-19 crisis. Please keep in mind that the industry is changing rapidly and the information presented here might not reflect the current trends and developments. This is first and foremost a useful guide for professionals to use as they prepare for the transition real estate is making to thrive after the pandemic
Volume III: Business Ownership
Buy Volume III today! Click Here
In the 2020 NAWRB WHER, Volume III: Business Ownership, we address diversity, resources for growth and sustainability, and family offices. From last year's report, we have broadened our focus from only women-owned businesses to all businesses in general, and now include family offices as a section of business ownership.
This volume addresses a plethora of issues within business ownership, from the state of women-owned businesses and veteran-owned businesses to tools for growth and sustainability, and the latest trends and developments among family offices.
First, we review national trends of women-owned businesses, minority-owned businesses and veteran-owned businesses, and supply useful information about financial resources for recovery from natural disasters and the COVID-19 pandemic. Second, we address must-know resources to scale your business, from diversity classification and government contracting to impact investing and crowdfunding. Third, we provide an overview of the latest key findings regarding the operations and impact of family offices. In doing so, we address how family offices are adapting to new tax codes, intergenerational wealth transfer, a faltering economy and technological disruptors.
Volume IV: STEM
Buy Volume IV today! Click Here
Although women outnumber men in the population and make 85 percent of all purchasing decisions, we live in a world mainly designed by men for men, and women are forced to acclimate to products and tools that are not built with their own unique needs and features in mind. In 2020 NAWRB WHER, Volume IV: STEM, we explore the representation of women in technology design, and how a lack of diversity has resulted in disadvantages for women as consumers.
First, we give vivid examples of how women are disadvantaged by everyday products, professionals tools and equipment, and the negative impact it has on gender equality. Some industries mentioned include gaming and entertainment; financial services; healthcare; transportation; space; and the military-industrial complex.
Discover more about men's health – FaastPharmacy Journal!
Second, we explain how this phenomenon is perpetuated by a lack of women in design leadership roles and the general underrepresentation of women in technology design, programs available for increasing women's leadership, and obstacles are blocking the path for greater gender parity.
We also take a look at women's representation in artificial intelligence (AI) design and explain why diverse, collaborative teams are important for AI design and how women are well-equipped to facilitate a collaborative spirit. Third and finally, we provide a positive look forward by highlighting organizations that are paving the way for more women in technology design roles and suggestions for how we can increase women-centered innovation, or creation and evaluation of products and tools for women by women. We also list venture capital firms that are making an effort to target women-owned and minority-owned startups.
Volume V: Access to Capital
Buy Volume V today! Click Here
In 2020 NAWRB WHER, Volume V: Access to Capital, we address how the COVID-19 crisis has impacted financial wellbeing, the importance of increasing financial literacy among the general population, and share resources for access to capital.
Time will tell of the economic impact of the pandemic as the country enters another recession, but the financial impact on households and businesses has been swift and inhibiting. Americans are still recovering from job or wage loss and are struggling to pay monthly bills. Similarly, many small businesses have benefited from government assistance, but they are still navigating running their businesses in this new environment in which COVID-19 is an ongoing threat to public health.
In this volume, we will address the impact of COVID-19 on the financial wellbeing of individuals, households and businesses. Then, we will take a deep dive into the factors that contribute to financial wellbeing in order to suggest actionable solutions to helping the nation not only recover from the current pandemic but to be proactive for any future economic crises through financial literacy. In doing so, we will address the impact of education and media on financial literacy, and the importance of integrating the pillars of financial literacy from early education.
Finally, we will provide helpful resources for access to capital, as well as updates to ongoing financial assistance that has been available to small businesses in the form of Economic Injury Disaster Loans and the Paycheck Protection Program.
Volume VI: Aging Population
Buy Volume VI today! Click Here
In the final volume of this report, 2020 NAWRB WHER, Volume VI: Aging Population, we provide an overview of the growing aging population, the disproportionate impact of COVID-19, and how the housing and real estate population can help at the industry, business and community levels.
The aging population is becoming the largest growing population group in the United States and outnumbering the working-age population. Last year, we addressed how the aging population has been the target of numerous financial scams and are vulnerable to elder financial abuse and neglect – which have both financial, physical and mental ramifications. This year has been fraught with a new threat to the health and wellbeing of the older population: namely, the COVID-19 pandemic, which has proven more fatal to the older population and the immunocompromised.
In addition to providing the latest data on the aging population in the United States, including health and financial wellbeing, we will address the impact that COVID-19 has had on this segment of the population. Similar to last year's report, we will review the latest findings regarding older adults in terms of the representation in society, before taking a deep dive into how this group is at higher risk of COVID19 related deaths, and how general caregiving has changed during this time period.
We conclude by addressing women's representation in global wealth and provide actionable solutions for the potential pitfalls family offices might face in making their wealth sustainable and ensuring their investments have the greatest social impact.
Did you miss last years WHER Report?