The best and worst thing about social media is that anyone with an opinion has an opportunity to garner an audience. I should know because I'm one of those opinionated writers who has developed a social media "side hustle"—that has effectively doubled my core business—providing mortgage services to California residents. I didn't do this through advertising, networking or any of the traditional marketing methods per se; I did it by building a reputation on social media as a source of reliable, unbiased information regarding the housing market. Regardless of the industry, customers will flock to someone that is both trustworthy and knowledgeable. A person who is an advocate for their customers, instead of a salesman, I believe, will always be more successful in the long run—and there is the pleasant side effect of just feeling a lot better about yourself.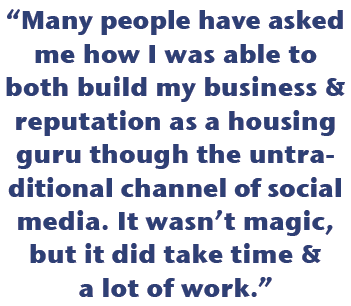 Many people have asked me how I was able to both build my business and reputation as a housing guru though the untraditional channel of social media. It wasn't magic, but it did take time and a lot of work. If one is willing to put in the effort, any dedicated, reasonably intelligent person who is truly interested in their industry can do the same thing. The purpose of this article is to share my experience in building a social media presence and to provide a quasi-tutorial on how a real estate professional (be it an agent, broker, loan officer or anything in between), can learn to use the vast amount of data available on the internet to become a sought-after expert in their field.
First a little background on me. I have a degree in history, not economics. I've always been interested in the financial markets but I work as a loan officer, not an academic economist or investment banker. I am proof that you don't need to have that particular pedigree to become an expert in your field. I started writing about the housing market, first as a responder to news items on financial websites like CNBC and Business Insider, then as an invited contributor to Benzinga.com. In 2010, I decided to go it alone and I started my own financial information and opinion blog called LoganMohtashami.com. Then I made my personal Facebook page into a 24/7 economic data news center, posting economic charts, reporting and opining about the latest economic news. As someone who tracked economic data as a hobby, it was easy for me to write about macroeconomics and correlate that to housing economics. The blog, my postings on other news sites and my Facebook and LinkedIn pages gave me high visibility to potential clients. This has been a boom to my business, as many referrals have come through people who read my work or follow me on Facebook.
If someone is interested in becoming more versed in housing economics to improve their business in real estate, or just to become a more valuable asset to their clients, it only takes time and determination to do so. The easiest entrée into this world is to start following economic reporters or thinkers on social media sites such as Twitter, Facebook and LinkedIn. My Facebook and LinkedIn pages, for example, are great source of information, but there are many other sources. A few of my favorites are Bill McBride from Calculated Risk, Joe Wiesenthal from Bloomberg TV and Diana Olick from CNBC. Once you start following a few experts, you will find that they retweet from other sources that you may want follow as well.
The next treasure trove of information on housing economics exists in the regularly released reports from professional organizations like the National Association of Realtors (NAR) and the government.
NAR is an invaluable resource for housing data when considered in the appropriate context, with regular press releases to report on the following metrics:
1) Existing-home Sales: data is released monthly, generally in thelast week of the month. The December report is released on January 24th.
2) Pending Home Sales Index: data is released monthly, generally on the last day of the month. December numbers are released January 30th.
3) Metropolitan Median Area Prices and Affordability: data released quarterly generally in the middle of the month: Metro home prices for the first quarter are released May 15th.
For the real estate agent hoping to gain insight into the market, the existing home sales report is probably the most relevant. My recommendation for how to analyze the data provided is to first read the press release. This will give you the overall picture of the market in terms of sales for the preceding month compared to the month before that and the same month last year.
The release also reports on the median home price and the existing inventory. While I invite you to pay attention to the numbers, I would caution you as to how much of the interpretation of the numbers you believe. Remember the source. The job of NAR is to support real estate sales, and the analysis they provide must be viewed through that lens. A good rule of thumb is to question the interpretation of data from anyone with an agenda.
For example, in the NAR news release on September 2016 existing home sales, Lawrence Yun, the NAR chief economist is quoted as saying, "Inventory has been extremely tight all year and is unlikely to improve now that the seasonal decline in listings is about to kick in. Unfortunately, there won't be much relief from new home construction, which continues to be grossly inadequate in relation to demand."
That inventory is too low to support demand is not data—it's interpretation of data. I, for one, have provided a different interpretation of this data. I believe and have provided substantial, evidence-based analysis that housing demand is not strong and low inventory is not holding it back. We had more annual monthly supply inventory from 2012-2016 than any period from 1999-2005 when interest rates and sales were higher. Interest rates have been under 5 percent since early 2011 and still the demand for both new and existing homes has been light. My recommendation: absorb the data, read the various interpretations, then think it through for yourself.
Logan Mohtashami
Senior Loan Officer, AMC Lending Group