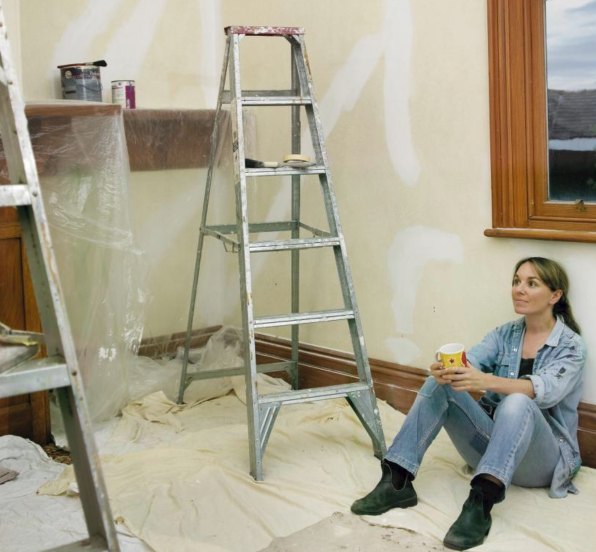 Recently, the National Association of REALTORS® (NAR) reported that the highest home buying demand in years is being stifled by tight inventory. In this article, I will demonstrate how you can increase your available inventory by embracing homes in need of renovation.
If you are already using renovation loans as a tool to sell more of your listings or to find homes for your prospective buyers, congratulations, you are reaping the benefits of these creative and game-changing loan programs. If not, 2017 may be your year to explore adding a renovation loan strategy to your business plan and increase inventory and sales.
Before we discuss an implementation strategy for using renovation loans, let's first define what a renovation loan is and the specific loan programs that are available.
What is a renovation loan?
A renovation loan, simply, is a loan that is based on the "after-improved value" of a property where the improvements will be made after the closing. The after-improved value is established by the appraiser, who is given the plans and specifications for all repairs, improvements and additions to the property. Virtually any improvements a buyer could need or want to make are allowed, as long as it is attached to the property and adds value.
The loan-to-value is based on the lesser of the after-improved appraised value or the acquisition cost plus the amount of the renovations. At closing, the funds for planned improvements are deposited into an escrow account that will be disbursed upon inspection of and completion of the work. The project period is typically limited to six months or less.
The two most commonly used renovation loan programs are the FHA 203(k) Rehabilitation Mortgage and the Fannie Mae HomeStyle Renovation Mortgage. Both programs offer fixed-rate financing with terms up to 30 years.
When determining which program is best for your clients, you should look at their credit profile and required loan amount first. The FHA program typically has lower credit score requirements and the Fannie Mae program offers high balance loans.
As with non-renovation loans, FHA requires a 3.5 percent down payment and Fannie Mae requires a 5 percent down payment, making renovation financing a viable option for the first-time homebuyer.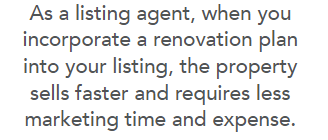 Why renovation loans?
Clearly, the lack of inventory in today's market is the single biggest reason why you should consider implementing a renovation loan strategy that can increase your available pool of properties.
With the implementation of the TILA-RESPA Integrated Disclosure (TRID) Rule, many lenders were either unable or unwilling to continue offering new construction loan programs to consumers and have not changed that stance in any significant way as of this writing.
In addition, builders have been constructing more multifamily housing units than entry-level homes. It can be debated which factor came first or is most responsible for the lack of new construction inventory, but there is no debate about our need for
more inventory.

What should you look for?
Keep your eyes open for key phrases in property listings that hint at a need for renovation loans. Some obvious wording includes, as-is, charmer, handyman special, needs some TLC, just reduced, has potential and location, location, location. Less obvious phrases include, room for expansion, convert back to or unfinished anything. And, of course, any estate properties, bank owned or tax foreclosure listings.
What to look for in a lender?
Renovation loans are different than traditional loans and require more time and documentation. You need to find a lender with a history of making these kinds of loans; use a company that has dedicated staff who do nothing but renovation loans and who will work closely with your client from beginning to end.
What are some additional benefits?
As a listing agent, when you incorporate a renovation plan into your listing, the property sells faster and requires less marketing time and expense. Selling a property quickly and efficiently positions you as a creative marketer that gets homes sold quickly.
Renovating a home can be a messy business for the homeowner. Both the FHA and Fannie Mae programs allow the borrower to finance up to six months of housing payments, so they can live offsite and not have to make two different housing payments.

Who are the target clients?
Your target audience is really only limited by loan amount. The ability to look beyond what is and envision what it could be is paramount; with your assistance and vision, you can turn a frog into their prince. First-time homebuyers benefit the most, as they are afforded the opportunity to purchase and create the home of their dreams for the same price as a move-in ready home. And for the Millennials who are still living at home, the ability to finance up to six months of their initial housing payments allows them the time to renovate their home and purchase the furnishings they'll need.
Make 2017 the year you became a Renovation Realtor!
Thank you,
Jim Bopp
National Correspondent Sales Manager
Platinum Home Mortgage Corporation