Just Released: NAWRB Exclusive Special Edition Magazine – Year of Women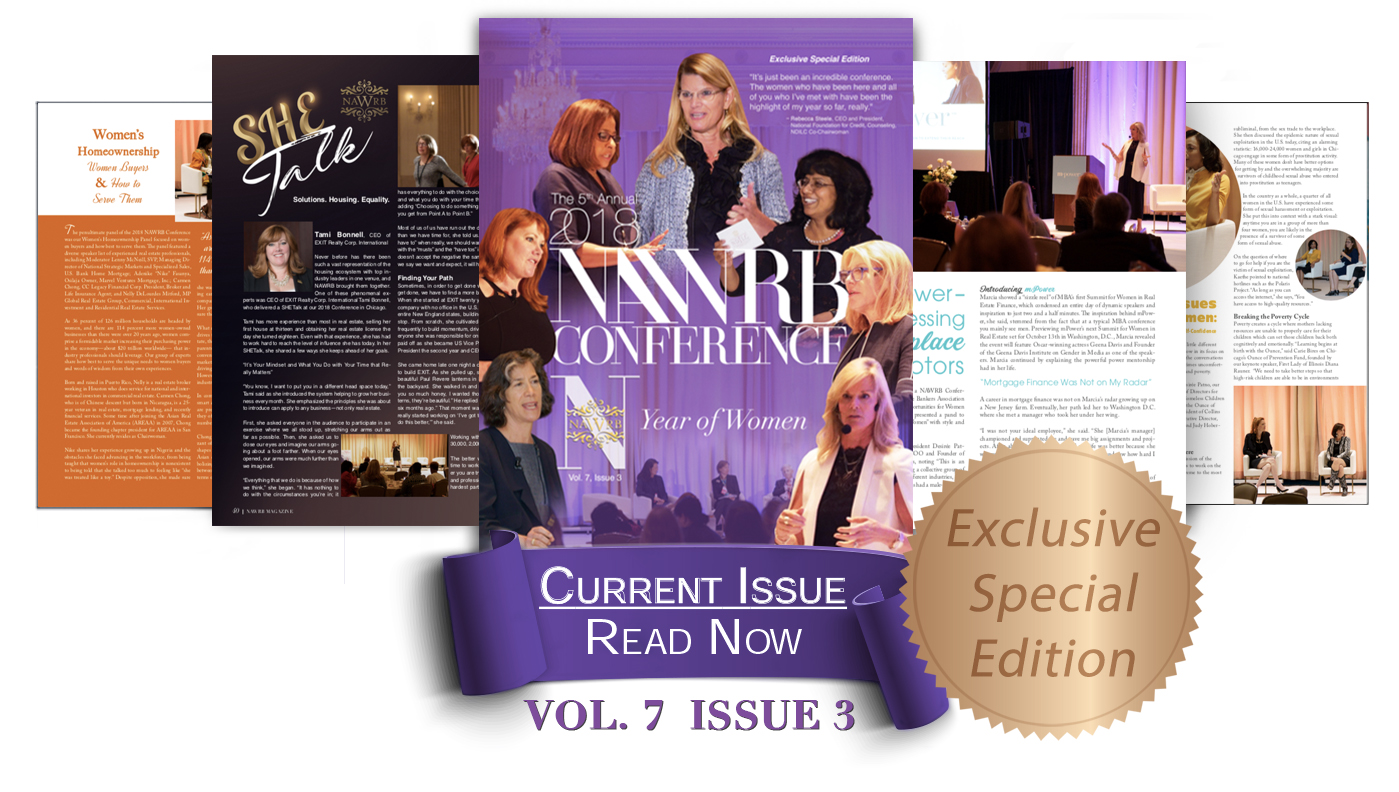 Women in the Housing and Real Estate Ecosystem (NAWRB) announces the release of NAWRB Magazine Volume 7, Issue 3, The 5th Annual 2018 NAWRB Conference Special Edition. This issue brings exclusive coverage of our exceptionally high-profile and information-packed conference celebrating the "Year of Women" in Chicago, IL, the heart of America and the city's business center. In case you missed it, or you are eager to relive the experience, this issue, accompanied with extensive video coverage, you can catch a glimpse of the incredible discussions, presentations and connections made at this diverse gathering of thought leaders and industry experts.
Keynote Speaker Diana Mendley Rauner, First Lady of Illinois and President of the Ounce of Prevention Fund, gave an inspiring speech about empowering women, children and families to help break the cycle of intergenerational poverty, as well as the importance of the work she does with her non-profit organization for family educational development.
Our SHETalk speakers, including Sharron P.A. Levine, Director of the Office of Minority and Women Inclusion (OMWI) at the Federal Housing Finance Agency; Dr. Chitra Dorai, AI Scientist, Founder & CEO, AmicusBrain; Dottie Herman, CEO of Douglas Elliman; Tami Bonnell, CEO of EXIT Realty International; and Rebecca Steele, President & CEO, National Foundation for Credit Counseling (NFCC), each shared incredible stories of strength, words of wisdom and insight into the future of the housing ecosystem with our attendees.
The caliber of our diverse speakers was second-to-none, and they represented various areas of the housing ecosystem at our conference to discuss women's issues and diversity and inclusion. This is the first known time in the nation that there has been such as vast representation of the women's spectrum and top leaders in one venue, and NAWRB brought them together.
NAWRB Magazine is a proud consecutive four-time winner of the prestigious APEX Award for Publication Excellence!
Read the full issue here.