Live Updates: 2017 NAWRB Conference- New Updates from the Office(s) of Minority and Women Inclusion (OMWI) and GSEs.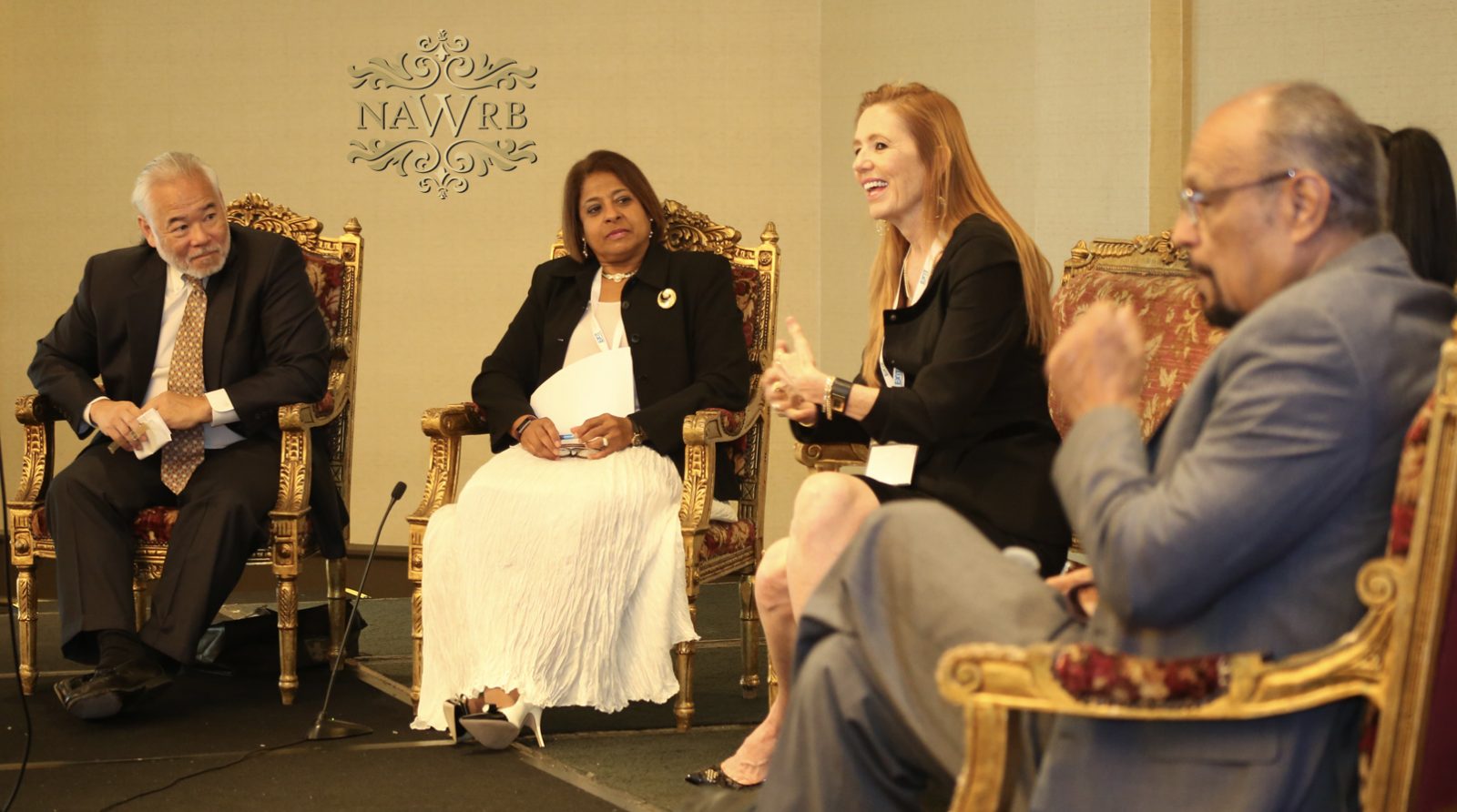 Our first session following Tanya Komas's Keynote Address was an enlightening and engaging discussion of Directors from the Office(s) of Minority and Women Inclusion and GSE's, including guests Sharron P.A. Levine, Director, OMWI, FHFA; Victor Christiansen, Chief of Minority and Woman Business and Diversity Inclusion Branch, OMWI, FDIC; Stuart Ishimaru, Director, OMWI, CFPB; Tomaneci A. Waller-Day, Supplier Diversity Director, Freddie Mac; and Moderator Desiree Patno, CEO & President, NAWRB.
This expert panel shared their personal experiences of changes going on within their organizations with the advent of the new administration. They advise organizations, businesses, and entrepreneurs to continue their efforts of Diversity and Inclusion with innovation and resilience.
Some changes that these corporations face include possible alterations to Dodd-Frank and the conservatorship status of Fannie Mae and Freddie Mac. Victor Christiansen reminds us that people are still trying to figure out the changes that might happen, and "until we find out what the changes are, it creates a confusing atmosphere."
When addressing the changes their agencies are facing, the panel shared how they stay motivated and engaged in their work. Victor Christiansen is driven by the fact that he is a minority; diversity has always been a major part of his life.
Stuart Ishimaru stated that he is engaged by creating new opportunities for various constituencies, and making sure people have opportunities to that make them competitive in the workforce.
Sharron P.A. Levine shares that she is motivated by the tangible affect her work has in her company and the impact of their regulation of their respective agencies, including Fannie Mae and Freddie Mac, on the world at large.
The endless possibilities of the future of supplier diversity motivates Tomaneci A. Waller-Day. She is encouraged by innovative ideas from entrepreneurs and businesses on how to increase the utilization of diverse vendors and women in business that will make Freddie Mac a better corporation. Entrepreneurs play a vital role at the forefront of problem solving because, as she says, they have their "boots on the ground."
Stuart Ishimaru adds that "diversity of experience" needs to be the focus of Diversity and Inclusion. He advises that businesses "tap into new sources of talent and markets out there."
Sharron P.A. Levine and Tomaneci A. Waller-Day both emphasize the importance of making Diversity and Inclusion a "business imperative" despite changes that may occur. Waller-Day day asks the audience, "What are you doing now that you're putting in place for the future of your company despite changes?" Change, she states, is inevitable, so businesses need to focus on how they will succeed regardless of political climate and changes in regulation.
Sharron P.A. Levine reiterates that "Diversity and Inclusion are about change," which is why businesses and corporations need to focus on embracing change and working through it. Your attitude towards that, Levine claims, "drives whether you are successful." Waller-Day reminds us that regulation brings "a heightened awareness and accountability" that helps drive organizations forward in raising Diversity and Inclusion.
Closing the session on an optimistic note, Stuart Ishimaru reminds us that "the future is bright no matter what."