Marcia Davies and Tujuanna Williams Join NAWRB Diversity & Inclusion Leadership Council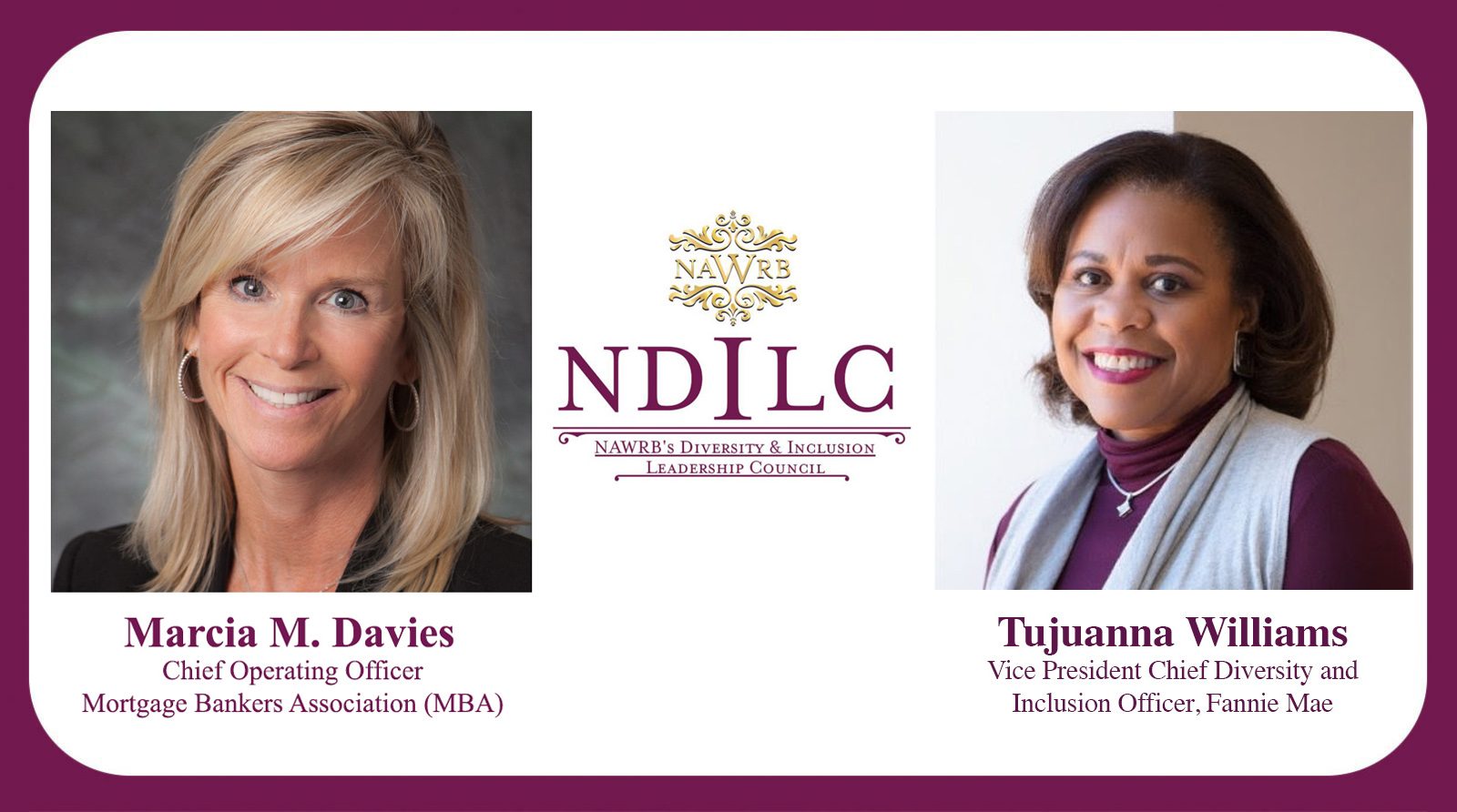 Women in the Housing and Real Estate Ecosystem (NAWRB) today announced the addition of Marcia Davies, Chief Operating Officer of Mortgage Bankers Association and Founder of mPower, and Tujuanna B. Williams, Vice President and Chief Diversity and Inclusion Officer of Fannie Mae, to its Diversity and Inclusion Leadership Council (NDILC). The Council, founded in 2015, helps raise the number of C-suite women, increase women's employment at all levels and advance women's economic growth across the housing and real estate ecosystem.
Davies has decades of experience in the real estate finance industry, previously serving as Senior Advisor to the Assistant Secretary for Housing and Federal Housing Commissioner at the U.S. Department of Housing and Urban Development (HUD), and a variety of executive officer positions during her 21 years at Freddie Mac. She has been a leading advocate for women as the founder of mPower—MBA Promoting Opportunities for Women to Extend their Reach—MBA's networking platform for women in real estate finance.
"I am honored to join the NDILC and work with the other committee members, stated Marcia Davies. "The Housing and Real Estate industry needs to recruit and retain a workforce as diverse as the people who we serve. And we need to seek ways to ensure collaboration and inclusion through programs like MBA's mPower community which helps women in real estate finance to network and help each other advance in their careers. I look forward to my work on this committee to ensure women grow and prosper in the workforce."
Williams holds over 20 years of diversity and inclusion experience, with positions including Vice President, Chief Diversity Officer, Freddie Mac and Diversity Director at US Airways. As a diversity and inclusion expert, she brings a crucial understanding and knowledge of the best strategies and practices for increasing female representation at all employment levels.
"As incredible leaders with exceptional passion, conviction and commitment to our industry, we are truly honored to have both Marcia Davies and Tujuanna Williams bring their unique understanding and knowledge to the NDILC," stated Desirée Patno, NAWRB CEO and President. "Increasing our footprint strengthens the impact of the women's movement on gender equality and economic growth in the housing ecosystem."
To learn more about the NDILC, please visit www.NAWRB.com/NDILC/.
About NAWRB
Women in the Housing & Real Estate Ecosystem (NAWRB) is a leading voice for women. With the assistance of our Women's Diversity and Inclusion Leadership Council (NDILC), NAWRB is advocating for women's gender equality, raising the utilization of women-owned businesses and providing women the tools and opportunities for economic expansion and growth. By increasing women's homeownership, we can leverage the entrepreneurial strength of women and help bring the awareness of women's poverty.