The National Association of Women in Real Estate Businesses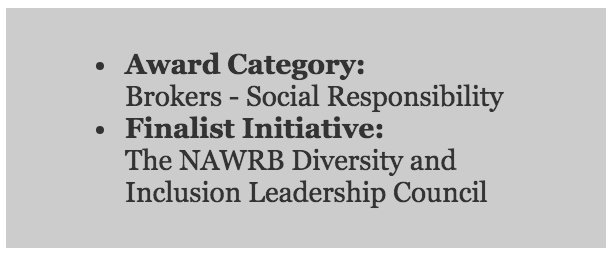 In October, the National Association of Women in Real Estate Businesses (NAWRB) introduced its Diversity and Inclusion Leadership Council (NDILC) dedicated to increasing the number of C-suite women in the boardrooms and executive offices of America, and bringing women's diversity and inclusion to the forefront of the housing industry. The Council held its first meeting in December where it united senior level executive women from several industries with the goal of securing progress for women in the workplace. That inaugural meeting included more than 350,000 employees from NDILC member organizations.

In 2016, NAWRB introduced its Women's Homeownership Initiative (WHI) that is committed to positively impacting the female homeownership rate across the nation, decreasing women's poverty levels and cementing women's personal and professional strides. From advocating better women's homeownership data collection to calling upon banks to create special lending services for female buyers, the WHI works to increase homeownership among women. Through these initiatives, NAWRB is helping raise awareness about the imbalances and obstacles facing women brokers and women professionals in real estate businesses and is working to improve women's professional and personal lives.