National Read a Book Day: NAWRB Staff Picks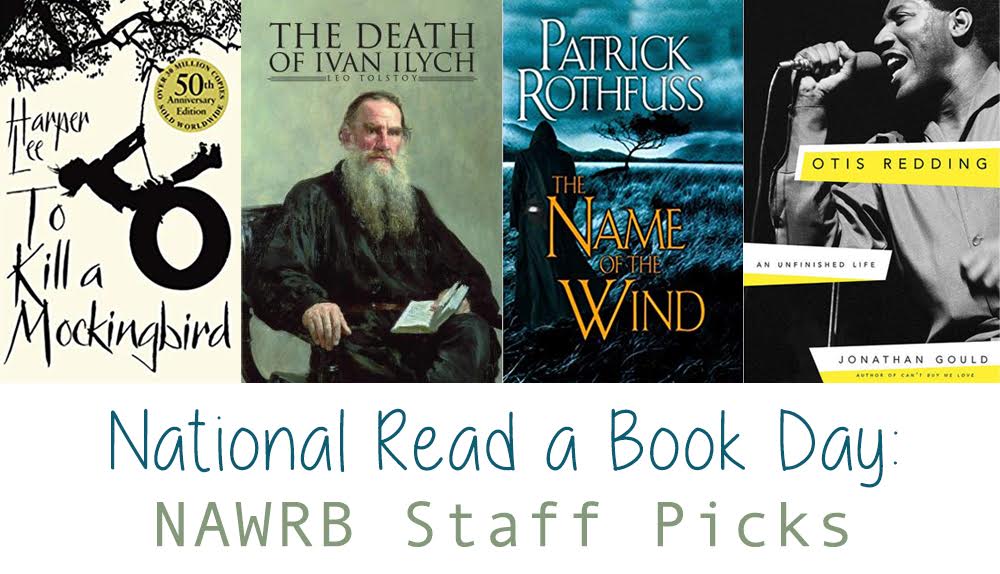 We are thrilled that today, September 6th is National Read a Book Day. For many of us, reading was a first love. And even if it didn't come to us easily or naturally, many of us know what it felt like when you first found an author or genre that spoke to you, that sparked your imagination, that seemed to know who you really were.
Today is one day you can put down what you think you should be reading and pick up something you know you'll love. If you don't know where to start—don't worry. Our NAWRB staff has curated a short list for you of our favorites: Books that have inspired and delighted us over the years.
The Name of the Wind (The Kingkiller Chronicle: Day One)—Patrick Rothfuss, author  
Genre: Fantasy
This is one of those books with an entire world or universe unto itself. It pulls the reader into this world and you end up feeling like you've seen the sunlight for the first time. It's a coming-of-age story bringing you an emotional storm close enough to touch. The fantasy elements are intriguing but it also has touches of science, adventure, and music mixed with stories about friendship, moments of both stupidity and intelligence and pulls you in with a tale of love that keeps slipping out of reach. Even though it's over 600 pages, you are left wanting and waiting for more.—Kendall Roderick, Senior Graphic Designer
You might like this book if you love: J.R.R. Tolkein, Star Wars, The Princess Bride.
To Kill a Mockingbird—Harper Lee, author  
Genre: Southern Gothic, coming-of-age
I know this is a book many people have read growing up, but even if you've read this book I think it's worth a reread. I love the simple, straightforward morality of this book and how you really seem to see through the eyes of the child, Scout. You learn how to handle the past, confrontation and how to discover your moral compass through lessons learned in real life.—Lucille Chaney, Administrative Assistant
You might like this book if you love: Tennessee Williams plays, A Miracle on 34th Street.
The Death of Ivan Ilyich—Leo Tolstoy, author
Genre: Fiction, philosophy
I was first introduced to this novella in an undergraduate English class, and the professor told us it influenced his decision to change career paths to become a teacher. The book is about a man who seems to have it all—a high-paying job, honor and prestige, a family, a beautiful home, etc.— who unfortunately becomes terminally ill after an accident caused by hanging curtains in his home. During his last days, he reflects on his life and the horror of realizing that his life is without meaning. This story taught me that happiness does not come from following the recipe to life that society feeds us, and that a meaningful life is one lived authentically. Don't let the title deceive you—this story is full of life!—Burgandy Basulto, Writer
You might like this book if you like: Contemplating the meaning of life, the movie Ikiru by Akira Kurosawa
Otis Redding: An Unfinished Life—Jonathan Gould, author
Genre: Nonfiction, biography
I'm amazed at the author's ability to put one of America's great soul singers in the context of time and place. Seamlessly weaving stories of musical influences, family members and key record company figures with Otis's ascent from a young boy who went from copying the sound of others to writing his own works, including the song Aretha Franklin made famous, R.E.S.P.E.C.T—this book extends and adds dimension to the singer's much too short life.—Christine Terrisse, Writer  
You might like this book if you love: Reading Rolling Stone every month