NAWRB Honors the Top 50 Revenue Women-Owned Small Businesses (WOSB) in the Housing Ecosystem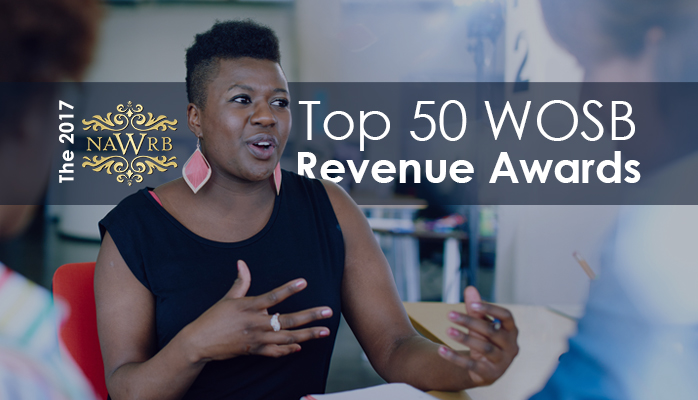 The National American Industry Classification System (NAICS) Codes are the standard used by Federal statistical agencies when classifying business establishments for the purpose of collecting, analyzing and publishing statistical data related to the U.S. business economy. The Small Business Administration (SBA) sets the Small Business Size Standards in accordance with these NAICS codes.
NAWRB is excited to launch the first and only earning recognition program for WOSBs within the housing ecosystem. As we merge all industries into one list, our goal is to form profitable collaborations to propel women's economic growth.
Rankings will be based on the gross revenue percentage of their corresponding NAICS Code small business ceiling. Visit the following link to find your NAICS code and corresponding WOSB ceiling: https://www.sba.gov/sites/default/files/files/Size_Standards_Table.pdf
The 2017 NAWRB Top 50 WOSB Revenue Awards will be based on 2016 fiscal year revenues. The first place winner will receive a full page advertisement in NAWRB Magazine, our international publication; second place will get a half page ad; and third place a third page ad.
Companies that surpassed the WOSB ceiling in their NAICS Code within the past year will also be recognized. NAWRB strategically combines awareness, recognition and opportunity for Women-Owned Businesses in the Housing Ecosystem – She is Changing Real Estate.
To submit your company for the 2017 NAWRB Top 50 WOSB Revenue Awards, please fill out an application here: Application Link
The deadline for submissions is June 30, 2017.
*Housing Ecosystem are all industries that create the infrastructure to create, develop, design, build, maintain, oversee and transfer any type of property.
Have questions? Email us at info@www.nawrb.com.