From the Netherlands to Washington, D.C. -An NAWRB Intern's Journey-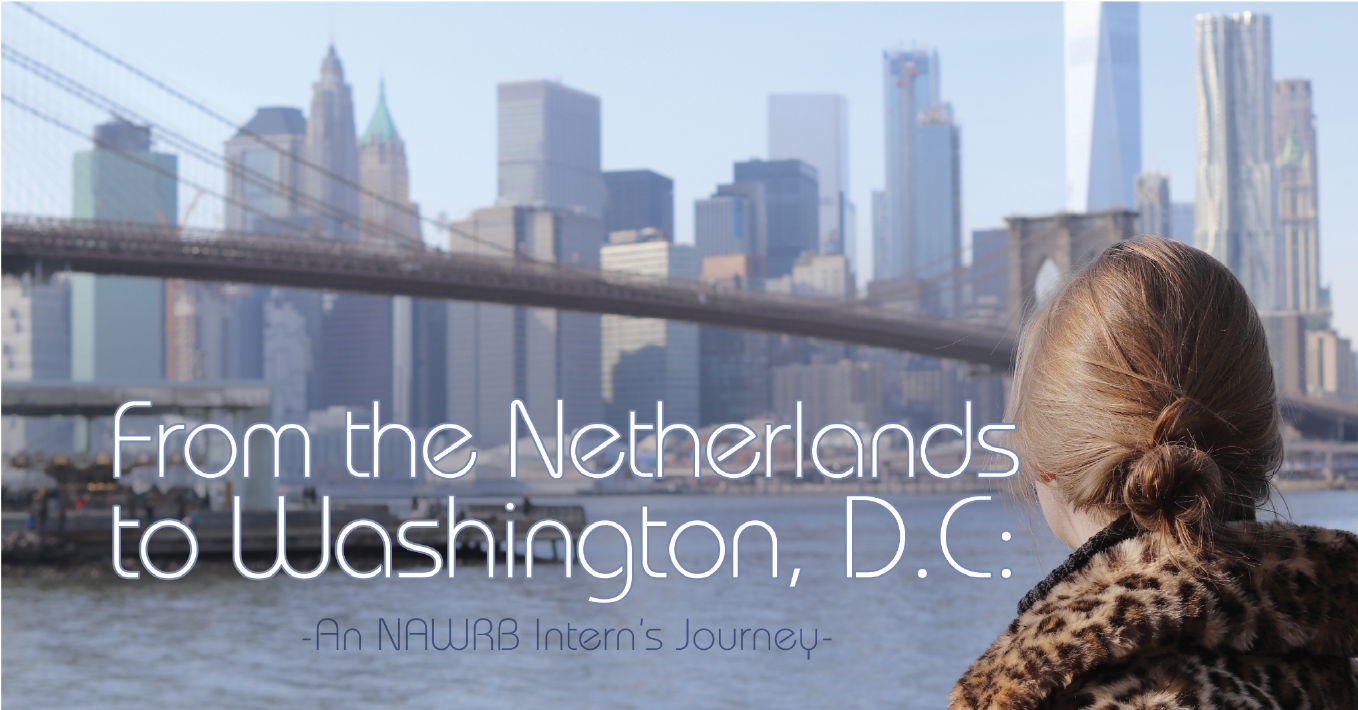 In 2016, Marissa de Swart, a young woman from the Netherlands, traveled to the United States to study at Chapman University in sunny Orange, California. Chapman is a distinguished private, non-profit university, and one of only 75 colleges to offer a Peace Studies program. She took two courses in Peace Studies during her time studying abroad, as well as noteworthy courses in leadership and mediation.
Students enrolled in the Peace Studies program address the underlying causes of present international conflict and seek thorough nonviolent solutions. "Peace is not simply the absence of war and the end of conflict," states the program's brochure. "Lasting, sustainable peace involves the pursuit of human rights, sustainable development, and social justice."
This sentiment hearkens to the evocative words Martin Luther King, Jr. wrote in a cell at Birmingham City Jail in 1963: "True peace is not merely the absence of tension: it is the presence of justice."
Women's economic opportunity and growth is one human rights issue that requires attention in order to achieve gender equality, a necessary component of world peace. NAWRB is on the front lines of this issue—driving collaboration in the housing ecosystem for gender parity and women's economic growth, and providing women with resources to secure their financial independence.
Wanting to get involved in the women's movement, and apply the skills she learned in the classroom to the workforce, Marissa interned at NAWRB. She was pivotal in bridging our connections with the Netherland's Ministry of Education, Culture and Science, and she continued this intermediary role when she returned home. Shortly after her internship, she secured an opportunity to work at the Dutch Embassy in Washington, D.C., where she currently resides.
Catching up with NAWRB, Marissa discusses her current position, the valuable practical skills she learned at Chapman University, her acclimatization to Americans' social niceties, and her nuanced approach of how an independent mindset can help women achieve economic growth.
NAWRB: What kind of work do you do with the Dutch Embassy, and how has your experience been so far in Washington, DC?
Marissa de Swart: I work for the Innovation Attachés at the Dutch embassy, and we do everything that is science, technology and innovation- related. We connect companies back home in the Netherlands to companies over here in America. We do the same for governmental institutions in the Netherlands, and we connect them to partners here in the U.S. We are very much like an intermediary—a body who brings together parties from the U.S. and the Netherlands. Since the Netherlands is at the forefront of innovation we are very busy! In North America we have Innovation Attachés in Boston, San Francisco and Washington D.C.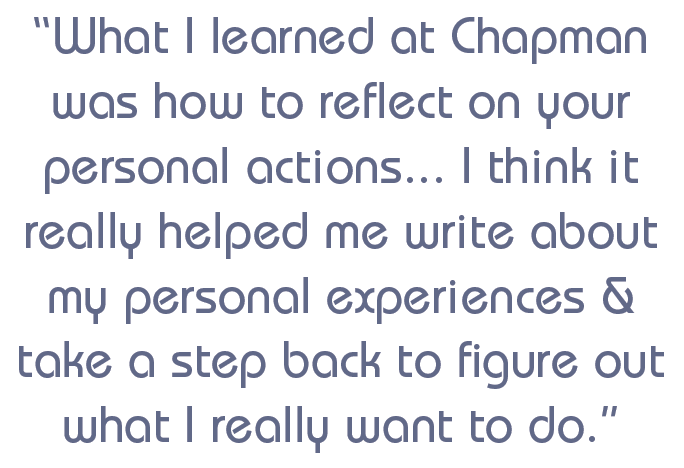 The aim of my internship is to give our Innovation Department a good insight in what the US Federal Government does to enhance science, technology and innovation. With this oversight our Innovation Attachés can more easily reach out to potential partners in the US Federal Government. That's what I have been very busy with for the last four months.
I have been learning how your federal government works, how it's structured and which parties in the U.S. federal government could be interesting to our Innovation department. We also help delegations that want to come over to the United States to talk to partners. We connect them.
So far my experience has been really good. Our embassy is quite big at around 120 people, and we have people from all ministries here, from Health to Agriculture to Infrastructure. It's a very great mix of people, and there's a lot of young interns and trainees, so it's a great atmosphere to work in! D.C. is an amazing city to live in, of course.
NAWRB: What was it like studying abroad in the United States? Did your preconceived notions of the country change once you lived here?
Marissa de Swart: I must say I actually got used to the American culture really quickly, and I find that Americans are very friendly in general, and open.  I remember when I came back home that I would check out my groceries and say to the cashier, "Hey, how are you?" But that's something you don't say in the Netherlands to someone working at the checkout. If you tell someone "Hey, how are you?," that would be intruding on someone's privacy. You would never expect someone in the Netherlands to answer that question, while here it's a way of saying hello to people. I think it's a really nice way to do that.
Now that I'm back in the United States in D.C., I feel like it was easier for me to move here because I know way better how Americans communicate, how they talk, and how they like to start a conversation. That's what I really like about Americans. You run into them in weird places and they always have a story about the Netherlands, and they are never in a rush when you talk to them. The preconceived notion is that people think it's superficial, but I don't think so, personally. That's definitely something that changed for me.
NAWRB: At Chapman University, you took courses in Peace Studies, leadership and mediation. What did you learn from these courses, and how have you applied these lessons to your profession?
Marissa de Swart: I loved studying in the United States. Chapman University had a really good atmosphere. The classes were really small, and I loved that the professors were super engaged with their students. I also enjoyed the courses that I took there.
What I learned at Chapman was how to reflect on your personal actions. My professors would ask me to write journals on everything I was doing. We would study a theory in class and then reflect on how you would apply this theory to your personal life, how you could see yourself as a leader, and how you think you could solve a conflict in the best way. I think it really helped me write about my personal experiences and take a step back to figure out what I really want to do.
Now that I'm here in DC, I keep a journal that I write in every week, and it really helps me to reflect on situations that happen. Sometimes they are nice and sometimes they are not so nice, but when you write them down, it's a way of looking at it from a different perspective, and then move on.
When I was in California, I got very sick, broke up with my then boyfriend and struggled with my roommates. So when I was writing my journal, it really helped me put it aside and move on, and it's something I'm continuing right now.
Practical leadership skills are all a matter of reflection. What I learned in the mediation course is you need to listen very well to solve a conflict between two people. It's really important to listen to what people say about how they are feeling. I learned very practical life skills at Chapman, which I really value.
NAWRB: How did your time at NAWRB influence your educational journey and career?
Marissa de Swart: I enjoyed combining my studies at Chapman with an internship at NAWRB. It was great to do some follow-up when I was in the Netherlands. I visited the Ministry of Education, Culture and Science, and I stay in touch with one of its policy officers whenever he has an event going on. He recently organized an event for young women speakers, and he also invited me to come. It's really nice to have those contacts there. It's all about networking, I think.
NAWRB: In your opinion, what important steps are needed in achieving gender parity and/or women's economic growth?
Marissa de Swart: I grew up with a very independent mother, where my mom told me from a very young age to never be dependent on a man, never make your decisions depending on a man, and always make sure you earn your own salary. I grew up with those kind of values. My mom was never, and still is not, dependent on my dad, she earns her own money, and she taught me to do so as I grew up. For me, it's a personal step toward women's economic growth to empower women to be financially independent as soon as they can, take care of their own education and cost of living expenses, and never be dependent. That's a personal choice, of course.
Marissa's story highlights the broad, interconnected web of women's economic growth, and the multiple groups that are involved in making a change. Women's empowerment is a collaborative effort that occurs through education, local and state governments, across borders and within the home. NAWRB endeavors to continue connecting these spheres of action, to facilitate communication and a creative exchange of ideas on how we can create a better tomorrow for future generations of women.