In the last 200 years, women's voice and role in society has evolved quite substantially in the United States and around the world. The mortgage industry is no exception. As first-time homebuyers, women face patterns of discrimination. These discriminatory lending patterns, in violation of many regulations including those promulgated by the U.S. Department of Housing and Urban Development (HUD) and the Federal Housing Administration (FHA), limit women from becoming homeowners and result in fair lending violations, regulatory actions and litigation against lenders.
As regulatory requirements in the mortgage industry have tightened, lenders are taking note that discrimination is having an adverse effect on the mortgage industry and our economy as a whole. In some cases, programs are being established to target specific categories of women in the market that are faced with discriminatory obstacles. Yet, there is much more that needs to be done.


General Patterns of Discrimination Towards Women
Woman are largely discriminated against for what they are, their marital or physical status and their ethnicity—that is for being single, pregnant and/or being non-white. Lenders tend to look at women who are divorced or single with dependents as too risky.
Discrimination in the lending process is often rooted by the outside influence of discrimination of women in the workplace. The pay inequality of women in the workplace makes it more difficult for women to build a strong credit profile, which ultimately makes it difficult to secure favorable loan terms or obtain mortgage loan approval. This pay inequality also predisposes women to receiving less favorable loan terms than men.
Another hurdle women face is if they are renters or are in a rent-to-own. Single or minority women may be working toward the dream of homeownership, but they at times become locked in lease agreements that are paired with grossly inflated rental rates. Increasing or inflated rent costs make it difficult for these women to save enough money to begin the process of purchasing a home. Underwriting judgments tend to happen during mandatory underwrites, brokered transactions or non QM loans.


Patterns of Discrimination Against Pregnant Women
Just as fair lending violations occur when a lender discriminates against minorities through unfair lending terms or credit denial, pregnant women are discriminated against in a similar manner. Pregnant women are often denied loans based upon their "short-term disability." These practices of offering less favorable loan terms or denying loans to pregnant women when compared to similarly situated male borrowers is in direct violation of the FHA. As a result, lenders are currently addressing the repercussions of their illegal underwriting practices.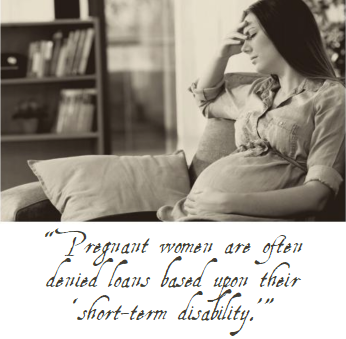 Lenders have also used unsavory business practices on pregnant women to complete the closing process. There have been cases where lenders have coerced pregnant women into finding co-signers so that they qualify for mortgage loans with more favorable loan terms. Historically, when a lender's underwriting indicated that a woman who was on maternity leave would not have enough income to qualify for the loan, the lender persuaded women to switch the category of time off from maternity leave to vacation time to show increased income. Again, this is lender discretion and any reduction in take-home pay versus base wage salary stated on an offer letter results in lower qualification outcomes simply because extra time may have been needed to care for a sick child or extended maternity leave.
This results in a false negative when it comes to applying for a specific loan amount and monthly payment despite likely having paid such monthly rental commitments on time.
In March 2017, the Denver Metro Fair Housing Center filed a suit against Bellco Credit Union alleging maternity leave malpractice. The suit alleges that the center had experimental testers call various lenders, including Bellco, and claimed to be on maternity leave to check for discrimination practices. All variables including race, income and credit score were controlled. The results were consistent denial of mortgages for pregnant women, unless the women returned to work within a month. In a prior case involving similar discriminatory action surrounding a Houston-based lender, HUD explicitly stated that pregnancy is not a basis for a loan denial.
Women Are Stable Borrowers
There is no basis of reasoning that can justify discrimination by lenders against women. On average, women pay more for a mortgage through higher interest rate terms than male borrowers. Although single women have lower average annual incomes, they are better at paying their mortgages, default less and usually make larger down payments than their male counterparts. According to a study by the Urban Institute published in 2016, for mortgages originated between 2004 and 2007, the default rate for single women was 24.6 percent while the default rate for single men was 25.4 percent. Mortgages originated between 2008 and 2014 followed a similar pattern, which demonstrates that single women default less often on their mortgages than their male counterparts. Therefore, lenders should be embracing women borrowers as a way to increase their bottom lines.
Down payment is another area where women are more attractive borrowers than men. Based on statistics provided in the 2016 Urban Institute Research Report, while single women usually have lower incomes and higher loan size to income ratio, they typically put down a larger down payment than single men. Specifically, as reported in the 19th Annual RBC Homeownership Poll, 22 percent of women saved up to make a larger mortgage down payment, compared to 14 percent of men. Moreover, this report by researchers at the Housing Finance Policy Center of the Urban Institute establishes that single women applying for mortgages typically have higher FICO scores and debt-to-income (DTI) ratios than single men. For instance, this study establishes that from 2011 to 2014, single women had an average FICO score of 741 and a DTI of 36.19, while single men had an average FICO score of 739 and a DTI of 35.94. Women tend to put a larger down payment on a mortgage than men while having similar, if not better, FICO scores and all the while having higher DTIs than men. These qualities indicate that lenders should not ostracize women when attempting to secure a mortgage because they have proven that they are more stable borrowers than men.


Initiatives & Programs to Overcome the Discrimination
To overcome this discrimination, there have been laws enacted and preventative programs established to prevent lenders from discriminating against pregnant, single and minority women. For instance, the FHA protects individuals from discrimination when conducting housing transactions. The prohibitions specifically cover discrimination because of race, color, national origin, religion, sex (including pregnancy), disability and the presence of children. Similarly, the Equal Credit Opportunity Act (ECOA) promotes credit availability to all creditworthy borrowers regardless of race, color, national origin, sex, marital status or age.
In addition to the FHA and ECOA, there are government-sponsored programs to aid first-time homebuyers. The FHA offers the Seller Assistance Program and the Second Mortgage Program to help reduce closing costs and lower down payments. Women using the Second Mortgage Program may also be eligible to receive a loan with no down payment. The Veteran's Administration (VA) offers mortgage guarantees with benefits for women that qualify.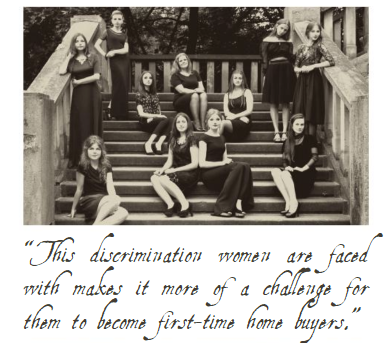 The private sector has also taken a proactive approach to stop discrimination toward women, and lenders have launched educational and marketing programs directed at single women. For instance, PrimeLending has started a program providing alternative lending to aid disadvantaged income homebuyers called Neighborhood Edge. The Mortgage Bankers Association (MBA) has engaged in discussions with the Federal Housing Finance Agency (FHFA) regarding a proposal for new credit scoring models. If the new credit scoring models come to fruition, lenders may be able to open doors to millions of consumers who are either "credit invisible" or "unscorable."
This discrimination women are faced with makes it more of a challenge for them to become first-time home buyers. Women are generally denied mortgages, despite their superior payment performance, larger down payment and similar—if not better—credit scores than men. With regulations and programs in place, lenders need to continue taking initiatives to alleviate and end this discrimination. The culture in lending also needs to change the view of women as risky borrowers. Rather, women are bread-winning individuals who are just as strong, capable borrowers as men. Women have to continue to push society in a direction of progress and work to expand into the lending opportunities that they deserve.
Dr. Rick Roque
Managing Director
Retail and Founder of Menlo Company