THE VALUE OF WOMEN'S ORGANIZATIONS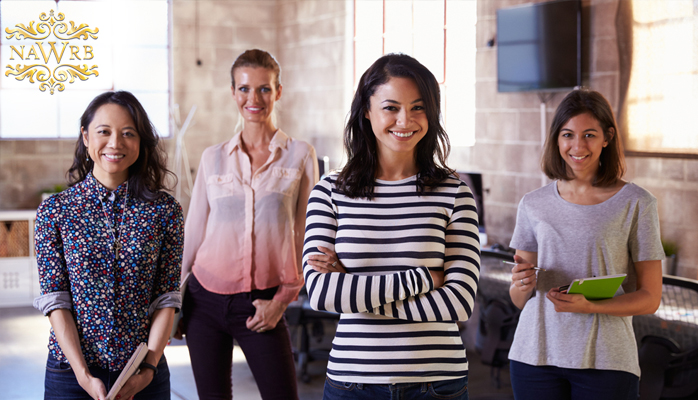 Why join a women's organization? One word: success.
Businesswomen are creating higher-level success stories and it is in no small part a result of collective camaraderie and new tools like the NAWRB Women's Global Database. Women are starting over 1,100 businesses a day and women-owned businesses grew by 27.5 percent from 2007 to 2012. This professional attainment has gained so much momentum that last year the Small Business Administration (SBA) announced that it met its annual lending authority threshold of $18.75 billion. The SBA also recently awarded 5.05 percent of all federal small business contracts totaling $17.8 billion to women-owned small businesses, surpassing their 5 percent goal.

Despite these victories, there are obstacles facing female entrepreneurs that persist, and the Census Bureau estimates that 88 percent of women-owned businesses don't surpass the $100,000 revenue threshold. In Force Multipliers: How three fundamental adaptations can help women entrepreneurs scale big, Ernst & Young (EY) and Babson College disclose that only two percent of women-owned businesses achieve $1 million in revenue; businesses owned by men are 3.5 times more likely to reach the million-dollar mark.
More troubling than these financial difficulties is the fact that many of these businesses are poised to experience them from the start. A 2014 Senate Committee report reports that women receive only 16 percent of conventional small business loans, 4.4 percent of the total dollar value of all small business loans. Despite the progress in accessing capital, obtaining it remains a prominent struggle for women entrepreneurs. This goes on to have significant additional effects, and the National Women's Business Council (NWBC) confirms the dismal truth that 91 percent of women-owned businesses have no employees other than the owners. Without the appropriate money and resources to fund their enterprises, women business owners fail to hire employees and are consequently unable to expand and sustain their companies.
The access to capital fields and the utilization of women-owned businesses needs to continue improving. Meanwhile, women's groups and organizations are essential to preventing women and their ventures from becoming merely memories.
Talent and ability are undeniable and crucial, as is tenacity and perseverance. If you work hard and dedicate yourself, chances are you will find quality success along your path. However, even the most successful entrepreneurs had help along the way.
Becoming part of an organization, a community of like-minded individuals, can provide you with the support and guidance to make successes out of your undertakings. In their report, EY and Babson College further explain, "What's the advantage of finding community? The first benefit is the removal of self-imposed limits on what you can accomplish," and, "We've also seen how this community enables participants to shorten learning curves, gain insight into tough business problems, collaborate, and create valuable business partnerships." Surrounding yourself with a supportive circle benefits your progress as an entrepreneur, and also accelerates the speed of your development.
In Forget the Glass Ceiling: Build Your Business Without One, Geri Stengel articulates, "Knowing other entrepreneurs plays an important role in directly enhancing aspirations of women to start their own businesses, and supporting their growth by providing access to ideas, opportunities, and resources." Habits, ideas, mindsets rub off on those around you, and you also become influenced by them; this happens every day. If you are around successful people invested in your accomplishments, it will have a positive effect on your endeavors.
Women entrepreneurs possess incredible potential that can help vitalize the women's movement for equal representation, opportunity and pay, and rejuvenate our economy. According to the NWBC, as women break the million-dollar revenue ceiling, they will create over 2 million jobs in the U.S. leading to an newfound $1.2 trillion in revenues.
As a business owner, you're constantly searching for new ways to develop your business. A new lead, a new client, a change in marketing strategy can all mean the difference between a period of growth and security or one of struggle and uncertainty. In our competitive business world, you must remain aware of all factors that can give your business a leg up on the competition.
Joining a women's organization like NAWRB is a powerful tool through which to enhance your business's performance and bottom-line profits. It means becoming a member of a dedicated community that cares about your success and has the resources and relationships to help you thrive. Certification, one of NAWRB's services, is just one example. By certifying you can give your business an edge in the contract bidding process, maximize your appeal to companies searching for diverse business segments, cement your presence in the diversity and inclusion (D&I) space and much more.
Through our Diversity and Inclusion Leadership Council (NDILC) we are helping increase the number of C-suite women and eliminate gender-based barriers within the workplace. In the domestic space, our Women's Homeownership Initiative (WHI) is committed to increasing women's homeownership and decrease women's poverty levels across America. NAWRB's advocacy is fueled by our passion. We are here for the success of our members and we partner with government entities focused on the same goal such as the Office of Minority and Women Inclusion (OMWI), the SBA and the NWBC.
You are a capable leader with the ability to succeed and impact the business world. You owe it to yourself to find a community with equal dedication and enthusiasm towards your endeavors. Do not let an imbalanced business field inhibit your rise as an entrepreneur. Your business's expertise will get you through the door, but your community can bring you there.
NAWRB maintains a free global database for all women in the housing continuum, bringing together a women's forum to strengthen the gathering of women in each industry for all levels and business classifications, to provide access and opportunities for diverse spend. Register today for your success.