Special Guest Interview with Wendy Federman, Award-Winning Broadway & Film Producer & President of Foolish Mortals Productions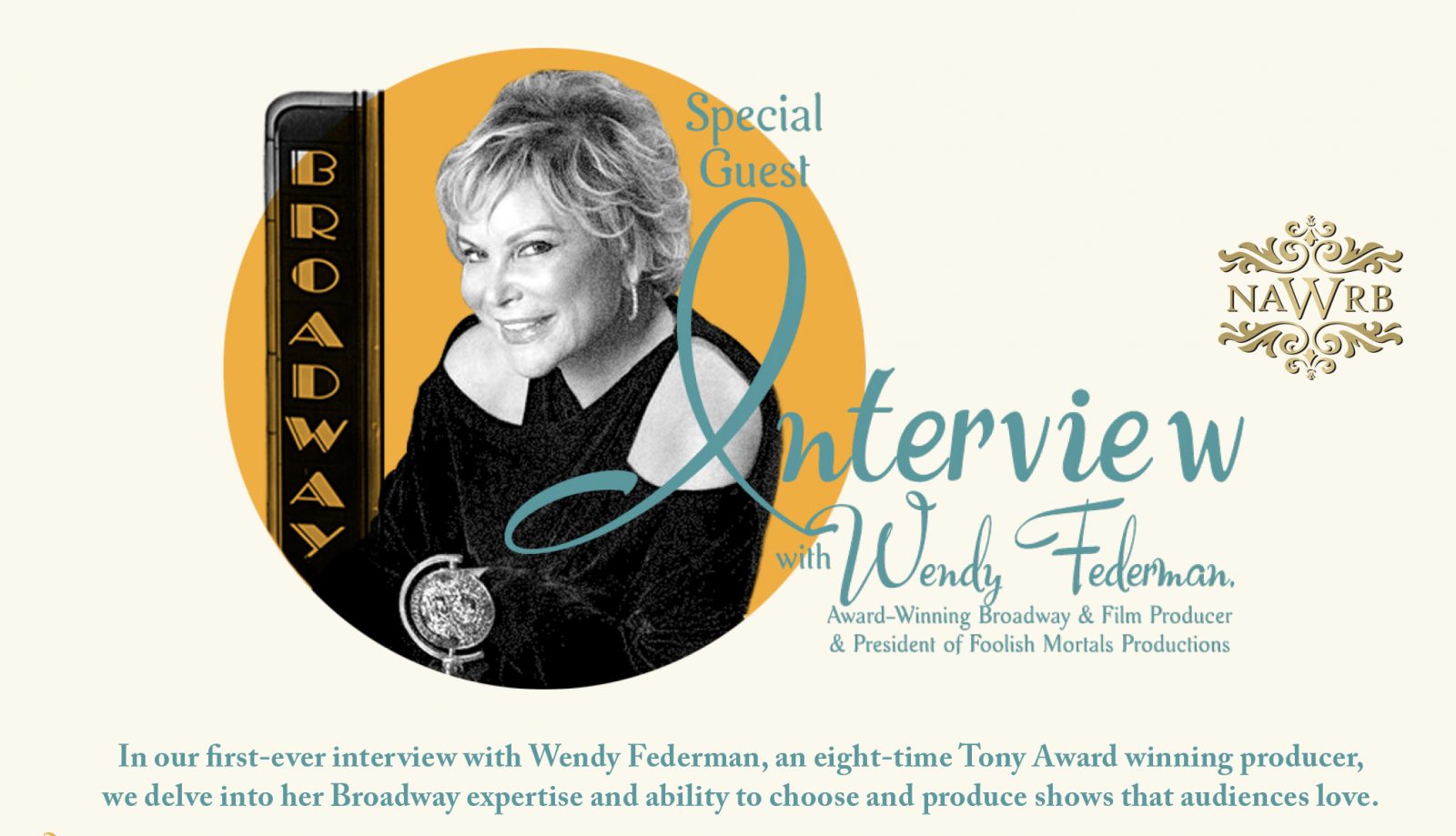 What is a Producer?
"A producer is a rare, paradoxical genius: hard-headed, soft-hearted, cautious, reckless, a hopeful innocent in fair weather, a stern pilot in stormy weather, a mathematician who prefers to ignore the laws of mathematics and trust intuition, an idealist, a realist, a practical dreamer, a sophisticated gambler, a stage-struck child. That's a producer."
–Oscar Hammerstein II
Meet Wendy Federman
Wendy Federman is an eight-time Tony Award, seven-time Drama Desk Award, eleven-time Drama League Award, and ten-time Outer Critics Circle Award winning producer. Wendy is also a Film Producer who produced the feature film WAKEFIELD, starring Bryan Cranston and Jennifer Garner. The film was an official selection of the Telluride Film Festival, the Toronto International Film Festival and the Hamptons International Film Festival. Wendy is a proud member of the John F. Kennedy Center's National Committee for the Performing Arts whose mission is to fulfill President Kennedy's vision by producing and presenting the greatest examples of music, dance, and theater; supporting artists in the creation of new work; and serving the nation as a leader in arts education. She has also served as a trustee on multiple boards including the Foundation for Gender Equality, Bergen Performing Arts Center, Gilda's Club of Northern New Jersey, MCC Theatre and Penguin Reparatory Theatre. Wendy has served as a guest lecturer for many charitable foundations and mentors young aspiring producers, actors and writers. Wendy also serves as the chair of the Nominating Committee and co-chair of the annual Chita Rivera Awards event which celebrates the superb achievements of the top dancers and choreographers on Broadway and in film while raising funds for therapeutic dance classes throughout New York City.

How is theater producing similar from other types of business, and how is it different?
For context, a Broadway producer oversees all aspects of a theatre production including raising money to provide financial backing, managerial functions and hiring creative teams like writers, directors, composers and many others to bring a creative work of art to life. It's similar to other businesses because I am managing a product that needs to be sold to customers or audiences. When I was in my family's floral and craft trade business, we ultimately sold products, but there were other aspects that needed to be addressed including: When was the product manufactured? How was it being shipped? How was it priced? As a Broadway producer, although we're presenting audiences with a play or musical experience as opposed to an actual physical product, there are parallel conversations. Is it the right project and will it be memorable? Does the production appeal to the widest possible audience? Are the financials sound and do they make sense?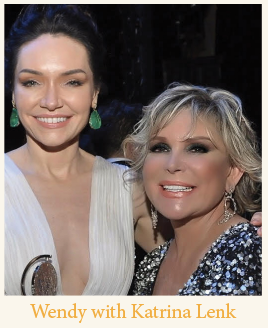 Producing a Broadway show is a different business model than other businesses because it focuses on an experience rather than a product. It's unlike any other business because you're witnessing something live, which is a magical event. People have to turn off their cell phones and commit to being there. You have an exchange of energy between the performers and audience members which feeds off each other and becomes a symbiotic relationship. Most people don't experience those deep feelings and emotions when buying a floral wreath. Producing Broadway shows serves a different kind of need.
I remember I took my son, now 26, to see The Lion King when he was 4. When those puppets came down the aisle, he just sat there with his mouth wide open—they captured him. These are the things people remember. Being a Broadway producer gives me a platform to provide these types of great experiences that create memories. People tend to remember their first theatrical experiences more than they remember their first film or first plane ride.
Every show is different, and each audience is different, but you always want to feel that you're giving the audience the best possible version of what could be. That's how fresh each performance should feel to you, which is why it's incredible that our performers do this eight times a week, and they just bring it. None of this work is easy—either on the performance side or the business side—but we love the finished product. We have a platform where we can entertain, inform, educate and make memories for people, and hopefully make money. It's this kind of trifecta that when everything works out, you're employing a lot of people, you're making audiences very happy and creating special moments and memories and then they're going out and telling all their friends, "You have to see this show!" You're increasing your product value by customer response and word of mouth. I think, especially with entertainment, theater, restaurants, and even retail experiences, I'm a true believe in customer feedback utilizing social media to spread the word. Facebook or Instagram enable thousands people to spread the word about a show.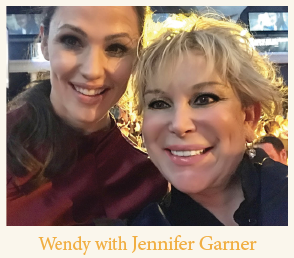 What advice would you give other women who want to get into theater producing?
For both women and men, there has to be passion in theater and a true desire to foster excellence in the arts. Producers have gotten into the business in different ways: some were stage managers, some worked their way up in the business, and some came in the way I did – a performer who went into business.
There are different routes to success but a good starting point is to get involved with your local theater and learn everything you can about it. Become a student of theater for both plays and musicals so that you know your product and understand what makes a good show and can gain a sense of "I know this is going to work and here's why." In New York City there are Broadway programs for people that want to be producers that are very educational. A lot of big cities have fabulous theaters around the country. I've mentored many producers and I always tell them to go to theatres, volunteer, and see how to get involved. I would also suggest looking at local universities to see if there are classes in theater management.
Do women face unique difficulties in becoming theater producers and show investors?

I'm not sure if women face more difficulties in this industry than they do in any other industry.
There are certainly more male producers than female producers, but we're getting there. I go out of my way to mentor or hire female directors, light designers, or set designers. Nobody knew I had a corner office job before I became a Broadway producer. I had to prove that I could work hard and be an effective and worthy partner and key employee. The same must be done as a co-producer. I think this is true whether male or female.
It's nice to attend meetings and see more women in control of the money and decision-making functions of a Broadway show. The people who invest in my Broadway shows are split 50/50 male to female. It's interesting because the largest consumer and purchaser of Broadway shows are women between the ages 35 and 65, so I feel that's what gives me an advantage. I'm the demographic of the consumer and purchaser, so if the marketing and advertising campaigns of a Broadway show resonate with me, they probably will reach others as well.
How do you know which projects are worth your investment?
The project must be something I'd want to see, it must mean something to me so that I can speak passionately about it, and it must be a worthy investment. I also make sure the creative side is talented, proven and solid so that the artistry is well represented. I have a fiduciary responsibly to my investors and must be extremely concerned and cautious with people's money. I always ask questions like: What are the numbers going to look like? Who is the team? Who else is producing the show? Who's directing? Who is doing the marketing and advertising? I also evaluate what's happening in the marketplace by looking at the style of show. Musicals and plays are different. Plays take less time and people. Musicals are more expensive and must first be proven in an out of town theater. Last, I evaluate the timing of a show. Many shows, especially musicals, can take 5 years or more to get to Broadway, so I'm always assessing potential future successful shows. I'm fortunate that I've been in the business long enough that I do get offered co-producer opportunities from top quality projects.
What are some useful strategies or tools to succeed in a high-risk investment such as Broadway?
Know who you are giving your money to, know their track record, and have an idea of how they are regarded in their industry. This is true of any business, but certainly know who you're working with and with whom you're giving your money. Understand how they treat their investors and team. Understand how the financials work, the time frame of the investment, and whether or not it fits in with your overall portfolio.
What inspired your love for theater?
My mother was a radio and Broadway actress, and my aunt went out to L.A. in her late teens to make a film and never came back. She was an actress-singer. My uncle was the voice of Boris Badenov, the Jolly Green Giant and the Pillsbury Doughboy. I was surrounded by it, and by 5 years old I could sing harmony. The creative arts were very important in my home.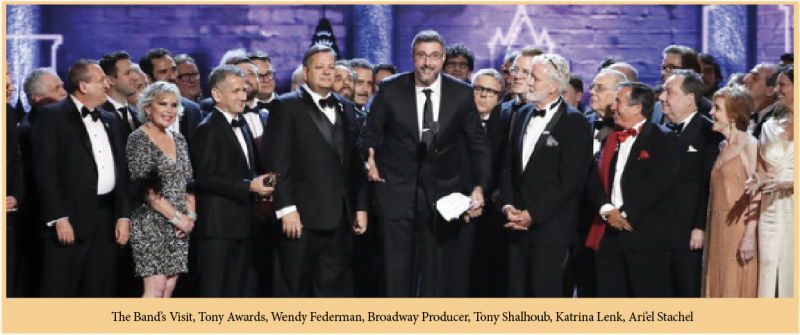 I am honored to serve on several boards and as trustee to organizations who promote arts education because there isn't as much as there should be. It is so fulfilling to serve with like-minded people who truly support, appreciate and celebrate originality, diverse perspectives and the spread of education in the arts. There are studies that show children grow up to be better humans and more successful when they've had arts as part of their education. They used to call it the humanities and I think it's part of what makes us human. You become a more well-rounded person when you have been exposed to culture, which includes taking young children to not only theater but museums to view fine art.
There are certain acting groups and companies that send acting teachers and coaches to prisons to help with recidivism because it's a wonderful way to help people dig into themselves and explore their feelings and get that kind of artistic nourishment. Then they go back into the world and they're different people. They also have a different feel for other people and society because they've been given something that they've never had before.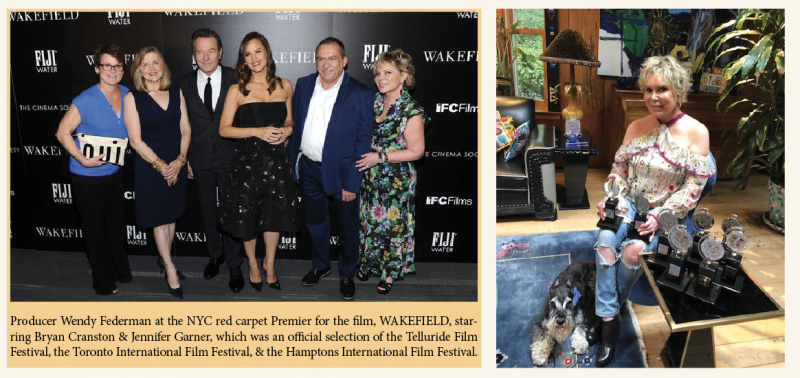 What was the first production you saw?
I was taken to a production of the The Sound of Music when I was 4 or 5 years old. My mom had worked with Rodgers & Hammerstein in the past and was a huge fan. Although I was very young, I remember it well and was transfixed by the beautiful production.
How do you manage your multiple projects?
It's very busy – almost 24/7. But I just do it. I really love it. My friends say, "She'll sleep when she's dead." I'm very hands on and constantly stay in touch with my colleagues, creative teams, other producers and especially my investors by sending them press items, updates and and information. It's important and I appreciate people entrusting me by investing in my shows, so I want to give them as much information as I can. My website is always updated with the latest information about my Broadway shows or films. I also do reach out to people through email marketing to tell them what's going on: here are my shows that are currently running on Broadway, in London or on national tours, here's what just opened, here's what's coming in a year from now.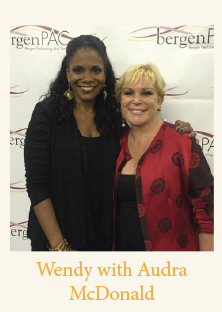 Are there other things you invest in besides Broadway shows and films?
I have investments in the market and have worked with my husband in his real estate business. I'm a big believer of investing in what you know. I have confidence in the business model so I often invest in shows that look promising.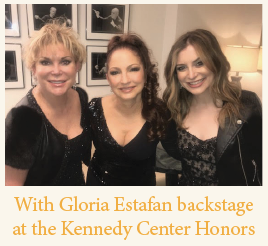 You love what you do and you do it exceptionally well.
I love all theatre. I go see recreational theater – shows that would never go to Broadway because they're experimental or there is audience participation. They have 99 seats or 2,000 seat halls. I go to theater because I love theater. It's my hobby. I travel the world to see shows that might have Broadway potential. It's never a chore. When I'm older, God willing, they will be wheeling me into theaters to see a show. I'm very fortunate that my first love, which became my hobby, became my work. I don't know if a lot of people can say that. I feel very blessed that I don't look at what I do begrudgingly. I really love what I do.
I've also been very lucky to work with talented people. If it weren't for the directors, the creatives, the talent, and the business teams, we would have nothing to bring to the stage. These are incredibly gifted people and I'm just so very privileged that I have a small part in bringing their creative works to a larger public audience.