Women's Economic Growth & Homeownership Event – Inglewood, CA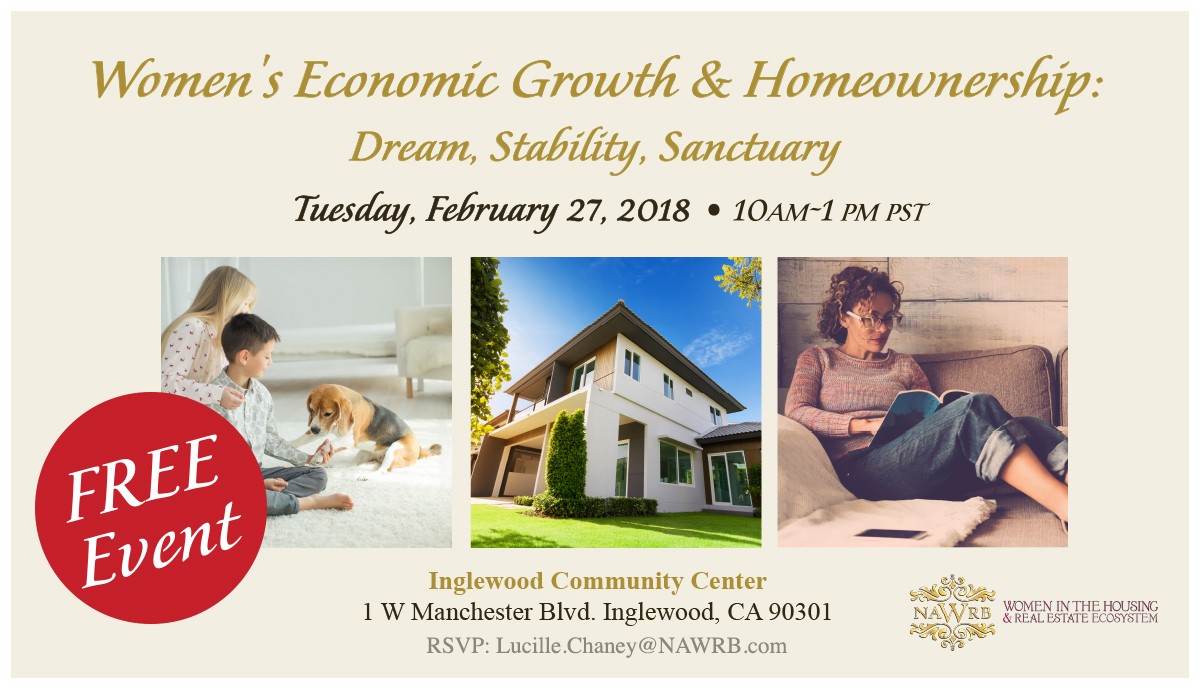 NAWRB invites professionals from all housing ecosystem sectors, and women homebuyers and homeowners, to attend this FREE event to learn about Top Housing Markets for Women, Access to Capital, Investment Opportunities and more! Don't miss the event at the Inglewood Community Center on Tuesday, February 27th, 2018. Expert speakers include Tiffany Pablo-Avila, Tax Preparer and Owner, America's Tax Services; Hyepin Christine Im, CPA, MBA, Master of Divinity, FACE; Desiree Patno, CEO & President of NAWRB; Eric Clay, Well Being Coach, Operation Hope; Cindy Wu, President & CEO, The Cindy Estates Group; Winnie Davis, Sales Director, Coldwell Banker; and Cathy Izumo, Luxury Real Estate Advisor, Exclusive Listing.
Women are entering higher-paying careers, starting businesses faster than men, delaying milestones like marriage and sacrificing what is necessary in order to become homeowners. Her home is a place of personal freedom, security, office and comfort in an impacting world, and a source of financial stability. Single women have been outpacing single men in homeownership for over thirty years!
Key Topics
Investment Opportunities for Women
Access to Capital
Business Sustainability; If I Only Knew
Top Housing Markets for Women
Homeownership Resources—Including Grants You Don't Have to Pay Back!
Obstacles to Women's Homeownership & Solutions
Best Practices for Serving Women Clients
Register here: https://www.eventbrite.com/e/womens-economic-growth-homeownership-tickets-42146083069
www.NAWRB.com
RSVP: Lucille.Chaney@NAWRB.com