2018 NAWRB Conference Live Updates: Keynote Address Diana Mendley Rauner, First Lady of Illinois and President of the Ounce of Prevention Fund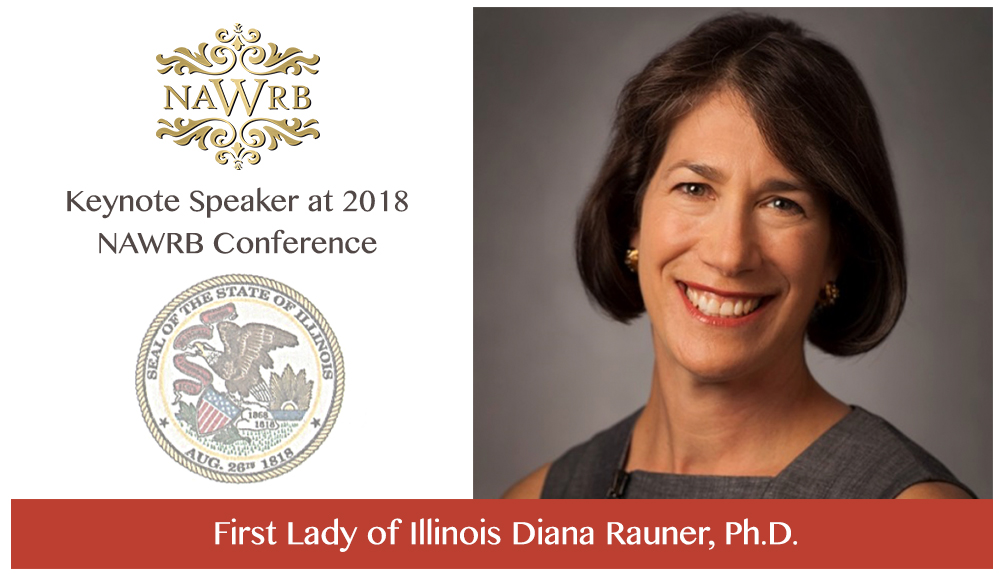 Attendees at the 2018 NAWRB 5th Annual Conference, "Year of Women" at The Standard Club in Chicago, IL are still buzzing from the Keynote Address by Diana Mendley Rauner, Ph.D.,  First Lady of Illinois and President of the Ounce of Prevention Fund. Rauner's address discussed empowering women, children and families to help break the cycle of intergenerational poverty.
Rauner began her speech by talking about her non-profit Ounce of Prevention Fund and shared what inspired her interest in volunteer work and her passion of addressing intergenerational poverty and child development. She began her career working in Wall Street after earning her MBA, but she also grew up in a family that regularly participated in volunteer work. Because of this, she sought out volunteer opportunities as a young professional. However, helping ex-offenders learn how to read was a pivotal moment in her life which shifted her career path. She was astounded that men her age were unable to read, the connection between educational opportunities, poverty and crime, and the serious educational inequities that occur in the United States.
The mission of the Ounce of Prevention Fund is to "give children in poverty the best chance for success in school and in life by advocating for and providing the highest-quality care and education from birth to age five." To achieve this end, the organization run programs in state and at the national level for educational and professional development for children and families in poverty, as well as educational home visits and schools—24 in total with one opening in Long Beach, CA this year— designed specifically for children newly born to five years old.
Rauner strongly emphasizes that education should start at birth, not just at age five, the year children in the United States typically begin kindergarten. This is because most of the human brain, at 95 percent,  has developed by the time children start school, and the overwhelming growth of the brain is coupled with an absorbent brain that is able to learn new things as the child interacts with its environment.
A child's brain development, education, world view and opportunities are largely influenced by the environment they grow up in, and, unfortunately, this is controlled by the adults in their lives. Human interaction is incredibly important for brain development, and the amount of interaction a child has affects their feelings of security and agency. Rauner notes that babies who are given attention when they cry from feelings of discomfort or dysregulation, such as hunger or being wet, are more likely to view the world as safe, know that people will help them when things go wrong, and feel like they have control in their lives.
On the other hand, babies who are not comforted during these moments, or are made more dysregulated, are more likely to view the world as unsafe, not predictable and they will feel like they cannot do anything about it. Emotion, sparked by human interaction plays an important part in a child's education. A favorite quote by Rauner is that "Emotion drives attention and attention drives learning," and this is especially true for intergenerational transfer of problems. This is expounded by the fact that children of five years of age or younger make up nearly half of homeless children in the United States, so their current environment will contribute to their brain development that will affect their adulthood.
The Ounce of Prevention Fund addresses these issues head on with a variety of programs and schools to invoke childhood intervention to break the cycle of intergenerational poverty. They focus on parent/child interactions, opportunities to learn self-regulation, and  development skills to help them succeed, among others. One program is their Home Visiting Approach designed to reach most at risk families even before birth. Illinois Family Connects brings nurses to visit families because having support makes a difference. Finally, Educare- High-Quality Center-Based Education works to raise the quality of early childhood education for our country's most vulnerable young children. It  involves national network of birth-to-5 schools that blends public funding streams to ensure every child can enter kindergarten at national norms.
Rauner ends her speech by encouraging all of us to help advocate for education and support for children living in poverty. As of now, 89 percent of voters support making early education more affordable, so there is opportunity for all of us to work together to make this a reality. "Everyone has potential, everyone can succeed," she states. "There is no one that doesn't deserve to succeed." Our children not only deserve the opportunity to succeed, but it is also pivotal for the future of our country that they do: "We can't afford to let half of our children unable to not succeed in school. That's our future; they're all our future."