Sometimes, a transition calls for a radical change, though some people try to avoid such shifts because they can be jarring. The sudden loss of refinance business has been that way for many lenders, and it will get worse in the future. How lenders respond to this transition into a purchase money market will set the winners apart from the rest.
The approaches loan originators will take to solve this problem will vary. Many will double their efforts to attract new refinance business, as writing that business has become their core competency. Others will seek out more purchase money business, pulling out old playbooks and relearning the rules of building strong business referral networks. A few will look for the radical change and catch the next wave of mortgage borrowers.
Speaking of catching waves, when learning to surf, even when you fail, you still learn something about yourself and become better for it. Mortgage lenders, on the other hand, cannot afford to fail. They must find the next wave of mortgage borrowers or face the threat of losing their businesses, which is all the more reason for them to consider the radical change.
In search of a promising swell
Mortgage loan volumes have been down across the country in 2017, Forbes reports. In the first quarter, lenders originated $361 billion in loans, down from $561 billion in the third quarter of 2016. Worse than that, the nation's five largest banks originated a larger share of those loans during the first three months of the year, increasing their take of the market from 25 percent in Q3 2016 to nearly 31 percent in the first quarter of 2017.
While interest rates are not expected to rise sharply, it is widely expected that they will continue rising. Kiplinger told its subscribers to expect long-term interest rates to rise a small amount by the end of the year. It won't take much to shut off more of the refinance business.
To deal with this, we're seeing the nation's largest investors offering new programs that will appeal to more borrowers, many of whom could not qualify for a mortgage in the past. At the same time, non-QM lenders have stepped up their efforts to create loan programs that will pull more consumers out of the renter pool and into homeownership. The question is who will be taking out these loans.
With inventory at very low levels and homes finally appreciating in value, real estate prices are keeping renters out of the market. Recently, CNBC reported that just 52 percent of renters surveyed in a National Association of Realtors (NAR) quarterly report said they feel now is a good time to buy. That's down from 62 percent just one year ago!
Lenders need to know where to position their businesses for success; it's not clear right now, but there is an answer out there. A new wave is coming.
Sitting on their board under a summer's full moon, a surfer feels the swell of the ocean before they see it. The real estate market, like the ocean, is a living thing. It changes over time, growing from a still expanse to a rolling monster that can drive you into shore or under the surface.


In search of real estate assets
One thing that is fairly clear is that we're going to need more housing inventory if we hope to see loan volumes increase in the future. One place that might come from is the nation's homebuilders.
Homebuilders were in a funk for most of the summer, as reported by CNBC, but bounced back in August as current sales expectations leaped forward. The NAHB/Wells Fargo Housing Market Index— where any figure above 50 is considered positive—is at 68.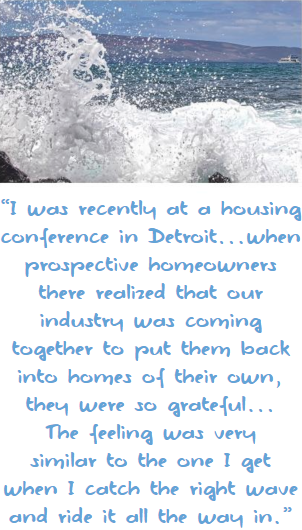 The other place we can go for housing inventory is distressed real estate. Most of the premium properties have already been sold off by the nation's servicers and asset managers. What's left is mostly situated in troubled neighborhoods in our largest cities. In many cases, the cities have taken ownership of the homes in tax sales when servicers could not dispose of them at foreclosure sales.
On the surface, this seems like a problem, but like the professional surfer who prepares to catch the wave before others even know it's coming, some industry players are getting into position to capitalize on a great opportunity.
Our cities don't have the resources to invest in these properties or to hire and manage the construction firms required to get them back into shape, but there are investors and asset managers out there who do. The real estate flippers and buy-to-rent investors of our industry are a diverse group, many of whom will have an interest in these opportunities. Both Wall Street firms and small mom-and-pop investors are in the market today, betting their assets in order to gain a return and help people in the process.
If the properties cities are holding today could be sold to investors with the ability to rehabilitate the housing and then, with the help of community-based nonprofit organizations, sell it to low-to-moderate income borrowers with financing provided by lenders eager to meet Community Reinvestment Act goals, everyone would win. If the reconstruction of these homes involved minority- or women-owned construction companies, it would be an even bigger win.
That's a lot of moving pieces and it will require some serious coordination to get an operation like this up on its feet. To keep their balance, the industry will have to fall back on good technology.
In search of a better way to sell and finance urban real estate
It will take technology to allow asset managers, whether working for the municipality or the new investor, to manage the rehabilitation project. Community-based organizations need technology to make the new homes available to new homebuyers. They will also need learning technology to help the new owners prepare for homeownership, though this is an area of core competency for these organizations and many already have good technology in place for that.
Smaller construction companies will need to be tech savvy to interface with the asset management software in order to find jobs, bid on the work and then report on progress. Many companies are already doing this, and there are plenty of training programs available to help them get up to speed.
The best news of all is that these technologies already exist and, even better, they are being used in exactly this way in select cities around the country today. It's making a difference in people's lives. Detroit is one of the cities where this is happening. Prospective homeowners are grateful when they realize our industry is coming together to put them back into homes of their own.
Sure, there are dangers out there: killer waves, the occasional shark, construction cost overruns, and unexpected problems the inspector finds. The companies, organizations and investors working in these areas are going to have to develop their own sense of balance to make it work.
When out on the water, it's just the surfer and their board. They have to select the wave, know when to start paddling and start moving. They have to know when to go forward to make it work. Whether they sink or surf, they make their own fortune.
Fortunately, the modern real estate and home finance industries don't work that way. It takes the whole village to rebuild the village. There are enough people who are willing and ready to make a difference that there can be no doubt a better future will be the result. Like surfing, it's about finding the wave, developing a sense of balance and then having the confidence and courage to stand up.
Serving these borrowers will be the next wave of mortgage business. Are you ready to catch the wave?
Doring Lloyd
Vice President of Business Development, Exceleras