NAWRB:What obstacles did you face while developing Centro, the first university in Mexico City that specializes in creative studies? How did you overcome them?
Gina Diez Barroso: The first obstacle was they didn't believe that we needed a new university, and they didn't believe creativity was important. We spoke from authorities and business people, to everybody involved in this. I had to get together a diverse group of people— creative thinkers, business people, academics—who were working not for me but for my vision and my passion. They were working with me. We also hired market analysts to do a study, and the study predicted that it wasn't going to work and that I shouldn't do it. When I was young, I never took no for an answer. I used to think this was a bad thing, but now I take it as a compliment.
When I believe that something needs to be done, I do not take no for an answer. After having the results from the market study that it was not going to work, I said we are going to go ahead and do it. So, we were fought against government regulations, and people saying it was not going to work, because we believed the world needed more creative people and to mix creativity with business.
It took eight and a half years to create, and has been running for 14 years now. We have graduated 1600 students and have 3000 enrolled now. For five years it has been the best creative university in the country, and it is the most difficult to get into. We believe that students that can get in should get in, even if they don't have the money. Thirty-five percent of students are on scholarship.
NAWRB: Centro offers a variety of creative disciplines, such as Interior Architecture, Film and Television, Industrial Design, and Textile and Fashion Design. Why is it important for universities to offer creative studies? What effect do they have on culture and society?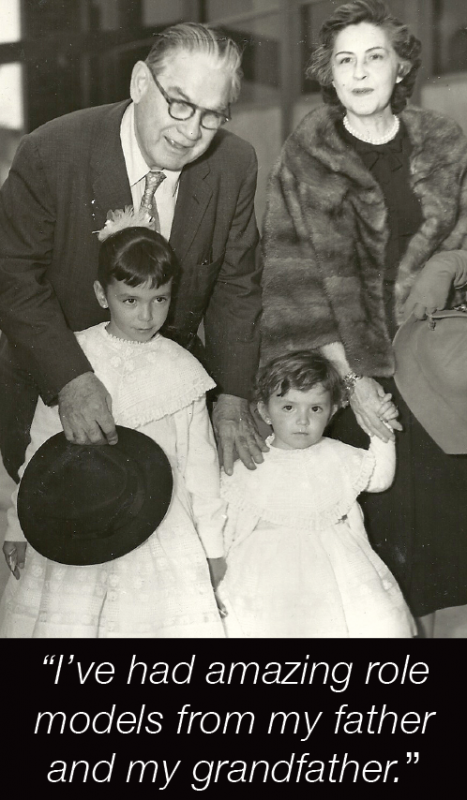 Gina Diez Barroso: We are adding digital engineering and digital media because this is the future. Compared to other universities that offer a four-year degree, we teach 1,100 more hours on business and entrepreneurship. When students graduate, they understand how to create business plans, how to do an elevator pitch, how to ask for money, and how to do legal writing for a business. They are business people—they are building a creative economy.
Schools are as good as their students. We follow up with our graduates, and most of our graduates have their own business, and they're employing many other young adults. We are interested in creating a culture of entrepreneurs. That is not often how the creative world works, so we are very happy with the outcome.
NAWRB: How do you express your creativity in your professional and personal life?
Gina Diez Barroso: Every single day in every single way. I love to see what is missing in the world and fix it, and the way I like to fix it is through creative thinking. I think I express my creativity in the way I work, the way I act, and the way I fix things. That's the way I operate.
As far as my hobbies, I like art, design, painting, collecting art, and going to auctions. In my spare time, I love to go to the theater and exhibitions. Everything is related to creativity. I don't see myself ever doing anything that is not creative. I also love storytelling. I think it is the most wonderful thing that we can do. When I meet someone that is good at storytelling, I love to spend time with this person.
So, I do things that are—a hundred percent— the right side of the brain. I believe now that the left and the right side of the brain need to be viewed as one. Although I am a creative person, I am also a business person, so that line needs to be raised.
NAWRB: Fundacion Diarq, your non-profit organization, works towards eradicating domestic violence and preventing bullying in schools. What prompted you to address these issues?
Gina Diez Barroso: I always thought that my life would impact women, in that everything I do should positively impact the outcome of women. One of the worst things that I think any woman should never take is physical violence, although I am also against economic violence, psychological violence and all other kinds of violence against women.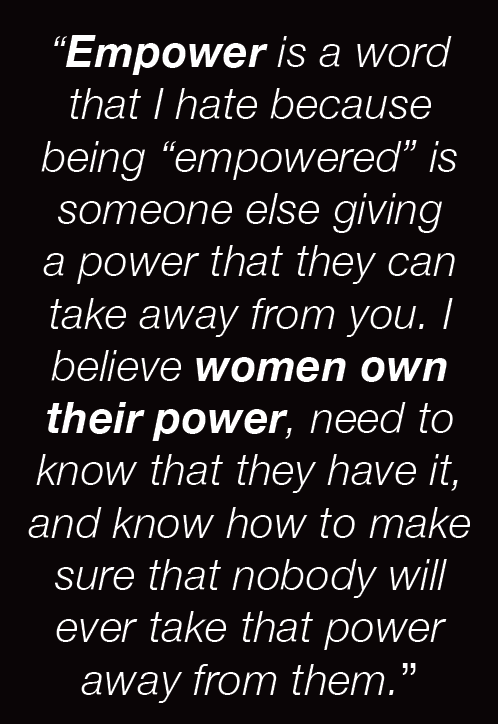 I think physical violence is one of the worst things affecting women. Once they decide to leave the house where they live with the person who is doing these things to them, they have nowhere to go.  There are many hotlines and facilities that I admire a lot, but these women need a place to go, and that is where nobody was taking action.
We decided to work with hospitals where women and children can go for three to four months. We supply them with a psychological evaluation, and we teach them to work on things they can do when they leave the house. After four months, we give them a new identity (in some cases), we find them a place to live, and move them to the new place. We also extend help for alcoholism and animals.
We set it up so that if they have a new partner, and they think they might get into another violent situation, they can go with or without a partner to seek extended help for breaking the cycle of violence. We decided to act to prevent bullying because many children that are victims of domestic violence become bullies in schools.
NAWRB: What are the best ways we can address domestic violence, or help women leave abusive relationships?
Gina Diez Barroso: That is through education. One of the important issues for women who get into these situations is that they are very weak and undervalued. Empower is a word that I hate because being "empowered" is someone else giving a power that they can take away from you. I believe women own their power, need to know that they have it, and know how to make sure that nobody will ever take that power away from them. So, once women know that they have it, they will never be victims of violence.
That is why I decided to start Dalia Empower. It is an agency that shows women they have power and can do anything they want with their life. If they want to be a top executive woman in the workforce, they will be able to do that. We train them to be women entrepreneurs in many public sectors and companies.
We also help men to educate women. Some men want to help and they do not know how. Men are segregated out of the equation, so we want to bring them to the table as the perfect partners to help women reach their full potential. Dalia has already created 85 courses.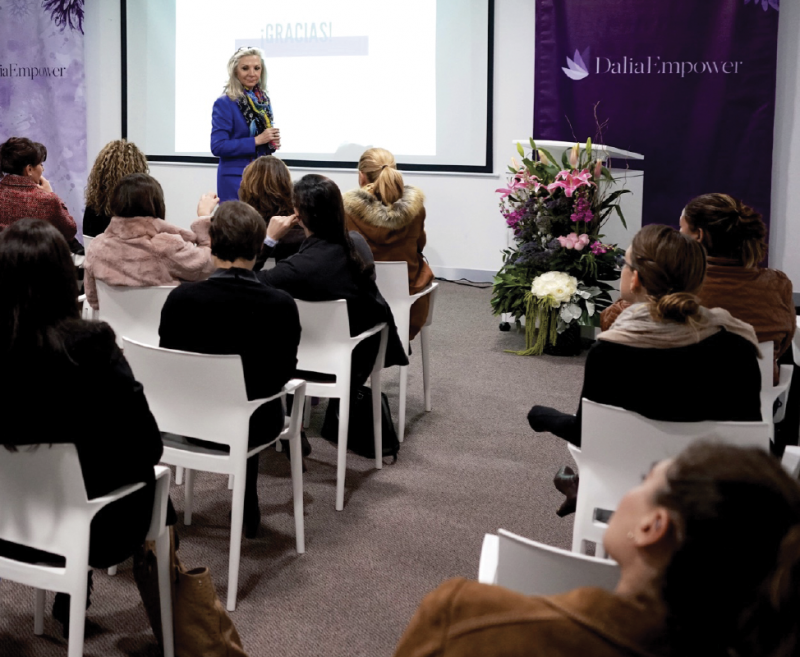 NAWRB: Congratulations on being one of only two Hispanic women in the C200. What does this achievement mean to you as Mexican women are underrepresented in the industry?
Gina Diez Barroso: I've been a member for 18 years and it has been an amazing achievement not only because I am Mexican but because of its great work. I am close to many of the other women on there who have helped me a lot when I had any problems, and when they needed anything I tried to help them. It also had an important impact on the way they felt about my culture and how they felt that Mexico was. They didn't have any idea about how Mexico really was until they came. It has been a great achievement because the C200 is not just about being good at what you do; it's about giving back, from yourself to other women. I am very grateful and happy about what I have accomplished there.
NAWRB: What advice would you give other women who aspire to be entrepreneurs and business owners?
Gina Diez Barroso: I always advise them to find a purpose in their life, a purpose in their passion, and to not take no for an answer. I really believe that women can achieve anything that they want if they really go for it. Of course you need a certain helmet to be an entrepreneur, but women can do it. I believe they have to get together because nothing can be done alone—that is for sure. They need to get a group of people together that believe in what they believe in. If you get the right group of people, anything can be done.
NAWRB: How was your experience in your education system, and how did it shape your life?
Gina Diez Barroso: I lost my father when I was very young, and I think that shaped my life. I needed to build resilience, and I had two options—I could either not do it or do it for my own sake, which I did. I grew up with my grandfather and my grandfather from my mom's side, and they were people who never took no for an answer. They were people that did whatever they wanted against all odds, so I think that was one of my trainings. I did it by myself with not many people believing in me or in what I was doing. So, I think that is one of the things that people should do: believe in themselves.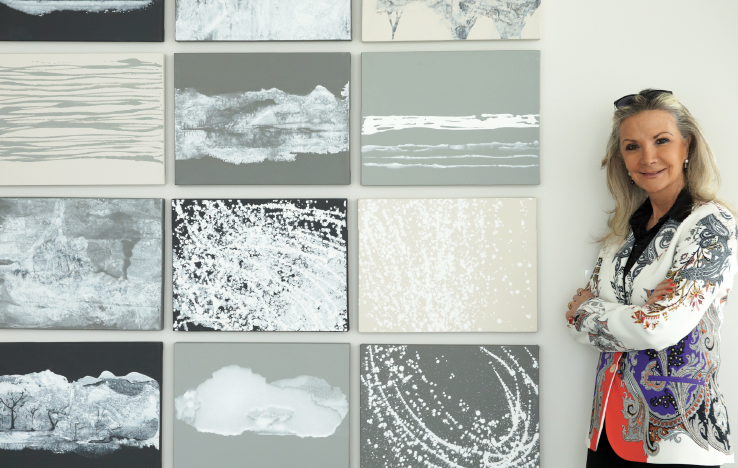 NAWRB: What inspired your interest in real estate development and design?
Gina Diez Barroso: That was always my interest. I always saw the buildings and real estate, and I thought that was something I wanted to do. I was frustrated when I was really young because we had amazing houses from the 20s, 30s and 40s in Mexico and architects would come and demolish them. I thought when I grew up I was going to save those houses, and that was the first thing that I wanted to do. That is what triggered me to want to be involved in real estate.
NAWRB: What was your childhood like?
Gina Diez Barroso: I was number four of five children. My father died when I was 11 years old from a plane crash, and we were brought up by my grandfather, who was an amazing visionary person. We grew up in a very creative world. We looked at art and telecommunication. My grandfather owned a television business, so we were very involved with media. He was concerned about helping those who were less fortunate and with education, so we grew up with that in mind. I've had amazing role models from my father and my grandfather.
NAWRB: What opportunities and challenges do girls and women face in Mexico?
Gina Diez Barroso: They face a lot of challenges and a lack of opportunities. I think it's a tough environment for women with social and economic poverty. Now it's changing, but for a long time it wasn't that easy. The government has helped with the social opportunities in Mexico for women to try and do something. Many women in Mexico are single mothers, which is a form of work, as well. There's a huge informal economy in Mexico, so that makes it difficult to build wealth, but women make it. They make it with three or four children. It's amazing.
NAWRB: What goals do you plan to achieve in the future?
Gina Diez Barroso: I would like to see Dahlia Empower continue the economic advancement of women, not only in Mexico but in all the Northern Hemisphere, and I would love to see that grow for the empowerment of women in all the Americas.
NAWRB: What is something people would be surprised to know about you?
Gina Diez Barroso: I am an open book! My academics were a disaster. I had very poor education training. I didn't achieve a masters degree, and I started my career early. I wish I would have earned a PhD in something, but I didn't. I have an undergraduate degree in design.
NAWRB: What is something you would add to your bucket if you had more time?
Gina Diez Barroso: I would love to add education for K-12 in a very different way than there is now.
NAWRB: What should be included in the education of young girls that will help them flourish in the corporate world?
Gina Diez Barroso: The education of young girls should include creative thinking, no matter what they study. I think STEM should be STEAM, because STEAM has the "A" for Arts and Creativity, or Arts and Innovation. I think if you want to study STEM, you should do STEAM to include arts and innovation, because then you would become like Steve Jobs—someone who will change the world—not just a scientist or mathematician. You need to be an engineer, scientist, or mathematician, and a creative thinker.