Attend AMERICATALYST 2016, October 30-November 1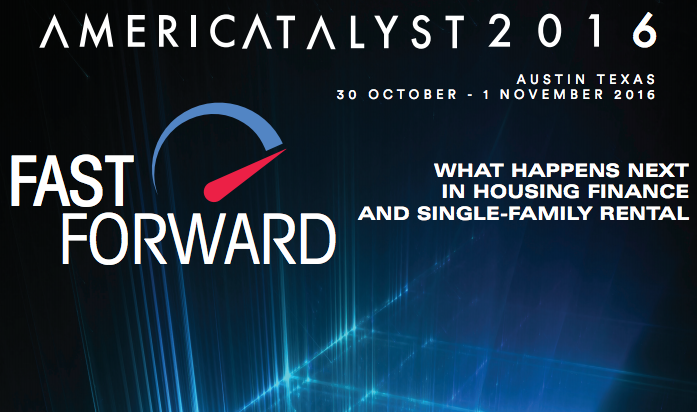 AMERICATALYST 2016 has an established reputation as the most influential event in the housing industry due to the caliber of its content and exceptional track record of its attending senior-level executives. Featuring high-level dialogue and debate on the most important issues in housing finance and Single-Family Rental, this is an event you cannot afford to miss if you care about your future as a housing ecosystem professional.
 At a time when the global housing market is plagued by stagnation, we can no longer merely keep pace with our ever-shifting technological environment. Now we can only drive industry change by asking the hard-hitting questions, which too often go overlooked. Only then can we innovate solutions to the very real obstacles of not only our present, but our shared future. In 2016, it is time to FAST FORWARD our thinking and anticipate "What Happens Next?"
AMERICATALYST stands in its own league of housing finance events–set apart by its provocative narrative and intellectually challenging content. Rather than discuss industry-wide issues in isolation, we present them embedded in the context in which these issues are occurring. AMERICATALYST's context is globalization, which continues to intensify in creating a world beyond on our understanding and changes beyond our control.
This event is about trying to come to a deeper understanding of the sudden, external changes that are impacting the industry. In doing so, AMERICATALYST aspires to enable participants to set new strategies, seize new opportunities, and inspire entirely new ideas and business models. The purpose? To improve the products, processes, and practices of the industry as we adapt to a rapidly evolving playing field, and to promote the sustainability of the housing and real estate ecosystem.
The conference is being held at the Omni Barton Creek Resort in Austin, Texas, from October 30 to November 1, 2016.
To register for AMERICATALYST 2016, please, click here.