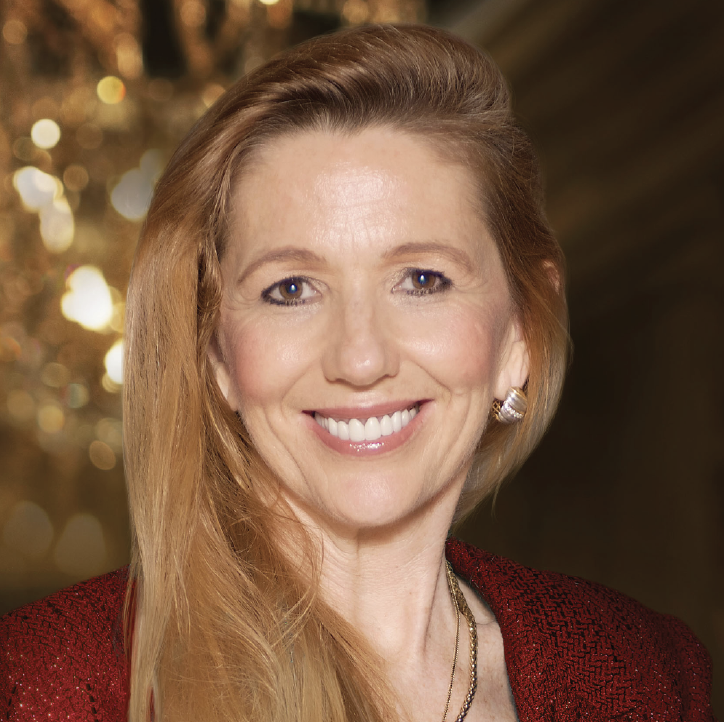 NAWRB Founder and CEO
Desiree Patno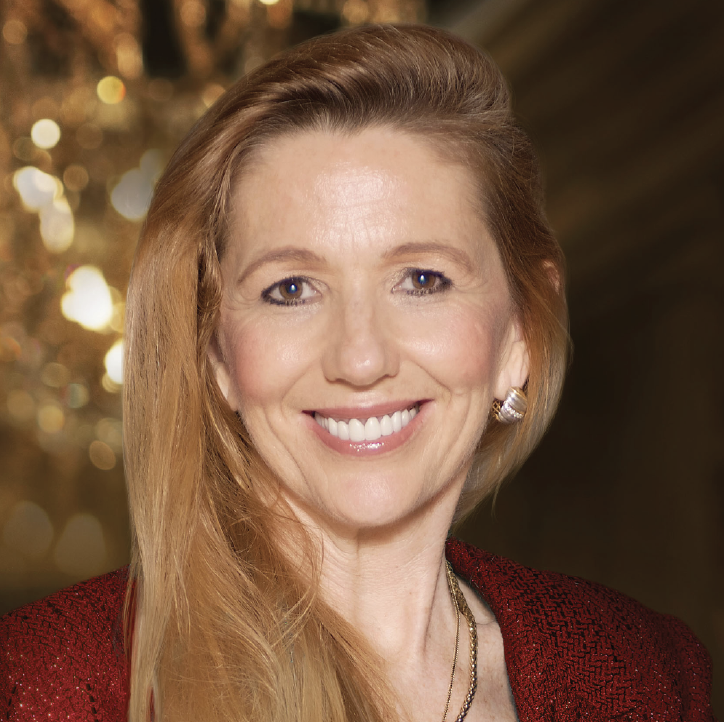 Desirée Patno, NAWRB founder and CEO, is a leading advocate for women in the housing ecosystem with over 25 years of experience. A trailblazer in several aspects of her life, Patno has always fought for a seat at the table and the right to compete and work alongside men. We showcase her, from her passion as the only girl in an all-male water polo league to her travels around the nation conquering her fears.
NAWRB: How did you get involved in the real estate industry? To what do you attribute your professional success?
Desirée Patno: Growing up, my parents were always designing and adding to their mini Hearst Castle. Most children do normal chores. Mine were helping my mother build her legacy. She started out with a 1,700 square foot home, yet  before it burned down it measured over 14,000 square feet. It was an incredible undertaking lasting more than three decades! The majority of their windows and skylights were all hand beveled and beautiful pieces of art. They put a dollar down payment on the home and after living in it for a full year, they purchased it for $30,000. Times were tough back in 1960. Multiple times their home was featured in local newspapers for a variety of reasons. My mother had hot pink satin couches completely wrapped in clear plastic and she painted several murals on the walls of Roman Revival architecture. It was not your typical home, it was my mother's miniature showpiece carved out of the side of a mountain. 
At the time I got involved in real estate, I was a computer programmer and coding device drivers. I lived in Hermosa Beach and I would see these women every day wearing fancy clothes, expensive jewelry, and driving nice cars. I would think, "Look at the flexible hours they're working."  They were top real estate agents and I thought, "I could be really good selling houses with all the experience I have working on them!"
I was jealous of what they were doing and what they aspired to be. They were independent and many had a hand in helping the next generation, working outside versus studying books all day long.
In real estate, I found very quickly that my specialty was handling corporate accounts. I came from the corporate world and am very detailed-oriented. For the first couple of years, I handled relocation clients from major corporations. My success comes from listening to people and formulating ideas on the spot. One day I received an up-call to do a BPO and I had no idea what a BPO was. I was able to build a relationship to ensure that I made my client's job easier. There's the old saying, "Mikey will eat it," my saying was, "Desiree can do it!" Within a year, I was handling their entire national REO portfolio. Two decades later, I have sold and managed several thousand REOs for multiple clients.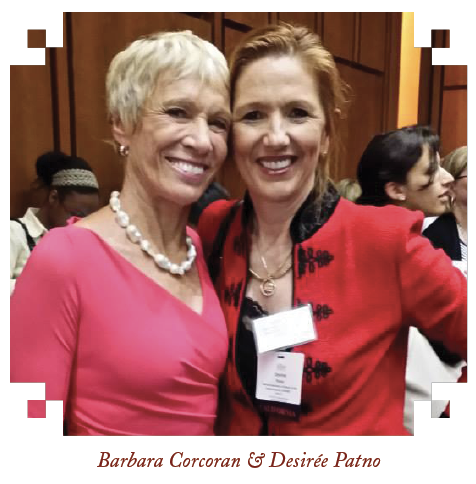 NAWRB: Besides a broker/owner of Desiree Patno Enterprises, Inc. and CEO of NAWRB, is there another career you would like to have or field you are interested in entering?
Desirée Patno: When I was a teenager I modeled for a few years, but the lifestyle wasn't for me. There were some aspects that I really enjoyed and to this day I still miss.
I've always wanted to be in fashion, designing my own clothes, probably because of the way my mother raised me. I recently created a line specifically for mature women working in the housing ecosystem. I believe these women are really limited in their choices when it comes to fashion.
Women go through a body change, and too often the clothes available to them have no shape. They are ill-fitting, uncomfortable or get in the way. Designers are not taking into consideration that once you have a child it's hard to handle pressure in certain places, the body shifts and clothes can became very restricting during the course of the day. I want something that is comfortable and stylish, that I can wear in the boardroom and when taking my children to their activities. The fashion industry is definitely lacking in options. I don't want to look like the stereotypical retired older woman. I have another 50 years on my plate. 
NAWRB: If you could meet one person, who would it be and why? What would you want to discuss with them?
Desirée Patno: I've never thought about this. I would love to meet a person who isn't hypercritical, somebody easygoing. I've always looked up to Christie Brinkley. She has enjoyed an incredible modeling career, has stayed fit and appears to have been able to live with fame and fortune. She has remained humble through all her success and I've never seen a bad interview of her. Growing up, she was always an idol of mine.
I'd like to know, from her life experiences, how she was able to raise her children in the limelight and thrive through multiple marriages. I would love to hear what keeps her going and motivated.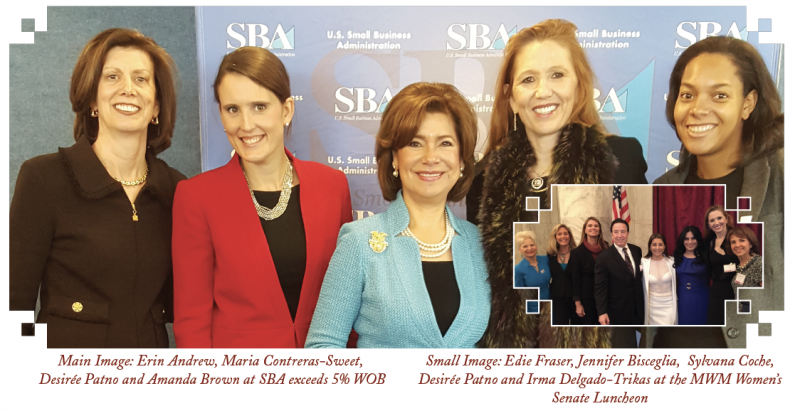 NAWRB: Having been a single mother in the past, what are the biggest obstacles single mothers face? How can we work to eliminate these problems?
Desirée Patno: The problem most single women face is they don't have someone with whom they can trust their problems and struggles. Parents are one thing, siblings are another, and best friends are something else. When you're a single parent with a child it's tough, especially when you're brought up like I was, very focused without a lot of friends. It can be very difficult raising children and being single. There are support systems but women can be very skeptical about getting handouts or assistance. 
Financial support systems aren't always the answer and the smallest gestures can make a difference. I think if we had a way to reach out to even the most reserved women, it would be a great help. I heard a great phrase the other day, "I can do that too." That thought resonated with me immensely. When I was single, the word no wasn't in my vocabulary. Today, women have to hire or ask for help to grow, as we can't do it all, personally or professionally.
NAWRB: Who has inspired you most throughout your life?
Desirée Patno: It has to be my mother. I went a couple years, on more than one occasion, without talking to my mother because I felt wronged. However, as I've grown older and more mature, I find myself constantly looking back at everything she ever taught me. I don't believe in everything she's done, but she's been my biggest champion. Most importantly, she's taught me to think for myself. I've become who I am today based on the values she taught me about independence. She showed me that it doesn't matter if your lifestyle is different from others, as long as you're not hurting anybody or forcing your beliefs on other people. She taught me to create my own music.
Growing up I was a tomboy; there was absolutely no gender disparity in my family. My father cooked, my mother didn't. If my mother helped cook, it was a grandiose meal for her big parties. My father did all the laundry and majority of the housecleaning. I did most of the yard work, manual labor and worked with the contractors out the three siblings. My brothers weren't into the mini-castle scene.  There was no such thing as this is men's or women's work.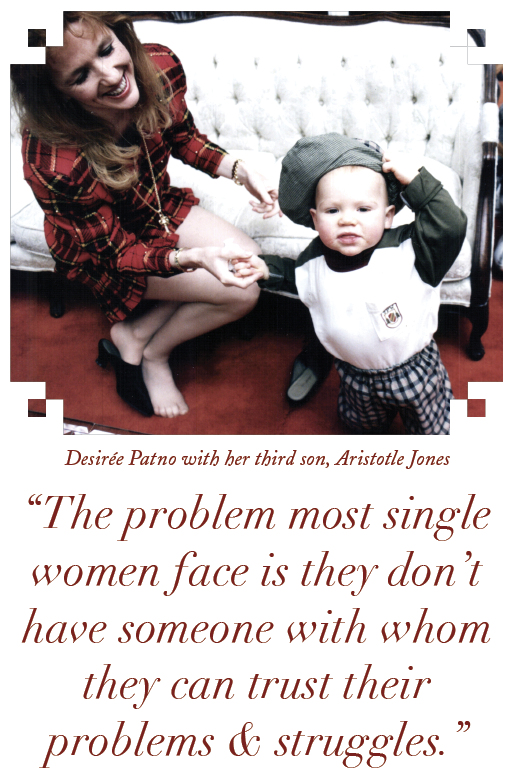 NAWRB: Congratulations on being selected the Small Business Administration's (SBA) 2016
Women in Business Champion of the Year. Why are small businesses so valuable to our economy, and what can we do to ensure they thrive and are not right-sized out of business?
Desirée Patno: The reason small businesses are so important to our economy is that they can be steered at a moment's notice compared to big companies, which are like slow-moving boats. Small businesses can be very nimble, spontaneous and creative; I'm a steadfast advocate for this. Smaller firms may lack the resources to be a big business, but they have more individuality and that's important to our economy.
As far as keeping them from being right-sized out, in our industry, with more regulations and oversight, the harder it is for small businesses to survive. The liability, risk and cost of doing business for small businesses are exponentially on the rise. First, partnering with larger firms is pivotal; small businesses can additionally become the frontrunner and big businesses become the tier two company. Secondly, it's important to educate the public on the businesses they patronize. And, thirdly, we must educate big clients, financial institutions and corporations on the value add of utilizing smaller firms and increasing their diverse spend in that area.
Small businesses need to ensure they align themselves with the right partners for sustainability, and have a proven track record of knowing their business and being capable of reacting to changing market trends. We've seen companies that have had a tremendous amount of growth in a few years because they've targeted certain demographics or classifications. This is due to the fact that they were laser-focused on what they were doing. I think it would be a travesty to our industry if small businesses are looked upon as a liability or risk rather than an asset. Small firms can definitely provide insight to big businesses, but they need a platform to be heard in a non-confrontational space. This is something we are working towards, to prevent small businesses' operations from being affected by voicing their thoughts and concerns.
NAWRB: How do you feel about the Small Business Administration's (SBA) record achievement in women-owned small business contracting, in which they are presently awarding 5.05 percent or $17.8 billion of federal small business contracts to women-owned small businesses?
Desirée Patno: At NAWRB, we're very proud to have been part of this wonderful achievement. The SBA has shown their dedication to providing access to capital for small businesses and our workforce has bolstered the utilization of women-owned small businesses across several of our platforms. Small businesses are crucial to our economy and communities, and NAWRB is committed to helping drive their success.
This is great for women-owned small businesses, as they are subject to financial strain and disparity resulting from unjust contracting and funding options. The surpassing of the contracting goal is a great success, and it is important to continue advocacy and support of all women-owned companies to maintain this momentum and ensure that the balancing of our workforce continues.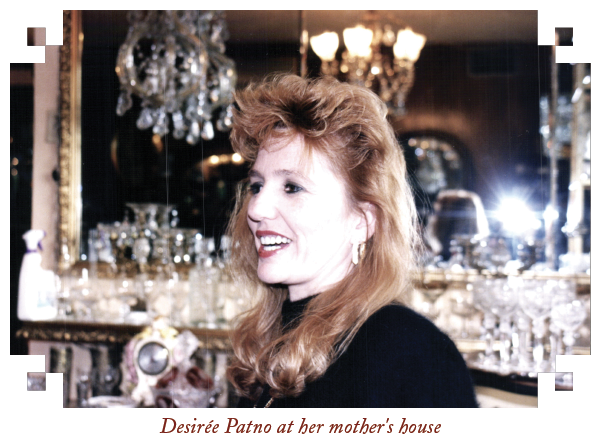 NAWRB: What is the biggest challenge you have faced in your life? How did you overcome it and how did it affect and help you?
Desirée Patno: In February 2013, my husband almost died from a reaction to a well-known prescription drug and was hospitalized for a week in the ICU. During that time, my third son was diagnosed with Acute Lymphoblastic Leukemia. Commuting between two hospitals and my home for eight months, doing everything possible to help save their lives, running three companies and looking after my other children was exceptionally challenging to my own inner strength. Fortunately, three-and-a-half years later, they are both recovering and my son will be off chemotherapy this summer. Each phase has made me stronger, from the three times my son was in critical condition to my husband mentally waking up after last year's surgery to correct his occipital neuralgia which he has had for 13 years.
NAWRB: Where do you get your love of antiques? What do antiques mean to you?
Desirée Patno: Easy, mom. My mother's house was overloaded with antiques. The labor of love that goes into making antiques is amazing, the craftsmanship, the carving. To have that ability, the passion and most importantly, the vision to create a masterpiece of carved furniture, is something I truly appreciate. You can look at a piece and identify its period in history and yet, today most people don't buy antiques and instead purchase very light and mobile furniture. They don't appreciate the intricacy and quality of the finer pieces, which often makes them heavier. My husband says, "You think she is afraid the house will blow away."
NAWRB: As a successful business owner and entrepreneur, do you believe entrepreneurship can be taught, or is it something with which you are born? What is the most valuable advice you would give to hopeful entrepreneurs?
Desirée Patno: Entrepreneurship has a couple different pathways. In my opinion, you have to be thick-skinned, able to take risks and be creative. You need to have drive. You don't necessarily need money, but you must be able to take rejection, the good and the bad. America has made it pretty easy to become an entrepreneur and it's up to you to get it done.
You have to be born with a certain level of entrepreneurship; I don't think you can be taught 100 percent. To be a full-fledged entrepreneur, I think there has to be some DNA in there.
I can't stress enough how you have to find the right sponsor, as Carla Harris has spoken about it often. You don't necessarily need a mentor, some women may not even want a mentor, but you need a sponsor, someone who believes in what you're doing and shares your passion. They don't have to do the work but they have the knowledge and resources to help.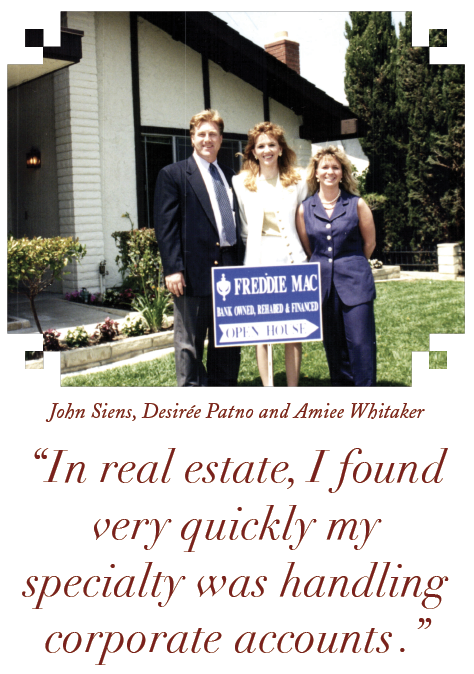 NAWRB: What are your thoughts on the recent Department of Labor (DOL) final rule updating overtime regulations, automatically extending overtime pay protections to more than 4 million workers and setting the standard salary level at $47,476 annually for a full-
year worker?
Desirée Patno: I'm happy that workers are being helped, but I think this new rule will be hard on small businesses, especially in real estate. Several of our members currently employ workers who are salaried and dedicate time outside regular work hours to fulfill their job duties. These companies have limited resources and are stretched thin as it is. By forcing companies to either pay workers more or limit their hours, the rule will impact small businesses in the housing ecosystem.
I believe the real estate industry in particular will be damaged. Real estate professionals are often self-employed and will not be able to place or keep their staff on salary. Furthermore, the schedule of a real estate agent changes and does not abide by regular workday hours; often times, true business hours don't begin until after five o'clock. With technology there is the feeling we are on call 24/7. This means real estate professionals need to be planning now before the new ruling goes into effect in December.
NAWRB: What was your experience being the only female on an all-male water polo team? Did this prepare you for any other situations in life?
Desirée Patno: The experience of being the only female water polo player was not difficult for me in the physical sense. I was brought up with all boys, being a tomboy was the easy part. Being physical in wrestling and combat with my brothers on a regular basis allowed me to be combative strong in water polo, which is a fierce sport under water.
It was mentally hard for me when men thought they could take liberties. Touching is a big part of water polo, and that was an eye-opener. So thank you to my mother, through all my years of complaining about my brothers' roughhousing. It allowed me to have the strength to compete with the guys in water polo and in the boardroom.
NAWRB: What has been your proudest moment throughout your life, both professionally and personally?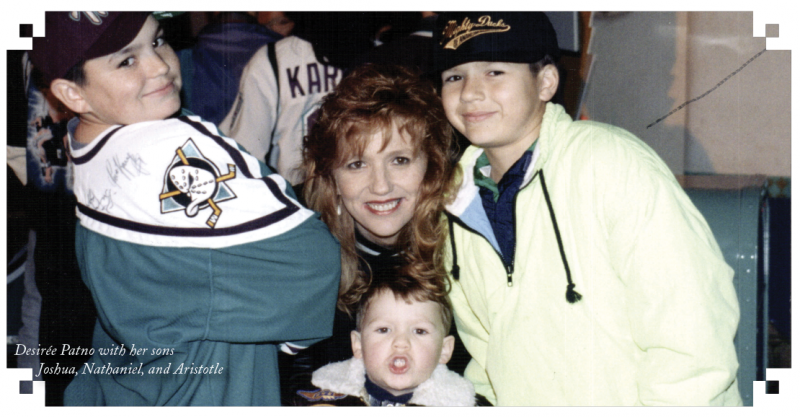 Desirée Patno: Personally, having raised my four children. My life hasn't been as difficult of other people I know, but everyone has their own struggles and what matters is how you conquer them.
Professionally, there are two. The first is all of the homes I've sold and the ability to get major clients signed. It was very gratifying to have this respect, especially in a time when women weren't seen as tough enough.
With NAWRB, it's the recognition we received in 2016 after seven long years. The White House Council on Women and Girls was formed the same year as NAWRB and we are seeing the value of hard work. Last year, we received a call from a woman who works for a government advocacy agency who said, "In such a short time you have moved mountains in the financial sector." I was so taken aback by her comment, I was speechless.
NAWRB: Where do you see yourself 10 years from now?
Desirée Patno: Still working. I see myself having had made a change for women and small businesses. Small businesses are very vulnerable and often have to trust a lot to a few people; I want to create revolutionary change to protect small businesses.
I also see myself having my successful clothing line for mature women, giving them more confidence, comfort and self-appeal without compromise. When 60 percent of women stop doing what they love because of how they look, Houston, we have a problem! 
NAWRB: Having enjoyed tremendous success as a broker/owner, what drives you in the work you do with NAWRB? How do you remain motivated?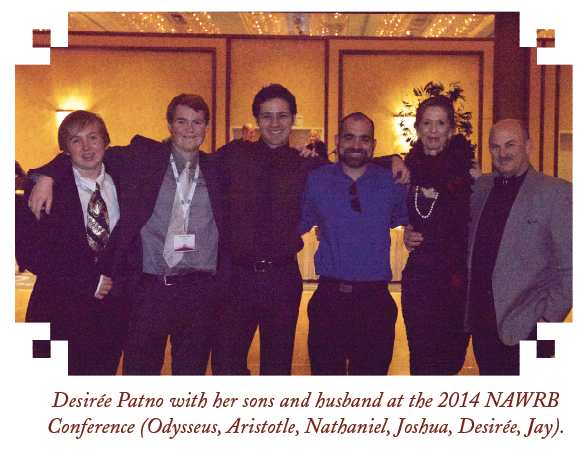 Desirée Patno: The joy that I get in realizing there's so much more I can bring to the table for future generations is really what motivates me. Being able to be the facilitator and a collaborator in this space that is shared by several women I encounter brings me sheer joy. I don't have daughters or sisters, so this is my way of helping girls. I want women to have their fair shake, to create a workforce that hires workers not because they're women or men, but because they are the best at what they do.
There are difficult days, where the scaling of resources is totally out of my comfort zone. However, this discomfort often puts me at peace by helping me relate to women who go through the same thing. I can look women in the eye and say, "Been there, done that. This is how I got better." This struggle and difficulty has hurt me in many ways, but it has also made me strong and been my guiding light on my journey.
NAWRB: How does Desiree Patno spend a day when work and professional responsibilities are not on her mind?
Desirée Patno: Find me a day like this. If the kids are in town, I like to spend time with the kids. If they are not in town, I like to tinker. I like tinkering with my house, my antiques. If I'm feeling adventurous, I like to go to museums and look at other antiques or animals and natural habitats. I like to see beautiful things, especially displays of craftsmanship. I'm very into people's skill sets.
NAWRB: If we were to ask 10-year-old Desiree about her career aspirations, what would she tell us?
Desirée Patno: Absolutely to run my own business. I was the foreman of my mom's house at 11 years old during all of the remodeling and renovations. Being in the man's world and interacting with people who were surprised to be dealing with me always put a smile on my face.
NAWRB: What is the importance of mentorship to women? What is the biggest disservice women commit to one another?
Desirée Patno: The value of mentorship is women taking the time to give back to other women coming up the ranks, in any capacity. It doesn't have to be women to women either; it can be men to women. Mentorship has to be flexible but it has to come from the heart. Too many people try to make a business out of mentorship, but they are not truly passionate enough and I don't believe they can reach the essence of an individual in these cases. I believe women need mentorship and sponsorship from multiple people, so they can gain experience from a variety of sources.
Women can be our own worst enemies. In my opinion, the biggest disservice is that women don't support one another. We are at fault for this. Women have a shorter attention span for other women. I think Madeleine Albright said it best when she stated, "There's a special place in hell for women who don't help other women." If women were to get out of our own way and follow through with guiding one another, it would be fantastic.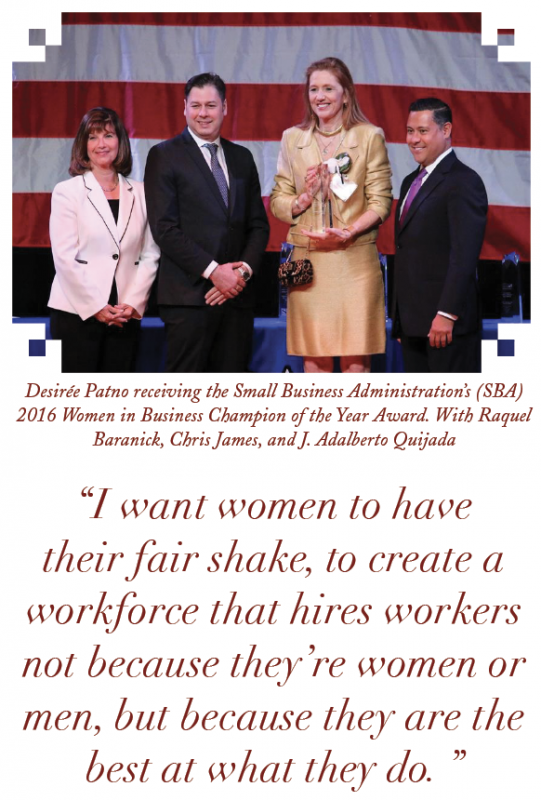 NAWRB: What is something most people don't know about you that they would be surprised to find out?
Desirée Patno: I'm a big softie. Our youngest son's rabbit had a litter of kits and I would wake up every two hours to make sure the mother rabbit was feeding her newborns. It was freezing cold and windy outside, and it's advised not to move the rabbit and kits because you'll disturb their habitat. There were windstorms; it was 35 degrees outside, horrible, and my motherly instincts kicked in. One night when they were two weeks old, I found one had got stuck in the caging and it was very cold. We nursed it back to comfort for five hours, and yet it passed on. People who knew me thought I'd lost one of my children. I'm a huge animal lover and I cried for two days straight.
If you get to really know me, you know that I'm a very soft person and the smallest things get to me. I think people would be surprised because of my character and demeanor of being tough and strong, they would never believe that I break down like that.
NAWRB: Your front yard is a garden of beautiful plants, trees and flowers, where do you get your love for plants? Do you have a favorite?
Desirée Patno: My mother's home was on a half-acre perched on the side of an open mountain. She had a love for plants and her own garden. After caring for them for so many years, I learned to love the smells and their beauty. There are no phones in the garden, just the enjoyment in talking with my plants. They're like a living receptor. Between their beauty, fragrance and touch they bring me into their world of serenity.
Plumerias are my favorite because of their aroma and relationship to Hawaii. They have a variety of smells and grow in clusters like family. They're close but not too close.
My front walkway to my home is a minimum of five degrees cooler, and has a higher oxygen level and moisture content because of my plants. It's a special feeling.