If you serve, you understand more than most how life can be taken from you in an instant, so I chose to appreciate living and what lies ahead. This is the last segment in the series but there are still many chapters to write. To recap the first five parts, I joined the Army at 19-the day the Gulf War started-as a military policeman stationed in Germany and New Jersey. Decided to finish college and won a scholarship where I was a cadet learning to be an officer. I graduated number one in my class and was assigned to aviation where I became the first group of women to become aero scout mission flying technically advanced, armed helicopters. It was not easy to integrate into a very male organization but with time, I had earned respect and learned to hone in my leadership style. After 11 years decided to leave the service after multiple tours at home and abroad. Mostly because I felt my mortality as I was now a mother of two young boys and deployments were not slowing. I went through a transition period which was like going into a completely different culture. It took me a long time to navigate the military-civilian cultural divide but managed to earn an MBA, work as a corporate executive and own two small businesses that placed me in the top 10% of veteran earning firms. Throughout this period, I began advocating for veterans and women through policy, programs and individual connections. So, after 11 major moves and years of personal and professional growth, it leads me here.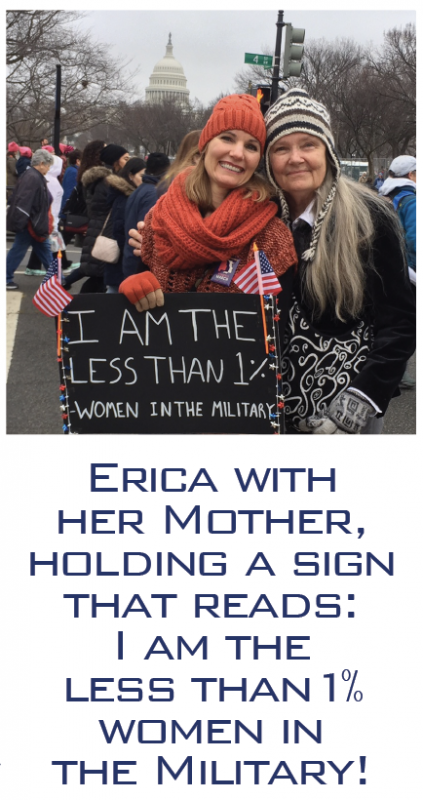 Another move ahead. California to Washington, D.C. where Chris-my husband- was assigned to Coast Guard Headquarters managing resources for all air stations across the world. It was yet another uprooting of the kids and established friendships. I tried to remain optimistic as Virginia has great schools and an international community which is appealing. Now I had to manage my business from afar, travel more frequently and slow down my veteran advocacy. I did decide to focus specifically on women veterans, however, because I noticed they faced obstacles our male veteran counterparts did not-higher rates of homelessness, suicide, poverty, divorce, unemployment etc. I began this chapter helping women veterans' transition. In addition, I was a Board member of Women Impacting Public Policy (WIPP) and a few other organizations. This allowed me to connect with the women veterans in attendance and use what I had learned to get them through the difficult transition process in a way they understood-because I had to go through it myself. It wasn't until many years later that I realized we women veterans face a major obstacle our male counterparts did not-learning how to be 'feminine' and 'warm' as bias exists on the outside-people don't like strong assertive women. This goes for the inability to fit in with both women and men. We were used to be direct and mission focused. I got through it and learned to tone things down a bit and empathize with those still struggling.
If you recall, after a seven-year break in service I decided to come back in as a Reservist to teach the next generation of leaders at Stanford, Santa Clara and San Jose. I decided to dawn a uniform again because they had officially changed the law to integrate women into most branches and since I had been there done that in the Cavalry, I knew I could provide great first-hand accounts on what integration looks like. I did this for two years then managed placement teams for half the country where we recruited and placed highly qualified SROTC instructors at universities. A mentor of mine said I belonged on the Joint Staff at the Pentagon and it became a reality. What an honor and a privilege to be working at that level-be in a position to make positive long-lasting change. There is a lot going on in there and I chose to become what is known as a Gender Advisor and went to Sweden to be NATO trained. When I came back, I was able to better advise leadership on how implementing a gender perspective into all policy, strategy, operations and plans makes us a better Force. Essentially while everyone else briefs the boss about the guys with guns, we look at the population often ignored in the conversation-women and girls. Since they have the most stake in peace as conflict and crises disproportionately affects them more, women, children and disenfranchised men want to be in positions of authority across the conflict spectrum. By adding women to the process, peace treaties last three times longer and conflict and crisis time is significantly reduced. If we do not pay attention to this population, the Violent Extremist Organizations (VEO) use them as human capital to fuel their war efforts through atrocities such as child soldiers, recruiting by turning young girls into prostitutes, human trafficking, ethnic cleansing and more. Involving the whole population means we can stifle VEO efforts. After two years of this duty, I am now in the process of going into another Reserve position in Silicon Valley where I will be part of working with innovative companies working to solve real-world DoD problems in the areas of AI, space, cyber, human systems and more. The intent is to keep us relevant and competitive with the end user in mind-the individual soldier, sailor, airman, Coast Guardsman or Marine in mind. That is motivating.

In addition to advocacy, Reserve time and still running 2020vet, Inc. focused on supply chain management, my boys are now teenagers. That is a whole other world and even though I am a master at navigation, I try my hardest to navigate this new phase of motherhood. They are good kids and I am working hard to raise two boys that will be good men. It helps that I have a good husband and mother always willing to help when necessary. It takes a village.
After three years in D.C. my husband retired from the Coast Guard and we moved back to California last year. I learned a lot about big picture legislation, policy and politics out east, but my heart belongs west. Moving, we are old hat at this. This made move number 12 for me since I was 19-and those are just the major moves not counting schools and deployments. Most people never leave the place they grew up so I am grateful for all the parts of the world I have been able to go-opens your eyes to different ways of being. Speaking of being, I continue to be heavily involved in veteran, entrepreneurship and women and girl's advocacy. Most recently, I was appointed by the Governor of California to be a Commissioner on the Commission of the Status of Women and Girls representing a whopping 20 million people. No pressure. In my short time I have been able to work with the staff and other Commissioners of the strategic direction and we as the fifth largest economy, having more female veterans than any other state and leadership open to really representing the blue, purple and red schools of thought, we have an excellent opportunity to be positive changemakers other states can look to.
In addition, I am on NAWRB's Diversity and Inclusion Leadership Council also in the company of amazing women working hard towards positive change. The woman who heads it, Desirée Patno, and I became great friends over the years, and we decided to really address issues veterans are facing at a grassroots level. She had asked me for some information about veterans and when I relooked into the data, I learned that since I began writing and speaking about it over 5 years ago, the numbers where actually worse yet the country continues to throw billions of dollars toward the wrong things? There are 43,000 organizations in the U.S. desiccated to veterans and their families-it is overwhelming for not only veterans but people who want to give in a meaningful way. I remember being frustrated myself. Trying to sift through all the 'help' and most of the time this help sent you to an organization not in your own backyard.
Desirée asked what will work and why aren't others doing it? My answer, we need a modern, coffee house feel, technologically equipped, non-threatening, non-sterile environment veterans can go to and escape, learn about local community resources they can benefit from and most importantly, obtain peer-peer council and relationships they so badly need. Over 50% of veterans do not move back to the place they grew up and they want meaningful relationships, but they must first hear first-hand how to overcome the military-civilian cultural divide that is very real. They respect other veterans and we can talk to each other in a way that is harsh, sprinkled with tough love with an aim at fast-tracking them into society. We are missing peer-peer support. We are missing resources that have been vetted and are not wasting veterans time. We are missing a meeting space that is comfortable made for the modern veteran-not our grandfathers lodge.
So, we started Zulu Time. It is a veteran transition center that allows veterans to engage, be connected and get past the, what I call, the 'statistical cliff'. If we do not 'catch' our veterans within three years of transition, this is where they suffer all the things we see broadcast: PTSD, depression, obesity, addiction and most importantly, suicide. If we get them past this three year-hump, let them know life will be rocky but this is what it can look like on the other side, then we have added to the system instead of drawing from it. Veterans do not want handouts; they want hand ups. Veterans are national treasures and these statistics are what I call the resilience. Veterans are much more likely to volunteer in their communities making the neighborhoods safer and more enriching, veterans are twice as likely to hire other veterans if they own their own business, they are 60 percent more likely to out earn and stay in business three times a long as non-veteran entrepreneurs, in positions of authority can increase ROI and shareholder value thanks to the perspectives they bring, they are much more likely to run and win office and generally, want to give back. They need purpose.
This is my purpose. Over the years through my own journey I am really uniquely positioned to help bridge cultural divides between nonprofits, government, industry and individuals. I have had so many mentors, friends and family over the years that have supported these efforts. An effort to give back. A sense of responsibility. In my twenties, I was untouchable and breaking barriers down blazing trails, in my thirties I was really figuring out who I was and, in my forties, I am giving back. There are many people before me whose shoulders I am standing on. I am now trying to pass the torch to the next generation. However, there is not enough stepping up-especially in the women veteran space. Where are the women behind me? I know they are there. Tell your stories ladies. Be the invisible veteran no more. To my male veteran colleagues, keep up the fight. We are here for you. To women and girls, we have made great strides but as a nation, we have a lot of work still to do-just look at our NATO partners and where they are in terms of ratifying laws, their judicial system, healthcare options, workplace equities, diversity inclusion and more.
I was recently told by a woman in her twenties, "I don't need you marching for me, I don't need you advocating for me, I (we) are fine". I gracefully responded, "Yes, I used to be you. I used to want to be one of the guys. I did not want to be seen as different. I thought the same opportunities would be afforded to me as everyone else. Then I lived. Then I saw. Then I digested and became part of the solution. Never compromise your femininity-you will be seen as disingenuous. Own your femininity as it is a strength. Live your life, try new things. Experience. Then when you are in your forties, I want you to remember this conversation and contribute." This is my passing the torch.
I will continue to lead from the front. I am forever a Scout after all, and the job is to go where others have not. Forging a path is never easy, but it is necessary. I do not do things in life to break glass ceilings or obtain 'first' titles. It just kind of happened that way. If you do things for the right reason you can get through anything. If you do them for personal gain, it will catch up to you in the form of karma. Thank you for reading my story. It was not easy for me to put down on paper but people must tell their stories so others can learn from them and be inspired. Scouts out!
Erica G. Courtney
President of 2020vet and Zulu Time
U.S. Army Aviation, Major
NATO Gender Advisor