International Women's Day: Women Who Inspire the NDILC
Today marks International Women's Day, a worldwide event dedicated to celebrating women's social and political achievements and promoting gender equality. The campaign theme for the year 2019 #BalanceforBetter—a call to action that encourages continued efforts to create a more gender-balanced world.
International Women's Day has been observed since the early 1900s and brings together a plethora of groups, from governments and women's organizations to corporations and charities. The month of March also marks Women's History Month, dedicated to celebrating the contributions women have made throughout history and today.
In honor of International Women's Day, NAWRB honors the phenomenal achievements by women in the housing and real estate ecosystem, and the inspirational women leaders who are paving the path towards gender parity. We are always inspired by our NAWRB Diversity & Inclusion Leadership Council (NDILC) Members, who empower us to reach our full potential and help other women reach theirs.
What's the most empowering part of being a woman?
NDILC Member Teresa Palacios Smith, Vice President of Diversity & Inclusion at HSF Affiliates LLC, says, "Our inner strength, determination and ability to get things done whether it is heading up a company,  leading a team, or raising children all while running a household.  Margaret Thatcher one said, 'If you want something said, ask a man; if you want something done, ask a woman.'" 
Who is a woman that inspires you and how do you hope to inspire others?
NDILC Member Tami Bonnell, CEO of EXIT Realty Corp International, shares that the woman who inspires her is Eleanor Roosevelt. She says, "She was way ahead of her time, she cared about diversity and inclusion and truly did not worry about what the backlash was, she did what was right."
To inspire other women, Tami says "Speaking as often as possible about possibilities, leading by example, exposure to new possibilities and experiences, and mentoring along the way is key to impacting change."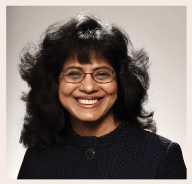 Answering the same question, NDILC Member Dr. Chitra Dorai, Computer Scientist, Data Science and AI Expert, Founder and CEO, Amicus Brain Innovations Inc., shares, "From history books to living today, countless women have stepped out, raised their voices and led movements that have redefined power and reforms for billions around the world.  They inspire me by their vision to leave the status quo behind and imagine a different world, by their courage to raise their voices for it and by their perseverance to never give up."
"I hope to inspire people by the work I do –  addressing some of the important problems of today such as building responsible technology to care and serve the aging population in the globe and the knowledge-sharing and teaching I do in the community to give back and help build a strong pipeline of  girls and boys interested and pursuing STEM."
What's something you do to keep yourself feeling empowered and motivated in male-dominated spaces?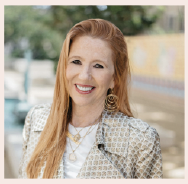 NDILC Chairwoman and NAWRB CEO & President Desiree Patno, advises to "Always seek others that have the same passion, drive and commitment. Things happen and your community can and will help you through those times of self-doubt."
We can help create a more balanced world by celebrating women's achievements, raising awareness about unconscious bias and taking action for equality among all genders right in our very own communities.
NAWRB is a leading voice for women in the housing and real estate ecosystem, and we are doing our part in driving change for gender diversity in the workplace and providing resources for women's economic growth.
What do you think is empowering about being a woman? Who are the women that inspire you? Let us know in the comments!