As a professional in the housing ecosystem, it is crucial to think outside the box and utilize the resources at your disposal to grow and advance your business and career. Analyzing your market, familiarizing yourself with the competition and crafting a superior business plan are great first steps, but pioneering decisions are what will make or break you in the market.
Adapting to the changing times, leveraging your differences, preparing for the future of the market and surrounding yourself with people invested in your success will help you seize opportunities for advancement.
Balancing New School and Old School
If you consider your favorite products, are they the "best" or the most inexpensive choices on the market? Or, have you developed a relationship with a particular brand that you buy because it has done right by you? Similar to your preferred items, your business can become the go-to for customers.

Housing ecosystem professionals—from agents and brokers to executives and mortgage originators—have to leverage technology and elevate their services. Today, you can see everything you want about a property online, apply for a mortgage on your phone, and sign and send important documents by tapping on a screen.

A recent survey from Microsoft, Customer Expectations are Evolving: How Technology Helps SMB's Meet Customer Demands, reveals:
• 50 percent of consumers prefer interacting with businesses digitally versus in person
• 49 percent prefer to sign contracts or other documents digitally
You must streamline your technology to satisfy the needs and preferences of customers. You can reach an increasing amount of prospective clients by making it possible to interact with your company and products on social media and through your website.
However, these conveniences have not replaced the human experience. Customers still want to know they're dealing with a real person, that their questions and concerns are being understood and processed by something more than just a machine; especially during a process as important as buying a home. As with so many things in life, it's all about finding a happy balance.
The way you treat customers is the root of your business, and everything else sprouts from this groundwork. If you build a stable base, you are situating your business for success. If not, customers and opportunities will fall through the cracks in your foundation and you'll never know when the floor will cave in.
Women-Owned Businesses
As a woman entrepreneur, if you're not utilizing women-owned business certification, you are leaving a tool in your box unused.
Business classifications and certifications have the power to raise your business performance and bottom-line profits. By certifying your business, you can give yourself an advantage in the contracting arena, solidify your presence in the diversity and inclusion space, and maximize your appeal to companies looking to work with women-owned businesses.
From public utility companies to Federal agencies, the entities searching for diverse firms are extensive, and business certification can help bring you to the forefront:
• In FY 2016, the Federal Housing Finance Agency (FHFA) "obligated" $12.7 million of its total contracting dollars to minority- and women-owned businesses, a $1.8 million increase from FY 2015.
• The Federal Deposit Insurance Corporation (FDIC) awarded $508.8 million in contracts in 2016, of which $47.4 million went to women-owned businesses (WOB) and $93.9 million to minority women-owned businesses (MWOB).
• In FY 2016, the Consumer Financial Protection Bureau's (CFPB) total spend was $259,132,970, of which $38,386,242 (14.8%) was spent with minority-owned and women-owned businesses.
• The Small Business Administration's (SBA) Women-Owned Small Business (WOSB) Program presently awards 4.79 percent, or $19.67 billion, of small business contracts to WOSBs.
Working in the government contracting space is an effective way to move your business forward, especially for women entrepreneurs leveraging their women-owned business certification.
Women Buyers
Mortgage originators should focus on and prepare for the market of women homebuyers. In 2015, the homeownership rate of female householders in 1-person householdswas 24.56 percent higher than the homeownership rate of male householders in the same category, according to U.S. Census Bureau data on national household demographics. Additionally, of the nation's current occupied housing units, a number exceeding 116 million, single women make up 13 percent of family households; in contrast, single men householders make up only 4.8 percent.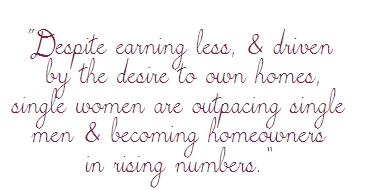 Despite earning less, and driven by the desire to own homes, single women are outpacing single men and becoming homeowners in rising numbers.
According to the Bureau of Labor Statistics (BLS), in 2014, female full-time wage and salary workers ages 25 and older with only a high school diploma had median weekly earnings of $578; women with a bachelor's degree or higher had a median weekly income of $1,049.
Furthermore, 2014 U.S. Census Bureau data reveals that 30.2 percent of women had a bachelor's degree or higher, compared to 29.9 percent of men. The BLS also projects that from 2014 to 2024, women's presence in the labor force will increase 5.8 percent, from 46.8 to 49.5 percent.
With increasing wages bolstered significantly by higher educational attainment, women homebuyers are one of the most exciting and faster-growing markets today. Mortgage lenders can grow their customer base by recognizing the significance of this market and considering women clients in their advertising and business outreach.
Mentorship and Sponsorship
The role of a mentor and sponsor in your career can make all the difference, and it is important to understand that there is a difference between the two.
As Carla Harris explains in her sheCENTER(FOLD) interview with NAWRB, "A mentor is important because that's the person you can tell the good, the bad and the ugly to and that person's job is to give tailored advice, tailored  specifically to you and to your career, unlike a sponsor… A sponsor carries your paper into the room and will use social and political capital on your behalf to advance your promotion, your goals, your next opportunity. And frankly, of the two, the sponsor is more important because that's the one that's going to allow you to ascend. You can survive a long time in your career without a mentor, but you will not ascend without a sponsor."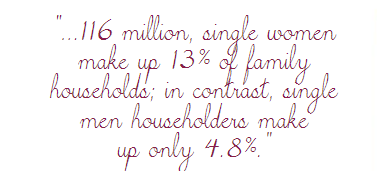 As Sponsor Effect 2.0: Road Maps for Sponsors and Protégés from the Center for Talent Innovation shows, working men are 46 percent more likely than women to have a sponsor. Without a seasoned professional advocating in their behalf, there are qualified women in the workplace who have been unable to move forward and remain stagnant in their career trajectory. With the obstinate gender-based obstacles of the American workplace, a mentor and sponsor hold tremendous value for women professionals.
Preparation, knowledge and experience can set you on your way to success, but innovation will get you to increased revenues and business sustainability. Where are prospects not being seized? What do today's developments and conditions tell you about the future of the industry?
Tomorrow is coming, and the only way to succeed is by preparing today.
Thank you, Desiree Patno!