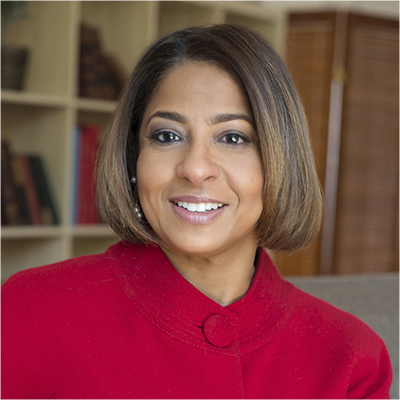 Director of the Office of Minority and Women Inclusion (OMWI) at the FHFA
Sharron P.A. Levine
With an extensive background working in law firms, corporate legal departments, the Fannie Mae General Counsel's office, and in multiple roles at the FHFA, Sharron P. A. Levine has proven that hard work and perseverance can guide you to success. But behind all of her professional roles, Levine is a mother and wife with a friendly demeanor and warm personality. NAWRB reveals the woman beyond the professional titles: a woman who emigrated from Jamaica, studied Romance Languages, and is a budding expert at home renovations.  
NAWRB: What was your experience leaving your home country of Jamaica to attend New York University? Prior to that, did you travel internationally with frequency?

Sharron P. A. Levine: Before attending NYU at the age of 18, I had traveled extensively throughout Canada, visiting the provinces of Alberta, Manitoba, Ontario, Saskatchewan, and British Columbia. For a teenager from a small Caribbean island nation, the journey was mesmerizing. The sheer size of the country was difficult to grasp and the diversity of landscape—from the golden wheat fields of Saskatchewan to the towering Rocky Mountain ranges—was captivating. Although it was summertime, we were able to see the magnificent glaciers that, unfortunately, more than 30 years later, have melted at such an alarming rate it brought tears to my eyes to witness the degradation of the ice-fields as we saw during a more recent visit.
I had also spent a summer in London when I was 14, and visited New York City, Miami and Orlando at later points. These were all places where we were able to stay with relatives who had migrated to those cities in the 1960s. Mexico was, and continues to be a favorite place of mine to visit. Prior to college, my family visited Mexico City and the Yucatan Peninsula, which I didn't really appreciate until I was much older and came to love the beauty of their ancient history.
When I arrived at NYU, I was ready to explore the world even more and knew that travel would be one of my lifelong priorities. Greenwich Village in the mid-70s was an interesting place, far removed from the spruced-up, wholesome, upper-class environment that its epicenter, Washington Square Park, is today. Back then, the Village embodied urban grit. It had a creative and artistic mind, a heart, and a deep soul that was palpable to those of us who were big-city dwellers at heart. For those of us who loved it, it was electric; for those who didn't, it was a place from which to escape. I fell within the first camp. Needless to say, it's totally unaffordable today, off-limits to the average working person.
I had to make two quick adjustments. I had gone to a girls-only school all throughout high school. It was a very odd feeling being in classrooms with guys sitting next to me. I eventually got over it but still, to this day, I remember a feeling of discomfort.
The other hard adjustment was dealing with the cold. I remember those awful wintry days when I would step off the curb thinking that I was putting my foot down on solid ground only to experience a sinking feeling as I stepped into wet, frigid, dirty melted snow. I was fooled all too often. I'm just glad that I opted to go to NYU rather than Cornell University where I'm sure I wouldn't have survived. When I told people what my college options were (including University of Miami), they laughed at the thought that I would even consider leaving Jamaica and go straight to Ithaca, NY. Clearly, they had been right.
I loved every minute of being at NYU and in New York City. I would do Greenwich Village over again if given the choice.
NAWRB: Before you received your Juris Doctor from New York University School of Law, you received a Bachelor of Arts in Political Science and Romance Languages (French and Spanish). Romance Languages is not a common major but certainly sounds fascinating, and makes for a very well-rounded undergraduate career. What led you to choose this major?
Sharron P.A. Levine: The study of foreign languages is consistent with my desire to travel, meet people from different walks of life, and experience world geography and diverse cultures. Romance Languages is uncommon as a major only because it includes the study of several Latin-based languages rather than focusing on just one. I had studied French, Spanish, German and Latin in high school but had to limit my language choices in college so I opted for the first two. There was no question in my mind that my major would be in anything but languages. I arrived at NYU at a very advanced stage of study due to the educational system in Jamaica at the time. I had passed the Advanced Level Exams (issued and graded by the University of Cambridge) in both French and Spanish, and so was able to complete the major in two years. It was grueling in that it covered not only language and grammar but also Spanish and French history and literature from various genres, taught in the languages themselves by native speakers from different countries. With two years left, I then decided to double-major in Political Science, which was entirely new to me given that it focused on the American political system.
I made a concerted effort to have a well-rounded education. So, although NYU had only one required course then (expository writing), I also took courses in sociology, philosophy, history, mathematics, economics, computer science, speech and dance. I love learning for the sake of learning, except that I did have enough of math, economics and computer science during college and don't feel the need to expand on those courses any time soon. I also loved athletics and did intramural courses, including fencing. Why not? That was the beauty of NYU; the course offerings were unlimited and the possibilities endless. I felt unbounded by the expansive nature of New York City on which I could start painting the canvas of my life and education.
NAWRB: What compelled you to obtain a legal education after undergraduate and do you still practice law and/or plan to in the future?
Sharron P.A. Levine: I took a detour after graduating from college. I had been accepted to a Master's program in Public Administration (MPA) but wasn't firmly convinced that was the right path for me so I deferred for a year to think about it. During that time, I worked for a cruise line as a reservations agent and took full advantage of the free mandatory cruises. I have to admit that since I had been a relatively recent immigrant from Jamaica, I wasn't that excited by cruises to the Caribbean. However, I was enamored by the cruises on the QE2, Cunard's flagship vessel at the time. The highlight of my year was flying to London the weekend of the wedding of Princess Diana and Prince Charles, the prize that I received for winning a competition. What an electrifying time that was!
At some point during the year, I did some research and decided that law school was a better option for me than getting a MPA. Real property law held a fascination for me for a number of reasons, including the fact that my maternal grandfather had migrated to Jamaica as an indentured worked from India and had toiled to the point of becoming a landowner, with farms, in particular. I was exposed early on to the benefits of property ownership and wanted to learn everything I could about it so I focused on that area.
I enjoyed practicing law for more than 30 years, right up to my appointment as the Director of FHFA's Office of Minority and Women Inclusion (OMWI). While I don't practice law currently, the benefits of having done so are indisputable for the position I currently occupy. The OMWI functions, roles and responsibilities are all based in law, and having the ability to analyze and understand those laws and the implications, nuances, impact and consequences is invaluable.
My plan for the foreseeable future is to do this job to the best of my ability and to accomplish the goals we've identified for FHFA and our Office. I'm still new to this position and am excited and energized by the challenges ahead. I can't ever rule out the possibility of having to practice law again sometime in the future but that's not anywhere on my radar today.
NAWRB: From passing the bar in three states to working in the General Counsel's office at Fannie Mae as the Vice President and Deputy General Counsel, you have accomplished so much already. Do you have any role models or mentors who provided guidance throughout your career?
Sharron P.A. Levine: The most important role model in my entire life was, and remains today, my mother. She's no longer here. She died of an aneurysm in 1993 at the age of 56 without my having said goodbye. I still think about her every day and she remains my guiding light in those times when I need to find strength and fortitude. She was tiny in stature—5'1 and 110 lbs. She became a single mother after 17 years of marriage ended in divorce. My father moved to Wales, remarried, and did his thing and she essentially raised the four of us by herself. My siblings and I honor her memory by passing on to our children the values she instilled in us. She sacrificed everything in order to give us as much as possible, which, as it turned out, was her sense of discipline and the values of love, hard work, honesty, kindness, generosity, and resiliency. My mother got married way too young and obviously died way too young but she was wise beyond her years. She embodied courage; she overcame adversity and in the face of some tough experiences, maintained a positive, can-do attitude. Giving up was never an option for her. She wasn't my guiding force or light in terms of my professional choice but she provided the foundation for who I am today.
My husband, Bruce, has been my constant mentor, friend and partner. He is 100% supportive of everything I do and has been my beacon for the last 30+ years that we've been together. He's wise and thoughtful but, at the same time, takes calculated and informed risks that have led him to different career paths over three decades. He stopped practicing law after 10 years and went on to do many other things too numerous to mention here. He's now on the faculty of Drexel University teaching courses in education policy. I admire his courage in giving up law practice for other directions that he thought would make him happier professionally, which wasn't an easy thing to do. It always serves to remind me that we can and should make the choices that we feel are right for us, based on our own values and what's important to us.
I've had other mentors and champions in the form of managers and supervisors – both men and women – who have encouraged me along the way and some who have promoted me to positions with higher visibility and greater responsibility that allowed me to develop and grow. You can't overestimate the importance of mentors and sponsors. I think it's very rare that someone rises to the top without the help of others. Self-actualization is entirely possible but, generally, not without that support, invisible though it may seem to some people.
I have also found mentors in the least likely places—for example, the owner of the hair salon where I've gone for 25 years has been a true friend and sounding board, helping me to think through many tough issues. His advice, always well-conceived, springs from a deep understanding of women and what makes us tick. I've also had several executive coaches. One changed my life and the others have helped me on my never-ending quest for personal development and growth. I'm a big believer in garnering as much support as one can muster to help untangle the complexities involved in learning how to succeed, especially in the area of leadership. Years ago, I was given moral support and advice by a warm and friendly garage attendant in my office building. He turned out to be a very educated, well-read Ethiopian gentleman who had received asylum in the United States because of the brutal torture and near-death experiences suffered at the hands of political adversaries in his country. I have found that when we open our minds and hearts, we benefit from the greater understanding received through observing and listening.
NAWRB: You have previously taught financial literacy and real estate basics to urban area high school students. Even for adults, it can be difficult to navigate the intricacies of housing finance and real estate, two topics that are not commonly taught in high school but people must face in adulthood nonetheless. Does the FHFA offer any education programs for potential/current homeowners?
Sharron P.A. Levine: FHFA is a regulatory agency but not a consumer-facing one, so it doesn't offer such programs. Fannie Mae and Freddie Mac, two of our regulated entities, do support a number of housing and credit counseling groups that provide pre-purchase, early-delinquency, and post-modification counseling to
consumers. Both enterprises have relevant information on their respective websites and I would encourage anyone who may be interesting in learning more to visit those sites. In terms of financial literacy, FHFA is required under Dodd-Frank to partner with minority-serving high schools in urban or disadvantaged areas for the purpose of educating those students to become more financially literate. We are in the process of working on that initiative which we hope to kickoff this year. We're excited about the prospect of providing students with some practical tools that will ultimately help them in their housing choices when the time comes.
NAWRB: Dodd-Frank Section 342 established the Office of Minority and Women Inclusion (OMWI) in 2010 for regulated agencies. Since it is now 2015, has a set of guidelines and standards for assessing the efficacy of diversity and inclusion programs been created? If not, is there a timeline for when definitive guidelines and standards will be produced?
Sharron P.A. Levine: We're currently working on this initiative, which will then need to go through FHFA's internal review and approval process. We're doing everything necessary to build on the requirements and guidance that the agency has already provided in the FHFA regulation that was adopted pursuant to the Housing and Economic Recovery Act of 2008 (HERA).
NAWRB: As Director of the Federal Housing Finance Agency (FHFA) OMWI, what are some of the objectives you and your team would like to pursue for 2015?
Sharron P.A. Levine: I am extremely fortunate to have been appointed by Director Melvin L. Watt whose deep commitment to diversity and inclusion has created the best kind of environment within which to pursue the agency's statutory mission. He is vocal and visible in his support, which is also shared by my executive colleagues at FHFA. My job becomes infinitely easier with that kind and level of support at the executive level; it also sends a strong message to our employees, regulated entities and other stakeholders about who we are as an agency. I couldn't fail to mention that our organizational success is also closely tied to the excellence of my very capable and competent OMWI team, on whom I rely daily.
We have developed a multi-year OMWI strategic plan that we'll roll out this year and an operational plan that speaks to its implementation. We are working to comply with the requirements of HERA and Dodd-Frank, a few highlights of which are:
To develop standards for FHFA workforce and supplier diversity;
To develop guidance for FHFA's regulated entities in their efforts to comply with the provisions of HERA. That statute obligates them to promote diversity and ensure inclusion in all their business and activities, much like Dodd-Frank requires of the federal financial regulatory agencies, including FHFA; and
To develop standards against which FHFA will examine and evaluate the performance of the regulated entities in their D&I programs and practices.
NAWRB: In your biography, we noticed you enjoy design (construction). Can you clarify what you mean by construction-specific design and what your other favorite hobbies/interests are?
Sharron P.A. Levine: By construction I mean actual building construction. We completed several projects on our house when we lived in the DC suburbs, including rebuilding it in 1996. We had a design build company create the plans but I picked it apart and modified it to suit our needs and desires, and worked closely with the contractors to make sure the work was being done to my standards. I love the process of design and construction, and am able to overlook (and overcome) the dust and debris because I can see the end product clearly in my head.
About 18 months ago, we moved from the suburbs to the Southwest Waterfront neighborhood of DC that is being entirely rebuilt and has been named The Wharf. Our four-story townhouse is vertical living at its best—a challenge perhaps in the years to come, but great exercise for now. We recently finished a gut rehab of two bathrooms and built a new powder room and laundry room, in two months flat. I looked forward to my 7 am meeting every morning with the contractor when we would discuss the intricacies of the tiling, various plumbing issues, or which valve went with which faucet. I had a spreadsheet with the details of all the items that I myself had selected and ordered for the project. My husband can't stand this stuff although he did help with some selections after I had narrowed the choices. I love puzzles and putting the pieces together and what better puzzle is there than a construction project.
At the top of the list of my other favorite things to do are travel, reading (novels, political history, books on World War II), walking (particularly in cities with beautiful urban parks, gardens, and interesting architecture), listening to music, and restaurant-hopping—especially for high-quality Indian cuisine. I used to love designing and making my own clothes but I haven't had the time to do that for many years. My husband and I used to play a lot of tennis but that too fell by the wayside as we got older and had more child-centered activities that took up most of our time. We've been discussing the idea of taking golf lessons but that's gone nowhere beyond mere talk.
Living in this area of the city has been a wonderful treat: we walk everywhere or take public transportation as much as we can. Our townhouse is in very close proximity to the sights that make up quintessential D.C. – the monuments, Smithsonian, White House, Capitol, Kennedy Center, Arena Stage Theatre, and gorgeous parks. For example, the internationally acclaimed Cherry Blossom Festival just ended a few weeks ago; it was centered in the Tidal Basin area, a mere 15-minute walk from our house. I enjoyed taking in the sight of the exquisite trees on many evenings after work during the peak blooming period.
Since we relocated, we have tried to do some DC-related activities every weekend. Many little gems abound in Washington. One of my absolute favorites is the small, two-acre Bartholdi Park that was created in 1932. It's a stunningly beautiful site with the magnificent Fountain of Light and Water surrounded by elegant gas lamps and rising some 30 feet into the air. The park is a small, secluded wonderland tucked away in one of SW DC's little corners, providing glorious refuge from the intensity of our capital city. Another favorite pastime is attending music concerts in the National Gallery of Art, West Garden Court. The lush and verdant setting provides the perfect ambiance for listening to highly acclaimed musicians entertain the audience with music from various genres, cultures and countries—for free. We also take advantage of the many jazz and blues concerts played by accomplished musicians and vocalists in a variety of locations, again, gratis. It's just amazing to be able to take in so many incredible performances for little or nothing, a stone's throw away from our home. What a treat!
NAWRB: You started as an associate at multiple high-level firms and transitioned into increasingly advanced job titles as your career progressed. What advice do you have for women who want to climb the corporate scale? How can women seek the necessary opportunities to advance their careers?
Sharron P.A. Levine: Aside from one's technical competence, which is a given, the one constant that I think everyone would agree has to occur is building relationships. This isn't always easy, especially among attorneys whose focus generally tends to turn inward as they drive for greater technical competence sometimes without understanding the need to develop 'strategic' relationships that will support career advancement. These could occur either within the same organization or externally, but the relationships should be ones where mutual respect is present and it is recognized that one party has the ability to guide and counsel the other professionally, from both a strategic perspective and also tactically. Mentoring and sponsorships are two examples of such bonding relationships; they serve different purposes but they're equally valuable, depending on the needs of the individual.
For me, personal development has been critically important. It's a life-long quest that helps me gain greater insight into human behavior—my own and others'. Most people need help in developing self-awareness. Some people never develop in this regard and the consequences for themselves and those with whom they come into contact are usually neither positive nor productive. I would strongly advise women to embark on a journey of discovering who they really are, understanding their potential to be effective leaders, and how to take their careers to the next level. That could involve embarking on the study of leadership models; gaining greater understanding about what makes a person tick and what's important to them; articulating their values and goals; and learning or refining dialogue skills that become even more critical in leadership positions. There's no blueprint that's uniformly applicable to everyone so it's incumbent on the individual to seek out opportunities that resonate with their interests or needs.
You need to seek out challenging opportunities; that is the only way one can grow and develop. If we stay within our comfort zone, growth will never occur. That process does and can create a feeling of unease and discomfort but that's when you know you're rising above your fears and paving the way to becoming a more well-rounded leader and professional.
NAWRB: Lastly, are there any personal experiences, philosophies, or influences that have impacted your life?
Sharron P.A. Levine: My son and daughter will tell you they're tired of hearing me admonish them to "err on the side of generosity – of mind, heart and soul." This is my own personal philosophy developed over the years that I strive to live by even today. I find that the more we give, the more we receive in terms of peace of mind and happiness. Giving doesn't necessarily mean doling out material goods or items with some monetary value. In its broadest sense, it means approaching people from the perspective of their humanity, giving them the benefit of the doubt, and assuming the best rather than the worst. I'm not naïve, of course, but I find that attitude puts me in a more positive frame of mind. One of my former managers—now a good friend—used to share the adage taught to him by his mother: "Always take the high road." When I follow that approach, it leaves me with a remarkable lightness of being, a liberating feeling. It creates much more positive energy that propels me forward rather than hampering me with the bilious feeling of needing to go to battle on all fronts, all the time.
I'm guided by other philosophies and teachings, as well. For example, I try to be as authentic a leader as I know how, always referring to the values that I hold dear to help me make decisions, especially the hard ones. I believe that we should all have a healthier dose of empathy toward each other. I believe women can be effective, authentic leaders even if we remain true to our feminine side and sensibilities. We don't have to morph into a male frame of mind or outlook in every situation all the time, if at all. That includes our approach both to people and issues. I find that when I demonstrate care, am forthright, honest and open and solicit input from others, I feel that I am being true to my values, which then helps me to become a more effective and authentic leader.
Some of my other guiding principles include the following:
Have the courage to speak up and be heard
Be more forgiving of yourself and others
Never forget where you came from and how you got there
Be grateful and show appreciation
Inject levity and humor as much as you can, as appropriate
Try to do the best you can, in your own small or big way, to make the world a better place. We can all contribute to a better outcome for the greater good without feeling that we have to tackle every single issue or problem. In the words of the late tennis great, Arthur Ashe: "To achieve greatness, start where you are, use what you have, do what you can."
To view this article and many others in its original form: Click Here