NAWRB: What is your favorite characteristic of Washington, D.C.? What sets the nation's capital apart from other cities in which you've lived?
Marcia Davies: Washington is a beautiful city, with all of its historic landmarks and rich culture. We who live there sometimes don't stop and really appreciate when we see a monument or the cherry blossoms in bloom, that it is unique and beautiful.
I think what really separates it is you definitely feel the political energy when you work in Washington. Sometimes it's subtle and other times, like most recently with the inauguration, you feel it in everything, whether it's your commute or how hard it is to get into a restaurant or make reservation. There is a real political vibe and energy. We know when Congress is in and when it's going out. I really think that it makes it a dynamic place to live and work.
I have been privileged on several occasions to be in the White House, and not just see it during the holidays when the beautiful Christmas decorations are up. I've attended meetings in the Roosevelt Room and as I'm leaving I always stop before I get on the other side of the gate to take it in for a moment, thinking, "Wow, I was just in the White House." Then in 10 minutes you're back in your office. For a lot of people, that's not a normal day. I've been lucky enough that I've been able to do that on more than one occasion.
I can honestly say that when I was growing up I never thought I would be in a meeting, let alone more than one meeting, in the White House. And it happened.

NAWRB: What has been your proudest moment throughout your career?
Marcia Davies: This is a really hard one, and I gave a lot of thought to it. I would have to say I'm proudest of the rebranding of MBA, which we launched a little over three years ago.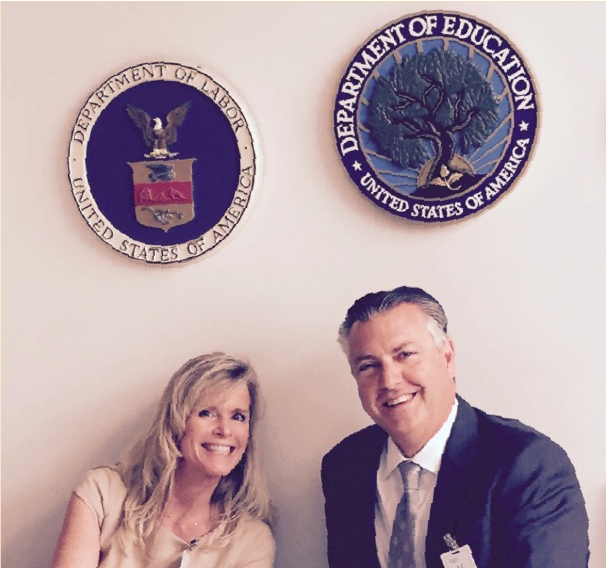 I am fortunate to be surrounded by a team of really creative professionals, and we worked together to create the new brand. The logo and every design element was created by our in-house team; we went through an incredibly methodical process. We took research data and tested it against our core values and our attributes to ensure brand and messaging would stand the test of time. We've received such positive feedback and our members know our brand and attributes. What makes me feel proud is not only that it was good work, but we leveraged the talent inside of our organization. The team came up with an awesome logo and everything they do is very creative. I'm fortunate to have them as an internal resource.
NAWRB: What change can women in executive roles bring to the workplace? How can C-suite professionals help more women reach the executive level?
Marcia Davies: I believe, as leaders we need to encourage risk-taking and leverage attributes and talents within our team in order to create opportunity, and sometimes, for me, that means moving people into non-traditional roles. Let me provide a personal story.
I had been in various positions at Freddie Mac for seven years, and all were in marketing and industry relations, doing meetings and that type of work. That was my swimming lane at Freddie Mac and I reported to a vice president who was responsible for all of External Relations at the time. He was in charge of advertising, public affairs, industry relations, and he had a diverse look at what was going on externally.
One day he took me out to lunch. He was a former reporter for the Daily News, kind of a no-nonsense New Yorker, and going to lunch was a little out of his character. He said to me, "You're very good at what you do and I can tell you enjoy your job, but I would like you to consider moving into a different job working for me." I asked what he wanted me to do and he said, "I want you to lead our public affairs." I don't have a background in journalism, I wasn't even paying attention to which reporters were covering Freddie Mac and which weren't. I asked why he would want to do that. He replied, "Because there needs to be a change in leadership and focus, and you have all of the right skills to do it. You know how to build relationships, you're intuitive, you know how to influence, you're very good at communication. I can teach you to differentiate between a good press release and a bad press release. You have technicians who are on that team; what they need is leadership and someone who's decisive. I think you'll be perfect for the job."
Despite my discomfort, I agreed to do it. I did the job and I was good at it. Freddie Mac was happy with my performance and from there I moved into other roles. What it taught me was that leader seeing something in me and taking me out of my comfort zone was huge. It was a huge risk for him and a huge risk for me, but it changed the course of my career forever, so the risk was worth taking.
Sometimes it's good to get out of your comfort zone and take a risk. From that I learned being a good leader means really understanding the skills—the how, not the what—that make your workers good leaders and applying their talents to other areas that could really use them. Being a leader is looking for skills and experiences to provide growth opportunities and fresh perspectives in areas. I would encourage more women and leaders to not only take those risks but also think about being comfortable managing things you may not have technically done before.
Another thing this experience taught me is that I'm very comfortable empowering those around me. When you are given that empowerment, it makes you step up and be able to thrive in a new role within which you never envisioned yourself. This also makes you confident and comfortable when you have good people that are working with you. You have to empower people, and as long as there are clear goals, trust that they will achieve them, even if they get there in a way that you never envisioned.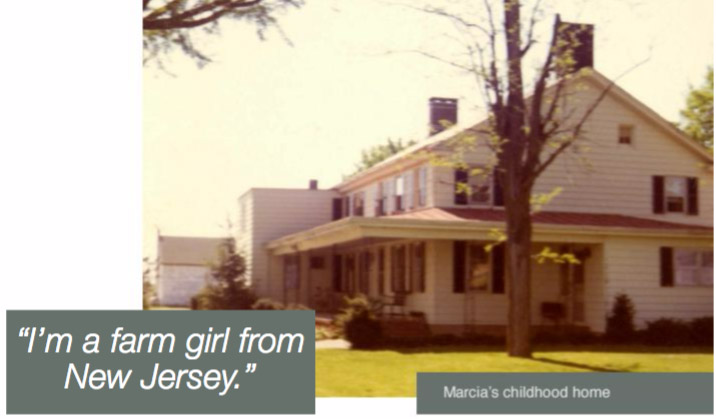 NAWRB: You're a board member of MBA's Open Doors Foundation (ODF) which "sponsors philanthropic activities focused on home and community support." What does philanthropy mean to you? How has it impacted your life?
Marcia Davies: As you know, our mission is to help families in distress who have critically ill or injured children. What our foundation does is make mortgage or rental payments for these families in hardship. The board meets regularly, the foundation is five years young and we've helped over 800 families. We continue every month to get more grants and we serve families coast to coast.
It's changed me because when you read a grant application and see what somebody else is going through in their life, it's so rewarding that you can be a little part of helping during that dark and difficult time. It's also made me think creatively about what we could do to continue to raise awareness of the foundation and get people to contribute. Whether it's a $25 Text-to-Give donation or big company donations that come in at $100,000, 100 percent of the donations that come in go directly to families and MBA underwrites all the operational and staffing costs for the foundation. We are very proud of that.
What has affected my family most profoundly is cancer and I've always given to organizations fighting that disease. It opened my eyes to the many ways we can make a difference. Contributing to ODF and other charities is something that we started doing more and more.
NAWRB: What is something about you most people don't know that they would be surprised to find out?
Marcia Davies: I have two. The first is I used to weigh over 200 pounds. I am proud to say I've kept the weight off for three decades now.
The second is that I'm a farm girl from New Jersey. I come from farmers on both sides of my family. I never thought I would be a city girl with a job that didn't have to do with farming. My father's side of the family are potato farmers and my mother's side are dairy farmers.
I grew up on a potato farm, 350 acres of land. I didn't have the livestock component, but when I would visit my grandparents we would go to the dairy farm and watch my grandfather milk the cows. It was not part of my plan to go off to Washington, D.C. and get a job.
NAWRB: When did you leave the farm and go into the city?
Marcia Davies: I actually moved to Washington D.C. over 30 years ago because my sister was working here. My first job was at the Association of Trial Lawyers. Four years later, I was at Freddie Mac.
NAWRB: Congratulations on leading mPower, "MBA's networking platform for women in the real estate finance industry." What are the benefits and what is the importance of creating a strong women's network?
Marcia Davies: We are thrilled with how many women are interested in mPower. Some of the benefits are embedded in the networking that mPower events offer. Each event is a little different and we try to provide a wide range of topics and speakers in order to make sure that women in our industry not only get information, but get a chance to network with each other and ask questions.
We don't want it to stop at our events; when you join mPower you're part of a community. It is a private online community within which you can post questions and reach out to others. You can ask advice and there are also resources; we have a library that has articles of interest, studies, and we post videos we share with other women's networks. Seneca Women is one of the partners in our network and they have great tools for women that they are offering to our community as well. They share NAWRB's vision that we have to collaborate and we agree.
If we all join our networks we can make it easy for people to connect and continue to reach out to women, giving us a chance to not only talk about the opportunities, but share our stories. I think there is a lot of power when women come together and share our stories.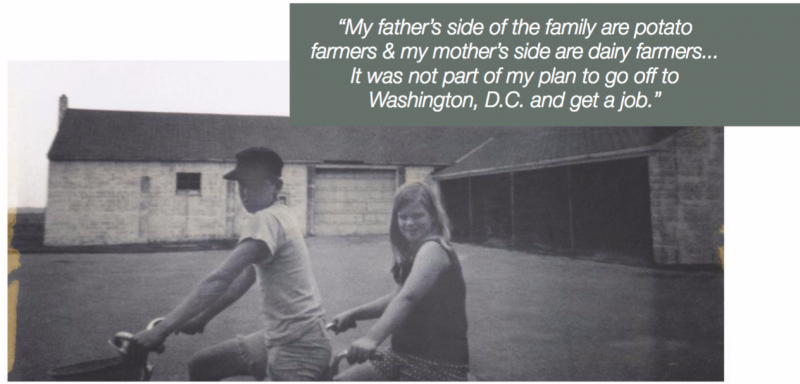 I am encouraged that there are men who come to our mPower events, and there are many men championing the work that we're doing. We need all leaders, male and female, to help champion women's issues and all diversity issues, frankly. I encourage everyone in the industry to participate in mPower and really take to heart the information out there that we are trying to provide.
NAWRB: What is the biggest difference between you at the start of your career and now after 30 years of executive industry experience?
Marcia Davies: I would put this in a few categories, the most important being that I now know my value. It took a long time, but I do know it now. I have much more confidence in the workplace than I did when I started my career, and I am very confident in my decision-making. Whether it's complex or not, when I make a decision I know it's the best decision for the organization that I can make. When you're young and starting out you question a lot of the decisions you make, and now 30 years later I don't question my decisions. I still learn from them, but I am confident that I made the best decision that I could with the information I had.
The biggest difference is knowing my value. I think for women it's hard to get your hands around that early. It takes a lot of growing and confidence for you to really see the value you bring, own it, and not give it away.
At this stage in my career I really feel that I have a good handle on that. I'm in a job I love and I'm fortunate enough to work with really good people I like in an industry where I have developed meaningful friendships. I have history, and that to me is a great part of being in this industry; we share history together.
My boss Dave and I first worked together at Freddie Mac. When we started working together we fought like cats and dogs. I had been at Freddie Mac for quite a long time and at one point, through a change in management, he became my boss. By then we had learned how to work together, but when you have two people who are very driven and feel strongly about their opinions, it takes a little while to figure out how to best work together.
He actually brought me into FHA and then to MBA. People who see us now working together say we have such a great working relationship. I tell them it's really great now but it started out bumpy. The funny story I tell is we were in a strategic planning meeting and our boss kicked us both out of the room and told us not to come back until we could learn how to get along.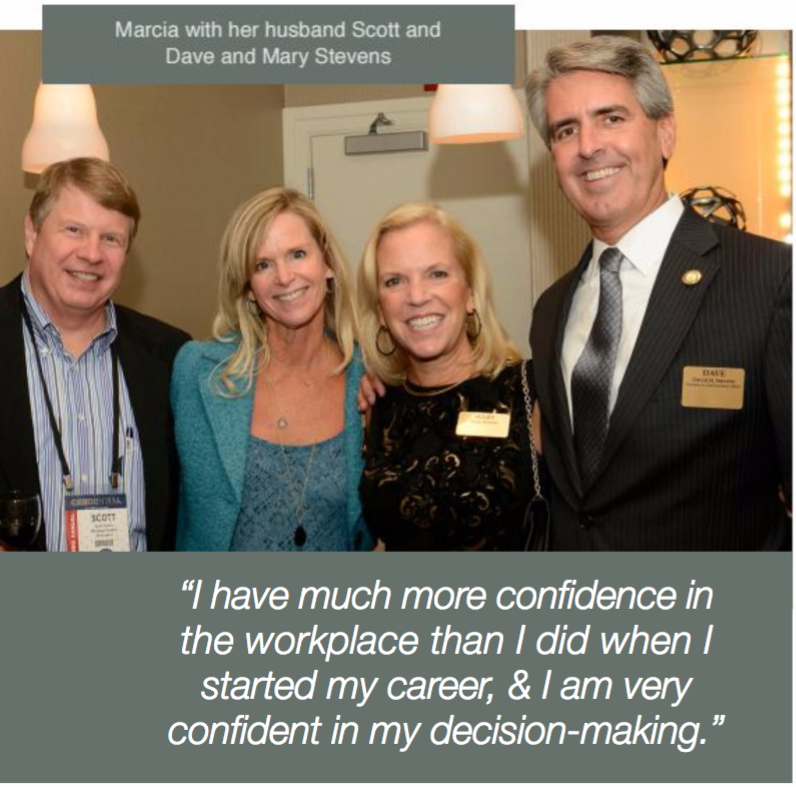 I'm fortunate enough to work for someone from whom I can still learn. We bring different skills to the job. I'm the person who deals with a lot of operations and Dave has different skill sets than me. That means I still learn from him. When you work for someone you can still learn from after all these years, it's really great. Every day is a new day, you never know what's coming your way, but you know that when you're working with a good team and have a leader that leads and can teach at the same time, it's a great combination.
NAWRB: Do you have any goals, either personal or professional, which you haven't been able to address but would really like to accomplish in the future? How do you see your life in 10 years?
Marcia Davies: I will answer the second question first. Hopefully in 10 years I'm blessed with good health, contributing in a meaningful way and spending more time on the Eastern shore. That's my high-level bucket.
I don't think I have goals that I haven't accomplished, but I hope I can do even more to help women in whatever capacity I can and however that may look going forward in the future. I'm not sure how this will come together, but it's a passion of mine, and hopefully I will still be contributing to helping women.
I think this goal is a combination of knowing my value and spending many years as the only woman in the executive office. I meet and network with women who have so much to offer but are dealing with difficult obstacles, and anything we can do to champion women to know their value will help remove some of these obstacles. I think women are sometimes afraid of overcoming these obstacles, and it's a matter of getting them the tools and ensuring they know their value to push through and attain whatever position they want. Not every woman has to be the head of a department or be at the top, they just have to be in a role where they feel most valued, in which they can contribute and feel joy.
NAWRB: As someone with extensive marketing experience, what are some best practices you can share with our readers? What are some precarious marketing pitfalls to avoid?
Marcia Davies: It sounds basic, but you really need to know your customer, their buying habits, their needs, and you must put yourself in their shoes. Make sure you're thinking like them and have the right data to reach them. Have clean lists and ensure your outreach is going to hit the right target market. Look at your customer base by segments and understand what's unique in those various segments.
I think the pitfalls are the expenses regarding clean lists; this can get expensive depending on the company you're utilizing for these services. You need to make sure you make the right investments because reaching your target audience is the most important.
NAWRB: If you hadn't entered the real estate finance industry, what do you think your career path would have been? What job would you most want to have?
Marcia Davies: As a Jersey girl, my dream job was always to work with Bruce Springsteen. Clearly that didn't happen. Here's the thing, he lived in the next town over. When I would go to the Jersey shore, this is before he was famous, he would perform at the bar we used to go to. He would also hang out in Manasquan and eat at Carlton's Corner.
When he started to become famous I thought, "That would be a great job."
NAWRB: What job would you have wanted working for Bruce Springsteen?
Marcia Davies: It wouldn't have mattered! I could've been a roadie, a publicist, I was just such a big fan. When Hurricane Sandy hit, it was the weekend after we got back from our annual conference, and they had that benefit concert with Bon Jovi, Springsteen and all the guys from New Jersey. I texted Dave, "By the way, if Springsteen ever needs me for anything, I'm gone." He wrote back, "I'll take my chances."
What would my career path have been? I probably would have had an office job. My first job in New Jersey before moving to D.C. was working for a French chemical company, because New Brunswick wasn't far from where I grew up and that's where you could get "office" jobs. I would have had an office job and who knows where that could've taken me.
NAWRB: What is your perspective on work-life balance? Do you unplug after leaving the office, or are you always working in some capacity?
Marcia Davies: I'm always working in some capacity, always plugged in. And with the functions that report into me, I don't have the luxury to unplug. I have a great team and they also can't really unplug.
When it comes to being responsible for public affairs, while we hope that people won't have to check their email all the time, you know that you're checking it as frequently as possible in order not to miss a response or reaction. We're pretty much plugged in all the time, and to varying degrees. Today I'm working remotely on the Eastern shore so I won't have a commute.
NAWRB: Who has inspired you most throughout your life?
Marcia Davies: I lost my father when I was 23. He was very young, he had just celebrated his 50th birthday. The lessons that he instilled when we were very young, the ones that stuck with me, have made me not only a better person but a better work colleague.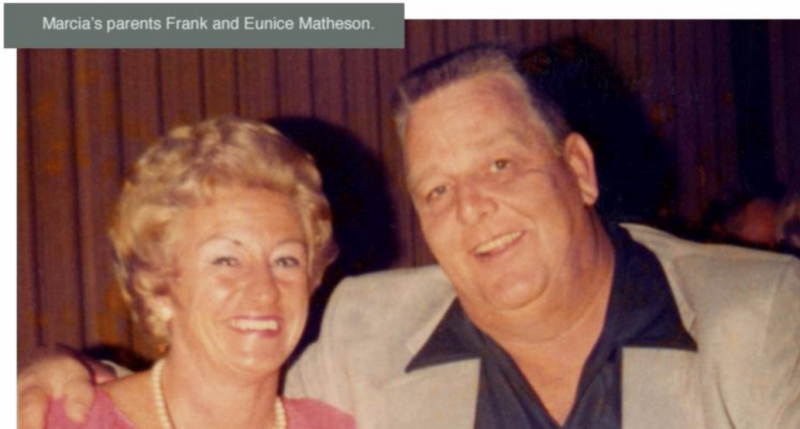 My father owned his own business. He left farming—he still owned the farm but his brother took over the day-to-day farming—and bought a bowling alley and bar. He started to be a businessman and was very successful. He taught me by his actions how to take care of people who work with you; people who protect your company and will work long hours to make sure you are successful. He was very generous to his stellar employees. It wasn't something where he sat us down as kids and said, "This is how I expect you to behave." We watched his actions.
Another thing he would do, which sounds simple but isn't always simple to practice, is always remind us to treat others the way we expected or wanted to be treated. He would reinforce this lesson if we ever had a behavior that he thought would not be the way we would want to be treated. I will say, I think the foundation of knowing he had those expectations and losing him so early has inspired me to not let him down and pass these values along.
NAWRB: What is the biggest challenge you have been faced with in your career? How did you surpass it? What advice would you give to women experiencing something similar?
Marcia Davies: The biggest challenge was that I walked away from my career for a period of time. I left Freddie Mac at the height of my career when I was an officer because there were some events in my personal life that really needed my attention, and my mother passed away unexpectedly. I decided it was time for me to turn my attention to the things I needed to focus on personally.
I knew I was not going to be successful in doing this if I tried to keep a very big job, so I walked away from that job and company that had been so good to me. There were a lot of people who could not understand why I would do it. In order to surpass it I had to put my fears of what people would think or say aside, and I had to put my ego aside. I was going to take time and address some personal challenges, and that meant I was stepping out of the business world.
I think what also helped me is during that time I knew I was making the right decision, and I understood my value. So I wasn't worried about getting another job. Being able to have confidence in successfully reentering the workplace if I had to helped me.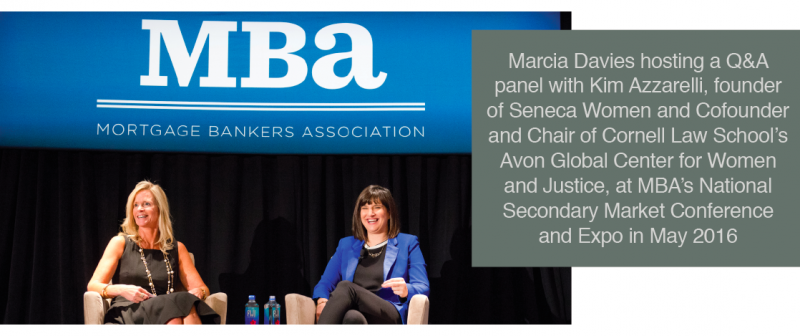 The advice I would give is to listen to your own voice and not dismiss your thoughts. You need to speak up when you feel strongly about something. Don't be afraid to say what you need or give your opinion if you believe something needs to change.
It's okay if your opinion is different than others', you need to own yours. Especially if you have challenges, you need to advocate for yourself and reach out for help. There are people in your network who have probably faced similar challenges who can give you advice and counsel.
NAWRB: How can we help more women enter homeownership? Do you think we will see more or fewer women homeowners in the coming years?
Marcia Davies: I think the best thing that we can do as an industry is to recognize women as a target market. Recognizing women as a target market and really treating them that way can be a great practice through which to grow your business because of the power of women. There are statistics that reveal women are capable homebuyers because they are risk-averse and better at paying their mortgages. They are a true market that needs to be targeted. I think this will help more women transition into homeownership.
Do I think we will see more or fewer? The best thing I can say to answer that question is my 27-year-old single daughter just bought her first condo on her own. I didn't even kno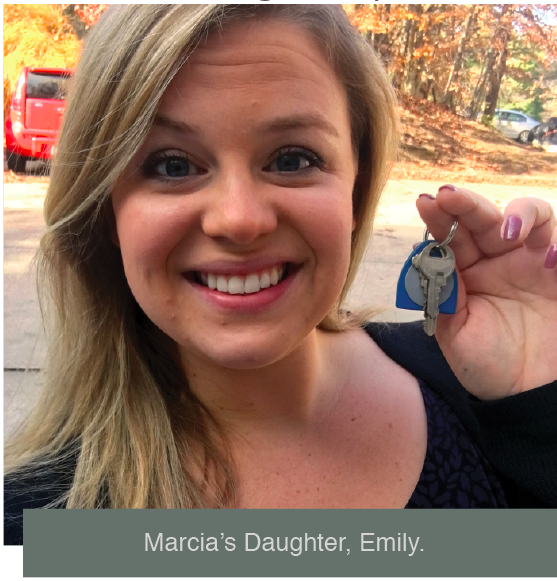 w she had put in a contract. She decided it was the right time, she didn't want to rent anymore and wanted to own something. She took it upon herself to take that first step.
I know there are a lot of young people out there who are ready to take that step. I was encouraged by the fact that my daughter decided to take that step and was not afraid to become a homeowner.
I know the generation that has lived through the housing crisis might be more concerned about owning, but if my daughter of 27 is an example, I think they see some benefits in owning versus renting, and if they're in a position to save enough and make it happen, I think we'll see more and more people buying homes.