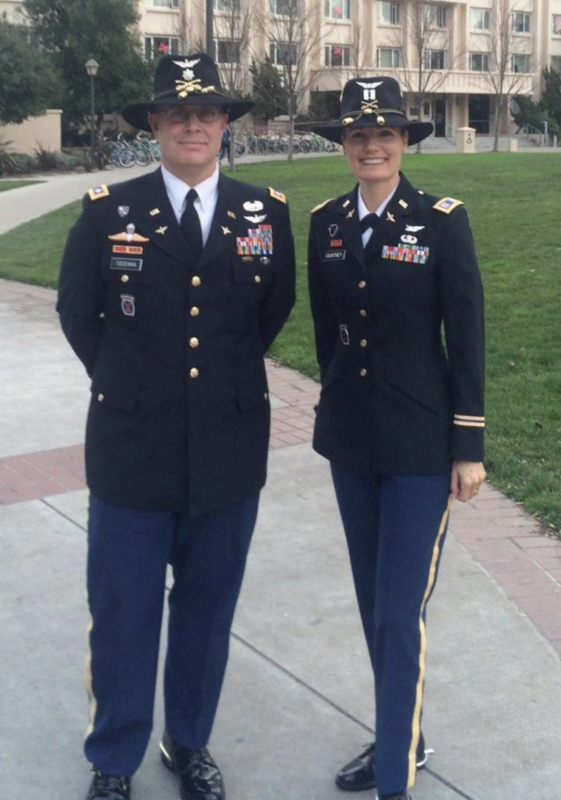 NAWRB would like to give special thanks to NAWRB Diversity & Inclusion Leadership Council (NDILC) Member Erica Courtney, President of 2020vet and Zulu Time, U.S. Army Aviation Major, NATO Gender Advisor, and California Commissioner on the Status of Women & Girls, appointed by California Governor Gavin Newsom, not only for her service but also for her contribution to NDILC and the NAWRB community.
Erica Courtney is a U.S. Army veteran having served in various positions to include; military police, scout helicopter pilot and paratrooper. As a trailblazer, she was part of the first group of women to go Cavalry and the first to graduate the Advanced Armor Cavalry Course. Erica continues to serve the nation as a Major in the U.S. Army Reserve under the Joint Chiefs of Staff working on Women, Peace and Security initiatives as the only NATO certified Gender Advisor working at political and strategic levels.
To celebrate Veterans Day, NAWRB is releasing Erica Courtney's story on being a Woman Veteran. Don't miss this impactful life story about the trials and tribulations of being a woman veteran and how Erica Courtney persevered for the United States of America!
Part 1 of 6
I am proudly part of the 1.4 percent of American women who served in the military. The day I signed the paperwork to join as a teenager the Gulf War kicked off and I watched tanks fire through the night on TV thinking, "What in the world did I do?" Having grown up in surf city USA (Huntington Beach, CA), I was never exposed to the military. To emphasize this point, the first time I walked into an Army recruiting office I had sand in my hair and sun-kissed skin; I was with a friend of mine and said, "Hi, I am thinking about joining the Marines," not even understanding the difference in services. The recruiter took a few looks at us, confused, and had to be thinking, "Sucker!" Having always been athletic and adventurous, I thought why not. I would rather try something and hate it than wonder what it would have been like. College was a bore and I was ready for the unknown.
"Get off the bus, you maggots!" Welcome to Military Police Basic Training. What was wrong with these people? Why so much yelling? Okay, bag in hand off the bus I went into the barracks. This is actually where Hollywood gets it right. There's lots of yelling, climbing, learning, bonding and trying to stay under the radar. Except, I learned early on that was pretty hard for me. I was a runner breaking six-minute miles, and one particular drill sergeant could not stand that there was a female in his fast group and did whatever he could to break me. He was an infantry man where they did not work with women. There were many days of unnecessary hazing to the point he was counseled by the officers. He tried to make me cry, but failed. Many more attempts would follow. I learned early, never let them see you sweat and there is no crying in uniform.
Continue reading