Just Released: NAWRB Magazine, sheCENTER(FOLD) Joanne Lipman, Best-Selling Author, Former USA TODAY Editor in Chief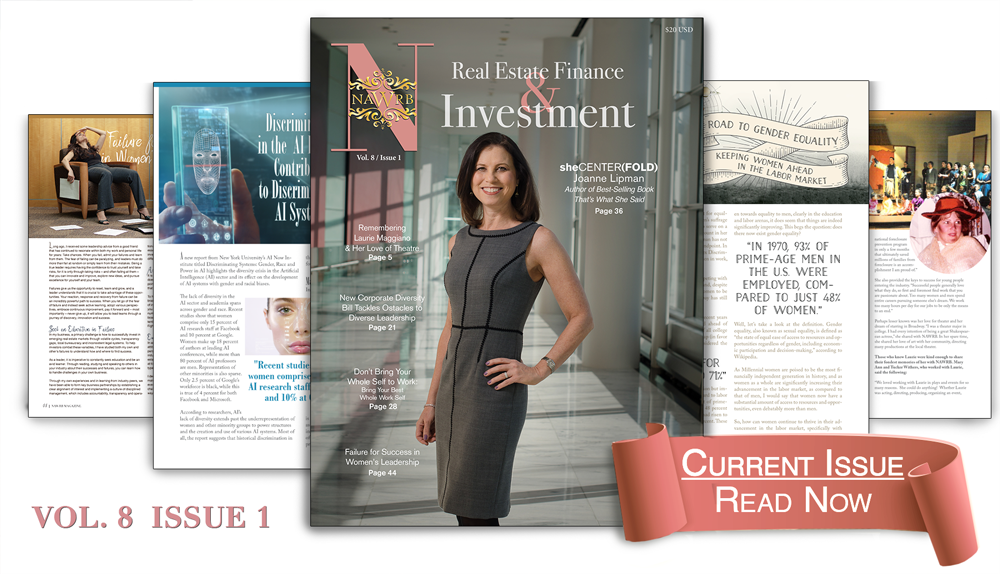 Women in the Housing & Real Estate Ecosystem (NAWRB) is pleased to announce the release of NAWRB Magazine Volume 8, Issue 1, Real Estate Finance & Investment! This issue introduces a newly redesigned layout with articles categorized into meaningful sections, including Profile, Legislative, Business Ownership, Technology, sheCenterfold, Independence, Community, Living and Homeownership. With this redesign, we are synthesizing our resources to further our support of economic independence with a gender lens perspective.
Joanne Lipman, Author of Best-Seller That's What She Said and Former Editor in Chief at USA TODAY, The Wall Street Journal and Conde Nast, is our sheCENTER(FOLD). During her tenure at USA TODAY, the Network won three Pulitzer Prizes and had an additional three Pulitzer finalists. She has impacted the corporate world by joining women and men together in addressing the issues women face in the workplace.
Joanne shares her most memorable experiences working at some of the nation's most prominent publications, the way social media has changed the media landscape and her top five solutions organizations can use to achieve gender equality. "Both men and women need to support women who are silenced, ignored, interrupted, or too fearful to speak up," Joanne states. "Many times guys don't even notice that it happened."
NAWRB provides a glimpse into the lesser-known life of the late Laurie Maggiano, Servicing and Secondary Markets Program Manager at the Consumer Financial Protection Bureau, including her love of and heavy participation in theatre! Laurie was a remarkable person who will be remembered for the work she did for the industry, and will continue to inspire those whose lives she touched.
Read the new issue here!