On Thursday, October 20, 2016, the LA Sparks ignited a roaring crowd inside Minnesota's Target Center as they scored the winning bucket in Game 5 of the WNBA Finals. The buzzer signaled a 77-76 victory for the LA Sparks over the Minnesota Lynx in a nail-biting ending. The triumphant LA Sparks players made Los Angeles proud by winning the first WNBA title since 2002.
In an exclusive interview with NAWRB, LA Sparks President & COO Christine Simmons was noticeably proud of the team and humbled to witness their achievement during her tenure. "It's surreal," Simmons stated. "It was really beautiful to watch our women get that, and they worked so hard. They did feel like underdogs in all different aspects."
Simmons revealed that this was hard-won redemption for the LA Sparks, "We knew what we had, the players knew what they wanted, and were focused on achieving it. From ownership down to every player, we were all focused. Bringing that championship back, after 14 years, brought back that level of playing excellence to LA."
This was also the first championship win for Finals MVP player Candace Parker. Parker is a renowned athlete whose accolades, including two-time Olympic gold medalist, Naismith College Player of the Year, and two-time NCAA National Championship winner, to name a few, are now accompanied by a WNBA title. This win was more than just a professional accomplishment for Parker; it was also a personal achievement that was well-deserved during a trying year marked by loss. Parker remained strong after the devastating loss of her mentor and friend, the renowned Pat Summit; a snub for a place in the United States roster for the Rio Olympics; and being left off both the first and second all-WNBA teams for the first time since 2011.
Parker's teammates, a steadfast support system, were determined to achieve this win for her. The WNBA reports that MVP player Nneka Ogwumike, another key figure in the LA Sparks' championship win, embraced Parker after the game and cried, "This is for you! This is for you!" This stunning display of camaraderie, combined with the team's skill and training, was an important factor in the LA Sparks' claim for victory.
Player Alana Beard, speaking to the WNBA, shared the significance of Parker's trust in her team, and her vulnerability required to develop that trust. "I've been with Candace for five years now," said Beard. "And this was the first year she trusted her teammates. She became vulnerable, and when you become vulnerable you grow. On the court, off the court, she trusted the process, she trusted Brian [LA Sparks coach], and in the end it paid off."
Simmons states that the team's chemistry and mutual support were key factors in their win, "All the players brought great energy and leadership to the table. It started from the spirit of the team. You could see all the positive energy and just the love and respect that each of them had for one another. It was a really great thing to see." This example of players supporting players, and, on another level, women supporting women, is as important on the court as it is off the court in the battle for women's equality in sports.
Gender Inequality Off the Court
Although some progress is being made, there is still work to be done in the movement for gender equality regarding resources, exposure, pay and representation in leadership. The disparity in pay for men and women basketball players is astounding. According to CNN, "The average salary for a WNBA player is $72,000, which doesn't include bonuses and benefits, while the average salary for an NBA player is around $5 million, or about 70 times what the average female basketball player makes." To put this in perspective, an NBA player could easily purchase a beautiful home overlooking the Newport Beach coast, while a WNBA player would have difficulty finding an affordable home in Los Angeles. These different paychecks are not just mere numbers; these are differences in livelihoods available to professional athletes based on gender.
The gender gap is present in other professional sports, as well. For golf, the 2014 PGA tour awards a total prize amount of $340 million, five times higher than the 2015 LPGA tour prize of $61.6 million. As the Women's Sports Foundation reports, in professional soccer, the U.S. Women's National Team's prize money winning the 2015 Women's World Cup was $2 million, while Germany's men's national team earned $35 million for winning the 2014 World Cup. The U.S. men's national team that finished in 11th place won $9 million. Moreover, the money awarded to the men's teams that were eliminated in the first round of the event, $8 million, was four times the amount awarded the U.S. women's team, that won. Progress is being made, however: the World Major Marathon, Wimbledon and the World Surf's League Championship Tours offer equal prize money for men and women.
Serena Williams recently penned a heartfelt letter to The Guardian, which advocated for gender equality in sports and pushed women to be tenacious in pursuing their dreams in order to empower future generations of women to do the same. She also addressed her frustration with the gender pay gap in professional sports: "So when the subject of equal pay comes up, it frustrates me because I know firsthand that I, like you, have done the same work and made the same sacrifices as our male counterparts. I would never want my daughter to be paid less than my son for the same work. Nor would you."
Williams is well aware that "women have to break down many barriers on the road to success," such as being reminded that "[they] are not men, as if it is a flaw." But it is not a flaw, and this is just one stigma about women athletes that we must challenge. As Simmons states, we need to show young girls "that there are just as hardcore girl ballers out there, and they don't necessarily need to play with the guys in order to up their game." She goes on to say that "successful women in sports," like the LA Sparks' Nneka Ogwumike, who "at one point in the season, was the most efficient basketball player, male or female," are much needed role models to young aspiring athletes.
Simmons points out that the stigma surrounding women athletes is an "emotional and social perspective," and we can counteract it by educating children to not adopt these implicit biases that posit limitations on gender. As a result, we will raise the leaders of tomorrow to not see a female basketball player as any less than a male basketball player. Simmons shared a beautiful anecdote that is a beacon of hope for the future: "Even though my son plays ball with boys every week, when we go home, he says, 'Mom, let's play! You be Kristi and I'll be Alana.' He sees them as ballplayers. He doesn't see them as either women or men."
Our Game Plan to Make a Change
In her letter, Williams is hopeful that her story, and the story of other women who have transcended these barriers, will be a source of inspiration for others to continue the movement in women's equality. But this is not a task for women alone—both men and women should make gender equality in sports, and beyond, a priority and endeavor to make it a reality. Change can be effected by those affiliated in the sports industry, sports fans, and those who are dedicated to gender equality. As Simmons explains, the entire sports ecosystem needs to take part in this movement.
"Each partner,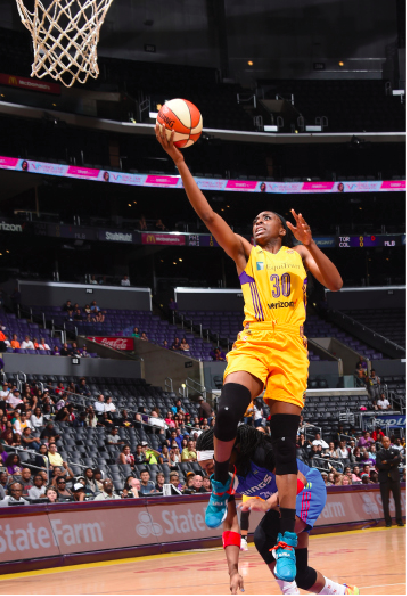 each ticket purchaser, each sponsor, has to be invested in this because this is a long term investment in the future of where we all live, work and play," Simmons explains. "And in order for that to happen, the ecosystem has to be able to sustain itself."
The sports industry needs to appoint more women in leadership roles and executive positions, so that women are able to participate in the decisions that affect them. Deborah Slaner Larkin, CEO of the Women's Sports Foundation, states, "Sports are a microcosm of life. As we begin to see a more diverse group of men and women in leadership and decision-making roles throughout the industry, we should also see significant changes in media, sponsorship and other fundamental areas of support." It is vital that this diverse leadership cares about women's equality in sports, makes it a priority in their agenda, and uses their different perspectives to strategize a plan to achieve it. We need women championing women, and men championing women, in the rooms where these decisions are made.
Simmons suggests companies seek broadcast contracts, sponsors and partners that are committed to the cause, "Because the more sponsors you have, the more you can invest, the more impressions, the more ticket sales—it's a whole cycle. It's not a matter of not wanting to pay women the same amount as men. We just have to make sure all teams are blessed to have the partners and ownership groups like we have that are willing to invest."
Attendance is another key factor. Merely attending women's sports games will offer great support for women athletes. As Michael Graber, a sports cinematographer, says, "Getting women into the stands is key to winning television coverage and the big salaries that come with that exposure." Another important aspect to exposure is participation in women's sports. As more young women are encouraged to play sports, the popularity of professional women's sports will surge. That encouragement will be stronger if girls are exposed to more women playing sports on their televisions at home. Not only will this spark participation, but this exposure will help enlighten young minds against the stereotypes regarding gender and sports. Simmons sums it up perfectly:
"We have to come back to the enlightened women and men and give them visibility, give them the TV time, and the ecosystem can then fix itself. But there has to be a really hardcore commitment, and our fans have to support companies that do and not support companies that don't. We have to rally together. So how do we as women, and the men that support us, go out and support this team? Because if we don't, nobody will."
What can we all do to influence participation and exposure for women's sports? The Women's Sports Foundation lists ways everyone can act:
Attend women's sporting events;
Support companies that advocate for women's athletics;
Encourage television stations and newspapers to cover women's sports;
Sign up to coach a girls' sports team, whether at the recreational or high school level;
Encourage young women to participate in sports; and
Become an advocate: if you are or know a female athlete that is being discriminated against—
A concerted effort at just one of these options will leave your footprint on the path towards women's equality in the sports industry. So encourage your daughters, sisters and nieces to play sports; stand in the bleachers at games that demonstrate the excellence of women's sportsmanship; and be a resilient voice for present and future women athletes.
The LA Sparks are playing their part with outreach programs that support organizations contributing to the Los Angeles community. With programs such as Driven 2 Hoop, they encourage children, especially young girls, to dream big by bringing youth groups to the Staples Center for the ultimate LA Sparks experience. The LA Sparks organization strives to make a difference in the lives of youth and families in their community, and they know it requires addressing a variety of factors that affect one's quality of life. These are included in their five pillars: Military, Youth Sports, Health and Wellness, Education and Women and Girls platforms. NAWRB is proud to be an honoree ambassador for the LA Sparks by addressing issues in the housing ecosystem, which have a direct impact on the community's health and wellness.
Without a doubt, the LA Sparks inspire their community, whether it's winning a national championship or playing in front of a beaming crowd of Los Angeles's youth.