Since founding the Women2Women Conversations Tour in 2014, I have joined six of Main Street's Congresswomen and many state officials across the country to speak with local women business owners and community leaders who are a seeking a greater voice and role in their government.
I wanted the tour to give female members of Congress a chance to talk to women about what is happening on Capitol Hill; however, the most valuable piece has been the interest in legislative priorities and thoughtful, conservative governing from the next generation of female leaders. Together, we have used feedback from women across the country to move legislation on some of our nation's biggest issues—from addressing the opioid epidemic and providing better mental health care to combating human trafficking.
After three successful years of the Women2Women tour, our mantra has become: "All issues are women's issues." Women make up more than 50 percent of our nation's population and want to see action across a wide breadth of issues like increased job creation, improving access to health care and education, and helping those struggling with addiction to receive the help and resources they need.
The opioid addiction crisis, which is front page news nearly every day across the country, was first brought to our attention during a tour stop in Ohio in 2015. Unfortunately, this crisis continues to tear families apart with overdoses claiming victims across all ages, races, genders and socioeconomic levels. Main Street Republicans are committed to keeping up the fight against opioid deaths and have introduced new legislation in response to the concerns we heard from local moms, teachers and business owners. For example, Indiana Representative
Susan Brooks authored a bill that has helped curtail the over-prescription of opioids, while Ohio Representatives Pat Tiberi's STOP Act and Dave Joyce's STOP OD Act address illegal opioid trafficking, increase access to the lifesaving drug Naloxone, and provide better overdose training for law enforcement and first responders.
During many Women2Women tour stops, we also heard about the need for better, more comprehensive mental health care. The Helping Families in Mental Health Crisis Act was first introduced in 2013 and the bill struggled to move through the committee process; after this issue was raised on the Women2Women Tour, Main Street members used that momentum to rally votes and pass this important measure in the House of Representatives. When The Helping Families in Mental Health Crisis Act passed, it became the first mental health legislation signed into law since President John F. Kennedy was in office.
In addition to our efforts to prevent and treat drug addiction, we have also acted on the need to improve access to education for women and their families. On tour, we learned that the current Pell Grant system only awards money for tuition assistance for traditional fall and spring semesters. This reduces the opportunities many part-time and alternative schedule students have to complete their degrees. New York Representative Elise Stefanik is leading the legislative effort to expand the eligibility window to include summer classes and increase the maximum Pell Grant award. This will give low- and middle-income families, as well as part-time working students, added flexibility to achieve an affordable college degree.
In February, President Trump signed Virginia Representative Barbara Comstock's INSPIRE Women Act into law. This bill, which found broad bipartisan support in Congress, will promote the advancement of young women in STEM (Science, Technology, Engineering and Math) fields and aerospace, areas in which they are currently underrepresented.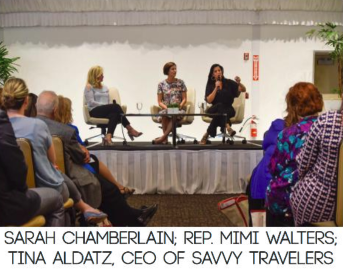 This tour further shed additional light on some issues we have been long working to address: human trafficking and sexual assault. These issues not only affect the direct victims of trafficking and abuse, but have a widespread impact on their families and local communities. As mothers, women want to keep their families safe. To further work toward ending human trafficking, former Main Street member Renee Ellmers of North Carolina passed the Trafficking Awareness Training for Health Care Act of 2015 which helps improve standards of care for victims of human trafficking. Representative from California Mimi Walters was also successful in passing the Survivor's Bill of Rights into law to ensure that victims of sexual assault have full access to the justice system.
The discussions on the Women2Women Conversations Tour have led directly to action on legislation that will improve the lives of women and their families. We are working to change the belief that gridlock in Washington is the new normal and that the concerns of American families fall on deaf ears in Congress. Women2Women is honored to engage with the next generation of female leaders, and we hope to see you during our next tour stop soon!
Sarah Chamberlain
President and CEO
Republican Main Street Partnership