Scores of executive women and industry leaders came together for women's economic growth, million-dollar contracting opportunities and invaluable resources at the 2017 NAWRB Nexus Conference: Women's Collaboration for the Future. From July 16th-19th, 2017, NAWRB's expert panelists equipped attendees with actionable solutions and specialized forecasts, providing a comprehensive inside look at the near future of the housing ecosystem.
The excitement was palpable as attendees filtered into the Hilton Orange County/Costa Mesa and settled into their seats next to future strategic partners and collaborators. Desirée Patno, NAWRB CEO and President, kick-started the event by recognizing the hard work that went into making the conference possible and the professionals who made time in their busy schedules to be a part of the diversity and inclusion (D&I) movement.
The Investment Opportunities: Access to Capital Facilitator workshop commenced sessions with Robert Fragoso, Realtor, CEO, Investor, who with over 28 years of experience in real estate investing and flipping homes described the importance of recognizing industry trends when making investments that will maintain profitability in the future.
"I came with the intent to share some of my experiences and knowledge—having been a part of so many homes that have been flipped—and what I see in the marketplace," stated Fragoso. "Not necessarily what's going on today, because that's ever-evolving, but to have attendees learn how to spot the changes and the next opportunity so that they can be not just following the trend, they're essentially the trendsetter."
During the two powerhouse workshops that followed—How to Get and Retain Corporate Business and Federal Deposit Insurance Corporation (FDIC) Training Facilitator—attendees heard from Cheryl Travis-Johnson, VRM Mortgage Services COO, on capturing and retaining corporate business and Victor Christiansen, FDIC Chief of Minority and Woman Business & Diversity Inclusion Branch of the Office of Minority and Women Inclusion, on understanding the FDIC's practices for procuring goods and services to streamline strategies and maximize their businesses.
Compounding the value of these sessions was the option for attendees to meet with Travis-Johnson in a matchmaking setting and engage with Christiansen during the question and answer portion of his workshop. Working with the government is an invaluable resource for businesses climbing the ladder, and receiving answers from the source empowered attendees to take what they learned and leverage it to generate real results in their business.
Our first day of sessions continued with the REO Forum Facilitator workshop featuring Jennifer Meagher, REO Senior Director, HomeSteps®, Freddie Mac. The workshop addressed the development and maintenance of good relationships with corporate sellers in a declining REO market. Among her topics, Meagher focused on current management teams, outreach, strategies and internal changes.
"More than anything else, the importance of attending industry events like this is touching base with our industry partners and really understanding what their needs are and how they can best interact with corporate sellers," said Meagher. "It's another opportunity for us to get our messages out, because I think so much of it is not being able to have good information to make the best decisions. This is a great opportunity for us to share and network."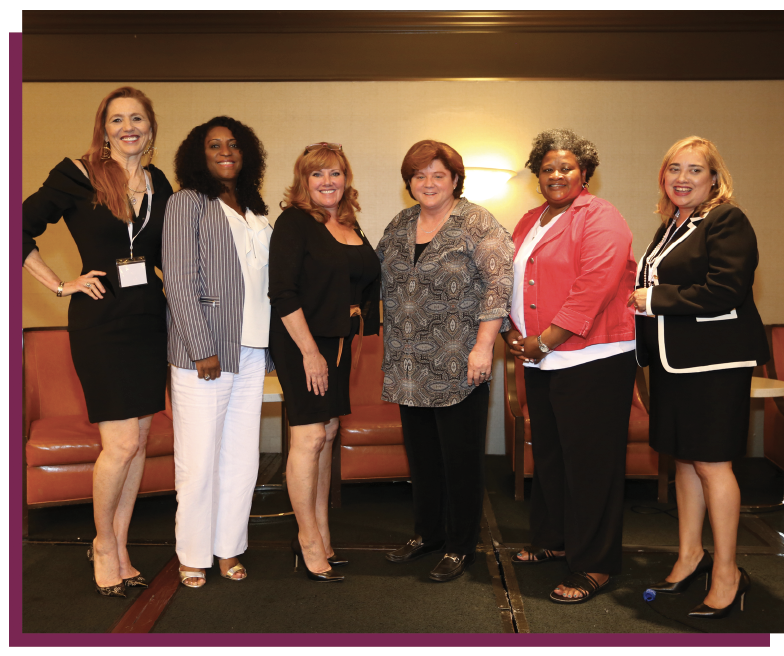 Building on this momentum, the member-only NAWRB Diversity and Inclusion Leadership Council (NDILC) Meeting was held followed by our Conference Kick-off Party! NDILC strengthened its continued efforts to advance women and diverse spend in the housing ecosystem, introducing novel initiatives focused on topics like mentorship and avenues for upward mobility. Our kick-off party—offering laughs, delicious food and the building of longstanding relationships with exhibitors—was the perfect stamp on sessions brimming with profitable business information and synergistic collaboration.
Day one wrapped up with Desirée Patno finishing the night on the town with Minimal Dollars, Maximum Dazzle! Patno, an expert shopper with 50 years of experience, gave attendees the secrets to buying top designer brands for pennies on the dollar. Wardrobe is paramount for professionals in the spotlight, and women can be especially judged on their appearance. Whether you're wearing a designer piece or a classic fitted dress, Patno guided participants through the process of communicating the right message to the person across the table before even saying a word.
Attendees convened in Catalina I ballroom as Dr. Tanya Wattenburg Komas, Founding Director and CEO, Concrete Preservation Institute (CPI), delivered her keynote speech to begin day two. Dr. Komas outlined her speech's main points:
1. Don't be afraid of accountability & personal responsibility
2. Be silly and be home when you're home
3. Go for it in business
4. Unlikely characters are leading infrastructure and growth for veterans

CPI, a nonprofit educational foundation and partner of the National Park Service (NPS) and the U.S. Military, trains military service members to enter jobs in concrete, construction and infrastructure while preserving national landmarks. Dr. Komas affirmed that Alcatraz is the best place in the world to learn what can go wrong with concrete because it was all built with concrete, and called attention to the serious issue deferred maintenance is. In fact, the National Parks Service has $12 billion in deferred maintenance.
Dr. Komas chronicled various structures that beckon repairs, from Alcatraz to the Pearl Harbor Mooring Quays. She reminded the audience that most of the concrete problems in our country are over 75 years old and the issue of how they are managed is becoming increasingly prevalent, suggesting to work with someone new with new ideas rather than someone with 30 years experience because today's concrete projects necessitate modern solutions.
"Get someone new who doesn't have preconceived ideas," Dr. Komas stated. "Putting in new concrete is different that fixing something old." For example, in condominiums, especially near oceans in Florida and California, balconies are the first things that need repair. However, there's not much advocacy in the U.S. for condominium owners, and Dr. Komas believes there should be more.
Dr. Komas concluded by discussing her journey leading to CPI. Safety and caring about students motivated her to leave her tenured position as a professor to work for a nonprofit. She fought the university for years and stepped down as chair of her department as her pleads for increased safety and accountability were pushed aside time and time again. She emphasized work-life balance which she learned from her husband who is an orthopedic surgeon, joking that when you're on vacation you shouldn't only take pictures of concrete. What a powerfully engaging session to kick off our Monday morning!
Following Dr. Komas was an enlightening discussion with Directors from the Office(s) of Minority and Women Inclusion and GSE's, including guests Sharron P.A. Levine, Director, OMWI, FHFA; Victor Christiansen, Chief of Minority and Woman Business & Diversity Inclusion Branch, OMWI, FDIC; Stuart Ishimaru, Director, OMWI, CFPB; Tomaneci A. Waller-Day, Supplier Diversity Director, Freddie Mac; and Moderator Desirée Patno, CEO & President, NAWRB.
The expert panel shared their personal experiences of changes within their organizations with the advent of the new administration. They advised organizations, businesses and entrepreneurs to continue their efforts in diversity and inclusion with innovation and resilience.
Some changes that these entities face include possible alterations to Dodd-Frank and the conservatorship status of Fannie Mae and Freddie Mac. Victor Christiansen reminded everyone that people are still trying to figure out the changes that might happen, and "until we find out what the changes are, it creates a confusing atmosphere."
When addressing the changes their agencies are facing, the panel shared how they stay motivated and engaged in their work. Christiansen is driven by the fact that he is a minority; diversity has always been a major part of his life. Stuart Ishimaru stated that he is engaged by creating new opportunities for various constituencies, and making sure people have opportunities to make them competitive in the workforce, adding that "diversity of experience" needs to be the focus of diversity and inclusion. He advises that businesses "tap into new sources of talent and markets out there."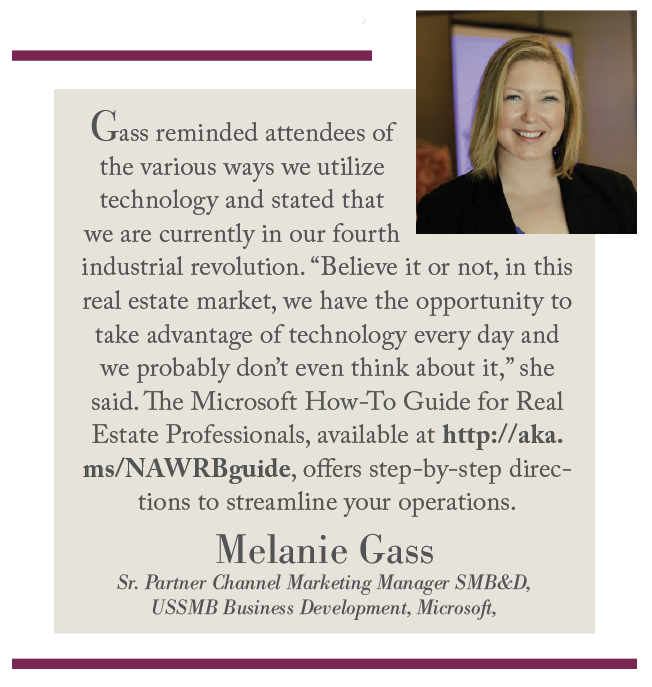 Sharron P.A. Levine shared that she is motivated by the tangible effect her work has in her company and the impact of the FHFA's regulation of their respective agencies, including Fannie Mae and Freddie Mac, on the world at large. The endless possibilities in the future of supplier diversity motivate Tomaneci A. Waller-Day, who is encouraged by innovative ideas from entrepreneurs and businesses on increasing the utilization of diverse vendors and women in business that will make Freddie Mac a better corporation. Entrepreneurs play a vital role at the forefront of problem solving because, as she says, they have their "boots on the ground."
Sharron P.A. Levine and Tomaneci A. Waller-Day both emphasized the importance of making diversity and inclusion a "business imperative" despite changes that may occur. Waller-Day asked the audience, "What are you doing now that you're putting in place for the future of your company despite changes?" Change, she states, is inevitable, so businesses need to focus on how they will succeed regardless of political climate and changes in regulation.
Sharron P.A. Levine reiterated that "diversity and inclusion are about change," which is why businesses and corporations need to focus on embracing change and working through it. Your attitude towards that, Levine asserts, "drives whether you are successful." Waller-Day reminded us that regulation brings "a heightened awareness and accountability" that helps drive organizations forward in raising diversity and inclusion. Closing the session on an optimistic note, Ishimaru reiterated his belief that "the future is bright no matter what."
This cheerful sentiment was embodied by Melanie Gass, Sr. Partner Channel Marketing Manager SMB&D, USSMB Business Development, Microsoft, as she enthusiastically unveiled a New Special Training Guide for Real Estate Professionals!
"My whole mission, passion and why I do every single day the things that I do is because I want to make sure people are as empowered when they use technology as possible," Gass began, after pointing out the high number of attendees in the audience who had Microsoft Surface Pros.
"Microsoft has been around for 40 years. Do you know we have never developed a guide to help the real estate industry be more productive in their day?" Gass emphasized. "Last year, I stood up on stage and I gave you a bunch of time-saving tips. Any of you that were there might recall that. I kept asking you, 'Is this going to help you save time in your day?' And you said, 'Yes.' What you didn't know is that that moment would be part of a groundbreaking opportunity to create a guide that becomes available to the real estate industry starting today at this conference."
Gass reminded attendees of the various ways we utilize technology and stated that we are currently in our fourth industrial revolution. "Believe it or not, in this real estate market, we have the opportunity to take advantage of technology every day and we probably don't even think about it," she said. The Microsoft How-To Guide for Real Estate Professionals, available at http://aka.ms/NAWRBguide, offers step-by-step directions to streamline your operations.
Gass walked attendees through the guide's tools, such as decluttering your mailbox, creating a personalized mortgage calculator and compiling a client tour property list that helps your clients remember their thoughts on a particular property, to name a few.
Attendees expressed their delight at the pristine tools of the new guide as Gass continually questioned, "Wouldn't that be wonderful?" followed by, "Well, now there's a button for that." She invited attendee and user feedback through her LinkedIn profile and Twitter account before finalizing the session with a group selfie.
With limited resources, it is crucial for small business owners to know their rights and resources, to be able to identify a streamlined course of action when an issue arises. Sharon Asar, Deputy Ombudsman, CFPB Ombudsman's Office and Philip D. Lovas, Regional Advocate – SBA Region IX, Office of Advocacy, U.S. Small Business Administration (SBA) shared the resources their offices offer to America's small business owners and the value they hold for entrepreneurs during the Know Your Rights and Resources session.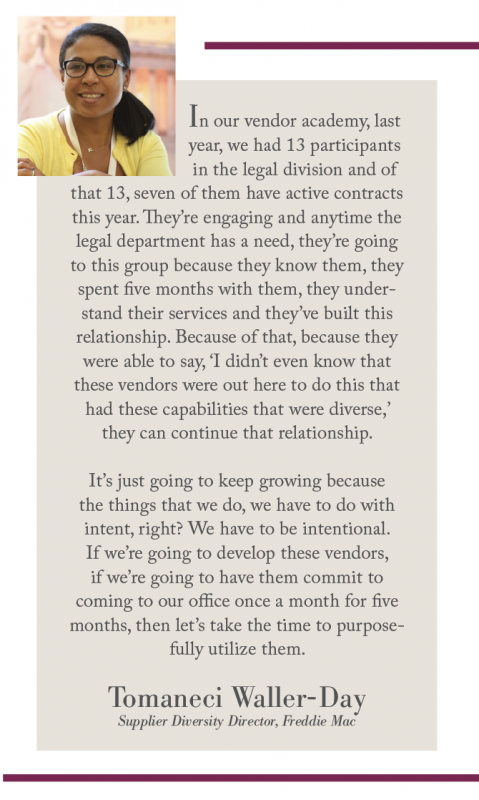 Asar described the CFPB Ombudsman's Office as an independent, impartial and confidential resource for the public assisting with process issues. She accentuated the importance of protecting your brand and reputation as an entrepreneur and detailed how she began her career in intellectual property where she received a great look at and understanding of business owners and consumers.
Asar addressed the Alternative Dispute Resolution (ADR), which assists in resolving problems prior to litigation before they enter a formal process. She told the audience that they're happy to offer as much assistance as they can. The CFPB Ombudsman's Office wants to make the CFPB more accessible, and they encourage business owners to reach out with their questions and issues. As Asar explained, ombudsman is a Swedish term that refers to an individual who can advocate for the public; the office is impartial and advocates for fairness. The consumer complaint process is a valuable resource for business owners.
Philip D. Lovas outlined that the Office of Advocacy deals with research, regulations and business data, reporting to the government and SBA on the public's input on these matters. The Office of Advocacy overlooks the effect of regulations on small business owners, making sure that the rules being written do not negatively impact small businesses. Lovas clarified that they focus on macro issues, while other offices deal with particular problems.
Lovas described the Office of Advocacy's role, describing that they send information to agencies and host regulatory roundtables to collect data, making a concerted effort to have the right people in the room at these meetings in order to be responsive to issues they hear from the public and business owners.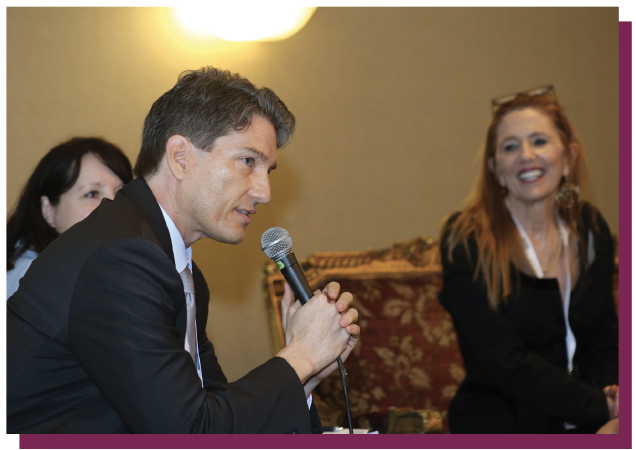 Lovas reminded attendees that there is strength in numbers, using the Asian American Hotel Owners Association (AAHOA)—which was very small when they started 15 years ago and are now a powerhouse, including on Capitol Hill—as an example. He stated that it is possible and very important for NAWRB and similar organizations to have this effect.
Regarding the topic of response timeframe when contacted with an issue or complaint, Sharon Asar replied that they aim to response as quickly as possible within a few business days. Philip D. Lovas gave a similar answer, specifying that timeframe pertains to the particular issue or regulation. These offices are helpful resources to small business owners facing difficulties in the marketplace.
The NAWRB Diversity and Inclusion Leadership Council (NDILC) Member Power Luncheon featured our panel of C-suite and executive women: Tami Bonnell, CEO, EXIT Realty; Cheryl Travis-Johnson, COO, VRM Mortgage Services; Toni Moss, CEO, AmeriCatalyst LLC; Stacey Walker, Director, Housing Outreach Affordable Lending and Access to Credit Single Family Business, Freddie Mac; and Desirée Patno, President & CEO, NAWRB, as they shared their insights on the status of C-suite women, personal development and connecting millennials to the housing ecosystem.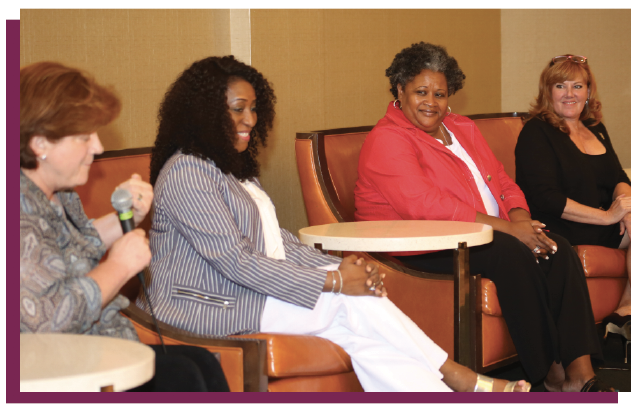 Moderator Vanessa Montañez, Business Consultant, former VP, Mortgage Business Development Manager, East West Bank, initiated the discussion by asking the panel how they were working to increase the landscape of C-suite women.
Tami Bonnell emphasized the importance of increasing women's representation in executive boards, and the representation of the various, unique cultures that every individual represents. Toni Moss added that we need to make sure to include women of color in our dialogue. Beyond gender and race, Cheryl Travis-Johnson suggests we pay attention to age as well, specifically the inclusion of millennials into the industry.
In her work of educating people on home buying and homeownership, Stacey Walker stated that 80 percent of those who come to her for information are women. Women often take the lead in decisions about home buying, and they are encouraged by talking to women who are as diverse as they are. Diversity plays an important role not only in business production but also in outreach.
To increase the number of executive women, the panel emphasized the importance of mentorship and encouraging women at middle management, a stage where women's careers often meet a roadblock before reaching the C-suite.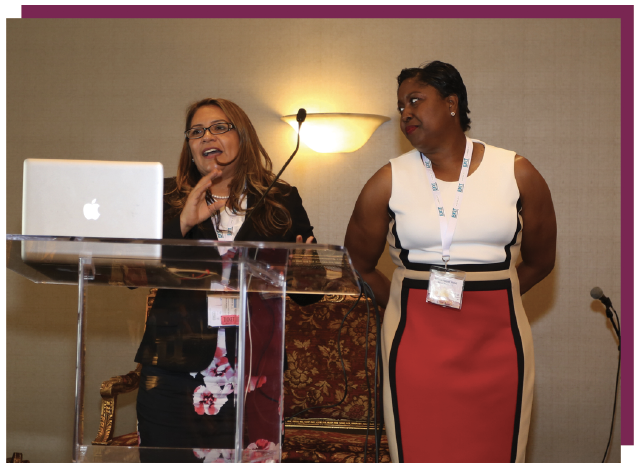 The panel gave attendees tips on how to ensure their personal development, from always being a student to taking responsibility for your education and setting personal goals. The luncheon concluded with an honest dialogue about self-confidence. Our panel shared that a woman can work on her confidence by deciding to be a role model for others and embracing humility. Thank you to these inspirational women for sharing their words of wisdom and empowering other women at the NAWRB Nexus Conference.
Following our motivating luncheon, we had the honor of screening Monda Webb's award-winning short film, "Zoo (Volkerschau)," based on the last known human zoo in Brussels, Belgium at the World's Fair in 1958. Webb began by describing the process of making the film, of sacrificing things like her home in order to be able to complete the production and submit it to festivals. The phrase "passion project" doesn't even begin to cover her journey.
The moving film depicted the reality of human zoos, displaying both the points of view of the humans exhibited at these zoos as well as those who attended them, emphasizing the importance of history in mapping the future.
At the film's conclusion, NAWRB Washington, D.C. Government Relations Chairwoman & Rathell Enterprises CEO Silvia Rathell surprised Webb with a new top-of-the-line Apple computer, a gift that multiple members of NAWRB's community worked together to make possible. The gift will enable Webb to continue making films, telling stories and doing the important work to which she is dedicated. It was a truly powerful moment and display of women's collaboration to support one another. That's power!
Rathell followed by sharing her life story, relating how she came to the U.S. at age 14, attended school and eventually became a U.S. citizen. Rathell shared that her mother was in an abusive relationship and one day, at the request of her mother's partner, Rathell's mother told her and her siblings that they had to leave the house. This caused her family to separate and Rathell became homeless.
One night, Rathell was about to throw a brick through a car window to have somewhere warm to sleep, but she opted not to. She sees this as a pivotal point in her life that motivates her today; that was a fork in the road that would have changed everything. She was eventually raised in the foster care system, and she thanks her foster parents, her angels, who gave her unconditional love and the gift to be a normal teenager. Rathell is happy to be creating a sisterhood making a place at the table and providing a platform for women.
The session delivered the power of women leaders, their versatility, and the importance of supporting one another. This is what the women's movement needs and what the NAWRB Conference delivers.
Zeeda Daniele, Community Lending and Strategic Partnerships National Manager, New American Funding, moderated an engaging session, Women's Poverty and the Housing Ecosystem, with special guests Deborah Canady, Enterprise Partnership Manager, EarnUp; Silvia Rathell, NAWRB Washington, D.C. Government Relations Chairwoman and Rathell Enterprises CEO; and Sandra Speed, Regional Diverse Segments Manager, Wells Fargo.
Daniele began by questioning what the greatest resource that can help women and their families out of poverty is. Sandra Speed mentioned that education was her greatest motivator, adding that with education, women can earn degrees that can help them attain high-paying jobs and greater opportunities. To restate, "Education," Sandra Speed said, "is the greatest gift you can help someone with."
Silva Rathell agreed that women's education is an incredible stepping stone out of poverty, as educated women can have a positive effect on their families and community. Explaining this rippling effect, she said, "You give a woman something and she magnifies it times a thousand."
Deborah Canady noted that women often make great sacrifices in order to break free from "generational curses" to create a better life for themselves and their children. However, women need to make sure the sacrifices they make do not prevent them from following their goals. For these women who feel their goals are not achievable, Daniele reiterated the importance of having someone who encourages them to do the "impossible." If women can put their mind to something, they can achieve it.
Daniele also asked the panelists how we can be a voice to women who are dealing with rising food costs and expensive child care. All of the women shared how they instilled their family, loved ones and community with the knowledge to take control of their financial situation and grow their wealth. Financial literacy education can have a profound effect on women's lives. Rathell shared how she taught her younger sister to save money to buy a house. Today, her sister is on her way to buying her third home. In her payment process company, EarnUp, Canady helps people become disciplined in growing their savings, thereby increasing their financial independence.
The greatest way we can help women in poverty is to instill hope that they can change their current circumstances. In answering the question of a quality that binds women who leave poverty, the panelists emphasized the willingness to get ahead and fearlessness. Rathell explained that women who act to improve their future, and overcome excuses that are driven by fear, have the power to change their lives. As Daniele says, your motivation will always be greater than your fear.
The panelists agreed that we can support women in overcoming their fears by sharing our knowledge and telling them our stories. By doing so, we are providing role models to look up to and emulate. The session provided great insight on how we can improve the lives of women and children in America. The greatest takeaway, given by Daniele, is to "use your strengths and faiths to benefit others."
NAWRB finished the last session of the day before the 2017 Roaring Thirty Awards Gala, Women's Homeownership: Fastest-Growing Segment, by communicating the value of women as a formidable emerging home buying market and providing personal accounts from women who turned their homeownership dreams into reality.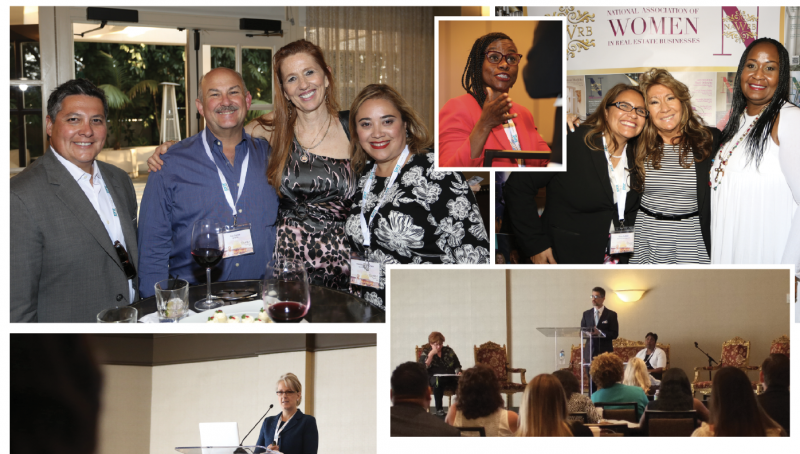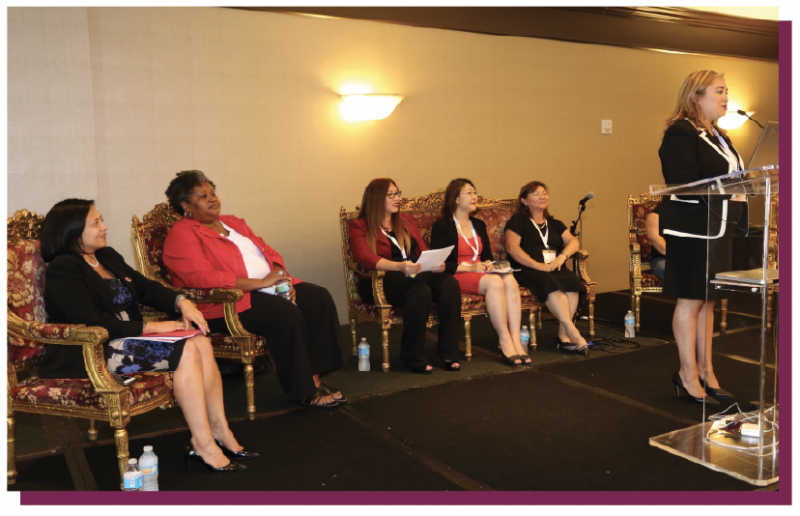 Speakers Vanessa Montañez, Business Consultant, former VP, Mortgage Business Development Manager, East West Bank; Stacey Walker, Director, Housing Outreach, Affordable Lending, Access to Credit Single Family Business, Freddie Mac; Helen O'Sullivan, President & CEO, NeighborWorks Orange County; Hyepin Im, Founder, FACE/KCCD; Alicia Lopez, Branch Manager, Wells Fargo; and Hope Atuel Executive Director, AREAA ended the first day of sessions with a bang.
Helen O'Sullivan provided history, describing that when she began her career, homeownership forms were all structured under the assumption that the buyers were a husband and a wife. As the industry has developed, it has grown to recognize that there are other buyer demographics. The housing ecosystem must continue recognizing these buyers and empowering them on their homeownership journey. O'Sullivan went on to relate the story of the Reyes family, which was impacted by a divorce in the family. Melanie Reyes and her three children utilized NeighborWorks Orange County as a resource to make sound financial decisions and eventually transition into homeownership.
Monique Ruelas followed by sharing her own experience with NeighborWorks Orange County. Owning a home became a reality for Ruelas after she went through a divorce and was encouraged to attend a NeighborWorks Orange County class where she enrolled in a 10-month program that ended with her purchasing a home. She told attendees to make sound financial decisions, reminding them that you don't need 18 pairs of shoes or purses. She encouraged women to give up what they do not need and budget in order to save money.
Ruelas truly envisioned becoming a homeowner after the NeighborWorks course; they walked her through the entire process and she was able to learn about topics she didn't have knowledge about before. The homeownership process empowered her entire family, and she was able to help her daughter Emily buy her first home age 23.
O'Sullivan shared that it wasn't until last year that she was prompted to think about women's homeownership. She is very proud that 74 of NeighborWorks Orange County's homebuyers in the last year were women, and most of them were single mothers.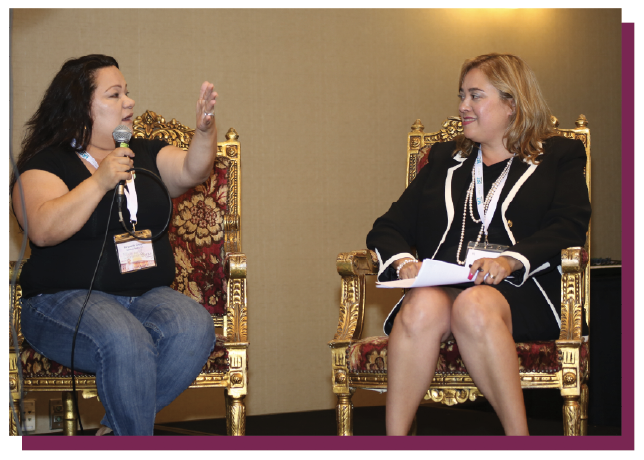 Hyepin Im stated that she focuses mostly on people of color, but that one of her company's first success stories was that of a mother whose diligence and perseverance allowed her to buy a home and propel her life, eventually becoming a successful business owner as well. Im had a similar example set by her own mother, and she eventually bought a home with her mother's assistance after completing her MBA.
Stacey Walker mentioned HMDA data which reveals that an increasing number of older women are increasing in buying activity. Walker pinpointed that many agents provide home buying education, and a large percent of the buyers seeking these resources are women searching to solidify their accomplishments and create better lives for themselves and their families.
Alicia Lopez confirmed that women want independence and want to be empowered through homeownership, emphasizing that it's all about education and spreading awareness, especially among the young generation. She tasked attendees with educating their children on financial literacy, sharing that she was taught to buy a home before buying a car. Lopez encapsulated the truth that education isn't only for consumers; it's for professionals as well. The industry must be able to provide answers to consumers who do not currently qualify to buy a home. Real estate professionals must be the solution to the problem, Lopez emphasized. If professionals do not have the right knowledge, they are not doing their job.
Hope Attuel spoke on Asian women who are coming to the U.S. to work, and the fact that their median income is high at a little over $100,000. As these women progress, they will achieve homeownership and capitalize on its benefits. Attuel believes women, not just those of the AAPI population, hold tremendous value to the industry and encourages professionals to reach out to this market by leveraging the business tools at their disposal.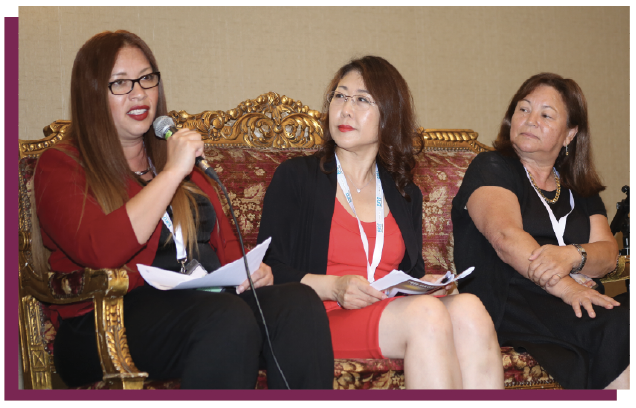 Homeownership is an invaluable contributor to generational growth. The stability owning a home provides for a family carries through generations, contributing to healthier, more successful children who transport its impact into the future.
With these incredible stories and resources, our speakers communicated the impact of homeownership on the lives of women. We encourage all women to believe in their ability to become homeowners and utilize the tools available to transform their dreams into reality.
We ended day two of the conference in style with the NAWRB Roaring Thirty Awards Gala, honoring women leaders in the housing ecosystem making a difference for women. With the theme "Who is Your Female Hero?" the gala paid respect to trailblazing women of the past whose work and bravery paved the way for us.
Our lovely live jazz band provided the soundtrack for the night as attendees mingled, danced, took advantage of our women's snapshot gallery and celebrated one another. From CEOs to advocates, 30-year veterans and up-and-coming entrepreneurs, NAWRB highlighted today's incredible women who walk the walk.
Toni Moss, CEO, AmeriCatalyst, LLC, delivered a captivating day three Keynote Address on the current state of global economics and how globalization will affect our future.
Moss started her presentation by sharing her experience working in the Netherlands, her part in designing the world's first electronic mortgage origination system, and her company's culture and ethos. AmeriCatalyst, Moss explains, stands on five pillars: Content, Context, Community, Communication and Convergence.
Content means knowing your subject, finding the right information, learning to educate yourself and synthesizing your content into something unique. Context, the second pillar, is the background for your content. As Moss explains, "Ideas have no power without context." She says that it pays to know the appropriate context in which you can show your relevance and share your knowledge.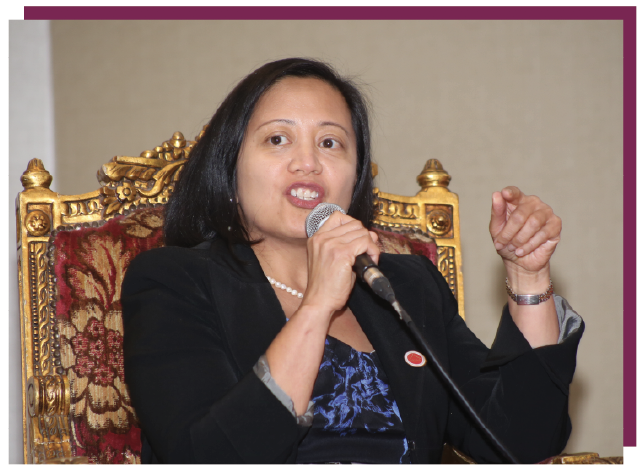 The third pillar, community, precedes commerce. Moss notes that it is important to get to know who you are working with because personal connection helps drive good business. Moss stated that she strives to facilitate communication, the fourth pillar. Starting a dialogue with people can help a convergence of information. With convergence, the fifth and final pillar, individuals can determine the trajectory of upcoming trends.
When speaking on change, Moss stated that "the greatest change is the pace of change," and the catalyst of this change of pace is globalization. Globalization, which includes technology and mass communication, "magnifies and accelerates," according to Moss. Moreover, due to globalization, the world has become inextricably linked.
While globalization has the benefit of connecting the world, it will also present "the biggest challenge of our lives." Moss shared that the world is currently experiencing a "slow-motion economic crisis" and that the economy has only "grown in fits" since the 2008 economic crash. Some of the important issues that Moss believes need to be addressed are job obsolescence, income inequality, off-sourcing, loss of household mobility and savings.
Speaking on job obsolescence, Moss is concerned about the growth of artificial intelligence, which she calls the most profound technological shift since the Industrial Revolution. Moss's discussion sparks an important discussion that needs to be had on the status of our economy, where it's headed, and how we can prepare for an accelerated pace of change.
Following her keynote, Toni Moss was joined by Logan Mohtashami, Senior Lending Manager, AMC Lending Group & Housing Data Analyst, to provide economic forecasts and abundant food for thought on the future of homeownership and professional growth in the American economy.
Mohtashami mentioned that demographics is the single most important thing to economics, and something in which America will have an advantage over the rest of the world. He identified our current longest job expansion of 81 months and mentioned that soon we will have the longest economic expansion in history, asserting that the future for America will be better than for the rest of the world.
Millennials are the biggest buyers of homes in America and the world. Americans are getting married later and having children later. Mohtashami forecasts that in the years 2020-2024, homeownership will pick up as millennials have children, albeit it later than previous generations.
The demographics for housing will start to get better not worse, he predicts. The income brackets in this country cater to the educated class, and Mohtashami stated that if you're not educated or trained, you will most likely not become a homeowner in the future.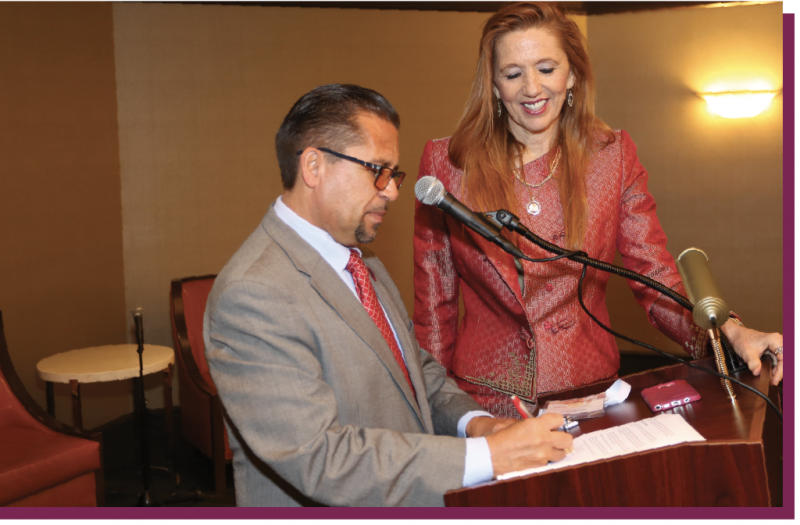 More than 33 percent of all Americans have a college education, 70 percent of student loan debt is under $14,000 dollars, less than 3 percent of student loan debt is over $100,000 and 30 percent of all student loan debts are held by college dropouts. Mohtashami pointed out that this last group is the most troubled that doesn't receive a lot of discussion, but even their debt is manageable.
As this debt is handled, millennials enter life milestones and educational attainment leads to capable wages, from 2020-2024 there will be housing demand that leads to construction, Mohtashami affirmed. Responding to attendees' concerns about the future of homeownership and professional growth, Mohtashami discussed how the U.S. has had recent job openings of around 6 million, bigger than some European countries' entire populations. Mohtashami stated that he isn't most worried about the shortage of jobs, including as a result of automation and robotics, he's preoccupied with the replacement of jobs as the older generation leaves the workforce.
He accentuated his point by reminding audience members that the U.S. is the only country in the world that has a growing prime age labor force, forecasting that these Americans will enter homeownership and impact the housing ecosystem. Mohtashami believes the best is yet to come.
Moss took a moment to mention that she holds views that contradict Mohtashami's and reiterated the thought-provoking characteristic of having significantly different interpretations of the same or similar data.
Abutting Moss's incredible keynote, Mohtashami offered a distinct analysis of current housing ecosystem conditions. The power delivered by showcasing these two points of view displayed the intricacies in the industry and the diverse possibilities for its future.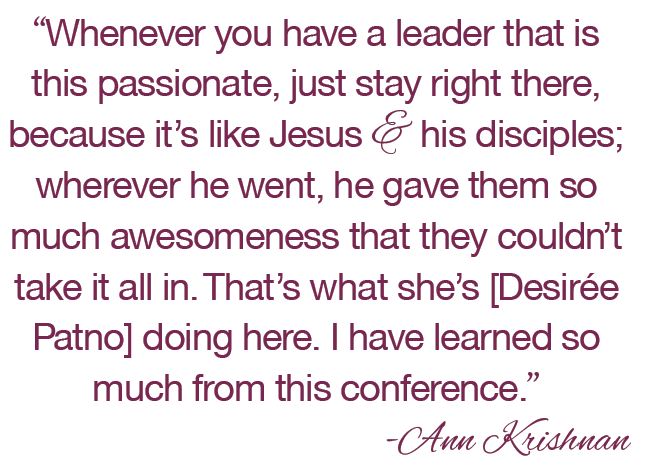 In our third session of the day, Toni Moss moderated a discussion on the economic forecast for women in the housing ecosystem with special guests Marcia Davies, COO of the Mortgage Bankers Association (MBA), and Tami Bonnell, CEO of EXIT Realty.
Although she supports the advancement of women into the C-suite, Davies began by making a nuanced point: "Not having the highest title doesn't mean we haven't gotten to the top." Everyone has their own definition of success; your peak may not necessarily be another's peak.
On the topic of ongoing changes to Dodd-Frank, Davies noted that revisions will hopefully bring clarity to rules that gave the industry some uncertainty. Regarding the main issue for the GSEs—the reform to take them out of conservatorship—Davies believes it will be a legislative process.
Next to take the microphone was Tami Bonnell, who shared her thoughts on the future of real estate. The industry, she said, goes through cycles all the time, but she does not believe it will be taken over by technological processes. Purchasing one's primary residence is an important, emotional decision, and consumers seek help from agents with firsthand experience who will help them through this process.
Bonnell enlightened the audience with her unique business model for EXIT Realty which has four components:
1. With a focus on the "business of real estate," they find out what is working today and what consumers are most responsive to;
2. They help form exit strategies for not only consumers but for agents, realtors, brokers and more;
3. They give everyone an opportunity for a vested interest in the company, which leads to better company performance;
4. EXIT Realty has a built-in mentoring and retirement program for its employees.
To conclude the session, both Davies and Bonnell offered advice for women looking to find success in the industry. Davies suggested that you expand your knowledge base by seeking new experiences. By doing so, you will expand your horizons and opportunities. Bonnell advised that you have accurate knowledge from a national, state and street level; consider getting an investor designation; and find your niche where you can fill a need. Areas to focus on include investment, international markets and senior business.
Desirée Patno, NAWRB CEO & President, next moderated Small Business Sustainability Care Package with panelists Michelle Hollis, Director, 6th Street Consulting; Laura Hartsgrove Baker, Sales Director, Herbert H. Landy Insurance Agency; and John Moon, District Manager, Community Development, Federal Reserve Bank of San Francisco giving their unique insights into select pillars from NAWRB's Small Business Sustainability Care Package, including cybersecurity, insurance with crime prevention and employee dishonesty riders and payroll assistance.
Cybersecurity
Michelle Hollis started the conversation of cybersecurity, sharing that consumers and small businesses can protect their resources and data by utilizing their common sense. She recommends that you have security on your phone when using applications and social media, and installing a mail encryption on your business emails.
Taking these simple measures will protect data from being pulled from your phone without your knowledge and keep your information confidential.
Insurance with Crime Prevention and Employee
Dishonesty Riders
Laura Hartsgrove Baker shared her knowledge of various insurance options available to small businesses, from general professional liability to crime prevention measures. She explained that instances of employee dishonesty are linked to cybersecurity because they involve a data breach. She advised that small business owners consult an insurance agent who can help them have sufficient coverage for their needs. If your local agent is not well-versed in policies such as crime prevention, then ask them to find the information you need. It is important to remember that there are many resources available to you.
State of Small Business and Performance
John Moon shared data on the current status of small businesses in the United States. The Federal Reserve Bank sets interest rates for monetary policy and oversees financial institutions. Moon reminded the audience that small businesses are the backbone of the economy, which is why we should help them be sustainable.
Moon described that small businesses performed weaker in 2016 than in the previous year, in terms of profitability, revenue change and employment change. Regarding small business risk, which looks specifically at profitability, low credit risk and uses of retained earnings, Moon stated that one in three small businesses is at risk; meanwhile, 30 percent are declared healthy.
Small business owners are statistically less successful when attempting to access to credit. The reasons that small businesses are denied access include weak business performance, insufficient collateral, low credit score, too much current debt and insufficient credit history. Many small businesses, about 87 percent, rely on personal credit for financing.
Despite these struggles, small businesses are optimistic about their future, and Moon shared resources and technical assistance at their disposal. These include non-bank lenders such as Community Development Financial Institutions (CDFIs), the U.S. Small Business Association (SBA) and other governmental sources.
Our Contracting Opportunities session continued with speakers Michael Aguillio, SB/DVBE Liaison, Procurement Division, Certification and Outreach, State of California, Department of General Services (DGS); Ann Krishnan, Vice President and Senior Partner, CAK International, LLC; and Pamela Smith-Cressel, Director, Office of Small Business Utilization, U.S. General Services Administration (GSA).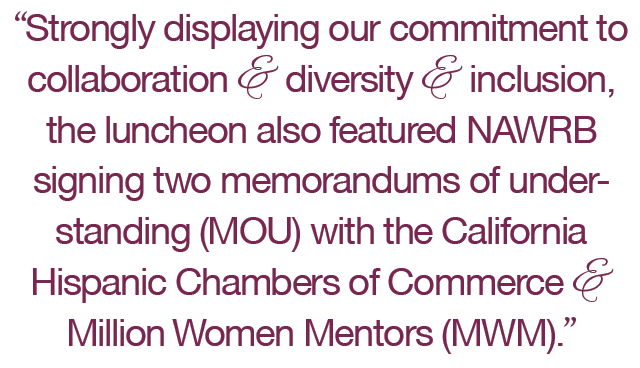 Communicating the value and potential of government contracting for women-owned and small businesses, our expert speakers detailed current opportunities, from relocation services to teaming agreements, and outlined the process of securing contracts. Aguillio encapsulated the value of hearing directly from experts with direct experience, "Another benefit is to have opportunities to hear panel members who have already gone through some of the things, trials and tribulations that they have, and share their knowledge on how to minimize any negative impact on their businesses by sharing the information that they have to help them move forward."
Ann Krishnan, winner of a Governmentwide Acquisition Contract (GWAC) worth $10 billion, had some kinds words about our CEO and President Desirée Patno, "Whenever you have a leader that is this passionate, just stay right there, because it's like Jesus and his disciples; wherever he went, he gave them so much awesomeness that they couldn't take it all in. That's what she's doing here. I have learned so much from this conference."
Pamela Smith-Cressel expounded on the possibilities of working with the U.S. General Services Administration (GSA), delineating the importance of visiting their website to learn how you can get involved and having your documents and applications in order. Aguillio echoed the advice to visit entities' website in order to discover the latest and greatest for your business, accentuating the tremendous effect that working with the government can have on a small business.
In our second power luncheon, Marcia Davies, MBA COO, moderated an inspirational discussion centered on women's collaboration with Lynn Bunim, Director, Membership & Special Products, Women Impacting Public Policy (WIPP); Lorena Fimbres, VP & Chief Business Development Officer, StemConnector/Million Women Mentors; Valerie Torelli, Torelli Realty, CEO & Board Member, Women's President Organization (WPO); Desirée Patno, Enterprising Women Leadership Advisory Board & CEO and President of NAWRB; and Loreen Gilbert, President, WealthWise Financial Services & National Board Member, National Association of Women Business Owners (NAWBO).
These phenomenal leaders were motivated to advocate on behalf of women by personal experiences of gender disparity. Marcia Davies shared that she was inspired to give other women opportunities she did not have during her career.
In a dialogue on how we can ensure that women achieve a seat at the table, the panel each presented their unique perspectives. All of the speakers agreed on the importance of providing a support system for women in the industry, from creating mentorship opportunities to utilizing personal relationships. It is important for women to support one another as allies instead of as competitors.
To help one another and form personal connections, women have to make themselves vulnerable and open. As Lorena Fimbres explained, we tend to hide our weaknesses from others when they can be our points of connection.
Another important theme was the power of groups. Any woman is strong, but women are stronger together. Lynn Bunim stated that there is a power in numbers beyond just one-on-one relationships. A large support system can help provide women with knowledge of available resources and a wide range of opportunities. Moreover, a group of women can extend their outreach in terms of advocacy.
Setbacks are inevitable, but these women continue to be motivated and engaged in their work towards increasing diversity and inclusion in the housing ecosystem. For example, Desirée Patno remains motivated by seeing other women who are enthusiastic to collaborate on projects; Lorena Fimbres keeps herself updated on recent data that reminds her of the work that needs to be done; and Loreen Gilbert is driven to help women across the world who do not have the same opportunities as women in the United States.
Lynn Bunim reminded us that persistence and collaboration are key to making a difference, which is why it is important to persevere despite setbacks. Bunim's mantra to follow is, "She who stays at the table the longest reaches success." The collaboration taking place at the NAWRB Nexus Conference was incredible to witness. Thank you to these exceptional women for being an incredible source of information for our attendees and the future women in housing.
Strongly displaying our commitment to collaboration and diversity and inclusion, the luncheon also featured NAWRB signing two memorandums of understanding (MOU) with the California Hispanic Chambers of Commerce and Million Women Mentors® (MWM).
"Our MOU partners are valuable contributors to and supporters of NAWRB's mission," stated Desirée Patno, NAWRB CEO and President. "By increasing collaboration on an inter-industry scale in the housing ecosystem, we are expanding our network, bringing more awareness and strengthening the diversity and inclusion movement. Together we can take decisive action, share best practices and resources, and create true change for the women's economic growth."
"We're going to work together for one cause," said Frank Montes, Chairman of the Board of the California Hispanic Chambers of Commerce, "and that cause is to bring our community up. Homeownership is key to any small business owner. We need to make sure that they feel secure and have a piece of the American dream. That American dream here in California has doubled and tripled in cost, so we need more affordable housing."
"I think professional development is a key feature for how we see we can empower and reach more women to be successful in their careers," stated Lorena S. Fimbres. "Million Women Mentors believes in the importance of role models and through organizations like NAWRB, we can truly expand our circle of influence which means we expand the number of women that we can reach and support in being very successful. Not only those that are NAWRB Members, but all of the organizations that are somehow related to your members. Again, if you think about the depth and breadth of what we can do by partnering, the success of Million Women Mentors has really been in connecting key organizations that represent successful women and that ultimately collaborate to build synergistic responsibilities."
Small Business, Certifications, Access to Capital, New Programs informed attendees on the process of structuring and growing a business while utilizing your resources with speakers Sylvia Gutierrez, Economic Development Specialist and Women's Business Outreach Representative, SBA; Gloria Gomez Business Opportunity Specialist, 8(a) Business Development Program, SBA Santa Ana District Office; and Marlene Nantell, Director of MBE Services and Community Outreach, Southern California Minority Supplier Development Council (SCMSDC).
"I have been in the field of doing outreach to women business owners, and business owners in general, for many years," stated Gutierrez about the value of attending industry events. "My experience is that they need to slow down a little bit and take time to go to a conference. There is no shortcut to being at a conference because it puts you in front of many people and it also gives you incredibly valuable information that you would need three months of college to learn. Education is power. Education takes you to the next level."
Resources like the SBA and SCMSDC can strengthen your business foundation with knowledge, connections and opportunities. In fact, the Women-Owned Small Business (WOSB) Program presently awards $19.67 billion in federal small business contracts to women-owned small businesses, and the SBA achieved its 23 percent small business procurement goal for the third year in a row, awarding 24.34 percent ($99.96 billion) of federal contracts to small businesses. All women entrepreneurs and professionals must remember is that they are not alone, and seeking assistance is a precious recourse when you've encountered a roadblock.
The NAWRB Nexus Conference's Matchmaking Roundtables allowed attendees to sit down face-to-face with supplier chains and clients specifically searching for women-owned and small businesses. Featuring companies and organizations like the FDIC, VRM Mortgage Services, Freddie Mac and DGS, matchmaking showcased the value of developing longstanding relationships.
About the possibility of establishing potential business avenues, Sam Tucci, Vice President, Business Operations, U.S. Best Repair Service, Inc., said, "One of the benefits, other than just the content and meeting people, is that we have been able to drum up some business from here, which is nice. We offer our value and have gotten in front of people who are decision-makers… I'm looking forward to some business."
Tomaneci A. Waller-Day, Supplier Diversity Director, Freddie Mac, provided insight on the matchmaking process, "If anything, it's about our sourcing needs matching with the vendors and then the vendors taking the time to develop their understanding of the corporations. Freddiemac.com/supplier allows you to have some direct information about our supplier diversity program, how to get registered within our group, how to contact my office, as well as to really understand some of the initiatives that we're doing in the secondary mortgage market."
Day three came to an end as we brought attendees to the table and connected them to potentially-decisive business prospects. When it comes to leveraging your business network, you never know until you ask; what better time to ask than when the agencies offering contracts are in the room?
The final day of the NAWRB Nexus Conference was dedicated to the NAWRB Certified Delegate Spokeswoman Program. NAWRB Delegate Spokeswomen are local experts strengthening and expanding a national platform for women's economic growth. "We have been working hard to stabilize the seas in the advancement of gender equality, to work smarter and bring women's issues to the forefront with accountability and results," stated Desirée Patno. "As our spokeswomen give back and mentor other women, they are paving the way for future generations to succeed."
With three NAWRB Certified Delegate Spokeswomen as speakers—Rosalind Booker, Principal Broker/Owner, Arbrook Realty; Vanessa Montañez, Business Consultant, former VP, Mortgage Business Development Manager, East West Bank; and Silvia Rathell, NAWRB Washington, D.C. Government Relations Chairwoman and Rathell Enterprises CEO—we conducted a comprehensive day of NAWRB Certified Delegate Training culminating with our Certified Delegate Test requiring a 100 percent passing score.

We are proud to announce Esther Ayuk, MPH, R.Ph, Managing Broker, Bess Realty Professionals and Maria Zendejas, CEO/Realtor, Realty World Golden Era as new Certified Delegate Spokeswomen!
"Becoming a NAWRB Certified Delegate Spokeswoman unites me with women who are pursuing their business goals and creating a stronger united voice to help one another succeed," stated Maria Zendejas.
"I decided to become a Certified Delegate Spokeswoman because NAWRB offers a unique platform for me to speak on women's issues with authority and steadfastness, as well as the opportunity to interface with major industry players and decision makers," Esther Ayuk said. "Education, empowerment, and economic development of women are important cornerstones I believe in. I have witnessed firsthand what it means to be relegated because of gender.
Executive women interested in making a difference in their community utilizing a national platform can email info@www.nawrb.com to learn more about our upcoming training events.
The 2017 NAWRB Nexus Conference: Women's Collaboration for the Future was tremendous. NAWRB's expert panelists, with over 40 C-suite, Sr. Executive and Government speakers from numerous industries, delivered actionable solutions and displayed selflessness in sharing their invaluable wisdom to help others succeed.
The networking opportunities sparked many promising relationships, especially during our Matchmaking Roundtables connecting attendees to supplier chains and clients. NAWRB exemplified our dedication to industry collaboration through the signing of two MOU's helping grow our web of influencers to drive the success of diversity and inclusion.

The conference also featured the release of NAWRB's inaugural Women in Housing Ecosystem Report (WHER), which provides expert data analysis of women entrepreneurs' successes and obstacles across the various industries in the housing ecosystem, addressing the ramifications of workplace gender imbalances on women's homeownership.
The report examines the status of women's economic growth in the housing ecosystem, evaluating the connection between women's underrepresentation in senior executive positions, lack of homeownership and poverty. It illustrates the pervasive manner in which these factors intertwine in hindering women's progress and highlights the power of homeownership as a sanctuary cementing women's economic foundation and professional success.
One of the most poignant statements at the conference came from Silvia Rathell, "I've been in D.C. for almost 11 years and sometimes I see these women speaking on specific panels, but they're never together in one place like they are here."
Thank you to all the amazing speakers, strategic partners, NDILC, NAWRB Committees, boards, staff, vendors and attendees who have given selflessly of their incredibly valuable time, commitment and resources not only for the conference but throughout the years.
NAWRB is the Women's and Small Business Validator: Collaboration, Influence, Access and Opportunities. Entities and individuals interested in partnering with NAWRB can contact the organization at info@NAWRB.com or visit
www.NAWRB.com/partnership.