The real estate industry can be difficult to navigate for new agents. The success rate is not very high with about 90 percent of agents failing in their first five years. That means nine out of every 10 new agents can expect to fail in the industry. A part of being a successful real estate agent simply comes down to luck, and no one can control for that, but there are some strategies newcomers can use to increase their chances of making a long-lasting career in this exciting and ever-changing industry. 
With three decades of experience leaving my mark in diverse real estate sectors, selling over 6,000 properties, providing relocation services for major Fortune 100 companies, and connecting entrepreneurs to billions of dollars in business resources, Desirée Patno, CEO & President of NAWRB, shares a few pieces of advice she would give her younger self about thriving in the real estate and housing ecosystem. Below are the top three tips she thinks any nascent real estate agent would benefit from knowing to help them fulfill their potential and guarantee their place among the successful 10 percent. 
1. Educate Yourself & Never Think You Know Everything
Real estate is more complicated than a glamorous sales job, and it's helpful to educate yourself—or better yet, earn a four-year college degree—in other fields, including business economics, construction, finance and law. Each of these topics are relevant to selling and buying a property, so it's pivotal to have foundational knowledge in each of these fields to help your job performance. 
In addition, it is useful to plan for disruptions that might arise in the industry, such as new laws and tax codes, novel technology developments and upcoming market trends. Technology can assist the industry in property management, application processing and data synthesizing so that agents and brokers can focus on connecting with clients and helping them with the emotional process of buying or selling a home. Find out how you can leverage these new developments now so that you can stay ahead of the competition.
Artificial Intelligence (AI) and Blockchain, for example, are emerging technologies that are impacting the way real estate businesses operate and interact with their customers and clients. AI can be a helpful tool that can make everyday tasks more efficient and provide assistance to clients at a moment's notice rather than a replacement for the agent themselves. It's important to remember that AI is not without flaws. Some worry that AI creators and users will include their own biases into new technology, causing more roadblocks and harm to minorities.
Innovators are working to make AI great at problem-solving, automatic processing, data collecting and so on, but being an agent or broker requires skills AI does not have: the expert advice of a professional who has worked in the field for over 20 years, the ethics to makes sure AI is used responsibly, the ability to listen and understand a client's needs, the intuition to know when a property is a good fit or deal, and the empathy to sympathize and provide moral support when homebuyers get cold feet or things don't go according to plan. 
Blockchain will make property data more secure and accessible to the public, and it will make transactions efficient and safe. This increases accessibility of data integral to home buying and selling, and ensures independent industries are held accountable for sound business practices. Blockchain will also drive an increase in smart contracts, which allows contracts, escrows, property records and more to be completed and financial transactions to occur without the need of title companies or attorneys. 
Forbes analysts predict that home buying and home selling might become as easy as using a shopping cart on a website. Blockchain has the capacity to ensure the homebuyer receives the deed or title, while the seller takes home the profit through cryptocurrency. Both AI and Blockchain are merely helpful tools for helping agents and brokerages serve their clients with the utmost care and efficiency.
An integral part of learning is always asking questions. When you are tasked with performing any task in the line of business, always ask why you are doing it. In doing so, you will understand the logic and purpose behind the things you do. As a result, you will develop a better grasp on the real estate business system in general and contribute your own insights on how to improve it.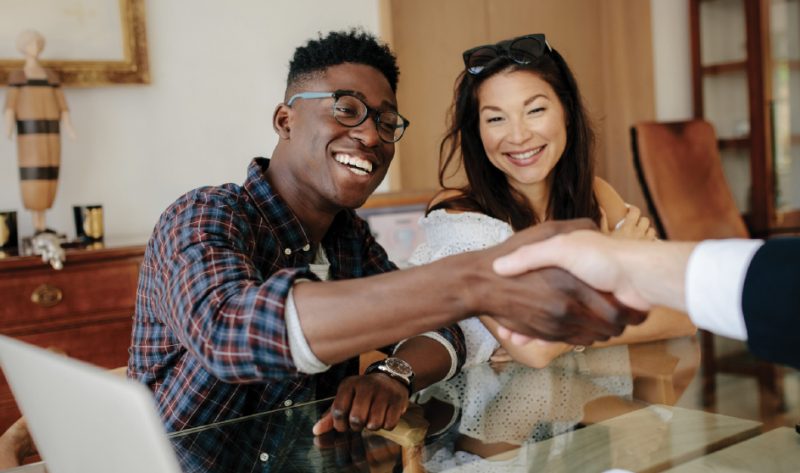 2. Act & Prepare as a Business Owner
You are not only a real estate agent but an entrepreneur who owns their own business. Real estate is a business of sorts, and it is important to act like a business owner to ensure your future success. In fact, 86 percent of real estate agents are independent contractors, according to the National Association of Realtors 2016 Member Profile, so the law and the Internal Revenue Service (IRS) consider you a business owner and you will be treated as such. You have sole responsibility for your business interests, but that does not mean you have to do it by yourself. 
Part of being a successful business owner is being a well-versed planner to juggle your multiple responsibilities as you are accountable for sales, expenses and marketing. Build a business plan and a great team that can help you carry out tasks and share in opportunities. You won't be able to do this alone, so make sure you have people you trust to carry your business when needed. 
Further educate yourself as a business owner and independent contractor by utilizing resources from the U.S. Small Business Administration (SBA) and the IRS. Women in the Housing & Real Estate Ecosystem (NAWRB) is proud to be one of only 11 of the SBA's Partner Resources for Women-Owned Small Businesses, and we provide countless resources and consulting services to help you achieve long-term success.
3. Passion and Social Impact Ensures Longevity
Real estate is more than just putting up a sign and selling a house; in other words, it's not just a glamorous sales job. A lot of the real estate business boils down to human interaction. You are dealing with someone's sanctuary, foundation and investment. To an individual or family, a home is a place of personal freedom, security and comfort in an impacting world, and a source of financial stability. 
Real estate agents are still an integral part of the home buying process as a dependable source of knowledge, advice and emotional support for clients during this important decision. Moreover, they have the invaluable tool of building relationships and empathy, which are pivotal to success in the industry. Agents are adept at handling hiccups in the buying process, such as when a client suffers a traumatic loss, loses their job or gets cold feet. As human beings, they can relate to these troubles and provide practical solutions. This is what no technology development can ever replace. 
There might be moments when things do not go as planned or you make a mistake, but don't worry because it is all part of the process. Nothing is ever perfect and you can't please everyone, so remember to acknowledge your strengths and weaknesses, and find out what makes you stand out among the crowd. In return, clients and peers will respect your authenticity. Longevity is endured by those who are passionate, care for others and their needs, and create social impact.
* See this Article and many more in it's original publication at https://issuu.com/nawrb/docs/nawrb_mag_vol9_issue1