Desirée Patno began seeing double this fall. After two months, the condition has only gotten more pronounced.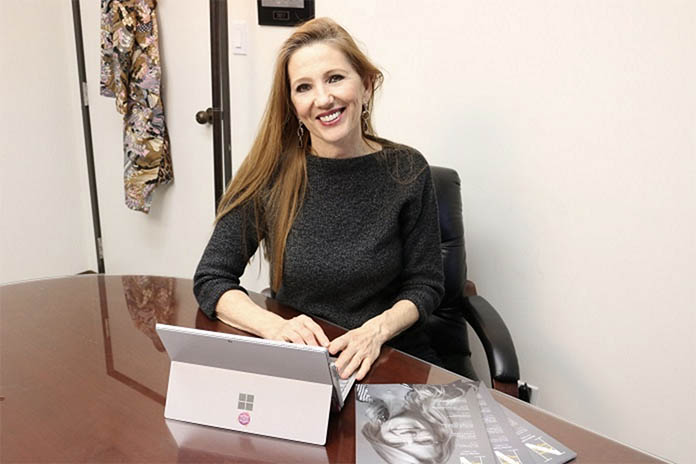 It began on the morning of October 30th. Patno remembers the date because she bought a Microsoft Surface Pro 4 tablet the night before. She was on a flight from Los Angeles to Austin, Texas and she was praising the machine, along with the service she'd gotten at the Microsoft Store, to her seatmate when the double vision started.
Her seatmate smiled and pulled out his own Surface Pro 4.

A day after returning to California, Patno met with her organization's attorney. They sat down at a local Panera Bread and Patno pulled out her Surface Pro 4 to take notes and bring up relevant data.
"Nice computer," her attorney said admiringly. Then he reached into his briefcase and withdrew his own Surface Pro 4. "I love the soft felt skin on your keyboard, that must be new," he added.
Now, Patno sees double almost everywhere she goes, but she's not complaining: "The Surface Pro 4 has to be the best purchase I've ever made," she says.
A keen sense of technology
Patno is well qualified to talk about the intersection of business and technology. The founder of the National Association of Women in Real Estate Businesses (NAWRB) and of Desirée Patno Enterprises, Inc. was named the 2016 Women in Business Champion of the Year by the U.S. Small Business Administration. On the technology side, this industrious 56-year-old isn't shy about saying she got her start as a punch-card reader (Millenials: ask your parents.). From there, she moved up through a variety of technology management positions, eventually applying technology to the real estate business, using CRM software to monitor and analyze hundreds of thousands of properties in a given market.
For years, Patno traveled with a traditional laptop. She relied on it during her frequent business travel, and connected it to three large-screen monitors when she was back in the office. But she had the typical complaints about the laptop: weight, short battery life, and insufficient screen resolution. She looked at MacBooks but didn't like the integration with business software and, anyway, didn't want to take the time to learn a new system.
Ready to go in 20 minutes
One evening, she showed up at her local Microsoft Store. It was 10 minutes before closing, hardly time in which to buy a computer. She fell in love with the svelte (2 pound) Surface Pro 4, its brilliant screen resolution, long battery life, stylus, 30-day money-back guarantee, and two-year warranty. But she needed her Office apps and thousands of emails loaded on the machine; so she assumed she'd have to come back. No problem, the sales associate told her—and had her Surface Pro 4 fully loaded and configured and ready to go just 20 minutes later.
On that trip to Washington, Patno zig-zagged among three Senate office buildings and three House office buildings to visit 45 politicians in just a few days. She used her Surface Pro 4 to navigate the routes, take notes and share content with politicians and their aides at each stop. "I couldn't imagine doing that with my laptop," she says. "I would have broken my back."
Boosts productivity up to 30 percent
Patno estimates that her Surface Pro 4 has boosted her productivity by 30 percent while she travels. She attributes that to a battery life of 11 hours that outlasts her phone and old laptop. to a size that fits in her purse so she can take it anywhere, and to the stylus, with which she can work even when a keyboard isn't appropriate. For her office, she bought a 34-inch monitor to connect to the Surface Pro 4. With the use of Office 365 and OneDrive, sharing files with staff, collegues and members, never has been better, according to Patno. "I didn't have to figure out how to use it, retrieve the file, or share the file," she says. "It was logical and became second nature. What a concept!"
So what does Patno like most about her new traveling companion? "The Surface Pro 4 is my 24-hour-a-day datacard," she says. "I take it everywhere and I can get at my data, or add to it, anywhere at any time. It's the best combination tablet and PC you can buy."
But, Patno concedes, the Surface Pro 4 isn't perfect. "I wish I had a waterproof case so I could use it to work on my clothing line or read a book while I'm relaxing in the tub," she says. "Then it would be perfect."