Small businesses are the backbone of the U.S. economy. With the jobs and services they provide, the 30 million small business owners in the U.S. keep the country moving forward one community at a time. However, with limited employees, depleted resources and unforgiving competition from larger companies, small businesses are often at risk of being forced to close their doors.
The resources for small business owners, like the Small Business Administration (SBA) and campaigns like Small Business Saturday, are important and incredibly useful. With the funding opportunities and awareness they provide, these outlets can mean the difference between increased revenues and a permanently closed sign. Soon small businesses will have one more valuable resource at their disposal.
On December 16, 2016, President Barack Obama signed HR 3784 or the SEC Small Business Advocate Act of 2016 into law. The act will create a new Office of the Advocate for Small Business Capital Formation within the U.S. Securities and Exchange Commission (SEC) tasked with pursuing the interests of and addressing the obstacles to small businesses.

Responsibilities of the Advocate for Small Business Capital Formation:
• assist small businesses and small business investors in resolving significant problems they may have with the SEC or with self-regulatory organizations;
• identify areas in which such businesses and investors would benefit from changes in SEC regulations or the rules of such organizations;
• identify problems that small businesses have with securing access to capital, including any unique challenges to minority-owned and women-owned small businesses;
• analyze the potential impact on such businesses and investors of proposed SEC regulations and proposed rules that are likely to have a significant economic impact on small businesses and small business capital formation;
• conduct outreach to such businesses and investors to solicit views on relevant capital formation issues;
• propose to the SEC changes in its regulations or orders, and propose to Congress legislative, administrative, or personnel changes, to mitigate problems identified and to promote the interests of such businesses and investors;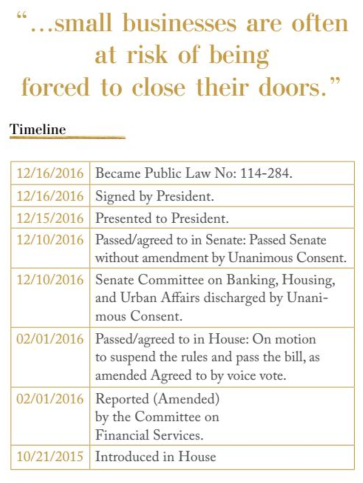 • consult with the Investor Advocate on such proposals and advise the Investor Advocate on small business-related issues;
• submit annual reports on its activities to specified congressional committees; and
• be responsible for planning, organizing, and executing the annual Government-Business Forum on Small Business Capital Formation.
The bill will also establish the Small Business Capital Formation Advisory Committee, responsible for providing the SEC "advice on SEC rules, regulations, and policies regarding its mission of protecting investors, maintaining fair, orderly, and efficient markets, and facilitating capital formation," in relation to:
• capital raising by emerging, privately held small businesses and publicly traded companies with less than $250 million in public market capitalization through securities offerings;
• trading in the securities of such businesses and companies; and
• public reporting and corporate governance requirements of such businesses and companies.
The SEC will review the committee's recommendations and publicize any courses of action associated with their advice.

What sets this bill and the office it establishes apart is apparent in the bullet points previously listed. Addressing unique challenges to minority-owned and women-owned businesses demonstrates an understanding to the especially disadvantaged business and capital conditions endured by minority and women entrepreneurs. That the office will analyze the potential impact of rules and regulations on small businesses and their investors depicts a proactive approach, situating the SEC to identify and address problems before they occur.
The outreach the SEC will conduct to these businesses will enable the agency to accurately understand issues because they will hear about them from actual business owners; this connection, between rule makers and the businesses affected, is crucial, and contributes to the prevention of misguided regulations.
The awareness this office will create and the consideration it will provide small, women-owned, and minority-owned businesses is fundamental to increasing their sustainability. We rely on small businesses to keep this country moving, by helping drive their success we are contributing to our own.