Former IBM Fellow, Master Inventor, VP, CTO Cognitive Services, IBM Services, Member of IBM Industry Academy & Academy of Technology
Dr. Chitra Dorai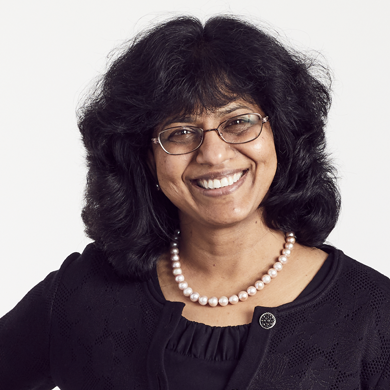 Dr. Chitra Dorai, a Former IBM Fellow and expert in AI and Cognitive Sciences, takes NAWRB along the journey of her life. A precocious child in Chennai, India, who dreamed of becoming a brain scientist, she traveled to the United States to realize her aspirations, ultimately earning IBM's highest honor and helping thousands of homeowners during the financial crisis. From her obsession with popular culture trivia to her experience being a mother, this influential woman is taking on the computer. 
---
NAWRB: Where did you grow up, and what was your childhood like?
Dr. Chitra Dorai: I grew up in a sunny South Indian city called Chennai, previously known as Madras, located on the south eastern coast of India. Chennai is one of the largest cosmopolitan cities in India and is well known as an economic, cultural, and educational hub in South India. In fact, it is often called the "Detroit" of India because many of the automobile manufacturers have their Indian operations there. It is also technology-centric. A lot of multinational companies, including IBM, have their IT service delivery centers in Chennai. At the same time, it is a city of contrasts. It continues to be traditional and conventional in certain ways, culturally-rich and conservative, compared to other major cities in India. It is famous for its soaring temples, luxurious silk, and centuries-old musical traditions.
Chennai's annual music festival, Madras Music Season, brings people around the globe who are into south Indian classical music and dance to the city to celebrate and enjoy performances of maestros to young artists. Chennai is also a food lovers' delight; there's a belief among Chennaites that serving food is providing service to the humanity and the city's cuisine lives up to it.
I grew up in a middle-class household that placed a premium on education and arts, so there was a strong focus on not only excelling in school, but also learning music and different languages. I was extremely fortunate to receive unstinting encouragement and support from my parents and teachers who nurtured my love of math and science. My mother in particular is a special role model – she was so good with numbers and had a strong work ethic of getting the job done, no matter what – I am incredibly lucky that I inherited these qualities.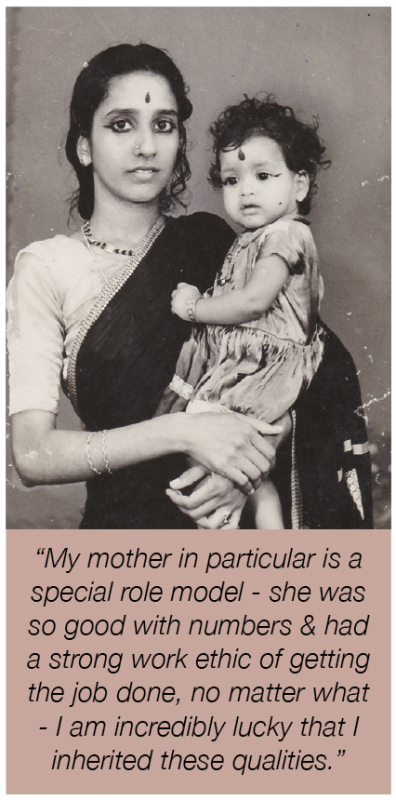 I was big into quiz contests during my school years, so I was always reading anything I can lay my hands on and learning new facts about anything, anywhere in the globe. That interest has remained as I love watching Jeopardy.
Another trait from childhood that has continued to date is to be unafraid to challenge or question the status quo.From early on, I was curious why certain things are the way they have always been. Why aren't enough girls enjoying and excelling in mathematics? Why do we have fewer women getting into engineering disciplines? How can we do something differently?
"Why not?" is a question I therefore tend to ask frequently. "Why" asks for a reason, rationale and cause, but it also puts people sometime in a difficult position having to explain, rather how it is now. I have found that asking "why not?" often leads to exploring alternate ideas and ways, creating more constructive partnerships to try to see the world differently and figure out different ways to make things better. This reframing has worked for me throughout the years in spurring new kinds of thinking and creating new inventions – many of the patents I have invented are simply a result of asking "Why not?"
NAWRB: What is something that people would be surprised to know about you?
Dr. Chitra Dorai: Given my background as a researcher and scientist, people may not think that I am into pop culture and how much I tend to know, but I'm big on it. I am such a reader of everything, and I want to know what is going on in social media, movies, music, politics, books and so on. If you drop a pop cultural reference in a conversation, I'll most likely know or if I don't know, I'll make sure to look up. I don't read only scientific articles and technical journals. I read everything I can get my hands on. When the late-night shows like Jimmy Fallon or Stephen Colbert drop cultural references, I pretty much know what they're talking about.
NAWRB: What are some of your favorite pastimes and hobbies?
Dr. Chitra Dorai: Travel. I love traveling to different parts of the world and really immersing myself in the local culture, getting to know the place, the environment and the people. I am fascinated by customs and traditions observed by people around the globe and understanding their commonalities and motivation about how they have sprung up in distant places in uncannily similar ways. Reading is another favorite go-to past time.
My hobbies have changed throughout various stages in my life. For a considerable amount of time I was completely into wooden furniture, as an example, while I was furnishing my home. Different kinds of wood, their look and feel, which are the great furniture-manufacturing companies, furniture styles, etc. — I pick up sudden interest in subjects like that. I also like exploring and appreciating new music.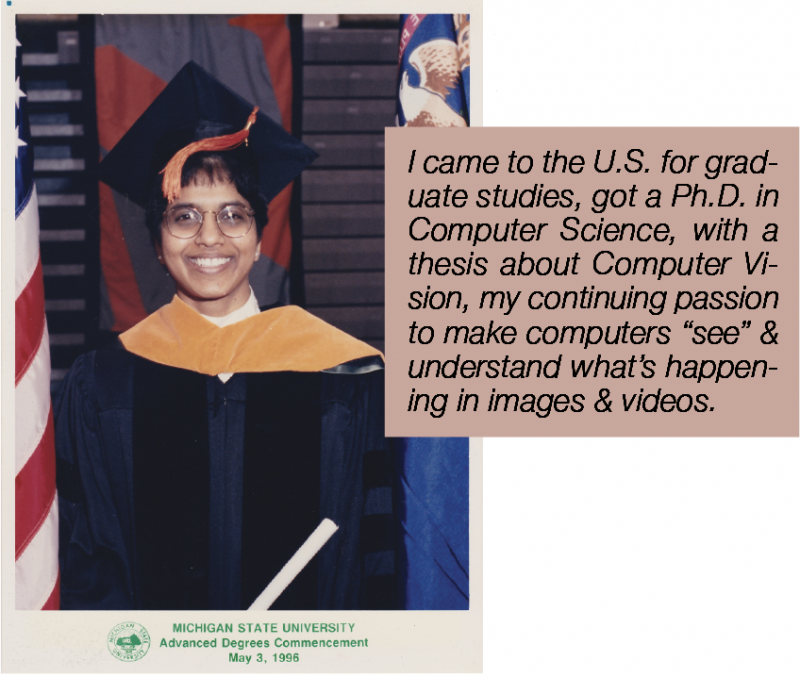 NAWRB: What inspired your interest in technology, especially in computer science and artificial intelligence (AI)?
Dr. Chitra Dorai: By age 10, I knew I wanted to become a neurosurgeon, a brain scientist. Some kids were into dinosaurs, I was all about brain – reading and trying to understand how brain works, from what happened when I learnt something new to how I remembered what I read, and more self-reflectively why subjects like mathematics were so easy for me. If only I could understand what happened in my brain when I learnt something new in mathematics, then we could somehow replicate that in my older brother's brain, as my mother made me do his homework yet again – so
I thought.
Fast forward to 8 years later, I went on to study electrical engineering at the Indian Institute of Technology (IIT) for my undergraduate degree, then got a Master's degree at the Indian Institute of Science where I built my first computational model of a self-organizing neural network that would learn to recognize objects from images. The highlight was partnering with a neuroscientist and building neural networks to model what may go on in the brain during image recognition – just like I dreamt as a kid.
I came to the U.S. for graduate studies, got a Ph.D. in Computer Science, with a thesis about Computer Vision, my continuing passion to make computers "see" and understand what's happening in images and videos. I joined IBM Research in New York right after my Ph.D. My work since then for the last 20 plus years is well documented on the Web with technical publications, patents, books, speeches and awards.
I have had a sustained interest in figuring out how people make decisions, and if we can build systems trained with sufficient data that can mimic human decision making —it's all a part of deepening our understanding of how people work and make decisions, and this has now become a big focus to help automate how work gets done in many industries.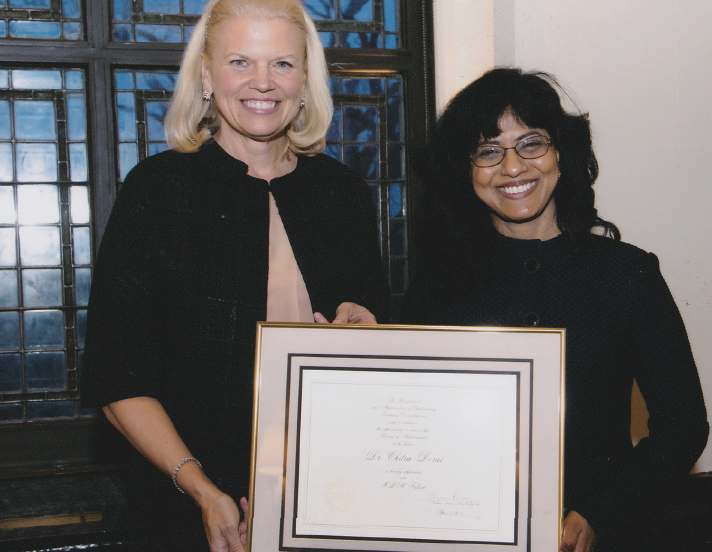 NAWRB: AI is developing quickly in such a short time. What form and use will AI take in the future, and how should we prepare for this change?
Dr. Chitra Dorai: The increasing pace at which now AI or Artificial Intelligence, is getting used in the way we work, the way we live, and the way we interact and search for information is not going to slow down. We are finding AI everywhere, from Alexa answering our questions to face recognition systems tagging our photos and Watson virtual assistants in the contact centers to AI systems helping HR teams to recruit the right kind of employee.
What form and use in the future? The use is going to be pervasive, right? AI is remaking the way we live. It is remaking the way we work, whether in large enterprises or in home offices. The forms will not necessarily be the robots everyone sees in Hollywood movies: often fighting machines with intelligence. It is going to be in different forms, not just one form. It could be self-driving cars all the way to miniature robots sent inside bodies to take images of organs paired with data analysis and intelligence to help in better diagnosis, thus becoming valuable to physicians in saving lives. Some of it will be embedded right in the business processes.
AI will indeed take different forms. Really what we are talking about is from having no specific form to humanoid chatbots, from decision support systems infused in business operations to nanomachines as the technology expands. The use is going to be pervasive because we are at a point when the data explosion has surpassed our human ability to make sense of it all together. We are creating and consuming so much data, it is impossible for us to look at all the volumes of data and take them in, so that is where the AI systems are going to be tremendously useful. That means we are going to be better at making decisions about which dress to order, where to go, which life insurance product is better—you know, everything where AI systems can be a reliable and objective partner to humans in providing right recommendations and personalized choices based on data.
NAWRB: We are thankful to have you as a Keynote Speaker at the upcoming 2018 NAWRB 5th Annual Conference in July, where you will give a SheTalk on "Technology Human BalanceTM." Can you tell us what this phrase means to you and what you plan to speak about at the event?
Dr. Chitra Dorai: This is one of the most important topics in AI because of our continued fear and apprehension about humanity being taken over by machines. Is it going to be Augmented Intelligence where humans and AI are partners or something very different? The critical question is where the balance is. Will we one day be slaves to the machines? Will there be a machine or computer overlord? There's anxiety, fear and strong opinions, and it's debated very heavily. Therefore, it's a topic that we need to address and talk about continuously with care and deliberation. I am honored to be invited to speak on this very timely topic, so a big "thank you" to NAWRB and to the conference organizers.
I will be looking at Technology Human BalanceTM from many angles. One is the balance— what is it, how do you strike it and where do you draw the line? As AI systems start analyzing data on our behalf, making recommendations and providing options, are we still going to be the ones that will make the final decision among these options, or are we going to let these automated systems decide and take the action on our behalf? That will vary depending on the industry, on the particular task at hand, and on the person, so I'm looking forward to presenting proof points where the promise of this partnership has proven valuable and also what the perils can be.
NAWRB: You formerly worked for IBM as a distinguished IBM Fellow. How was your experience working with the company?
Dr. Chitra Dorai: It was incredible. For a scientist focused on impacting the world and making a change in lives, being in the IBM research labs is an amazing experience, which is what I benefited from greatly. When you get a PhD, you have these choices in your career, such as joining a university or an industry research lab like IBM, which I chose to do as I was drawn to solving real, practical problems transforming industries.
IBM provided a global opportunity to take the research ideas, apply to real world problems and put the results in the hands of people. At IBM Research, we not only wrote academic research papers and patented our novel ideas, we were also able to improve the way the world worked because we put our innovation into products that were then used in many different industries. That goal of having real impact on the world was the reason I joined IBM, and it gave me a wide scope for realizing that.
Through all the work I was able to do at IBM, the thing that stands out is the variety of experiences I was able to have as a professional. Being in such a large company, you are not beholden to doing just one thing. I loved the fact that I could reinvent myself from being a pure scientist and researcher to becoming an industry expert and then to serving as a business leader with a client-facing role. So, I was able to learn many new skills and play many different roles, which was very important to me for continued vitality. As a result of some of the big business and societal problems I was able to address with my work, I received numerous awards and recognition both externally and at IBM. Being appointed as an IBM Fellow in 2015 by the IBM CEO and be the first Indian woman in the globe appointed as an IBM Fellow was the ultimate recognition.
NAWRB: What influenced your decision to leave IBM and to make a shift in your career?
Dr. Chitra Dorai: Having worked at IBM for over 21 years and having had an incredible career there, I wanted to reinvent myself again in my professional life and pursue new directions. I was drawn to doing my part to help out with some of the critical challenges of our times, from aging to economic inclusion across the globe.
I wanted to take the next stage of my professional life to one pursuing entrepreneurial activities along the lines of creating new businesses to tackle some of the big problems.
NAWRB: Your work history includes consumer-focused analytics in mortgage servicing, which helped thousands of homeowners through homeownership retention programs. What motivated your interest in the housing industry?
Dr. Chitra Dorai: My introduction to the housing and real estate industry was during the 2008 housing crisis, which was not so auspicious of a beginning. Nevertheless, there's nothing like a good crisis to be able to find ways to give back meaningfully and do something that is profoundly beneficial to the entire industry and to people.
As I became embedded as the Leader for lending innovations in the new mortgage business that IBM launched in the time of the housing crisis, what I observed first and foremost was that data and insights about U.S. homeowners were not being used to give them the right kind of customer experience, the right kind of help to stave off defaults and foreclosure.
I could see a path to bringing together all the data science research, innovation and behavioral analysis in a way that data-driven insights could transform the mortgage servicing operations significantly to better serve the people. The behavior of the borrowers, their interest in homeownership—all those things can be better understood through the use of deep analytics and AI with the right kind of technology tools. Mortgage servicing operations, therefore, became the incubation bed to bring the best of research and innovation into the hands of the people who were serving the borrowers across the U.S.
It was a fantastic time to be able to serve the U.S. homeowners who were facing foreclosure, help them avoid that and figure out the right kind of solution to address their delinquencies, whether it was home retention using the loan modification program, or providing them with the right liquidation option so the homeowners could walk away with their heads held high. Figuring out the right kind of sustainable options and the right kind of treatment for the borrowers was the most important thing a consumer-focused housing industry ought to be doing.
The business was handling several hundreds of thousands of loans every day, of which a significant portion was delinquent in their monthly mortgage payments and facing foreclosure. We would provide the delinquent homeowners the loan modification option using the U.S. government's HAMP program or something similar; homeowners would get their loans modified, and, lo and behold, within in a short while, sometimes within three months they were re-defaulting on their reduced payments.
As this was going on, I started thinking, why not provide them the right help from the very start? Why were we trying out loan modification as the only option for all? Perhaps the HAMP modification might not be the right resolution for some of these borrowers. Why don't we rethink this whole process of helping borrowers and do it differently? The whole "why not" led me on the path of figuring out what the right resolution for a given delinquent borrower is, early on using data science.
Understanding borrowers' feelings about their homeownership and how they got into it gives a window into their behavior. If they have ties in the community or want to stay in the home, then perhaps home loan modification to retain the home is the right option. But if they don't have that kind of a strong affinity or interest in their homes, they got in over their heads during the housing bubble and now maybe the simpler option for them is to liquidate property, pay off the loan and walk away with dignity.
Asking that "why not" and determining the right option based on what they are thinking and feeling using insights from data analytics with statistical rigor helped us serve the borrowers in a rightful and courteous way while providing them a workable solution.
People often focus on numbers in the real estate industry, but I said we needed to go beyond that to understanding [the borrowers'] feelings about homeownership so that we can do the right thing by them. This work on customer focused analytics in mortgage servicing helped thousands of struggling home owners through home ownership retention programs and alternative workout options during one of the most challenging times in the history of the U.S. housing market. For this industry-transformative work, I was recognized with the "Tamil American Pioneer Award" for Excellence in Finance and Business from the Federation of Tamil Sangams of North America and in 2016, I was profiled as a "Societal Innovator" in the IBM HQ.
NAWRB: What do you think are some of the greatest obstacles for women in achieving homeownership? What are some possible solutions?
Dr. Chitra Dorai: NAWRB's amazing report, volumes 1 and 2, tackle this issue very comprehensively. Obviously, I think the top two are the lack of access to credit to all, especially the under-served population and women being subject to unfortunate discriminatory lending practices.
We know from a report in 2015 from the Consumer Financial Protection Bureau (CFPB) that about 26 million Americans are credit-invisible, not having any credit record to be scored and another 19 million are credit-impaired consumers, both of which can be prospective customers to the real estate industry if only we can address the hurdles to get credit.
So, we need to go beyond just looking at prospective borrowers through the lens of credit scores alone, and some of my forward-looking work, is about opening the credit box using different kinds of measures and risk assessment that will tackle the lack of access to credit in a new meaningful way.
NAWRB: How do you predict technology will affect the housing ecosystem in the future?
Dr. Chitra Dorai: Technology will affect every party in the housing ecosystem and how closely their connections can be facilitated to serve consumer needs effectively and efficiently. It is changing the way that home search is done, it is changing the way the borrowers are filling out their mortgage application – paper no more, it is changing the way credit risk is being estimated for insurance, and it is changing the way the loan origination process works end to end.
It is also changing the way the mortgage servicing industry is functioning. AI, blockchain, automation and data analytics will all be applied to the mortgage processes as these technologies gain increased adoption. Every entity in the housing ecosystem is going to experience profound transformation because of the adoption.
NAWRB: You were previously an IBM mentor at P-Tech schools and volunteer instructor at Family Science Saturday in IBM research. What was your experience like mentoring and teaching youth in STEM?
Dr. Chitra Dorai: I was so fortunate to serve as a mentor in P-Tech's very first year. P-Tech – Pathways in Technology – Early College High school – started as partnership between IBM and a public school in Brooklyn, New York. The goal was to have students go to a six-year program, rather than a traditional high school so that they are work-ready at the end of this program. Think of this as a work track model which gives them both a high school diploma and an associate degree in a technology track.
I was fortunate to serve as a mentor to one of the students in the very first class of P-Tech. This class graduated last year, and many of them have gone on to IBM jobs, while some have proceeded to pursue undergraduate degree programs. The success of this model is seen from the fact that P-Tech's private-public partnership has been adopted by 40 different schools in the country in merely four years. In 2013, President Obama highlighted the school I mentored in Brooklyn and the P-Tech program in his State of the Union Address. That was wonderful.
Increasing the STEM (science, technology, engineering, and mathematics) pipeline has been a continued passion and action for me as far as giving back to the community and the world at large. Helping to nurture interest in STEM disciplines and to build the talent the world requires in technology among minorities, women, and not letting students get left behind in the digital economy is a big part of how I spend my time volunteering.
NAWRB: Why is it important to encourage younger generations to pursue careers in STEM? How should we sustain this interest from childhood to adulthood?
Dr. Chitra Dorai: The world is in a major transformational state now, just like how the industrial revolution changed our lives. We are in interesting times where computers and automation are changing everything we do, the way we live, the way we work, and the way we enjoy our lives. Therefore, given this backdrop, machines and computers are changing our habits, customs, and lives. It is highly important to encourage the younger generations to pursue mathematics, science and engineering to become gainfully employed in the digital economy and be productive in a rapidly changing society.
Children are enamored of the thought of becoming actors, basketball players, or the next big entertainment stars. The STEM careers are also well-paying with highly lucrative positions, and the world needs a lot of engineers and technologists to continue to innovate in these fast-changing times and to ensure that new technologies are used responsibly. In order for us to move toward a responsible future with new technology proliferation everywhere, and not leave large chunks of population behind with no share in economic prosperity, it is vital that we nurture interest and build STEM skills.
NAWRB: How do you suggest we inspire more young girls to be future scientists, mathematicians, engineers and more?
Dr. Chitra Dorai: We are finding that interest in STEM drops off in school years, and not enough women are graduating with a STEM degree in universities. We need to address the question of how to make science, mathematics and engineering cool and to sustain the early interest girls have as they move through school years. This requires a multifaceted approach. We need to strive towards building a strong, diverse and inclusive pipeline, early on.
That means starting at elementary and middle schools ensuring the interest in STEM doesn't wane among girls. That may require sometimes cultural change at home. It's both a parental and school responsibility to ensure that we have an equal playing field for girls to continue their technical interests and be given the opportunities to excel.
We have to make sure women are comfortable with technology at a young age. Currently what I'm seeing, for example, is that programming is not part of the regular school curriculum, early on. That love for programming can stem from a young age and once instilled and seen as an enjoyable intellectual pursuit, the interest will only grow with more exposure and opportunities to develop and use new coding skills. By the time programming is introduced in high school, or the option is given, we have already lost many of the girls because of a variety of factors. I think making it a part of the school curriculum at the right, early school years is paramount and these subjects being taught by new faculty who are well versed in modern technologies is also important to create and nurture students' interest.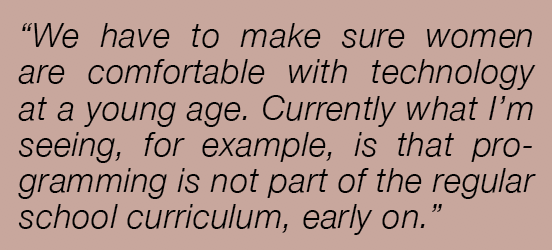 I think making the STEM disciplines fun and cool and seen as something lots of women do is important. Studies show that often women, in undergrad years, leave engineering because of lack of support from faculty and often due to a sense of loneliness being the only few women in a class. So, we need to ensure that there are more and more women seen being accomplished in technical careers, as Engineers, Scientists, Mathematicians, and Technologists so they can become role models for the next generation, as have well-accomplished women demonstrated in the legal and medicine disciplines.
NAWRB: What advice would you give women who desire to pursue a career in technology?
Dr. Chitra Dorai: Be curious all the time, and never be afraid to take a risk. If sometimes the path chosen is hard it is for a reason, and that should give additional motivation to stay the course. Never be afraid to ask "Why not?"
NAWRB: What are some of your proudest achievements in your career? How about in your personal life?
Dr. Chitra Dorai: Being the first Indian woman in the globe to be appointed an IBM Fellow by the IBM CEO in 2015 —that was a huge honor. I definitely felt on top of the world when that appointment was made because of what that recognition meant – it is an acknowledgment of a sustained body of technical innovation and achievements and business and societal impact from my work over a couple of decades. It was definitely a great moment.
In addition, the time I spent serving the housing industry building the blueprint for all the analytic innovations to change the way customers were treated and to ensure they were given the right kind of help during the housing crisis was unforgettable. I was fortunate to play a role in building new solutions that helped thousands of people across the US. I will always hold my time serving the housing ecosystem in high regard.
In personal life, it's been a wonderful experience raising my son. For me, it was absolutely important to bring him up as a responsible citizen of the world and being empathetic and attuned to the needs of the people everywhere. My parents instilled in me a sense a responsibility towards others and a strong work ethic. Bringing up my son with these enduring values is part of my personal journey and growth.
Following two decades of a very decorated career at IBM, Dr. Chitra Dorai is currently focused on bringing the power of AI to tackle some of the important problems in banking and healthcare industries through her entrepreneurial ventures.
Dr. Chitra Dorai is the co-inventor of more than 45 patents and has received multiple high-value patent awards at IBM. She has been recognized as a Master Inventor thrice for attaining a significant number of high quality inventions and patents and reaching a certain level of IBM invention achievement award and recognition. Her patents can be found at the US Patent and Trademark Office.