Today is Veterans Day, a national holiday honoring all the men and women who have served in American wars with parades, speeches and a remembrance ceremony in Arlington, VA. The day originated as "Armistice Day" on Nov. 11, 1919, marking the first anniversary of the end of World War I. In 1926, Congress passed a resolution to make the day an annual observance, before President Dwight D. Eisenhower declared Veterans Day a national holiday in 1954. 
Veterans Day 2019 Facts
There were 18.0 million military veterans in the U.S. in 2018
Women comprised 1.7 million of veterans in the U.S.
76.7 percent of veterans are non-Hispanic white, 12.0 percent are black, 1.7 percent are Asian, 0.8 percent are American Indian/Alaska Native and 0.2 percent are Native Hawaiian/Pacific Islander
7.2 percent of veterans in 2018 were Hispanic
About half of veterans are age 65 and older, while 9.1 percent are younger than age 35
U.S. Army Combat Veteran & MAJ Erica G. Courtney, U.S. Army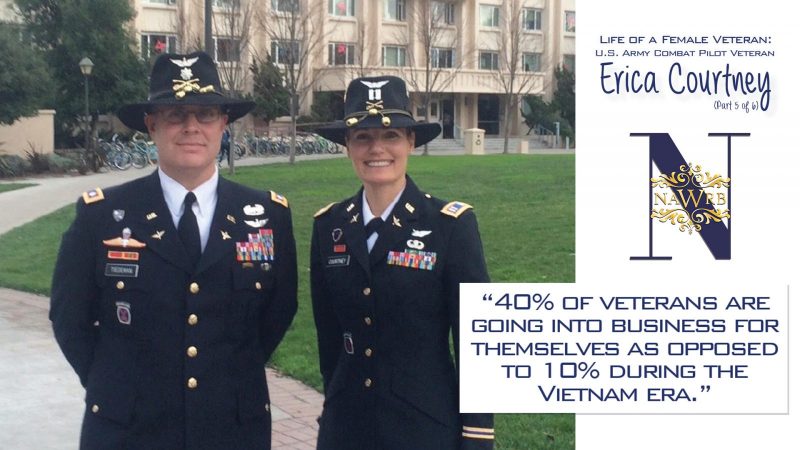 NAWRB would like to give special thanks to NAWRB Diversity & Inclusion Leadership Council (NDILC) Member Erica Courtney, President of 2020vet and Zulu Time, U.S. Army Aviation Major, NATO Gender Advisor, and California Commissioner on the Status of Women & Girls, appointed by California Governor Gavin Newsom, not only for her service but also for her contribution to NDILC and the NAWRB community. 
Erica Courtney is a U.S. Army veteran having served in various positions to include; military police, scout helicopter pilot and paratrooper. As a trailblazer, she was part of the first group of women to go Cavalry and the first to graduate the Advanced Armor Cavalry Course. Erica continues to serve the nation as a Major in the U.S. Army Reserve under the Joint Chiefs of Staff working on Women, Peace and Security initiatives as the only NATO certified Gender Advisor working at political and strategic levels.
NAWRB Magazine has published five parts of a six-part series on Erica Courtney's autobiography titled "Life of a Female Veteran: U.S. Army Combat Veteran Erica Courtney." Read parts five of six here!
We hope you and your loved ones have a wonderful Veterans Day. Take a moment to thank the veterans you know for their service and let us remember those who have served in history. Today, we can make a difference in making sure the veteran population continue to be socially and financially supported as they integrate into civilian life.