There are hundreds of thousands of individuals working in the government, and NAWRB is bringing together government officials representing five different industries and oversight agencies for endless collaboration opportunities during the Government Panel at the upcoming 2019 NAWRB Conference, Redefining Leadership, on August 4th-6th in Pasadena, CA.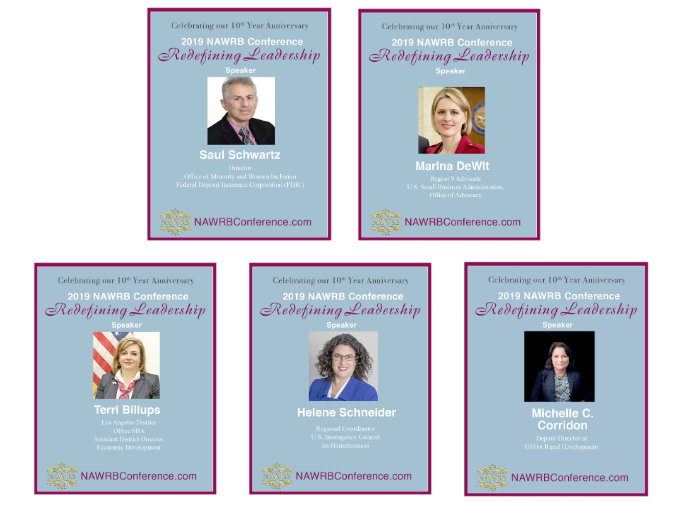 Government Panel
Taking place on Tuesday, August 6th at 9:50-10:50 AM, attendees will hear exclusive information on the latest consumer and business opportunities provided by the government. Our dynamic panel will include 
Saul Schwartz, Director of OMWI, FDIC; 
Helene Schneider, Regional Coordinator U.S. Interagency Council on Homelessness; 
Michelle Corridon, Deputy Director at USDA Rural Development; 
Terri Billups, Assistant District Director, Economic Development, U.S. Small Business Administration; and 
Marina DeWitt, Region 9 Advocate, U.S. Small Business Administration, Office of Advocacy. 
News Channel Speakers 
Before the Government Panel, don't miss incredible presentations by newspersons Veronica N. Miracle, Eyewitness News Reporter of ABC 7 News, and Nicole Cober, Legal Analyst of Fox News and National Women's Business Council (NWBC) Board Member. 
Veronica will participate in the STEM and Media Panel on Monday, August 5th at 3:00-3:45 PM, and Nicole is a panelist on the Keynote Luncheon Mastermind Collaboration on Monday, August 5th at 12:30-1:50 PM.
Buy tickets: https://www.nawrbconference.com/tickets