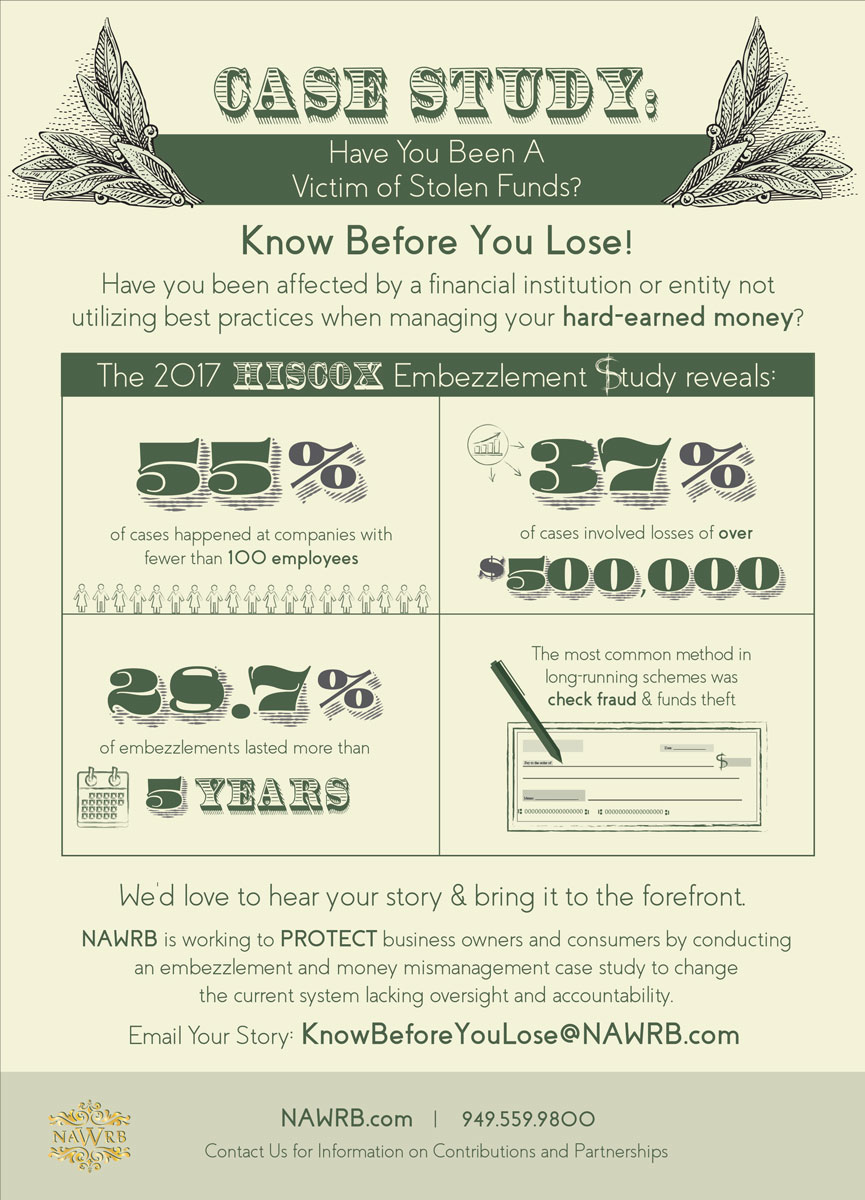 There are few worst feelings than suddenly losing something you worked truly hard on, from an essay to an event or even a personal project. Imagine the hidden danger of losing everything you've worked for your entire life, your business, your home, even your retirement fund.
It's an unimaginable scenario that consumers and business owners have taken for granted for many decades. After traveling around the nation, from the White House and Senate to the House of Representatives, meeting with Governors and numerous government agencies, to find out that your finances are governed by the individual contracts with your financial entity and not the government was shocking!
Imagine the language, "Within 60 days of when we first send or make the statement available, you cannot assert a claim against us on any items in that statement, and as between you and us the loss will be entirely yours. This 60-day limitation is without regard to whether we used ordinary care." Are you serious? There is no accountability or business ethics 101 in 2017 for maintaining customers' hard-earned money?
You may be thinking, "I've had my accounts for 20 years and have never had a problem." Have you truly vetted your financial institution or entity? Do you know their internal processes or practices? What you don't know can certainly hurt you as there are thousands, if not a millions, of others with similar stories.
I was a victim of the processing of 140 unsigned checks and unauthorized initiated credit leading to the embezzlement of over $550,000 from multiple company funds.
Have you been affected by a financial institution or entity not utilizing best practices when managing your money?
The 2017 HISCOX Embezzlement Study reveals:
55 percent of cases happened at companies with fewer than 100 employees
37 percent of cases involved losses of over $500,000
28.7 percent of embezzlements lasted more than five years
The most common method in long-running schemes were check fraud and funds theft
Tell us your story!
How have you, your family, business or employees been affected?
We'd love to hear your story and bring it to the forefront. Please email KnowBeforeYouLose@www.nawrb.com for more information.
Those that are protecting our hard-earned money need to be acknowledged and thanked for caring; those that are not need to be revealed.
If you would like to contribute to the Know Before You Lose Campaign, please donate to our GoFundMe Page. Your contributions will go towards the case study and findings to be released in 2018.
By raising awareness of cases in which money has been mismanaged or embezzled, we are helping to protect business owners and consumers. Small businesses—80 percent of which employ no one other than the owner—are at particular risk due to their lower resources.
Make a difference, send us your story or help contribute to the collection of financial resources to drive a bigger impact.
Sincerely,
Desirée Patno
CEO & President
Desirée Patno Enterprises, Inc.