For the past four years, Desirée Patno, CEO & President of NAWRB, has had the honor of representing a voice for the gender lens perspective in the real estate and housing ecosystem at several of the largest events for ultra high net worth individuals, family offices and investors across the globe with one of the world's leading conference organizers, DC Finance ("DC" the initials of Founder Denny Chared). DC Finance was established over 15 years ago and today reaches over 3,000 families around the world who represent over $1 Trillion USD of assets. In Israel, DC Finance produces the largest institutional investment conference with an industry that manages over $1 Trillion worth of assets.
DC Finance is well known to partner investors with industry thought-leaders by having discerning requirements, unique standards and integrating important work. Desirée is proud and honored to bring passion, clarity, impact and connectivity globally with world-class leaders through multiple lenses and industries.
---
Sept 26th -Toronto,Canada
Toronto Real Estate Family Office & High Net Worth Conference
The Toronto Real Estate Family Office Meetings are a series of select new intimate meetings for up to 120 Ultra & High Net Worth Individuals and family offices representatives focused on investment in real estate. Held at different select venues each time, DC Finance brings cutting-edge investment ideas, analysis of the markets by its market leaders and a meeting place for select families and family office representatives sharing the same investment interest.
Overlooking the breathtaking views of the Toronto Islands and the Canadian coastline, Desirée spoke on the "Success Stories of Real Estate" Panel, alongside Qi Tang, Senior Vice President and Chief Financial Officer, RioCan Real Estate Investment Trust; Shenoor Jadavji, President & CEO, Lotus Capital Corp; and Diana Potapenko, Founder & CEO, Montgale Ventures Ltd,1 notably all women. Other interesting discussions on constructing one's real estate portfolio, residential versus commercial investments, and U.S. market opportunities took center stage throughout the day.

---
Oct 29 – 30th – New York, NY
The East Coast Family Office & High Net Worth Conference; Family Office & High Net Worth Individuals Investment Day
The East Coast Family Office & High Net Worth Conference in New York City is DC Finance's U.S.-based flagship conference. Attendees came from all over the globe, with most coming from the United States, United Kingdom, Israel and Switzerland. The flagship conference, moderated by Dale Jackson, Financial Markets Research, WABC Radio NYC, featured numerous interesting, high-calibre discussions about women disrupting the technology industry; the future of family office technology; preserving wealth with energy; how tech is revolutionizing the beauty industry; and much more. A notable keynote speaker, among many, was Daniel Saul Goldin, the 9th and longest-tenured Administrator of NASA, Founder, Cold Canyon AI, who was introduced by Mr. Jonathan Conrad, Chairman, CEO, Founder, AdmieMobile LLC.
Desirée hosted a Fireside Chat with Tal Kerret, President of Silverstein Properties Inc., about SilverTech Ventures, which is working to foster a community of successful technology entrepreneurs in New York City. As described on their website, Silvertech Ventures is an "accelerator and venture capital firm focused on helping entrepreneurs grow their companies by respecting the role of the CEO, helping with our network and experience, and most importantly, by being there when needed." Silverstein Properties, Inc. is well-known as the developer of the World Trade Center. In early 2019, Desirée had the pleasure of receiving a personal tour of the buildings and learned the series of obstacles Silverstein Properties faced.
The next day, on Oct. 30th, Desirée participated in Family Office & High Net Worth Individuals Investment Day. Discussion topics included global macro economy; traditional and alternative investing such as investments in oil and gas, high tech, real estate and arts; legal and tax issues; personal and financial security; international trends and developments; family office governance; successfully managing family dynamics; accounting and tax strategies; and philanthropy.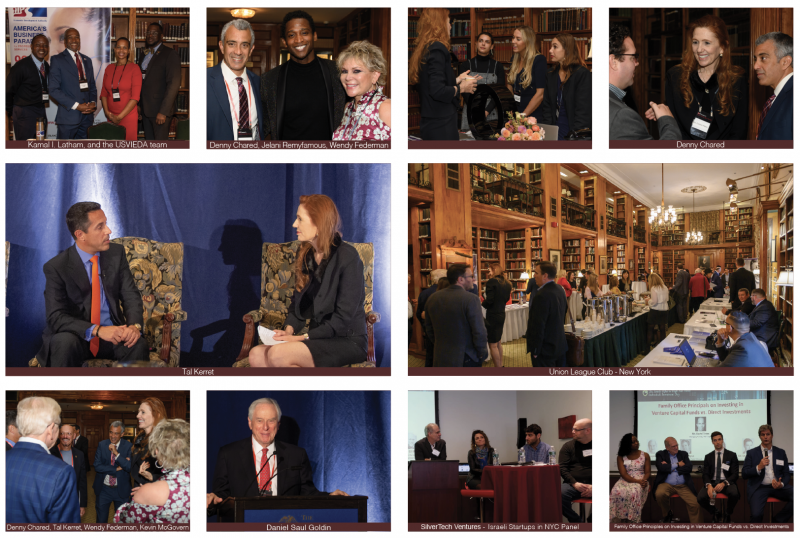 ---
Oct 31st -Dallas, TX
The Dallas Family Office & High Net Worth Conference
After two days in NYC, Desiree jetted off to Texas to join the Real Estate Panel with other industry experts at The Dallas Family Office & High Net Worth Conference at City Club Dallas. This was a formal discussion of the capital market trends and pricing for the Logistics industry across the United States. The Dallas event, attended by over 100 qualified families and family offices executives, brought together families seeking cutting edge education and enabled an exchange of knowledge and experience.
Desirée participated in the "Real Estate Panel – Logistics Capital Markets Trends and Investment," a formal discussion of the capital market trends and the logistics industry across the U.S. She was joined by Moderator Josh McArtor, Managing Director, Eastdil Secured; Edward Griffin, President & CEO, Griffin Partners Inc; Joe B. (Jody) Thornton, Jr. President, JLL Capital Markets, Americas; Sean Dalfen, President & Chief Investment Officer, Dalfen Industrial; Tom Fishman, Executive Vice President, Acquisitions and Dispositions; Nick Cassavechia, Founder, Old House Capital; and Jeffory Blackard, CEO & President, Blackard Global Chairman, Global Council, NeoRetroism.2
The panel discussed the flow of foreign capital to U.S. commercial real estate debt and equity as a big supplier of capital to the family office space, and how that has been slowing due to currency swap costs to the U.S. Dollar. In terms of domestic capital flow, Desirée shared her knowledge of domestic pension funds in terms of their interest in equity and debt, as well as que levels. The panelists also shared their own personal preferences, such as what appears cheap or expensive to them, what areas they are avoiding, what areas or property types are attracting them at the moment and expected material improvements in the next year. This was an unusually large panel that was predominantly male, so Desirée wanted to make sure that at least one woman was at the helm.

---
Nov 5th -Toronto, Canada
Toronto Real Estate Family Office & High Net Worth Conference
This conference covered a plethora of topics such as next generation issues, estate planning, family business, philanthropy, leadership, innovation, investments, arts and many additional topics at another high tier event with the DC Finance high standards signature.
Key speakers included Philippe de Gaspe Beaubien III, a serial entrepreneur who has established numerous start-ups over the last two decades and is currently helping 14 companies scale their business; Mitchell Goldhar, Founder & Executive Chairman of SmartCentres REIT; and Tal Kerret, President of Silverstein Properties, who discusses prime U.S. real estate opportunities.
Denny Chared, Founder & CEO of DC Finance, hosted a Fireside chat with Tal Kerret. Denny started his career as a financial journalist and Wall Street Editor for Globes Business Magazine. "Tal and I had a heart-to-heart fireside chat discussion where I had the pleasure of interviewing my friend, supporteer, a leading business man and President of Silverstein Properties," stated Denny Chared about their conversation. "We both learned new things about each other in an exciting, open conversation. It went thirty minutes longer than planned!"
---
Dec 3rd -South Beach, Fl
Florida Family Office & Wealth Management Conference
In the heart of one of the world's most important art happenings, South Beach, Florida, DC Finance hosted its sixth highly praised US wealth management conference, alongside Art Basel with a week of luxury events dedicated to their guests, on December 3rd, 2019. While half of attendees are from Florida, a good portion come from New York, Israel and several other regions across the globe. Desirée, the Master of Ceremonies, brought excitement and impact to the event with storytelling, vision and passion, which helped create deeper relationships among the participants.
Notable speakers included Francis Suarez, Mayor of the City of Miami a presenter since day one; Deborah L. Wince-Smith, President & CEO, Council on Competitiveness; and Tim Gannon, Co-Founder, Outback Steakhouse. With Desirée as Moderator for the "Opportunity Zone & Real Estate Developments," panelists included Spencer Gray, President, Gray Capital; Blake S. Fogel, 2nd Generation Family Member and President, Fogel Real Estate.
A fireside chat titled "Art & Culture and the Detroit Renaissance!" featured special guests Barry Johnson, Executive Advisor to the Gilbert Family Office; Jennifer Gilbert, Founder & Chairwoman, POPHOUSE; and her son, Grant Gilbert, Student & Special Projects Director, The Cleveland Cavaliers. Jennifer's husband, Dan Gilbert, is a well-known American businessman, investor, and philanthropist who is the Co-Founder of Quicken Loans, Founder of Rock Ventures and Owner of the National Basketball Association's Cleveland Cavaliers.
All in all, these multiple events within the Family Office and Real Estate community demonstrate how vast and varied the economic ecosystem is, and how it touches many industries and countries around the world. World financial leaders came together to discuss pressing issues and recommend innovative solutions for intergenerational wealth transfer, navigating new tax laws, opportunity zones, human trafficking, real estate investments, philanthropy and so much more. Moreover, NAWRB was at the heart of these game changing discussions, contributing a gender lens so that those in power can create even greater social impact by leveraging resources.
"Thank you Denny and to the DC Finance Team for having NAWRB partner at these influential events for family offices and ultra high net worth individuals for nearly four years to share and leverage resources especially with a gender lens within the economic ecosystem," states Desirée Patno. "I am proud to be part of DC Finance's Steering Committee and look forward to the great expansion in 2020."
"I am excited to have one of the most energetic women in the real estate space I have met on our stages," stated Denny Chared about Desirée Patno. "I appreciate the collaboration, support and help bringing exciting panels that were presented to hundreds of family offices and high net worth family members all across the United States and Canada. I hope that in 2020 we will continue to do this across the globe including Israel and London, and our new destinations of Chicago, Montreal and Vancouver."