The goal of every business is to make a profit and the real estate industry is no different. An often undermined market is the Hispanic and this article will help you uncover the potential within the Hispanic market that most overlook, which means millions of dollars for businesses looking to invest in this market.
Tap into the 1.7 Trillion Dollars Market
The U.S. houses an ever-growing Hispanic population resulting in an increase in potential purchasing power that is generally overlooked. Statistics from Pew Research Center, as at 2015, indicate that about 57 million Hispanic people live in the U.S.; that is 18 percent of the whole U.S. population, compared to 1980 when the percentage stood at a mere 6.5 percent. Additionally, the Census Bureau in 2014 predicted that the Hispanic population will double to about 119 million come 2060.

If you are looking to invest in the real estate market, it would seem now is the perfect time to key in into this market and make an early gain. To further highlight the potential the Hispanic market hold, a report from the University of Georgia collected from 1990 to 2017 indicates an increase in the buying power of Hispanics, from $210 million to $1.7 trillion. This further corroborated by another report by the specialized journal Statista that this is 10 percent of the general market purchase, according to Nielsen.
It is estimated that by 2060 Hispanics will account for about 28.6 percent of the whole U.S. population, which can only mean more business opportunities for you as a business owner as their purchasing power is expected to rise given the recent trajectory. In 2015 alone, Statista reported that about $1.5 trillion were spent on retail and packaged goods just in the Hispanic market alone, and their purchasing power further increased to a whopping $1.7 trillion in 2017. This places the Hispanics as a key element of the economy that should not be ignored by businesses.
Why You Need the Right Advertisement Campaign
It is quite clear the enormous potential that the Hispanic market holds for your investment, but it is quite important to know how to get your brand across to the market. Advertising your brand requires you choose the right strategy or at least partner with those that do. It can be the deciding factor for the successful launch of your brand into the consciousness of your target audience, which is why it is not a matter to be taken lightly.
Your advertisement campaign should have a unique feel about it that can relate and appeal to Hispanic values and inclinations. Your brand must have elements of Hispanic culture reflected through your advertisements, be it in English, as this makes your potential customers feel your brand can relate to them and understand their cultural background. It is no surprise that major retailers and famous brands are now paying more attention to this flourished market. The importance of the Hispanic market to any brand is quite clear and it is a market you should certainly exploit.
However, for your brand to reach the Hispanic community and establish its presence successfully, there must be an understanding of who they are, how their time is spent, which platform they spend more time on, and, lastly, their content consumption pattern. Additionally, brands should include Spanish in their advertisement campaign. A report from Forbes indicates that only 44 percent of Hispanics specified that they only consume online content in English; that leaves 56 percent that either consume content in both languages or only Spanish.
Here are some interesting facts for you to consider before taking the plunge into the Hispanic market. Hispanic people are empowered in all levels. Their access to obtain capital influence and, from the statistics earlier discussed, their buying power will also increase simultaneously and will impact our economy drastically. At the moment, it is tremendously important for your brand to have as much information on how to assist the future and possible Hispanic homebuyers that could patronize your brand.
NAHREP's 2015 State of Hispanic Homeownership report shows that Hispanic households grew by 245,000. That is 69 percent of total the United States household growth. Now that you know the potential that the Hispanic market currently possesses, it's a great resource to your real estate business. Besides the number of dollars in business, we are also expecting that millions of homes are going to be sold to a Hispanic family. That is why companies like yours must be ready and prepared to serve this market to gain a huge database of Hispanic customers. The key to success or failure of current and future companies within the industry of real estate is to learn how to properly serve and fulfill the Hispanic market. Otherwise, you can miss out on a big piece of the cake in company revenues.
Additionally, another very interesting report from The Better Homes and Gardens Real Estate & NAHREP Hispanic Women Survey shows that the purchasing power and the primary decision makers in a Hispanic home are the women. A staggering 61 percent think they will make most of the decisions in their next home buying process. This is not only limited to traditional family settings alone, but also in families where the woman is the head of the household. Apparently, being single mothers do not limit them in fulfilling the American dream of buying a house.
Another discovery is that 61 percent of respondents don't think it's important for their real estate agent to speak Spanish, but, of the participants currently searching for a home, 48 percent prefer a Spanish-speaking agent. Seventy-three percent of women who responded to the survey clearly said that they prefer to work with a female real estate agent instead of a male one. That means hiring more Spanish-speaking agents can give your company an edge over the competition, and even better if they are women.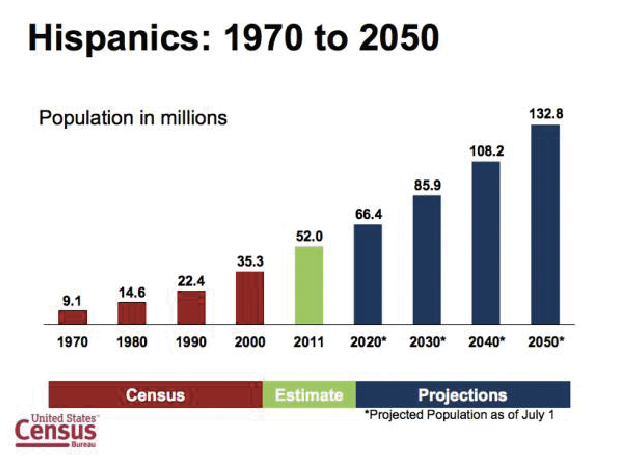 Having all these statistics and living a reality of our economy, it's important for your company to take into count all these factors to project their revenues.
"At an estimated population of 70 million by 2020," your advertisment campaign should be in the hispanic market.
There are a few things about the Hispanic market that you should know to make the right decision for your brand, and below are the top ten reasons why you must advertise your business in the Hispanic market:
A booming population is good for real estate business: With a population of 58 million in 2016, the Latino population in the United States has been the principal driver of United States demographic growth. They account for almost half of national population growth since 2000, comprising over 17% of the population.
Status of the Hispanic population: Hispanic people hold the title of the largest minority in the United States, with only Mexico boasting a larger Hispanic population than the United States.
Knowing the state to target is important: California has the largest Hispanic population holding an estimated 15 million Hispanics. This is followed by Texas and Florida. These three states alone cover 55% of the Latino population.
Just how many people are we talking about here? The following states are where more than an estimated 30% of the population is Hispanic: Arizona, 30.5%; California, 38.6%; New Mexico, 47.8%; and Texas, 38.6%.
Know your customer preferences: According to Forbes, 56% of Spanish-speaking Hispanics specified that their loyalty is afforded more to companies that have Spanish advertisement, which emphasizes the importance of brands to relate with Hispanics in their own language.
The projections favor your business: By 2020, the Hispanic population is expected to reach 70 million, and by 2050 one in four Americans will be Hispanic.
The consumption pattern: 79% of Hispanics speak Spanish in the home, and 70% watch TV, listen to the radio, read Spanish language newspapers and other media outdoors.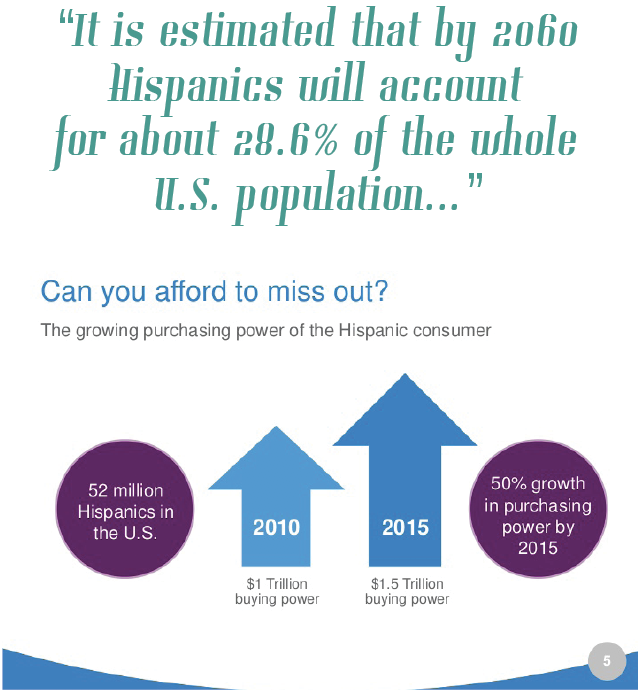 Cultural background: Hispanics share a strong commitment to family, religion, and heritage
Online content Interaction: 78% of Latinos who are English-dominant and 76% of bilingual Latinos use the internet, compared with 32% of Spanish-dominant Hispanic adults.
Go digital: Hispanics spend close to 10.5 hours on their smartphones. That is two hours more per week than the overall average of 8.4 hours when using the Internet.
It is clear as daylight that the Hispanic market is a force in terms of population and increasing buying power. There is no doubt that the Hispanic market is a gold mine for any company, large or small, to tap into. It is a market you should consider vehemently.