Women entrepreneurs are on the rise, and they are leaving their footprint on the nation's economy. In 2012, the U.S. Census Bureau reported an estimated 9.9 million women-owned firms, 35.8 percent of all U.S. firms classifiable by gender, and the total estimated receipts from those firms was $1.4 trillion.
Nevertheless, women-owned businesses are still an underrepresented segment in the economy and require support for their continued growth. The National Women's Business Council (NWBC) is providing insight on how federal and regional stakeholders can help.
In April of this year, the NWBC released Entrepreneurial Ecosystems & Their Service of Women Entrepreneurs, a research report conducted with Washington CORE, which analyzes local entrepreneurial systems to identify influential actors and mechanisms that aid, or present a barrier to, the support and growth of women-owned businesses.
The report utilizes the "entrepreneurship ecosystem" model, which Washington CORE defines as "a set of interconnected entrepreneurial actors, entrepreneurial organizations, institutions and entrepreneurial processes which formally and informally coalesce to connect, mediate and govern the performance within the local entrepreneurial environment."
This approach, the report explains, "emphasizes the importance of the overall environment within which an
entrepreneur establishes and grows her business," helping us understand the resources she can leverage, as well as gaps within the economy that may hinder her.

NWBC identifies seven domains, and their respective stakeholders, for women-owned ventures in the entrepreneurial ecosystem:
1. Human Capital: Universities, community colleges, experts and HR agencies
2. Resources: Accelerators, incubators and
professional services
3. Government: Local and state governments
4. Community Building: Peer networks, media and advocacy groups
5. Capital: Angels, venture capitals, banks and high risk investment sources
6. Market Access: Large companies, local chambers and industry associations
7. Innovation: Universities, labs and IP managers

Policymakers and stakeholders can assess mechanisms in their local economies which contribute to the success and proliferation of women-owned businesses. This knowledge can assist in policymaking that addresses these domains while understanding how they intersect with each other.
The researchers conducted town hall discussions of six regional economies, including Atlanta, GA, Boston, MA, Chicago, IL, Miami, FL, San Jose, CA, and St. Louis, MO, with participants representing "stakeholders across each ecosystem," such as entrepreneurs, government representatives, finance and large corporations. The entrepreneurial ecosystem framed the participants' discussions which considered "the strengths and weaknesses of distinct domains of their region's ecosystem and the interconnectivity between them." The report quantifies the content to identify which domains the stakeholders thought were most, and least, relevant to supporting women entrepreneurs.
The most frequently discussed domains were Resources and Community Building, followed by Government, Human Capital and Capital. Market Access and Innovation were the least discussed, but this is not clearly indicative of their level of import to successful women-owned businesses. Observations from the town hall discussions reveal the following barriers and contributions by each domain affecting women entrepreneurs.
Resources
Women entrepreneurs need assistance identifying and navigating resources that are available to them. Town hall participants frequently mentioned the necessity of having "repositories of information about resources" available to women entrepreneurs, as well as services that refer entrepreneurs to suitable resources that match their needs.
Community Building
A supportive community, a prevalent discussion point, is invaluable to the success of women entrepreneurs and their ventures. This provides the foundation for increasing collaboration between actors within the ecosystem, who can work together to "encourage the next generation of women entrepreneurs."
Government
The local government, including the contributions of SBA offices and Federal procurement programs, can assist women entrepreneurs within the entrepreneurial ecosystem by encouraging collaboration and creating networking opportunities within the ecosystem.
Human Capital
Cultural biases are one of the barriers women entrepreneurs face throughout the ecosystem, which discourages them from advancement. Town hall participants suggested that we combat these cultural biases and encourage the next generation to become entrepreneurs within the education system by exposing "young women to entrepreneurial attitudes," such as competitiveness, teamwork and problem solving, "business ownership and internship opportunities."
Capital
Women entrepreneurs have trouble raising capital, especially through business angel and venture sources, but the report suggests ways to combat this problem. First, we need to demonstrate to venture capital firms the benefit of having more diverse management teams, including higher performance and greater investment opportunities available for women entrepreneurs.
Second, creating mentorships and peer networking by collaborating with the Resource and Community Building domains can inform women on methods of communicating with investors. Third, supplemental forms of capital should be promoted, such as crowdfunding, which has lower gender disparity than angel and venture sources.

Market Access & Innovation
The town hall participants mentioned large corporations and universities as "important foundations for an entrepreneurial ecosystem." Large corporations can provide more markets for entrepreneurs through supply chains and can "contribute to the vitality" of the ecosystem by engaging with entrepreneurs and supporting organizations. Universities are a praised source of "highly skilled graduates and research and development efforts" for women-owned businesses.
NWBC, in their final analysis, provide their top recommendations for how federal and regional stakeholders can support the growth of women entrepreneurs in the U.S. economy, including:
Develop a repository of resources available to women entrepreneurs
Promote traditional and alternative forms of
capital access
Encourage entrepreneurship among
immigrant populations
Create Federally-subsided internship programs geared towards lower-income students
Encourage diverse management teams
and investments
NAWRB currently works in support of the Resource and Community Building domains of the entrepreneurial
ecosystem. As a women's trade association for women professionals in the housing ecosystem, they are contributing to the development of "women-focused and gender-aware support organizations," that the report recommends for regional stakeholders.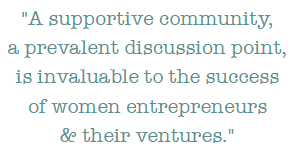 Their Women's Global Resource Center (NWGRC) provides a women's depository for vendors and clients to grow their diverse spend and increase women's employment at all levels. NAWRB has contributed greatly to the success of the Women-Owned Small Business (WOSB) Program which recently awarded a record-breaking $19.67 billion in Federal small business contracting and subcontracting to women-owned small businesses.
The 4th Annual NAWRB Nexus Conference: Women's Collaboration for the Future provides resources to prepare women for the government contracting arena. Last year, millions of dollars in procurement contracts and vendor relations were secured from connections made at the conference.
Desirée Patno, NAWRB CEO & President, states, "Unlike their minority counterparts, women do not have geographical roots." This is why increased collaboration, a supportive community and peer networks are instrumental to women's economic growth and entrepreneurial success.