Government Shutdown Puts Women-Owned Businesses and the Housing Ecosystem at Risk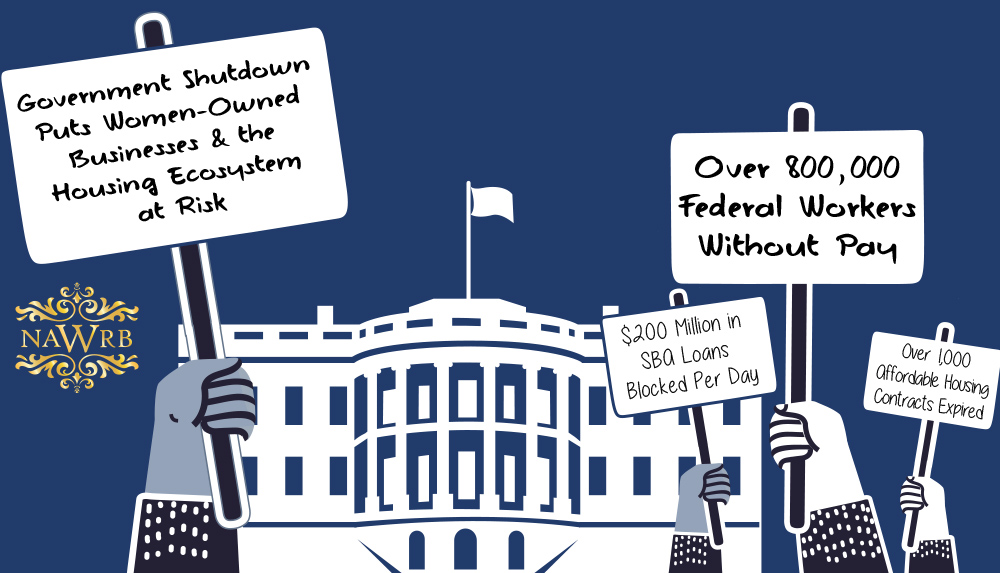 Today marks the 27th day of the partial government shutdown that started on December 22nd, 2018, which is now the longest government shutdown in U.S. history. Many, but not all, government agencies have been affected, causing federal employees to either be furloughed or to work without pay, national parks to close and affordable housing funding has come to a halt, among other effects.
The effects of the shutdown has had a domino effect throughout the housing ecosystem. As federal workers go more days furloughed or working without pay, they miss paychecks that they rely on to pay their for food, rent and other bills. When these workers are unable to pay for their rent, this affects their landlords who depend on rent payments, and they might face eviction. At the same time, homeowners risk foreclosure when they miss their mortgages.
To address this issue, Democrats have introduced legislation titled "Federal Employee Civil Relief Act" that would protect workers and their families from foreclosures, evictions and loan defaults during the course of the government shutdown and for 30 days following. If passed, the bill will also protect workers from having their car or property repossessed, falling behind on bills and student loan payments, and losing their insurance due to missing premiums.
Small Businesses are also suffering from the shutdown as the Small Business Administration (SBA) has halted its 7(a) loan program for working capital and 504 loans for commercial properties— capital that these businesses rely on to operate and pay their employees—since the start of the shutdown. As the SBA manages about 200 7(a) loans and 120 504 loans per day, this amounts to $200 million worth of loans for small and midsize businesses that are not being distributed each day.
NAWRB CEO & President Desiree Patno has proudly served on WIPP's Leadership Advisory Council for many years to help this important cause affecting the greater ecosystem.In a letter regarding how the government shutdown is negatively impacting women-owned businesses, which comprise a large share of small businesses, Candace Waterman, Women Impacting Public Policy (WIPP) President & CEO, states, "These tumultuous times put women business owners at risk of losing talent as those employees often seek employment elsewhere, which can quicken the pace of owners going out of business altogether."
Waterman continues, "Because women only receive 4% of conventional loans and even less in venture capital, our community's cash flow is not as stable to disruption. We must find a solution to this shutdown."
Government Shutdown Impact
More than

800,000

federal employees have been affected by the shutdown. Over

420,000

are required to work without pay (e.g., prison guards, TSA employees, border patrol, etc.) and more than

380,000

workers are furloughed.

Almost

$200 million

in small business loans are being blocked each day as the SBA halts loan program

The Internal Revenue Service has been affected, causing a hold on tax investigations and cancellation of hearings, such as for the Opportunity Zone regulations.

The National Park Service is running on smaller crews, which means some have had to close to the public.

Housing and Urban Development only has a few essential workers to oversee public housing while making voucher payments for low-income families. Currently 95% of HUD employees are furloughed.

Over

1,000

affordable housing contracts have expired since the shutdown, representing 5% of Project-Based Rental Assistance, which subsidizes rent and utilities for

1.2 million

low-income families.

The Commerce Department is out of service, leaving the nation without current U.S. economic and census data. However, weather-forecasting and patent applications are still running.

Personal Management, the human-resources branch, and the Federal Communications Commission are currently shutdown.

As most of the

245,000

employees in the Homeland Security department, including Customs and Border Protection, Immigration and Customs Enforcement, the Coast Guard and the Secret Service, are deemed essential, they are working without pay.

Law Enforcement, which has almost all of its 245,000 Homeland Security employees working without pay, transportation and mail delivery have not been affected by the shutdown.
Read WIPP's open letter to the Senate and House Small Business Committees here. Stay tuned for NAWRB's 2019 Women in the Housing Ecosystem Report—a six-volume report covering all aspects of the housing ecosystem with contributions from expert leaders across many related industries.