Happy Memorial Day Weekend from NAWRB!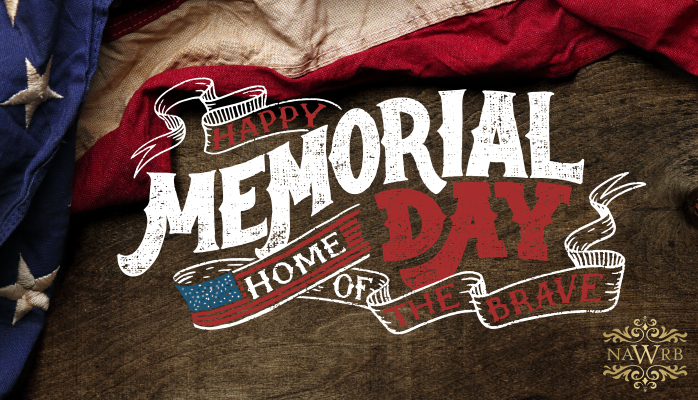 Observed the last Monday of May, Memorial Day is a holiday honoring the women and men who have died in military service for the United States. Memorial Day was officially recognized as a federal holiday in 1971, and was originally known as Decoration Day in the years following the American Civil War. Americans commemorate the day by attending memorials and cemeteries, holding parades and hosting neighborhood barbecues.
Memorial Day Facts:
Memorial Day unofficially marks the beginning of summer
A national moment of remembrance takes place at 3 p.m. local time each Memorial Day
In 1966, the federal government declared Waterloo, New York, the official birthplace of Memorial Day
A longstanding tradition, the Indianapolis 500 race has been held in conjunction with Memorial Day since 1911
Some people still practice the tradition of eating a picnic in a cemetery to celebrate this holiday
The American flag is flown at half-mast until noon, then full mast until sunset on Memorial Day
Approximately 40 million people travel 50 or more miles during Memorial Day weekend
The number of people present at the first Memorial Day ceremony at the Arlington National Cemetery were roughly equal to those who attend today, approximately 5,000 people
This year, Memorial Day also commemorates the centennial anniversary of America's entrance into World War I. Also named The Great War, it saw 4.7 million Americans serve—a representation of over 25 percent of the American male population aged 18 to 31 at the time—and more than 100,000 lose their lives.
As we spend the long weekend with our loved ones, we remember and honor those who paid the ultimate price for our freedom.